Does Homeowners Insurance Cover a Flood?
(Why flood insurance belongs in your survival toolkit)

Floods are the one time that being left high and dry is actually a good thing. Unfortunately, each year thousands of Americans aren't so lucky. Homeowners insurance isn't designed to handle flood damage, and it won't pay to help you with repairs. Thankfully, there's an alternative.
Read on to learn about your options for purchasing flood protection for your home. Once you're ready to buy, our independent insurance agents are on hand to walk you through every step of the process. Flood insurance: it's like sandbags for your wallet.
Does Homeowners Insurance Cover a Flood?
Your homeowners insurance will never cover a flood. While homeowners insurance covers most other natural and man-made disasters, floods are an exception. That's because of the (usually) predictable ways in which they happen and extreme damage they cause.
Insurance companies consider a flood to be any natural gathering of water. Flooding can come from hurricanes, storms, snowmelt, rain, cresting rivers and even mudslides. In 2018, floods damaged more than $1.6 billion worth of property in the United States.
Luckily, there's flood insurance, which is especially designed to cover damage from floods. If you live in a flood zone and receive any kind of federal funding for your home (including most mortgages), you are legally required to have flood insurance.
Even if you don't live in a designated flood zone, flood insurance is almost always a smart buy. If you don't have it, you'll be on the hook for the full cost of rebuilding your home and replacing your belongings after a flood. Your homeowners insurance won't touch it.
Most expensive flood disasters in the United States, by National Flood Insurance Program (NFIP) payouts (in million US dollars)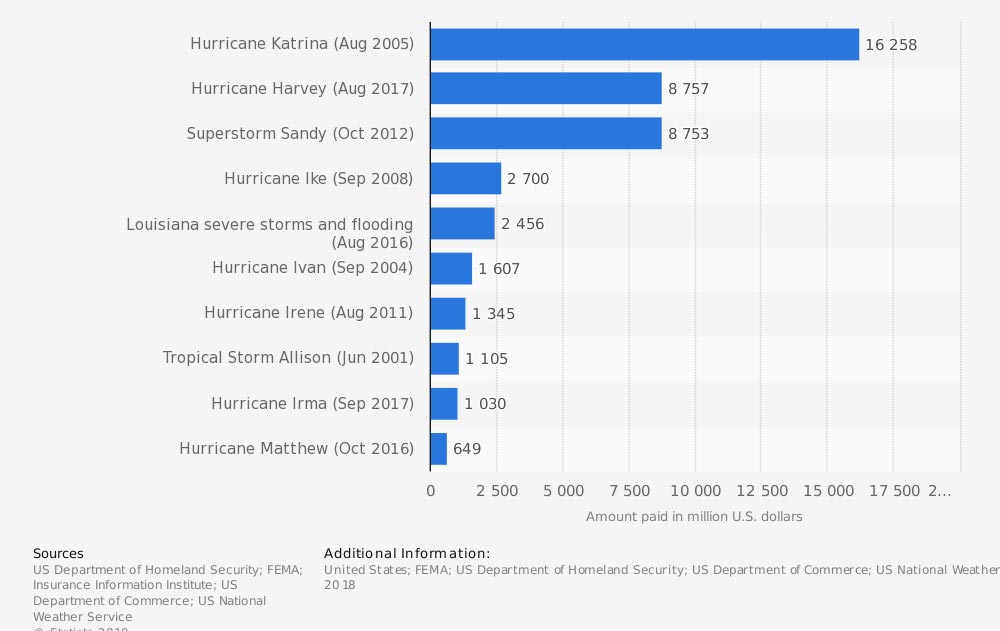 Is Any Water Damage Covered by Homeowners Insurance?
Yes, as long as it's not natural. Water damage from burst pipes may be covered by your homeowners insurance, but a flooded bathroom after a thunderstorm would not be. Talk to your independent insurance agent about what is and isn't covered under your homeowners insurance policy.
Save on Flood Insurance
Our independent agents shop around to find you the best coverage.
How Do I Know If I Need Flood Insurance?
If you live in a flood-prone area, you may already have flood insurance. That's because it's a legal requirement for nearly all mortgages and financing for homes in a flood zone.
If you don't live in a flood zone, you'll have to weigh the cost and risks yourself in order to decide whether you should buy flood insurance. Here are the main factors to consider:
Location and likelihood of a flood: Even if you're not in a flood zone, your home could still be vulnerable, especially if it's located near a river or in a valley. On the other hand, if you're located on high ground like the top of a hill, you may decide that your flood risk is too low to warrant buying flood insurance.
Potential flood damage costs: An expensive home or belongings means that it will cost that much more to make you whole again after a flood. Cheaper stuff is less risky to leave uninsured because it's cheaper to replace. The more dollars and decimal places at stake, the more likely it is that flood insurance is right for you.
Your savings and ability to pay to repair or replace out of pocket: If you've got low debt and a lot of cash, you may decide that you'd rather save money on premiums and take the risk that you'll have to pay for damage yourself if a flood strikes. But for most people, replacing their home and stuff at a moment's notice would be difficult or impossible. Flood insurance safeguards you against such sudden, enormous costs.
If you're still on the fence about flood insurance, an independent insurance agent can go over the pros and cons with you. Flood insurance usually costs only a few hundred dollars per year, making it the right decision more often than not.
In 2016, the top ten states for flood insurance claims were Louisiana, Texas, South Carolina, Florida, Missouri, New Jersey, North Carolina, West Virginia, Mississippi and Virginia. If you live in one of those states, chances are you'll get your money's worth out of flood insurance.
US states with the highest number of flood insurance claims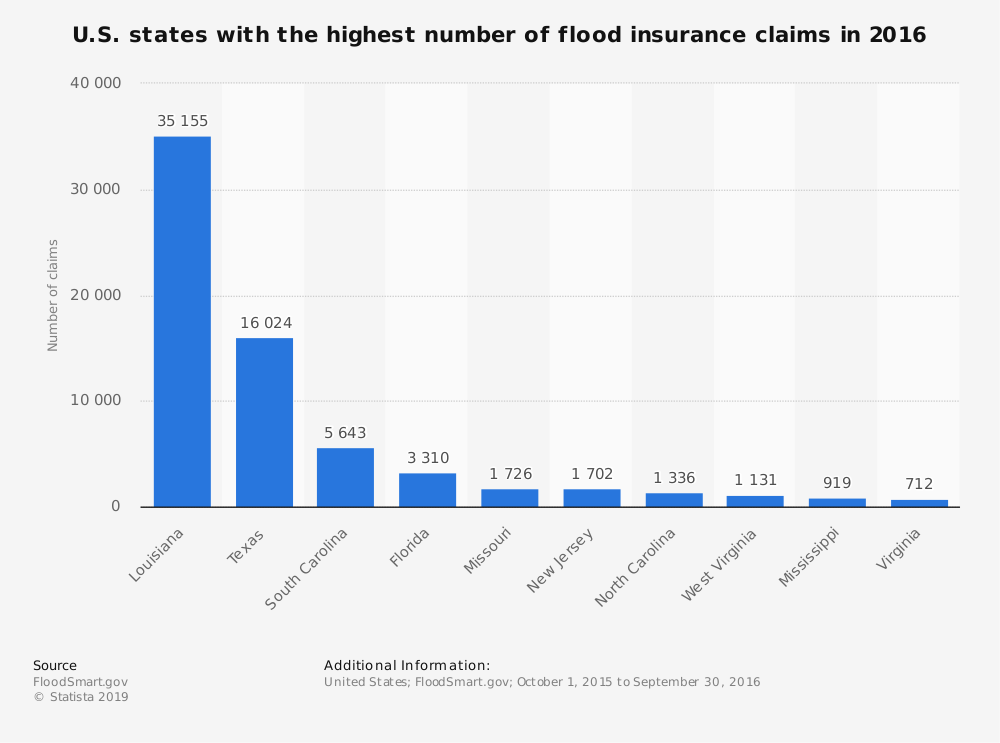 How Flood Zones Work
Flood zones—technically called Special Flood Hazard Areas (SFHAs)—are designated by the Federal Emergency Management Agency (FEMA). You can look up your address on the FEMA Flood Map Service Center website to see a map of flood zones in your area.
Flood zones are areas that have more than a 1% chance of flooding each year. Put another way, that's more than a 1 in 100 chance of flooding each year.
While a 2% flood chance may seem tiny, it's actually very serious, given the massive financial damage floods can cause—on the order of tens of billions of dollars nationwide over the past 20 years.
Just because your home is located outside a flood zone doesn't mean it will never experience a flood. It just means that the risk of a flood is less than 1 in 100 each year. Unfortunately, your unlucky year could be right around the corner.
Save on Flood Insurance
Our independent agents shop around to find you the best coverage.
The Awesome Benefits of an Independent Agent
Flood insurance is a giant math map soup full of complicated maps and statistics. Luckily, you don't have to do any of the hard stuff yourself. You just need an expert independent insurance agent on your side.
Our agents can help you decide whether a flood insurance policy is right for you (and they can demystify your homeowners insurance, too). Unlike captive agents who only work for one company, our agents can shop around to find you the right coverage at the right price.
We hope your home never ends up in a flood's path. But if it does, independent insurance agents can make the claims process easier for you, helping you to file paperwork and meet deadlines during a stressful time.
We wish you the best of luck staying dry. You can't stop the waters from rising, but you can be prepared.
TrustedChoice.com Article | Reviewed by Paul Martin
©2023, Consumer Agent Portal, LLC. All rights reserved.
FEMA Flood Map Service Center: https://msc.fema.gov