Landlord Insurance Discounts
(Your guide on dodging massive premiums)

Okay, since we're the straight-talking type, here's the bad news first: It costs 25% more on average to insure a rental property than a home. But here's the good news: Landlord insurance discounts will help you cut that cost. And they could be just a phone call away.
Our independent insurance agents are here to help. While you're busy being you, they're busy doing the hard work for you. They'll cover it all, find you the right discounts, help lower your bills, and leave you to the landlording you do best (or whatever else floats your boat).
But before we go and get too carried away, let's talk a bit more about landlord insurance discounts.
What Are Landlord Insurance Discounts?
It's simple: Landlord insurance discounts are discounts that help lower the insurance premiums you pay on your rental property. But not all discounts are spelled out in your policy. And you may even qualify for some discounts automatically, no effort required.
That's because landlord insurance discounts don't work the same as those coupons you love. They're more like a big ol' algebra equation that the insurance company uses to calculate how likely your rental property is to get damaged. The less likely damage is, the less you'll pay.
Oh, and if you're only renting out part of your property or using a short-term rental service like Airbnb, you might not need landlord insurance discounts at all. In cases like these, you're likely to be able to squeeze the coverage out of your homeowners insurance. Your property is exposed to less risk, so you pay less. Easy.
Save on Landlord Insurance
Our independent agents shop around to find you the best coverage.
What Landlord Insurance Discounts Are Available?
There are almost as many landlord insurance discounts available as there are insurance companies. But all discounts can be divided into four major types:
Safety discounts: These are given if the insurance company sees that you take good care of your property or that your property has special features that make it safer than average. This includes installing burglar alarms, sprinklers or a high-quality roof.

Sometimes safety discounts aren't obvious. For example, in rural areas with spotty fire coverage, it's possible to get a discount for having a pool on the property. That's because firefighters can use the water to put out a fire more easily.

Bundling discounts: These are discounts you can get if you buy multiple types of insurance with one company. Say you need to insure your home, your car AND your rental property. Heck, big shot, maybe you need to insure multiple rental properties. Either way, if you go with the same company, they will probably cut you a deal.

What if you're already a business owner or plan to turn your landlord side hustle into a full-time gig? Then you're in luck: You can bundle your business insurance—like liability or property, for your leasing office or maintenance vehicles—with insurance for your rental properties.

Group discounts: These are discounts you can get if you belong to a certain association or profession. They are rare with landlord insurance, but still possible. Common group discounts include military discounts, teacher discounts and government employee discounts.
Loyalty discounts: These are pretty self-explanatory: They reward customers who stay with the same insurance company for a long time. You might also get discounts for referring friends and family to your insurance company. So call up your friends, they owe you anyway.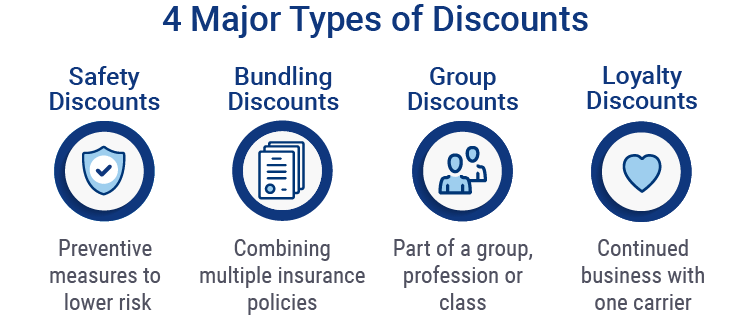 How Hard Is It to Get Landlord Insurance Discounts?
The short answer is that it's typically pretty easy. But the cost of landlord insurance may depend on things that are out of your control, and sometimes you have to settle for less-than-ideal discounts.
If you own an older property—especially one in a hurricane zone or a rural area with no fire department—you won't get as many discounts as you would with a newer building in a safe area. If you're in love with investing in more of a fixer-upper, bundling and loyalty discounts would be the easiest to obtain.
How Do I Get Landlord Insurance Discounts?
Chances are you'll get a few discounts automatically whether you ask for them or not. These discounts aren't explicitly spelled out in your policy and are based on things you can't always control, like your location.
But if you have your sights set on going above and beyond, here' are a couple of tricks to help you max out on potential discounts:
Take notes: Write down all the important little details you think the insurance company will need. That includes all the nitty-gritty on your property (age, size, you get the picture) and your business. If being a landlord is your side hustle, note your full-time occupation and whether you're a veteran or service member, too—you may qualify for more discounts.
Have a heart-to-heart with an agent: Make an appointment by phone or in person and bring all your notes with you. The agent will ask you a few fun questions to get to know you better. Make sure you answer honestly and thoroughly, though. The more they know, the more discounts they can help you qualify for.
Compare wisely: When you get your quotes, don't go for the lowest number right away. Ask your agent about which discounts have been applied. One of those higher-priced quotes could actually be giving you more discounts—and better coverage, too.
Keep your agent in the know: Did you buy a new house? Get a new car? Expand your rental property empire? Dropping your agent a quick line during these life changes can save you big money in the long run. They'll help you find some new discounts to make the coverage you need more affordable than ever.
Upgrade your assets: Thinking of exploring your handier side and doing some renovatin'? Talk to your agent first. Some renovations to your rental properties, especially ones that reduce the risk of fire, could qualify you for big savings. Happier tenants (and more rent dough), cheaper insurance. Two birds, one stone. Boo-ya!
Save on Landlord Insurance
Our independent agents shop around to find you the best coverage.
The Benefits of an Independent Insurance Agent
Great, now you know how discounts work. But we all know how valuable your time is. Why do the hard work yourself? Our independent insurance agents stay on top of the industry and all the new discounts so you don't have to. That means they'll help you find the right coverage for you at the right price.
They're not just there at the beginning, either. If disaster strikes, they'll be with you every step of the way, helping you meet deadlines and maximize your benefits. Your tenants will totally thank you for that. So let's get you all discounted up.
TrustedChoice.com Article | Reviewed by Paul Martin
©2023, Consumer Agent Portal, LLC. All rights reserved.