Digital visibility for independent insurance agents has grown tremendously since the January launch of the improved National Directory of Independent Insurance Agents on TrustedChoice.com.
The directory, which features over 26,000 Big "I" agency members, gives consumers an easy way to find local Trusted Choice agents by state or city. Google and Bing are crawling and indexing this directory every 30 minutes, giving participating Big I members across the country a huge advantage. SEO (Search Engine Optimization) value behind the directory is extraordinarily high for when consumers are online shopping for insurance.
Every day we are working to give independent insurance agents the digital advantage, and we are happy to say that the new directory is accomplishing just that.
The Agency Directory has seen tremendous growth over the last year:
Consumer traffic increase by 50%, with 62% of those being new users
Ranks for over 48,290 local keywords and phrases
Appeared 4.78 million times this year in Google searches
Referrals for Advantage subscribers increased by 104%
The top keyword in small and big towns across the US users searched online to find the directory is "independent agents near me."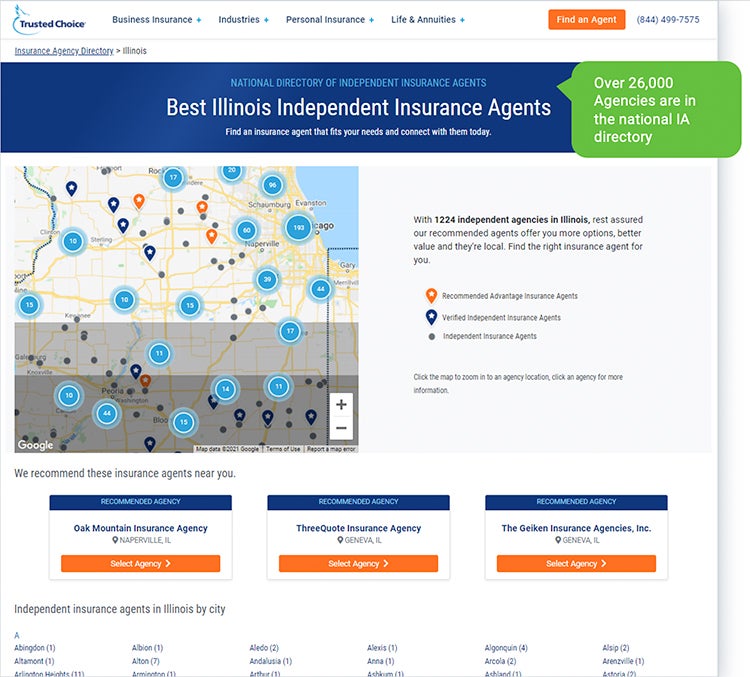 With the increasing exposure of the directory, it's really important that agencies are being showcased in the best way possible.
If you're a current Advantage subscriber, take some time to complete your profile by logging in here.
Now if you're not an Advantage agent, it's time for you to have a polished and impressive Advantage directory listing, especially with the new directory being crawled every day by search engines and visited by high-intent insurance shopper. Get started today!