When looking for new ways to reach a digital audience, agents and insurance companies don't need to look any further than their TrustedChoice.com profile. Here's why.
Why SEO Matters More Than Ever
It shouldn't be news to anyone by now that people are shopping online more than ever. Despite studies such as the one published by Liberty Mutual and Safeco Insurance revealing that millennials research agents online, the insurance channel may have felt less pressured to go digital just a year ago. However, social distancing has made a digital consumer experience the new normal. This means that agents, MGAs, wholesalers and carriers alike must find multiple ways to get noticed online, and search engine optimization (SEO) is a big part of their strategy.
(Spoiler alert: look for our IA Advantage podcast interview with Tyler Asher of Liberty Mutual and Safeco Insurance next month to hear their latest findings.)
Off Page SEO is the New Black
One of the most important parts of a successful SEO strategy goes beyond your own site. Known as off-page SEO, these tactics focus on activities that don't involve your website at all — such as link building, content marketing, social media and reviews.
Off page SEO tactics work to increase your site's domain authority, which ultimately impacts your ranking in search results. The higher your authority, the higher you rank. The higher you rank, the more likely it will be for someone to choose your link over someone else's from search results.
One of the best ways to build your authority is through link building, or backlinks. Links to your website from other relevant, authority websites tell search engines that your site is legitimate. While it isn't always easy to get third parties to agree to link to your website, Trusted Choice agents and insurance companies participating on TrustedChoice.com have an advantage. Literally. But more on that in a minute.
A Trusted Choice Agent Case Study
We recently interviewed an agent who understands the value of backlinks extremely well.
New agency owner, Ryan Hanley, spent the majority of his career on the marketing side of the insurance industry. As former CMO of Agency Nation, he produced numerous articles, videos and podcasts focusing on digital marketing strategies for insurance agents. Last year he started his own agency, Rogue Risk. Part of the SEO strategy for his agency was to get an Advantage profile on TrustedChoice.com.
"It's worth the backlink," he explains. "What [TrustedChoice.com] is doing is helping push my website, Rogue Risk, further up the search rankings for any search term that I could potentially rank for."
How a TC.com Profile Improves SEO
Whether you're an independent agent or an insurance company, being listed on TrustedChoice.com gives you a presence on one of the most popular insurance websites in the United States. That listing alone is a powerful way to gain additional brand visibility. But the benefits go well beyond visibility for Advantage agent and insurance company subscribers1.
1) Backlinks
As mentioned earlier, the backbone of an off-page SEO strategy is link building. It is also one of the more time-consuming and difficult things to do. Luckily, agencies and insurance companies with an Advantage profile get a backlink to their website automatically. This backlink tells Google and other search engines that your website is legitimate and that increases your site's domain authority.
2) Domain Authority
When it comes to backlinks, quality is better than quantity. A link from a high authority website affects your ranking more than lower authority sites. Search engines love TrustedChoice.com and our site is crawled multiple times each day. Our historically high domain rating — averaging in the mid 70s — means our backlinks are worth more.
3) Social Media Links
Your profile also contains links to your social media properties. Just as providing a backlink to your website from a high domain rating site helps your website rank, the follow links to your social media pages helps them come up for your brand name on page one of Google. Facebook profiles need links, too, in order to rank on page one.
Having your social media links in your trustedChoice.com profile will help your business show up in multiple search results. Texan Insurance is a case in point. When Googling this agency's name, you will see them dominate page one with their various web properties, including their Facebook profile.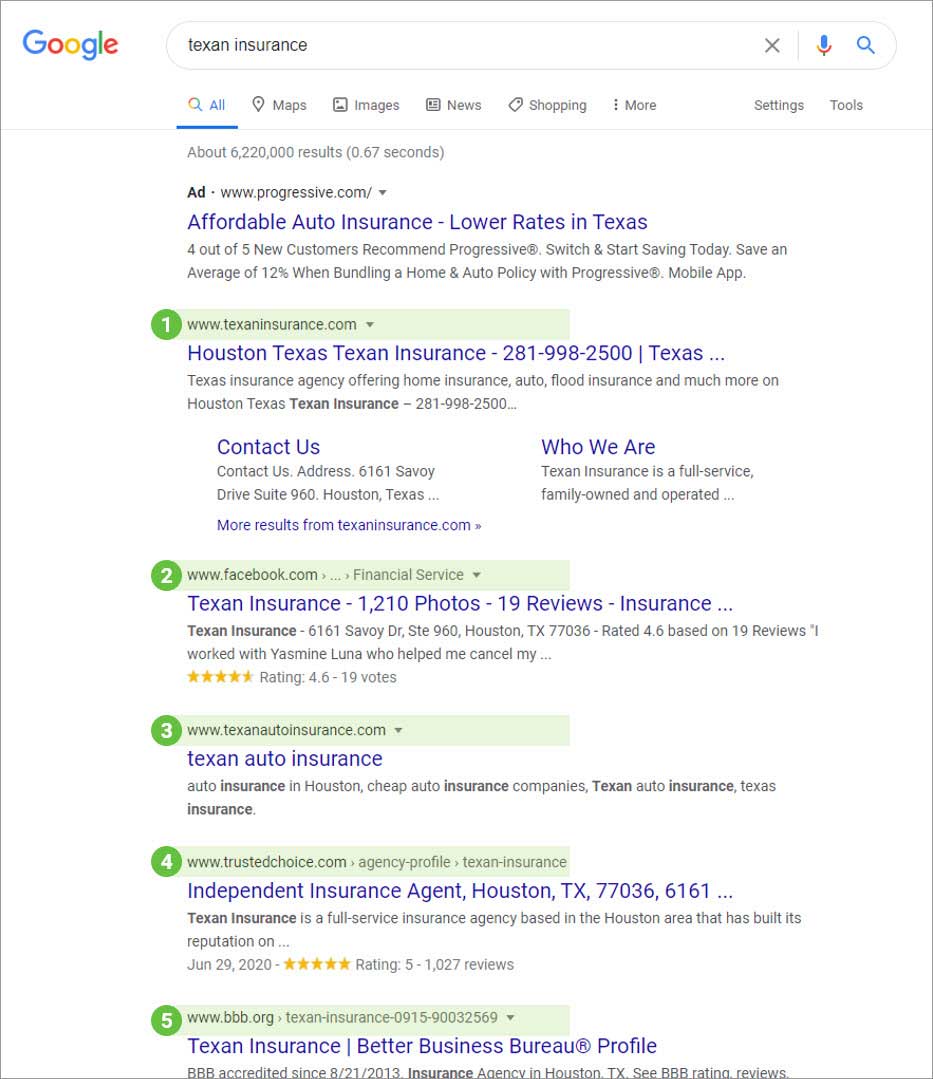 4) Keywords
Your profile contains words that you want to rank for, such as your specialties, products offered and states served. When consumers search for the type of the insurance they want, there's a great chance your agency's profile will be among the top results. Take Burr Insurance, for example. When searching for homeowners insurance in their geographic location, their TrustedChoice.com profile shows up on page one for those search terms.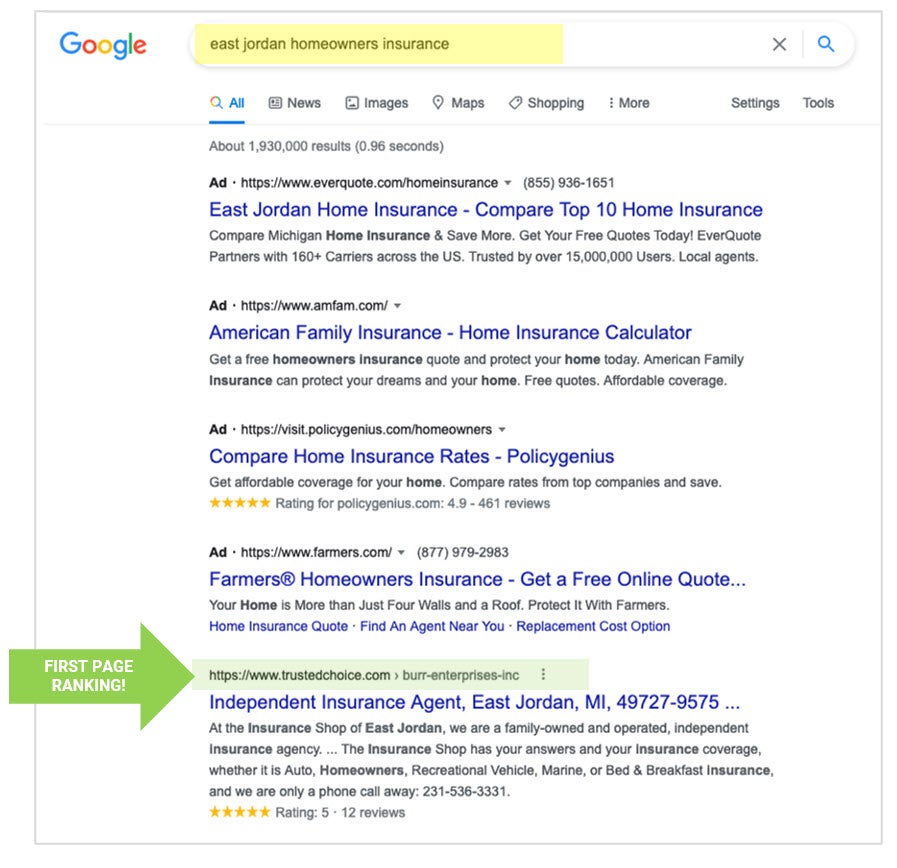 And it doesn't just work for insurance shopper traffic. Insurance companies that have an agent resource page on TrustedChoice.com will come up for searches by agents as well. Check out this example for The Main Street America Group. If an agent types in "Main Street America agent resources" into Google, their resource page is number one on Google, followed by their other agent-relevant web pages!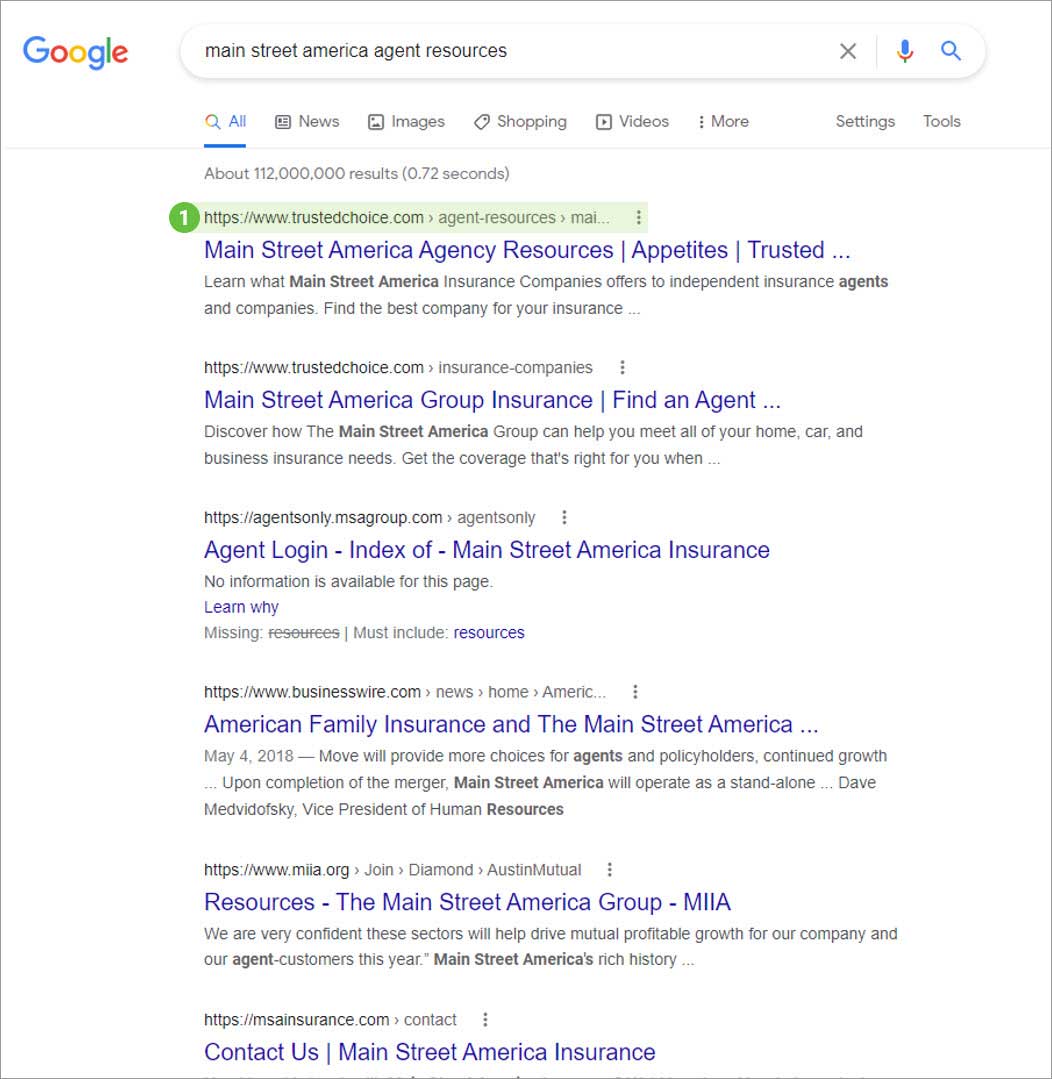 5) Reviews
Advantage profiles also contain consumer reviews, which are indexed by web crawlers. Consumer star rating appears in online search results, as shown in the TrustedChoice.com profile featured below, building immediate brand trust with insurance consumers searching for your services. Even better — online consumer reviews optimize your profile's searchability, giving your Advantage profile a notable ranking search boost over time.
(By the way, all reviews are routed through an internal review process before being published to your agency profile. Only favorable reviews are shared publicly, but we notify you via email of any reviews you receive, which you can also access anytime from your Advantage account.)

6) Content Pages
TrustedChoice.com publishes hundreds of keyword-rich content pages each month to help us rank for top insurance search terms (over 150,000 insurance keywords, in fact). One of the reasons we do this is to help our Advantage agents and insurance companies reap the benefits. Rather than dedicating hours of internal resources to rank for these keywords on their own site, they opt to be featured on our content pages instead2. This way someone looking for flower shop insurance, for example, will be directed to one of our high-ranking pages and they will see Advantage insurance companies and agencies who offer that type of insurance. We do all the work and you get all the credit!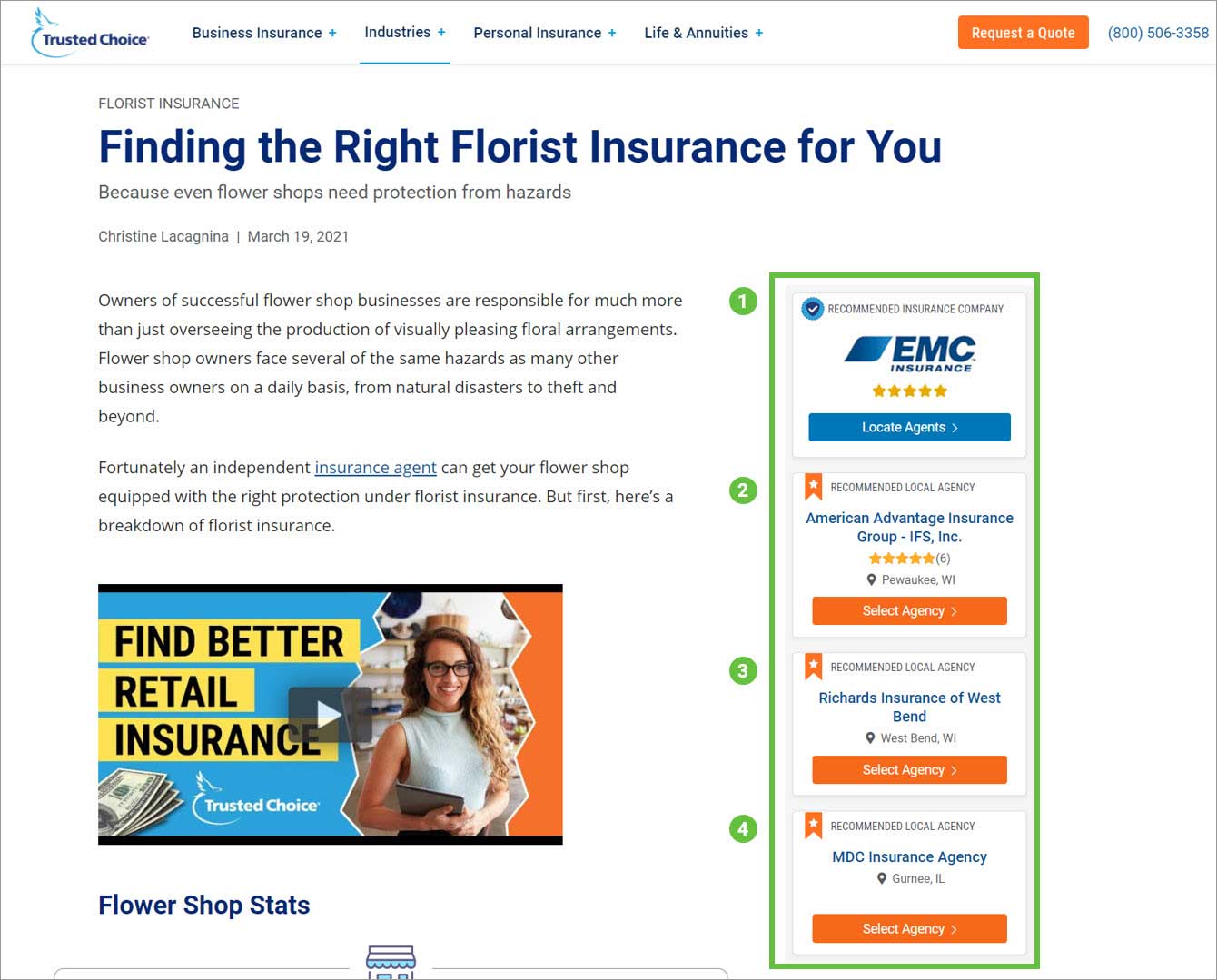 Insurance companies and agencies need to recognize the importance of off-page SEO because the digital consumer is here to stay. Backlinks, social media and keyword content all play into a healthy off-page SEO strategy and TrustedChoice.com is dedicated to helping you get there with Advantage programs for agencies and insurance companies.
1 Agencies with an Advantage SEO subscription and insurance companies with a Level 1 Company Advantage subscription
2 Agencies with Advantage Preferred subscription and insurance companies with a Level 2 Company Advantage subscription