For any independent insurance agent, a digital presence is crucial. Insurance shoppers flowing into TrustedChoice.com get the scope on hundreds of local agencies with just the click of a button, and an Advantage Profile and Advantage SEO subscription is designed to give your agency the online leg-up it needs to be recognized and found online by insurance shoppers. Your Advantage Preferred or Professional profile takes it even a step further by providing agents with digital opportunities, AKA, proven matching methods to ensure your agency is getting the right clients every time.
So, what are these digital opportunities? We're glad you asked!
Your Advantage Digital Opportunities
Exclusive to an Advantage Preferred or Advantage Professional subscriptions are three types of digital opportunities: recommendations, referrals and Claim-it® Referrals. Each of these opportunities is valuable in different ways, and all of them are designed to easily connect your agency with high-intent insurance shoppers.
Recommendations
Perhaps one of the best perks of an Advantage Preferred or Advantage Professional profile is recommendations. No matter where you land on the site, TrustedChoice.com will tune to an insurance shopper's location. This means local agencies can be recommended to prospective insurance shoppers on any of our 41,000+ consumer-facing pages.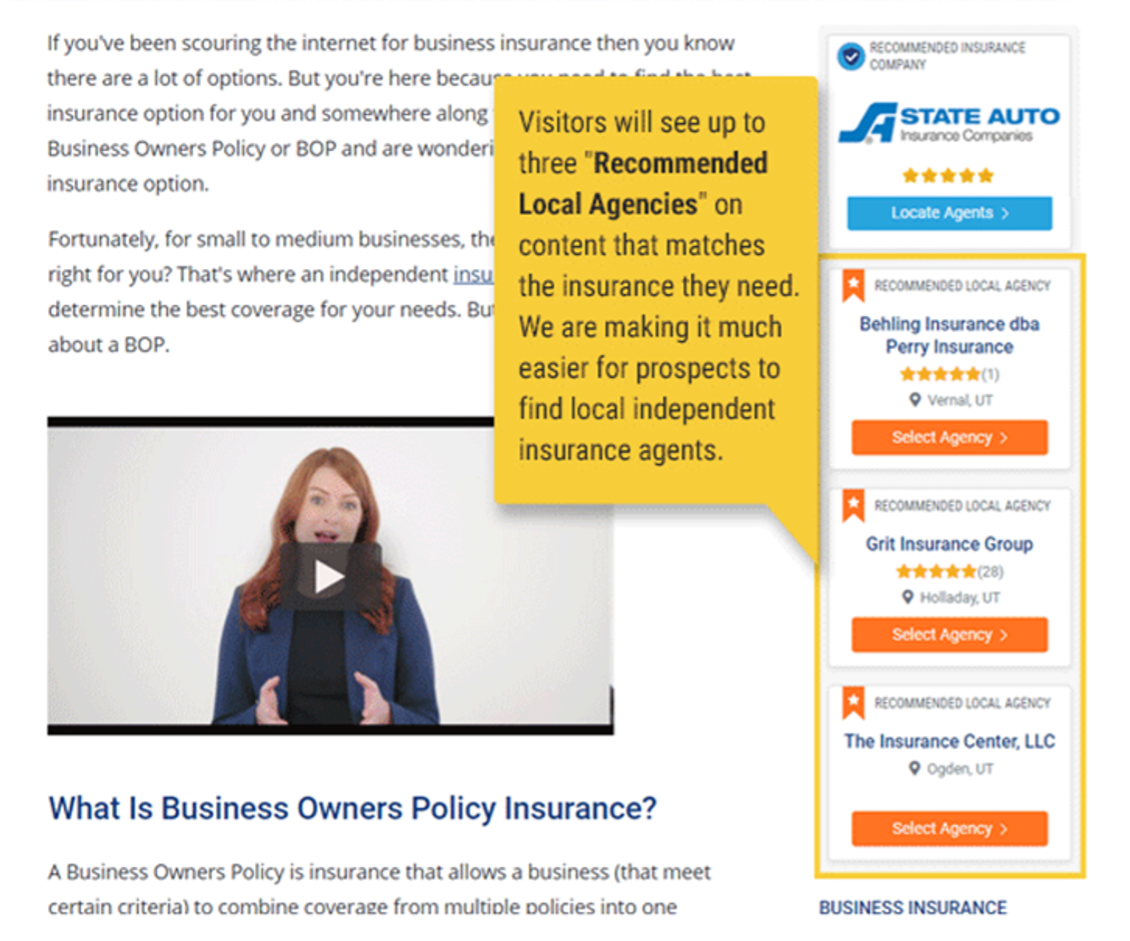 Recommendations are not random. Your Advantage profile will only appear as a recommended agency on content pieces that suit your preferred lines of business. Your agency will not be recommended to shoppers searching lines your agency cannot provide. No guesswork involved!
Referrals
When an insurance shopper lands on TrustedChoice.com, they can select a call-to-action button (Ex: "Get a Quote, Get Referred") to trigger the consumer funnel. From the funnel, users input contact information, current insurance status and insurance appetite to determine which agencies are the right match for them. When the shopper clicks "Find an Agent", our recommendation engine behind the funnel redirects the shopper to the agency results page and becomes a referral once they have selected their desired agency.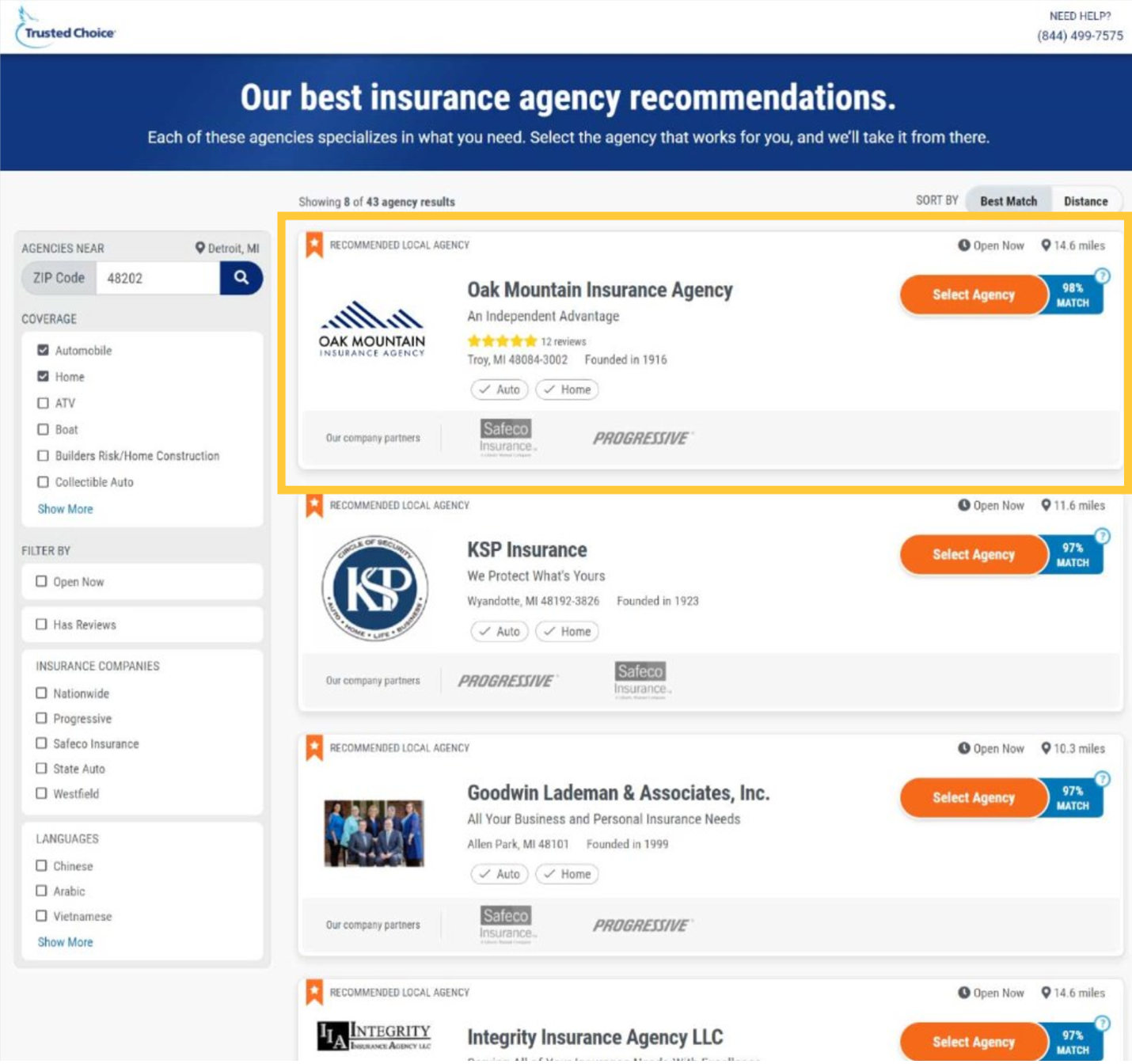 When worked correctly, referrals from TrustedChoice.com have been known to have a high return. When a shopper selects an Advantage Professional agency, that agency will receive an instant referral notification detailing the shopper's contact information and the best times to reach them. These are not leads, these referrals are high-intent prospects who chose your agency and want to talk to you.  (That's even more reason to maximize your Advantage profile and make sure you're seen!)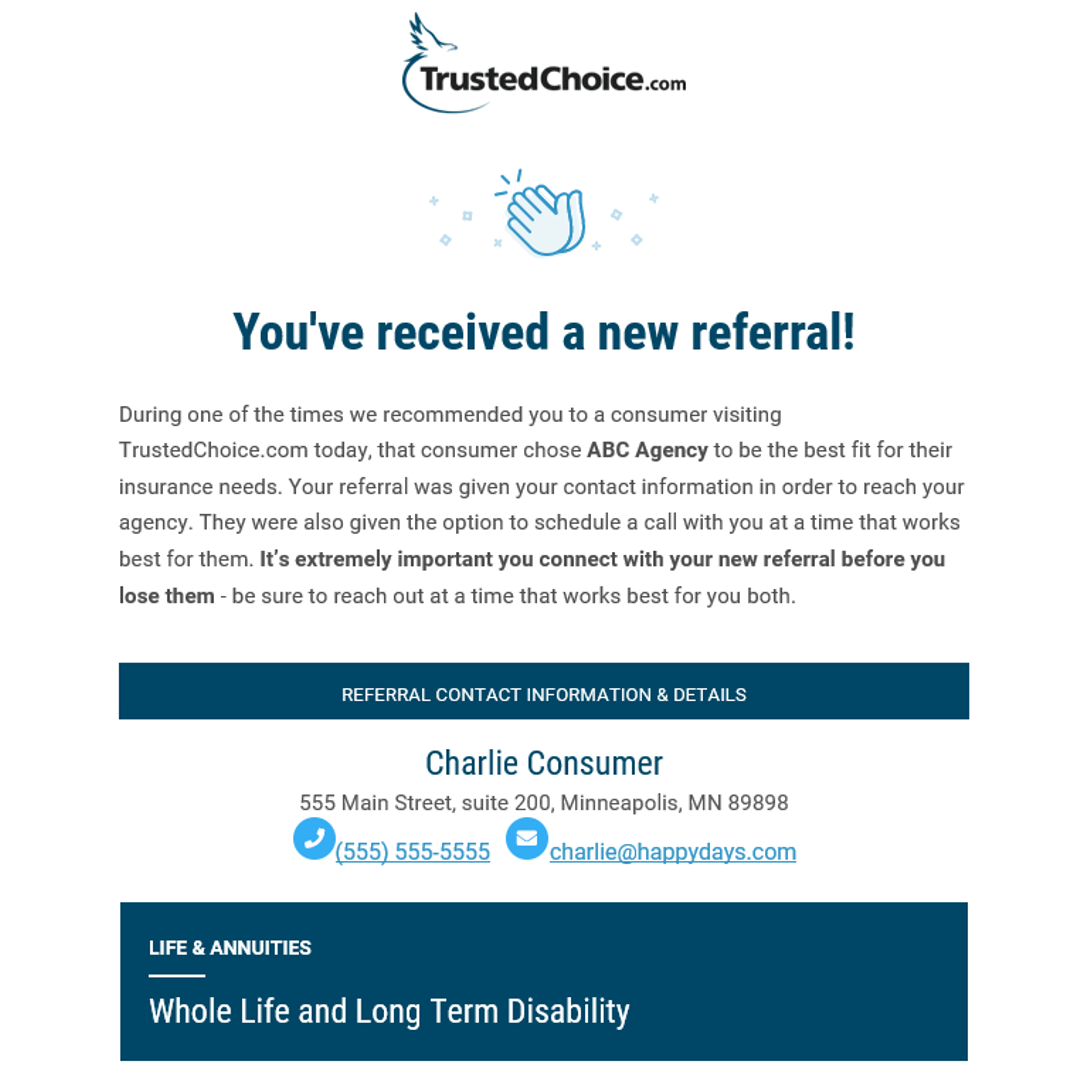 Claim-it Referrals
If you've never heard of Claim-it Referrals before, that's okay, because there is nothing out there like it! Claim-it Referrals are only available to Advantage Professional subscriptions and come from active, high-intent, online insurance prospects who are seeking an agent to talk to in real-time. Like referrals, Claim-it Referrals are appetite-matching, high-quality, and local—but what sets them apart is that they're exclusive.
Advantage Professional agents may sign up for Claim-it text notifications, which instantly alert them when a nearby Claim-it Referral matching their preferred business type has become available. Notifications include a glimpse at the referral information—like line of business, insurance type, location, and more—to help an agent determine whether the referral is a good fit to grow their business. By clicking the link in the notification and purchasing the Claim-it Referral for a nominal fee, that Claim-it Referral becomes completely unavailable to competing agents. That means once a Claim-it Referral has been purchased, no other agent has access to the referral information, nor can they compete for the referral.
Not signed up for Claim-it Referrals? This is exclusive to Advantage Professional subscribers. Contact Client Success at support@trustedchoice.com to sign up.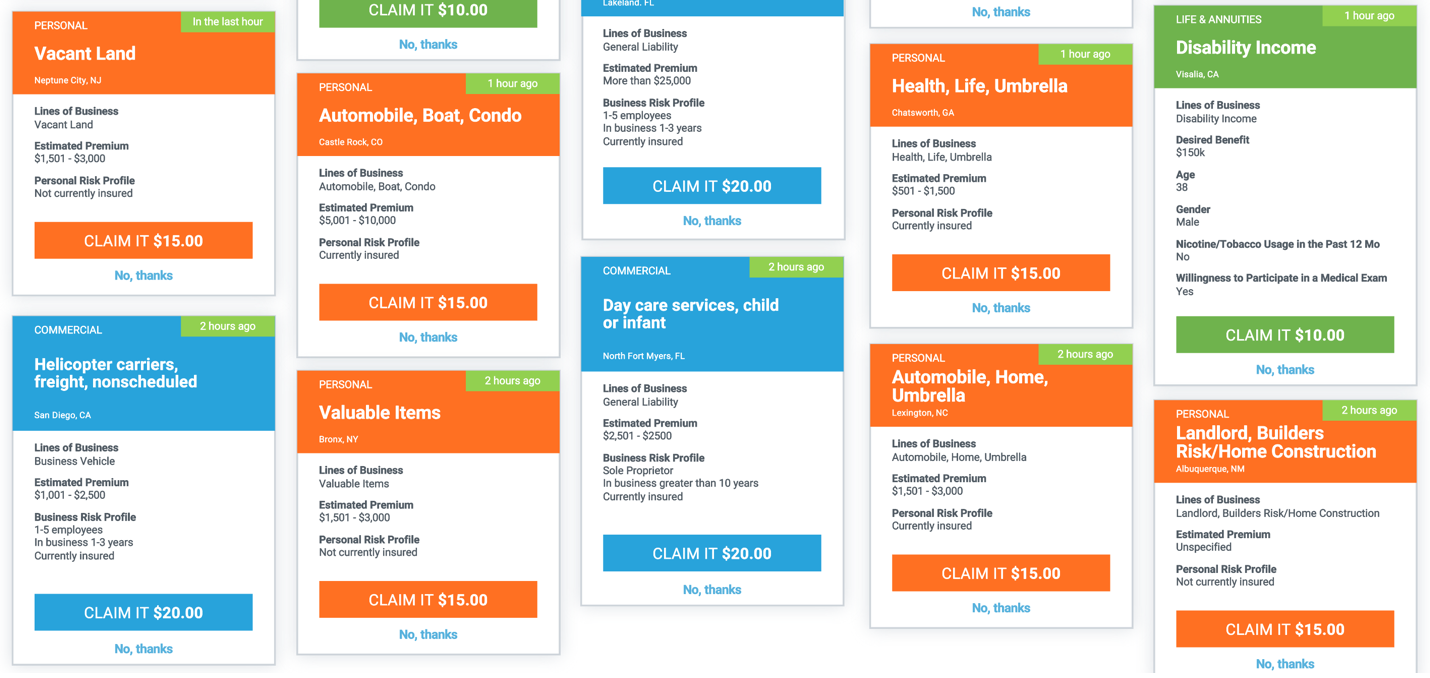 To take Advantage of all of these great digital opportunities, see our Advantage subscription options here or schedule a demo with one of our sales representatives today. Let TrustedChoice.com help your agency get noticed!