Four Major Home Renovations That Impact Your Homeowners Insurance Needs
How renovations can affect your insurance and how to stay protected while upgrading your residence

The beauty of owning a home is that you can renovate it however you'd like. There's no owner telling you not to paint the walls, install a pool, or remodel the kitchen. However, these types of changes can impact your home insurance needs and rates, which you'll want to consider before you go making any major upgrades.
A good place to start is with a discussion about your changing needs with your independent insurance agent. Agents can help you understand how any renovations will impact your home insurance. Depending on what you do to your home, you may need to increase your policy limits or purchase additional coverage. An agent can help you with those needs and more.
Value of homeowner improvements and repair expenditures in the US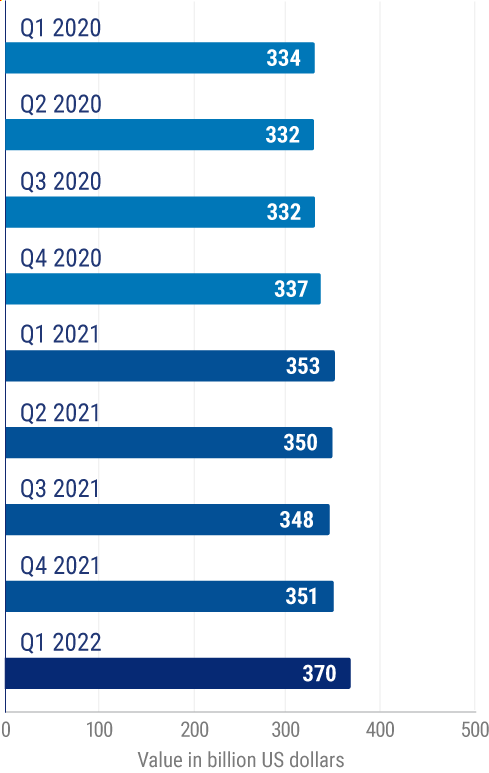 Remodeling expenditure in the United States amounted to 353 billion US dollars in recent years and is trending up each year.
Four Great Home Renovation Ideas and Their Effect on Your Insurance
Home renovations can increase the value of your home and turn your living space into your dream residence. However, some of the most desired renovations can be costly, can increase your risks, and can present liability risks for builders and contractors. All of these challenges can impact your home insurance. This is why you'll want to talk to your agent before any large renovations begin.
1. Kitchen and Bath Renovations
Kitchen and bathroom remodels are the most popular renovations that are done to homes. In fact, according to the National Association of Home Builders, 81% of builder requests are kitchen remodels.
Kitchen and bath remodeling will likely increase your home's value. Therefore, you don't want to take the risk of losing that investment by not ensuring that you carry enough insurance to cover a loss if the unthinkable happens.
Imagine if you replace the vinyl floors in your kitchen with heated tile and add state-of-the-art appliances and luxury cabinets. These upgrades improve the appearance of your kitchen but cost more to replace if an accident were to occur such as a fire. You'll need to adjust your insurance limits and coverage to make sure all your upgrades are covered.
Upgrades like this can also lead to an increase in home insurance premiums. Fortunately, if your contractor installs systems that qualify you for discounts, like an automatic water shutoff device that senses moisture and prevents a flood due to faulty pipes, you could offset some of that cost.
The easiest way to learn about discounts like these is to work with your local insurance agent before you implement your renovation plans, as discounts vary from state to state.
2. Installing a Pool
Pools are another popular renovation project. A pool can be enjoyed all summer long and even throughout the winter in warmer climates.
As fun as they are, pools are a known risk for insurance agencies. With a pool usually comes kids, teens, and adults accessing your property.
If you install a pool, you'll need to adjust your insurance to cover any surrounding structures such as the pool deck, pumphouse, and fencing. You also need to increase your liability insurance limits in the event that someone is injured or drowns while using your pool.
Most insurance experts recommend increasing your home liability coverage to at least $300,00 and up to $500,000 if you own a pool. You can also purchase an umbrella policy for added liability coverage.
Your local insurance agent can paint a clearer picture for you of what types and how much coverage you need.
3. Roof Replacement
Roofs need to be replaced every 15-30 years depending on the material used. Sometimes a new roof is a desired change versus a necessary one as it can amplify both the curb appeal and energy efficiency of your residence.
A new roof can also reward you with discounts on your home insurance plan. Since specific grades of shingles, hurricane straps, and additional waterproofing measures during the roof installation can minimize the risk of damage during a weather event, this can save you money on your premiums.
If you're hoping to get a discount on insurance from your roof, you'll probably need the contractor to document the materials and methods used during the installation to provide proof to your insurer.
4. Home Office or Workspace Remodel
After COVID-19, many homeowners needed to take space in their home and turn it into an office or workspace. The more you work from home, the more money you'll likely spend on creating the perfect professional environment.
When you start using your home for business purposes, standard home insurance may not cover everything involved, including equipment. The best route to take is to review your policy with your insurance agent before purchasing anything.
In addition to purchasing equipment, you'll need to consider whether clients will be coming to your home or not. If they are, you'll want to consider business liability coverage. You may be able to add an endorsement to your home insurance policy or you may need a separate business insurance policy, depending on the type of business you do.
Insurance Considerations while Contractors Renovate Your House
In addition to considering the added risks that the above renovations can add to your home, you'll have builders and contractors who will be working on your property during these renovations. Any time someone is working on your home, you have increased liability risks for third-party injuries or property damage.
A good place to start is by understanding your liability coverage in case someone gets injured on your property. If you'll be performing any of the renovations yourself, you'll want to discuss insurance coverage for any tools, equipment, and transportation of materials from the store to your home.
You'll also want to understand the type of coverage your contractor has. Businesses are required to carry insurance, but many handyman jobs are done under the table and therefore there's no guarantee that the worker has proper coverage.
An agent can help you understand the risks to watch out for when you have professionals or handymen working on your home.
Why Choose an Independent Insurance Agent?
Tailoring your residence to suit your needs through home renovations is a significant investment of your money, time, and dreams. A discussion with your independent insurance agent can assure that you have the appropriate coverages and see whether you qualify for any discounts.
Agents will always speak with you, free of charge, to discuss your insurance needs. They'll compare home insurance costs and coverages with you and address any questions or concerns you have about policies.
TrustedChoice.com Article | Reviewed by Jeffrey Green
©2023, Consumer Agent Portal, LLC. All rights reserved.
https://eyeonhousing.org/2017/05/remodeling-in-2016-kitchens-reclaim-top-spot-from-baths/
https://www.iii.org/article/pool-safety-and-insurance