How to Write a Business Plan in 9 Easy Steps
(Breaking it down step-by-step)

In March 2018, serial entrepreneur Elon Musk revealed that he doesn't bother with business plans. For one thing, he explained, he doesn't like them; for another, "these things are always wrong."
Don't start celebrating. You still have to write one. Musk doesn't do business plans because, in the words of Jeremy Geoffrey on Inc., he has "transcended the need for them."
If you haven't transcended, you need a business plan. A traditional one, not the "lean start-up" version some entrepreneurs can get away with because they've killed it a few times. A business plan that paints a clear, detailed picture, from the twinkle in your eye to maybe five years out. But you should always make sure you're covered with an affordable business insurance policy.
It's Not Just about Funding
And you need it regardless of whether you need a loan. The Small Business Administration (SBA) calls the business plan a "roadmap for how to structure, run, and grow your new business," and companies that have one tend to be more successful. Yes, it's what you'll use to get money from someone besides your mom, if you need that, but it's also how you'll know if you're on the right track.
Jared Weitz, founder and CEO of United Capital Source Inc., which provides funding to small businesses, considers it essential.
"Creating a business plan for internal reasons can bring you clarity, organization and a deep understanding of your market," Weitz writes in an email. "You can confirm that your math is correct and establish benchmarks that you can hold yourself accountable to."
"If you didn't know all the ins and outs of your industry and your own business," he adds, "you will after creating a formal business plan."
Plus, business ventures don't always go as planned. When it gets real, if you don't have a well-conceived plan, you're probably toast. (Actually, statistics show 42% of businesses fail because no one wanted their product or service in the first place. But business plans cover that, too.)
Why 101 Start-Ups Failed
(According to Their Founders)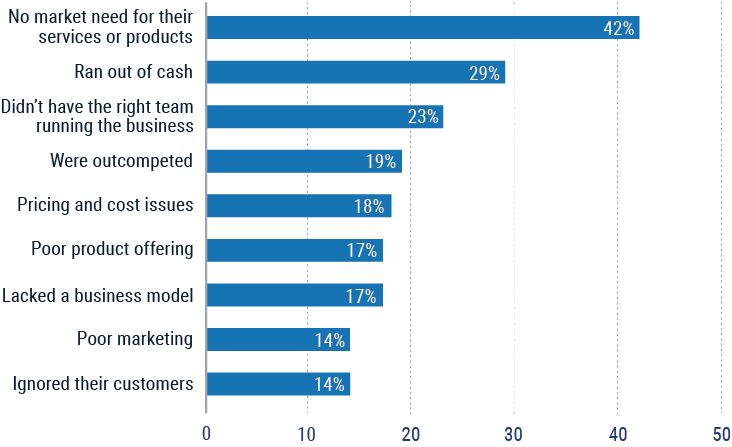 Just the process of developing each component of a business plan can refine your vision and strategy in ways that help you dodge pitfalls now and down the road.
Building an Effective Business Plan
A traditional business plan covers everything you currently have, need, and want for your company. And it lays out the way there.
You can structure it however you want. If the document accurately embodies your business venture and makes sense, you're good to go. Certain information needs to be in there, though.
Typically, a business plan unfolds something like this:
Executive summary - Overview
Business description – What you'll do and how you'll do it
Industry analysis – Who's your competition?
Market analysis – Who's your customer?
Leadership/organization description – Who's running things?
Financials and projections – The money situation now and later
Financing request – If you give me this much money, you'll get it back. Here's how.
Appendix – Documentation, sources, legal docs, etc.
The document is usually about 30 to 40 pages, including financial charts and graphs. But Weitz says not to focus on that.
"I've seen some as small as 5-10 pages and as large as 50-60 pages," he writes, "but those were either too skinny with data, or too fluffy."
Weitz recommends including all of the "relevant data and facts while leaving out the extra commentary."
It all opens with a preview.
Save on Business Insurance
Our independent agents shop around to find you the best coverage.
The 9 Business Plan Steps
Step 1. Create an executive summary
The executive summary is an overview of your business plan. You'll cover basic details like:
Who are you?
What kind of business is this?
What's your product or service, and why is it a good thing?
How will you make money via that product or service?
What do you have to offer that similar companies don't?
Where will the business operate?
When do you plan to be operational?
What makes all of this a good idea?
"This is the first section readers will see so there is exponential importance in making sure it's well written and engaging," writes Weitz.
He says he often writes the executive summary last, "because at the end of all [the] research and thoughts is when you can best promote the strengths of your business plan."
You'll be expanding on the points you bring up in the executive summary, so there's no need to include every detail. Aim for no more than 10% of the length of the main text, and preferably half that.
Step 2. Describe your business and approach
When you describe your business, be specific. The point here is to present a thorough internal analysis, covering topics like:
What do you make or do?
Why is that product or service desirable?
How is your approach to that product or service unique?
How/why did you develop that approach?
What are your overall goals for the business?
Where are you on the path to meeting them?
What's your plan for meeting them?
What's your timeline for hitting milestones?
Be specific in timelines. You may not hit your original marks, but it helps with planning, and you'll refine as you go.
Step 3. Analyze your industry
In the analysis section, you want to reveal a hole in the market that your product or service fills, citing industry and market research. This section should address:
Who is your competition? (including specific companies)
What are they making/selling?
How is that different from what you're making/selling?
Why would people pick yours over theirs?
Inc.'s Jacklyn Ho suggests simplifying things with a feature-comparison table showing what each competitor has to offer. Obviously, you should come out on top. (If not, she notes, maybe rethink the business.)
Remember to properly cite your sources. If your reader can't verify your data, they don't count.
Step 4. Analyze your market
Here you'll talk about your customer base, answering questions like:
Who's going to buy what you're selling (with demographics)
What do they need?
How does your product/service fill that need?
How will you attract and keep their business?
When you describe your customer base, get personal, writes Ho. Names and hobbies.
You can reference research you've done yourself, too. Asking 30 people in your target market what they hate about remote controls is market research if your product is remote controls.
Step 5. Describe your organization
In this section, talk about your business structure, including who occupies key roles. You want to show a sturdy set-up and highly capable leadership team. Include information on:
The Business
Legal structure (sole proprietorship, partnership, C corporation, etc.)
Accounting processes
Technology set-up
The Team
Brief biographies
Background and experience
Roles in the business
Specific areas of responsibility
If you have any investors already, they go in here, too.
Step 6. Provide your financials
Hope you like making tables!
Here's where you get down to numbers. You want to give a complete financial picture of your business in a logical series of tables, charts, and maybe some graphs. Include information on:
How much money is currently in the bank and in assets
How much money you need to get off the ground
Where you plan to get that money
Projected profit and loss
Budget for expenses
Sales forecast
Break-even analysis on the original investment amount
If you're already up and running, throw in a 12-month income statement, too.
Step 7. Request financing (if applicable)
Most small and medium businesses are self-funded these days, according to a 2015 BlueVine analysis. Only about 16% go the loan route for primary funding.
Start-Up Primary Funding Sources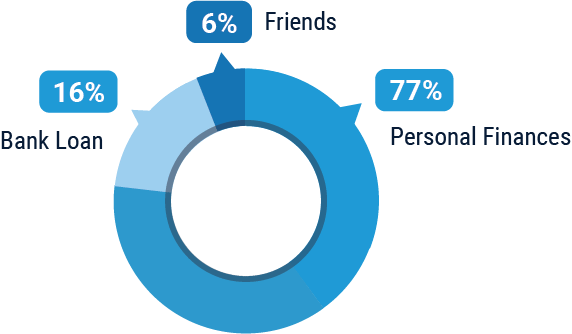 If you're in the 16%, now's the time. In addition to dollar amounts and time frames, experts suggest a brief overview of your business in case an investor only wants your financing request.
After the overview, get into topics like:
Business summary (basics like product/service, core team, target market, current financial state)
Type of financing you want (i.e., loan or investment)
How much money you need and what you need it for
How and when you plan to repay it, with timelines
Get specific in timelines. You'll update as you go. It helps with planning even if you miss the mark.
Save on Business Insurance
Our independent agents shop around to find you the best coverage.
Step 8. Build an appendix
To wrap this whole thing up, gather your supplementary information. The appendix holds all of the legal and supporting documents you referenced throughout the plan, such as:
Partnership agreements
Articles of incorporation
Contracts
Bank statements
Industry and market research
Patent and trademark registrations
Receipts
Credit history
Tax documents
Step 9: Crack open a beer and find an editor
Don't skip this step (either part). You can't edit yourself. No one can. It's a thing.
If you'll be trying to impress anyone with your business plan, grammar and typos count.
"In my opinion the absolute worst thing someone can do to mess up their business plan is write it poorly," Weitz writes.
"No one expects you to have a doctorate in English," he adds, "but you can't leave the impression that you're either ignorant about, or don't care that the business plan is poorly written."
You also need an outside opinion on quality. You're too close to it.
And if this whole crazy scheme of yours works out, you'll be doing this all over again, multiple times. To quote Elon Musk, "these things are always wrong." Your roadmap will be a coaster in about eight months. You're gonna love it. Just make sure you're covered with an affordable business insurance policy.
Big thanks to Jared Weitz, CEO of United Capital Source, for his help with this article.
TrustedChoice.com Article | Reviewed by Jared Weitz
©2023, Consumer Agent Portal, LLC. All rights reserved.
Sources
https://www.sba.gov/business-guide/plan-your-business/write-your-business-plan
https://www.allbusiness.com/traditional-business-plan-lean-startup-plan-115661-1.html
https://www.inc.com/jackelyn-ho/how-to-write-a-business-plan-in-1-day.html
https://www.investopedia.com/articles/personal-finance/120815/4-most-common-reasons-small-business-fails.asp
https://www.thebalancesmb.com/steps-to-write-a-business-plan-1794230
https://www.bluevine.com/bluevine-releases-2015-small-medium-business-survey/
https://www.cbinsights.com/research/startup-failure-post-mortem/