BOP Insurance
A BOP is a convenient package of essential coverages for your unique business.

If you've been scouring the internet for business insurance, then you know there is a ton of options. But you're here because you need to find the best insurance option for you, and you've heard of a business owners policy or "BOP," and are wondering if it's the right choice for your business.
Fortunately, for small to medium businesses, BOP insurance provides a lot of critical protection. But is a BOP right for you? That's where an independent insurance agent can help you decide. But first, let's chat a little more about BOP insurance.
What Is Business Owners Policy Insurance?
A business owners policy is insurance that allows businesses (that meet certain criteria) to combine coverage from multiple policies into one convenient package. BOPs are created for businesses that face similar risks and often appeal to small and medium-sized businesses. However, larger companies can purchase a commercial BOP package and customize it to fit their needs. These days, there's a BOP for most mainstream businesses, from hair salons to hardware stores, which makes the process easier.
BOPs are low-cost solutions for low-risk businesses. These policies are a surefire way to protect your business's livelihood by combining protection for liability risks and commercial property together in one bundle. BOPs are also typically sold at a discounted premium when compared to purchasing all these individual coverages separately. An independent insurance agent can provide you with even more insight into these convenient policies.
Why Do I Need a Business Owners Policy?
Every business needs insurance, but separate policies can get pricey. Sometimes a BOP is less costly than individual policies, which is why it's appealing. Furthermore, if there is damage to your property or the property of others, employee theft, mechanical difficulties, or an everyday accident at your business that causes a loss of income, a BOP can keep you from having to close your doors as a result of the expenses related to these events.
Terrible things can happen if you don't have a BOP, such as:
Financial ruin: There's no reason to risk paying out of pocket and possibly going bankrupt, when you could just purchase a BOP that's fairly inexpensive.
Lawsuits: Legal issues can not only be costly, but they can also be very time-consuming, so one accident has the potential to completely bring down your business.
Losing your stuff (or other people's stuff): Recovering the costs of theft, damage to buildings, or broken equipment could send your company into a downward spiral.
At the end of the day, BOPs are designed to offer many crucial coverages for businesses of all kinds in one convenient package. BOPs are also topped off with specialized coverages that apply to your unique business niche, to give you the full picture of protection you need.
Who Sells BOP Insurance?
BOP insurance is available from many different insurance companies, and the best way to find the right carrier for you is through working with an independent insurance agent. Independent insurance agents have helped all types of insurance customers, including those in search of BOP insurance. They know which insurance companies to recommend to meet your needs, and can provide informed suggestions based on company reliability, rates, and more.
While many insurance companies could provide a BOP insurance policy for you, finding coverage could also depend on the area you live in. Here are a few of our top picks for BOP coverage.
One BOP insurance company outshines its competitors:
Nationwide is a leading small business insurer with an "A+" rating from A.M. Best. The carrier is on the Fortune 100 list and currently provides more than half a million customers across the US with quality coverage. Aside from their outstanding insurance catalogue, Nationwide offers superior customer service and 24/7 claims reporting.
Nationwide's BOP policies include commercial property insurance, general liability insurance, business income insurance, and equipment breakdown insurance. The carrier also provides specific, prepackaged BOPs designed for the following industries:
Auto
Retail
Food
Service
Office
Wholesale
Beyond that, Nationwide offers several optional add-on coverages to BOPs, including the following and more:
Cyber liability insurance
Inland marine insurance
Umbrella insurance
Crime insurance
Workers' compensation
Professional liability insurance
With all their convenient coverage solutions for business owners, Nationwide is our top pick for BOP insurance. An independent insurance agent can further help you decide if Nationwide is the right insurance company for your business's coverage needs.
What Is Covered in a Business Owners Policy?
BOPs are set up to protect owners of small to medium businesses by offering a pre-crafted selection of coverages needed by all businesses, and then topping it off with specific coverages needed by a certain type of business. So, depending on your unique company, your package will vary.
Here are the standard coverages offered in BOPs: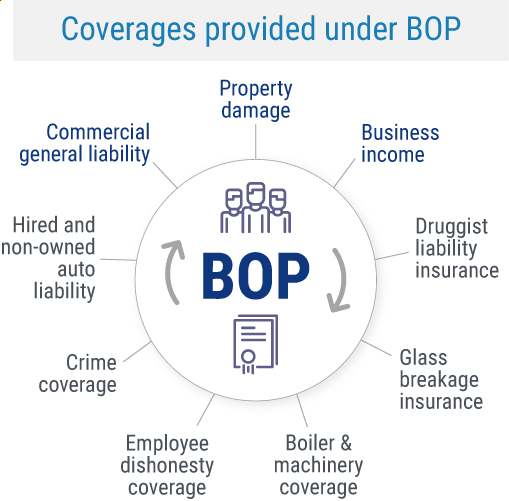 Commercial general liability: Protects your business against property damage or bodily injury claims made by a third party.
Property damage: Covers loss of or damage to your physical property, including your office space, and often the inventory inside it, against things like fires, storms, vandalism, etc. Coverage often extends to permanent changes you make to the interior of a building as well, such as installing light fixtures.
Business income: A part of property insurance, this aspect covers the financial loss suffered while a business is closed due to fire damage or other disasters.
Once the standard coverages needed by business owners across the board are taken care of, your business still needs additional protection tailored to your unique niche. The following are just a few examples of additional coverages offered by BOPs:
Hired and non-owned auto liability: If your employees drive their personal cars to perform company operations but you don't have company vehicles, you might need this coverage.
Crime coverage: Covers losses due to criminal activity such as theft or fraud. Coverage even applies to employees who steal from the company.
Employee dishonesty coverage: Covers harm to the business caused by employees with questionable motives.
Boiler & machinery coverage: Also known as "equipment insurance," this coverage applies to electric equipment in the building (e.g., AC units and boilers) that breaks down due to power surges, etc. Property insurance may cover this stuff, but not always.
Glass breakage coverage: Covers the glass windowpane of your business's storefront, where applicable, from things like vandalism and car crashes.
Druggist liability insurance: Covers liability exposures for professionals like pharmacists who have the potential to make very costly mistakes by giving someone the wrong prescription.
This list of available add-ons to a BOP is far from exhaustive. The more complex the business, the more types of coverage it's likely to require. Working together with an independent insurance agent is the best way to ensure that your business has every aspect covered against all potential risks.
What Does BOP Property Insurance Cover?
The "buildings" coverage provided in BOPs can actually refer to several forms of property. Policies cover listed perils relating to:
Completed property additions
Permanently installed fixtures
Structures aside from buildings on the premises
Equipment and machinery
Outdoor fixtures
Business personal property (BPP) in insured structures
Additionally, certain forms of property can be covered by a BOP if they're not currently insured under another policy, including:
Property alterations
Equipment and materials used for making alterations to insured property
Property additions currently under construction
An independent insurance agent can further explain the types of commercial property covered by a BOP.
What Is Classified as Business Personal Property?
The business personal property (BPP) category encompasses more than the items inside an insured structure. BPP can be located within 100 feet of the business premises and still be covered, and in certain cases can be covered while in a vehicle.
The following can be classified as BPP:
Property belonging to others that's currently in the insured's care, custody, and control
Property currently being leased by the insured
Property used for tenant improvement or betterment
Property owned by the insured business and used for the business
Excluded property that is not covered is as follows:
Money and securities
Bullion
Watercraft while afloat
Contraband
Outdoor fences
Radio or TV antennas and satellites
Detached signs
Trees, shrubs, and other plants
Aircraft and business vehicles
If your business is in need of extra coverage to insure excluded property, an independent insurance agent can help you get equipped with all you need.
What Isn't Covered in a Business Owners Policy?
Just like any other type of policy, BOP insurance comes with a list of specific covered perils and a list of non-covered perils. While specific exclusions will depend on your individual policy, two major perils not covered under BOP insurance are flood damage and earthquake damage. Special flood insurance and earth movement policies would be required to protect your business from damage and/or suspended operations caused by these types of disasters.
Flooding is certainly a concern in a coastal states. In order to protect your business from getting washed up, it's a good idea to look into getting coverage, especially if your town is at an especially high risk for flooding or hurricanes. Flood insurance policies are only available through the National Flood Insurance Program, which is a part of FEMA. Your independent insurance agent can help point you in the right direction.
Additionally, BOP insurance tends to exclude the following coverages:
When it comes to professional errors and negligence, company vehicles, and the safety of your employees, you'll need to work with your independent insurance agent to purchase separate policies to cover these important areas, if they apply to your business.
What Kinds of Businesses Are Considered "Low-Risk"?
Insurance companies determine a business's level of risk based on any claim history, conditions such as safety and health concerns, likelihood of theft, burglary, or damage from a natural disaster, and whether the businesses are in high-risk industries. The lower the risks of your company, the less complicated insurance coverage you need. This makes it convenient to go with a BOP.
What Types of Businesses Are Good for a BOP?
While a BOP is good for nearly any business, there are some businesses that are generally classified as "low-risk," and therefore well-suited for a BOP.
The following businesses are good candidates for a BOP:
Restaurants
Retail stores
Salons
Professional services
Pet groomers
Veterinarians
Caterers
Coffee shops
Delis
Auto repair shops
Florists
BOP policies are known to often be convenient, one-size-fits-all, and quick to set up. They're not intended for complicated, risky businesses. Your independent insurance agent can help you determine whether your specific business would be a good candidate for a BOP.
What Kinds of Businesses Are Considered "High-Risk" and Should Not Purchase a BOP?
For companies in high-risk industries, a BOP policy would not be the best fit. Companies that run at high risk or are in unique industries require a specific insurance package and a certain amount of coverage. For these businesses, a BOP might not offer the coverage type or amount that their business needs. These are just a few examples of business types that would not be a good pairing for a BOP:
Agricultural
Mining
Construction
Health care
Gun shops
Computer stores
A BOP is also not a good fit for a business that needs something that's not offered in the policy, such as professional liability insurance. Businesses that usually need professional liability insurance include fitness trainers, photographers, beauty technicians, and anyone who runs the risk of being sued by a client for not producing an adequate enough product. Since professional liability is not offered with a BOP and cannot be added to a BOP, it wouldn't be the best choice.
What Is the Difference between BOP Insurance and General Liability Insurance?
Commercial general liability insurance (CGL) is designed to protect businesses from legal claims, including for bodily injury or property damage to third parties. But a BOP includes CGL coverage and more, such as commercial property insurance and business income insurance, together in one convenient package for business owners. Here's a deeper breakdown:
BOPs:
Offer liability protection for your business against third-party injuries and property damage
Offer product liability
Offer commercial property coverage
Offer business interruption coverage
Cost an average of $350-$3,000 annually
Are designed for small to medium-sized businesses
Are designed to cover low-risk industries
General liability policies:
Offer liability protection for your business against third-party injuries and property damage
Offer product liability
Cost an average of $400-$600 annually
Are designed for most businesses
Are made to cover most industries
Finding Discounts and Savings on BOP Insurance
Though costs of BOP insurance can vary greatly and certain policies will be more expensive than others, many insurance companies offer a handful of competitive discounts and other ways to save money on coverage. An independent insurance agent is experienced in finding money-saving hacks for BOP insurance customers.
Here are a few examples of common discounts offered on BOP insurance:
Annual premium discount: Businesses can qualify for a discount on their BOP insurance if they opt to pay premiums annually in one lump sum, rather than monthly installments.
Insurance package discount: Businesses can save quite a bit on BOP insurance if they shop for a special packaged product with all the protections they need, rather than purchasing each required type of coverage separately.
High deductible discount: Businesses can lower the cost of their BOP insurance by opting for a higher deductible amount on their coverage.
Online quote discount: Businesses can often earn a discount through an insurance company if they first request a quote for BOP insurance.
Safe construction discount: Business can earn a discount on the property coverage section of their BOP insurance if the business's property is rated as safely constructed and better able to withstand various perils.
An independent insurance agent can not only help you find all the BOP coverage your business needs to maintain smooth operations, but also find the most affordable rates by browsing a number of different products offered by insurance companies.
Comparing BOPs
When shopping for a BOP, it's handy to work with an independent insurance agent. Beyond that, you'll want to look for certain types of coverage in the policy to make sure you're getting the best bang for your buck, and the best picture of protection for your business.
You'll know it's the right policy for you if it covers:
Business property
Commercial liability expenses
Cyber liability costs
Professional liability or errors & omissions insurance
Business interruption costs
Extra coverages tailored to your business's niche
Mishaps and Scenarios to Think about for BOP Insurance
When getting set up with BOP insurance, it's a good idea to think about some common mishaps that could affect your business in order to prepare for them in advance. Here are just a few common mishaps and scenarios to consider when looking into purchasing BOP insurance:
Your business gets damaged or destroyed by a natural disaster: If destructive natural disaster rolls through your town and hits your office or business's building, you'll need to make sure your commercial property insurance is adequate. While business property insurance covers many natural disasters, it typically doesn't cover flood damage or earthquakes. You'd need a separate policy to prepare for either of those disasters, and an independent insurance agent can help you find the right coverage.
A customer gets sick or hurt after using your products and sues you: Whether your business is found to be responsible for a food poisoning claim or other customer injury or not, you'll need to have enough liability coverage to protect yourself either way.
One of your employees gets into an accident with the company vehicle: If your business uses company vehicles, it's important to get commercial auto insurance to protect them while they're out on the road or parked in the lot. A regular auto insurance policy will not cover vehicles used for business purposes.
One of your employees gets injured, ill, or dies on the job: Sadly, employee injuries, illnesses, and deaths are some of the biggest threats businesses of all kinds face. That's why it's so important to make sure you have enough protection for your employees under a workers' compensation policy.
A client loses a business deal and sues you: If you offer professional advice as part of your services, you're at even greater risk of being sued. If a client loses a deal or otherwise incurs emotional or financial suffering after using your services, it could really come back to bite you. That's why making sure your BOP is equipped with professional liability insurance is crucial.
Frequently Asked Questions about BOP Insurance
The cost of a BOP depends on the coverage limits and a number of other factors like size, location, and materials used. So a hair salon in Milwaukee might only pay $200 a month, whereas a logging company on the north coast of California could pay $2,000 a month. The average price of BOPs for small businesses (with a coverage limit of $1 million-$2 million) can range from $27-$59 monthly. But basically, the safer and smaller the company, the cheaper the premium.
To answer that, you'll have to address the needs of your specific business. It's beneficial to review your business's setup and operations with an independent insurance agent to help ensure that you get matched to a policy that covers all of your business's risk areas.
The actual package of insurance known as a BOP may not be legally required to run your business, but you must carry coverages such as CGL insurance to protect yourself. Certain mortgage lenders will also require you to carry commercial property insurance. So, while a BOP itself may not be mandatory, the important coverages it provides often are. That's why getting these protections together in a BOP is so convenient.
You may not be able to tell if your business will be accepted for a BOP by an insurance company based on its NAIC code alone. Rather, insurance companies will determine if your business qualifies for BOP insurance based on location, size, business class and annual revenue.
Eligible businesses can receive a package of insurance coverage through the ISO Businessowners Coverage Form. After selecting the coverage amount for business property, the policyholder is granted several additional coverages together in one convenient package.
Why Are Independent Insurance Agents Awesome?
Independent insurance agents simplify the process by shopping and comparing insurance quotes for you. Not only that, they'll also cut the jargon and clarify the fine print, so you know exactly what you're getting.
Independent agents work for you and not one insurance provider. Actually, they're the only agents who can check policies from multiple carriers. Plus, you'll never outgrow an agent. They have the flexibility to find the right coverage as your business continues to expand and evolve.
Save on Business Insurance
Our independent agents shop around to find you the best coverage.
Get the Information on a BOP for Your Business
There's no business too small for our gifted insurance agents. They have access to multiple insurance companies, ultimately finding you the best coverage, accessibility and competitive pricing while working for you. Find an independent insurance agent in your community here.
TrustedChoice.com Article | Reviewed by Jeffrey Green
©2023, Consumer Agent Portal, LLC. All rights reserved.
Statista
irmi.com
iii.org