Business Liability Insurance
So you can keep your doors open for years to come.

No matter what kind of business you run, it needs protection from all kinds of threats, including lawsuits. Though harm to the public by your business could be purely accidental, your business can still get sued for it — and lose a lot of money without the right coverage. That's why having general liability insurance is so important.
Fortunately an independent insurance agent can help you find the right type of business liability insurance to protect your business against many kinds of lawsuits and legal troubles. But first, let's take a deep dive into business liability insurance and find out what it's all about.
What Is Liability Coverage?
Liability insurance is a type of coverage that protects the insured against lawsuits and legal claims of bodily injury or property damage caused by the business or other entity. The right liability insurance reimburses the policyholder for legal costs, including attorney, court, and settlement fees, regardless of whether they're actually at fault. Coverage also protects against advertising and emotional injuries and more.
Who Sells Business Liability Insurance?
Business liability insurance is available from many different insurance companies, and the best way to find the right carrier for you is through working with an independent insurance agent. Independent insurance agents know which insurance companies to recommend to meet your needs, and can provide informed suggestions based on company reliability, rates, and more.
While many insurance companies could provide business liability insurance for you, finding coverage could also depend on the area you live in. Here are a few of our top picks for business liability insurance.
One business liability insurance company outshines its competitors.
Best overall business liability insurance company Nationwide
Nationwide is a leading small business insurer with an "A+" rating from AM Best. The carrier is on the Fortune 100 list and currently provides more than half a million customers across the US with quality coverage. Aside from their outstanding insurance catalogue, Nationwide offers superior customer service and 24/7 claims reporting.
Nationwide provides the following types of liability coverage for businesses:
Hired and non-hired auto liability
Umbrella insurance
Product and completed operations liability
Employment-related practices liability
Directors and officers liability
Liquor liability
Fire legal liability
Personal and advertising liability
With their comprehensive business liability packages and generous discounts, Nationwide is our top pick for business liability insurance. An independent insurance agent can further help you decide if Nationwide is the right insurance company for your business liability coverage.
What Does General Liability Insurance Cover?
General liability insurance provides important legal protection for businesses of all kinds, across the country. Policies offer reimbursement for the following:
Claims relating to bodily injury: If a third party, such as a customer, slips and falls on your business premises or otherwise injures themselves and blames you, general liability insurance will reimburse for legal costs.
Claims relating to property damage: If a third party, such as a customer, claims to have had their personal property damaged as a result of your business, general liability will reimburse for legal costs.
Claims relating to advertising injury: If your business's advertisements cause some sort of harm to a third party, such as emotional harm, general liability insurance will cover the legal costs.
Medical payments: General liability insurance will also cover medical costs stemming from injured third parties on your business premises, or who claim to have been injured by your business's operations. Coverage kicks in regardless of actual fault.
Personal liability situations: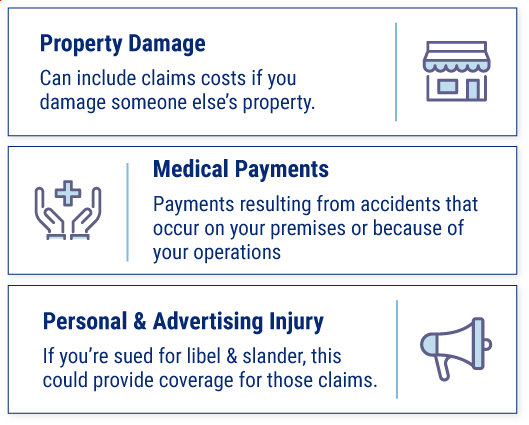 An independent insurance agent can help you find the general liability insurance that best works for your unique business's needs.
General Liability Coverage Examples
General liability is a crucial part of any business insurance package. Here are just a few important examples of coverage in action.
Coverages provided under general liability insurance
Third party bodily harm or property damage caused by your business
Advertising injuries and copyright infringement caused by your business
Customer or other third party medical treatments due to injury by your business
Rented property damage caused by many threats, such as fire and lightning
Reputational harm caused by your business, such as libel or slander
Privacy violations by your business
Business liability insurance has many crucial uses for companies of all kinds.
How Much Does Business Liability Insurance Cost?
Liability insurance for businesses can range in price depending on numerous factors. Check out the chart below for average premiums for general liability insurance paid by consumers in recent years for a better estimate.
Average cost for B2C general liability insurance premiums in the United States (in U.S. dollars)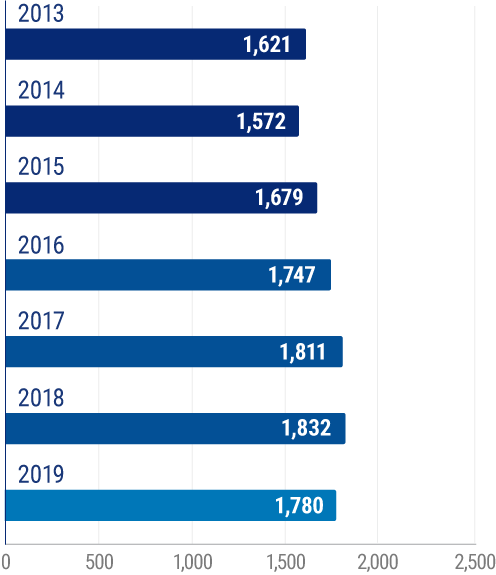 In recent years, the average premium for general liability insurance was $340 annually. In the future, premiums are expected to rise to an average of $380 annually. Keep in mind that general liability insurance is just one type of coverage needed by businesses.
To figure the cost of your specific business liability policy, you'll have to consider the following factors of your business:
Annual profits
Size of business
Exact location
Specific operations
Risk level
Additional coverages
Some professions pay a lot more for their general liability coverage than others. For example, construction workers tend to pay much more for their liability insurance than food truck operators. Your independent insurance agent can help you find quotes and exact figures for business liability coverage in your area.
How Liability Insurance Works
Liability insurance is also called third-party insurance, and protects businesses against claims of property damage or bodily injury by third parties.
DID YOU KNOW?
Intentionally malicious or criminal acts aren't covered by liability insurance.
Liability coverage protects businesses from hefty legal fees in the event of a lawsuit against them.
Why Do You Need Business Liability Insurance?
As a business owner, you can be sued at any time for any reason. Even a customer slipping could cost you thousands of dollars in medical expenses if they get injured. And there's always the possibility that you'll be sued for additional damages.
Medical bills and other related expenses are a lot to cover for a small business. And they're just the tip of the iceberg if you are sued in such a situation. Attorney fees, court costs, and court-ordered settlements or judgments can easily bankrupt your business, if you lack the right coverage.
What Does Commercial General Liability Insurance Cover?
Commercial general liability policies cover three main types of liability exposures and resulting lawsuits:
Premises and operations exposures: Claims against your business will be covered for bodily injury and property damage related to the ownership and maintenance of the business premises, or as the result of business operations conducted both at and away from the business premises.
Products and completed operations exposures: Claims will be covered for bodily injury and property damage that result from faulty products or completed operations (work performed by your business).
Indirect/contingent exposures: Claims resulting from the negligent actions of independent contractors and subcontractors that you hire will be covered.
There are three types of claims for which you will receive payment from the insurance company:
Accidental bodily injury or property damage that your business is legally responsible for
Personal injury or advertising injury that the business is found legally responsible for
Medical expenses for individuals injured on the premises of the business or by the business operations, regardless of fault
An independent insurance agent can further explain how and when general liability insurance covers your business.
What Isn't Covered by General Liability Insurance?
While general liability coverage is quite comprehensive, not every type of liability exposure is covered. After examining the exclusions, you might find gaps for which you have to purchase additional coverage.
Here are some of the most common general liability exclusions:
Liability claims covered under other types of insurance policies, including workers' compensation, professional liability, commercial auto liability, and directors' and officers' liability coverage
Pollution liability claims
Claims resulting from damage to the property of others that is in the care, custody, and control of the business (e.g., vehicles at an auto repair shop)
Product recall liability claims
Any legal actions that do not involve a claim for bodily injury, property damage, personal injury, or advertising injury
Most contract disputes
Actions by a governmental agency related to failing to follow regulations
Claims for back taxes
Failure to provide a safe workplace
Professional negligence, or errors and omissions claims
Business owners can purchase other types of liability policies to fill any gaps that they have, or you can often add endorsements to your general liability policy for certain types of liability coverage.
Is General Liability Insurance Required by Law?
General liability insurance may not be legally required by your state, but it's imperative to be covered from a responsibility standpoint. Without the right liability protection, your business could go bankrupt after just one hefty lawsuit, which could be impossible to predict.
Other Types of Business Liability Insurance
Commercial general liability policies offer broad protection, but do not protect you from just any type of lawsuit. Depending on the type of work you do, you might need additional liability policies or endorsements.
An independent insurance agent can help you assess your need for additional liability coverage, such as:
Extend Your Business's Coverage with Professional and Limited Liability Insurance
Your business's coverage can be topped off with even more protection offered by professional liability insurance and limited liability company (LLC) insurance. LLC's allow business owners to separate their personal assets from their business, but they don't protect the business itself against various claims.
LLC insurance can protect your company against numerous different types of lawsuits. Professional liability, on the other hand, is important to guard your business against unintentional professional errors that cause harm to others, which in turn can get you sued.
The amount of business liability insurance you need will depend on several factors, including the kind of business you have and its operations and risk level. An independent insurance agent can help you assess your business's risks and get set up with all the coverage you need.
The cost of your business liability insurance will vary based on your business's size, operations, risk level, and more. However, the average cost of general liability insurance alone for businesses is about $350 annually. The cost of all your liability coverage combined could be much higher than this, depending on the type of business you run.
Your business may not be legally required to carry liability insurance. Liability insurance is still a must have for all kinds of businesses, however, because without the proper protection, just one lawsuit could lead to bankruptcy.
Liability insurance covers your business from legal costs in the event of a lawsuit against your company by paying for attorney, court, and settlement fees, regardless of if you're actually at fault for the claim.
Yes, independent contractors still require liability insurance because they have the same risk of getting sued as a larger company does. Independent contractors need liability protection against lawsuits the in the same way as a big business entity.
If you cancel your business liability coverage, you'll be left without valuable and imperative protection against lawsuits against your business. After you cancel your policy, you'll be at risk of paying out of your own pocket for any unforeseen legal claims of bodily injury or property damage to others. You'll have to pay for attorneys and other costs yourself.
The Benefits of an Independent Insurance Agent
When it comes to helping insurance customers find the absolute best business liability coverage, no one's better equipped to help than an independent insurance agent. Independent insurance agents search through multiple carriers to find providers who sell business liability insurance, deliver quotes from a number of different sources and help you walk through them all to find the best blend of coverage and cost.
TrustedChoice.com Article | Reviewed by Jeffrey Green
©2023, Consumer Agent Portal, LLC. All rights reserved.
chart - https://www.statista.com/statistics/1119263/average-cost-b2c-general-liability-insurance-premiums-written-usa/
https://www.nationwide.com/business/insurance/small-business-liability/
https://www.iii.org/article/commercial-general-liability-insurance