Mobile Home Insurance
Whether your house is on wheels or the ground, you need protection.

No matter what type of home you own, it needs to be protected. The construction of your home doesn't make it immune to the elements of nature or other common perils like vandalism. That's why it's important to understand what kind of coverage you need for your specific home type.
An independent insurance agent can help you find the right mobile home insurance or modular home insurance. They'll make sure you get set up with exactly the type of policy your unique property needs. But first, here's a breakdown of these coverages.
What Is a Mobile Home?
A mobile home, also called a manufactured home, is a four-walled structure that's built in a factory and delivered to you to live in. It can remain "on wheels" or not. In some cases, it can be built on a permanent slab for safekeeping. Just keep in mind that the more "secured to the ground" it is, the more insurable it is.
A modular home is similar to a manufactured home. Modular homes are also built inside a factory. But unlike mobile homes, they're brought to a permanent location in bigger chunks and assembled on-site. Depending on the insurance company, a modular home can sometimes be classified as a manufactured home and sometimes as a site-built home if it's built on a foundation.
Revenue of "manufactured (mobile) home manufacturing" in the US from 2011 to 2023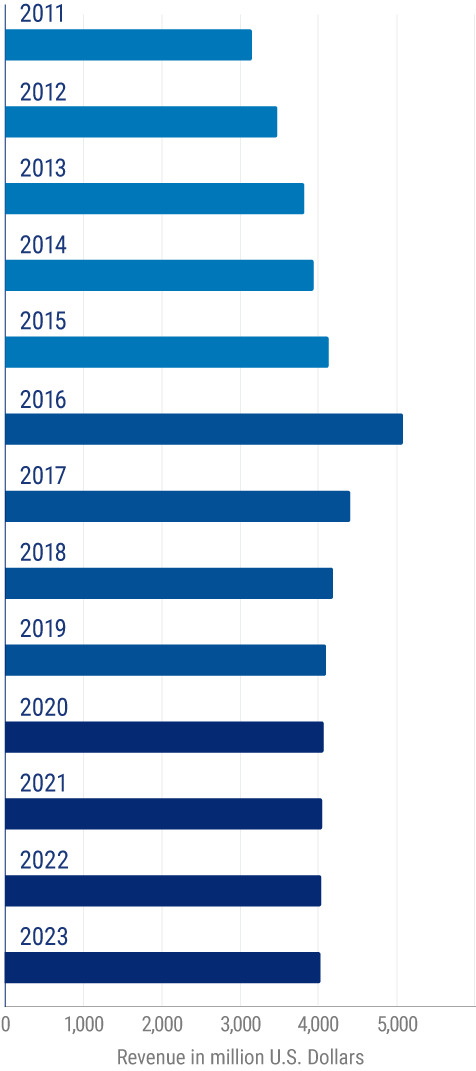 The revenue generated by the manufactured and mobile home industry is projected to be much higher in 2023 than in 2011. Since mobile and manufactured homes are investments worth protecting, it's critical to make sure yours gets the coverage it needs with the help of an independent insurance agent.
Get Mobile Home Insurance
Our independent agents shop around to find you the best coverage.
What Are the Characteristics of Mobile and Modular Homes?
Instead of being equipped with basements or crawlspaces, mobile homes might be constructed on metal frames and may have tie-downs instead of a permanent foundation slab. However, modular homes are easily customizable thanks to their unique construction. And unlike mobile homes, they often come with basements or crawl spaces.
Modular homes look more like "regular" homes, while mobile homes tend to appear trailer-like or distinctly boxy. Mobile homes also typically depreciate in value over time, whereas modular homes maintain their value almost the same way traditional homes do.
Can I Insure My Mobile or Modular Home with Traditional Homeowners Insurance?
Because of the differences in their construction, one type of policy won't work for both mobile and modular homes. In the case of modular homes, since they are so similar to traditional homes in insurance companies' eyes, you will purchase a standard homeowners insurance policy. However, mobile homes are a different story and need their own type of insurance policy due to the riskier nature of their construction.
What Is Mobile Home Insurance?
From a distance, a mobile home insurance policy looks just like a standard homeowners policy. However, there are a few differences worth noting that make mobile home insurance unique. For starters, mobile homes are typically made with different materials than today's site-built homes. Since they're created in a factory and then transported, the materials need to be much lighter. Unfortunately, more lightweight materials are easier to damage, so mobile home insurance takes this into consideration.
More often than not, mobile homes are simply anchored into place, not built securely on a foundation. This means that one storm could potentially damage or destroy a mobile home more easily than a site-built home. That's why insurance companies offer mobile home insurance as a different type of policy from homeowners insurance. The risks are different, and the coverages that matter to a mobile homeowner need to be more closely protected with the right coverages.
What Does Mobile Home Insurance Cover?
Though you can't insure a mobile home with a traditional homeowners insurance policy outright, that doesn't mean mobile home insurance doesn't protect your home in basically the same ways. Similar to homeowners insurance, mobile home insurance coverage begins with the three most common and basic coverages that any homeowner should have:
Dwelling coverage: Protects you from any big loss to your home's structure due to fire, natural disasters, etc.
Liability coverage: Protects you financially if someone files a claim or lawsuit after getting hurt in your home or on your property.
Contents coverage: Protects all of your possessions in the event of theft or natural disaster-related damage
The amount of coverage you'll need depends on a number of factors. The most important is probably the value of your home and its contents. If your mobile home is involved in a claim, there are two ways you can choose to be reimbursed:
Actual cash value: Compensation based on the value of your structure in the current market, which takes into account depreciation. Mobile homes depreciate very fast, just like cars.
Replacement value: Compensation for the amount it would cost to rebuild the structure to its original condition with similar materials.
There are benefits to both choices. If you have any questions about the right route to take, talk to your independent insurance agent. They'll help guide you toward the option that's best for you.
Get Mobile Home Insurance
Our independent agents shop around to find you the best coverage.
What Does Modular Home Insurance Cover?
Since you can insure your modular home with a traditional homeowners insurance policy, the coverages are identical. Homeowners insurance is designed to protect all aspects of the home, including the structure, its contents, and household members. Standard homeowners insurance policies come with four major coverage categories:
Structural damage: Covers what insurance companies refer to as the "dwelling" or the structure of the home itself. Damage to or destruction of the dwelling by covered perils falls under this category. Coverage often also extends to detached structures such as sheds.
Personal property damage: Covers your personal belongings like furniture, clothing, electronics, knickknacks, silverware, etc., against perils such as fire or theft. Items stored inside the home, as well as external storage units, are covered, though property stored off-premises may have a lower coverage limit.
Liability: Covers legal expenses such as attorney and court fees if you are sued for bodily injury or property damage to a third party. Settlements you're ordered to pay if you lose the case are also covered. Coverage extends to all members of the family living within the home, including pets. Many incidents that occur away from the home are also covered.
Additional living expenses: Covers living expenses if your home gets badly damaged or destroyed and you're forced to live elsewhere while awaiting repairs. Expenses like hotel rooms, eating out, extra gas mileage, and more can be reimbursed. Additional living expenses cover the difference in spending to maintain your normal lifestyle while living away from the home.
These four components make up the core of homeowners insurance packages. Once again, an independent insurance agent can help you get set up with all the coverage you need in each category for your modular home.
What Is a Manufactured Home?
It's important to define what a manufactured home is and how it is classified by insurers. According to the US Department of Housing and Urban Development (HUD), the official definition of a manufactured home is a house that is built in an assembly plant and transported on a portable chassis to its ultimate destination. Manufactured homes are built in compliance with strict design and safety codes, though they are generally considered less expensive and durable than fixed residences.
What Is Manufactured Home Insurance?
As the name implies, manufactured home insurance is a package policy similar to homeowners insurance for traditionally built homes. This means that a policyholder will have personal property coverage, financial protection for the home's occupants and assets, and liability coverage if a lawsuit is filed against them.
Do I Need Manufactured Home Insurance?
If you own a manufactured home, chances are you'll need an insurance policy. Manufactured homes are also considered less durable than other residences, making them susceptible to fire or water damage, extreme weather conditions, and more. While signing up for an insurance policy can be costly, forgoing coverage means that you will be putting yourself and your family at risk of a large financial loss.
While manufactured home insurance isn't required by law, it is typically required by:
Mortgage lenders
Mobile home parks/communities
Homeowners associations (HOAs)
Failure to carry manufactured home insurance may cause you to be excluded from these locations or have to pay higher-than-average premiums for a group insurance policy.
What Does Manufactured Home Insurance Cover?
Manufactured home insurance includes the same coverage as a traditional home insurance policy. Coverage for the home's dwelling or structure, personal contents, and liability are all included. Your independent insurance agent may look for a policy that tweaks these coverages to specifically apply to your manufactured home.
Additional Forms of Coverage for Mobile, Modular, and Manufactured Homes
Mobile, modular, and manufactured home insurance companies allow policyholders to customize their policies through endorsements, which add supplemental coverage to a standard policy. The most common additional forms of manufactured home insurance include:
Umbrella coverage: This adds increased liability coverage limits.
Earthquake insurance: This adds protection against damage resulting from seismic activity.
Flood insurance: This adds protection against damage resulting from floodwaters, landslides, and more.
Fire insurance: This adds protection against damage resulting from wildfires in high-risk regions.
Trip collision coverage: This reimburses you for damage while your manufactured home is being transported.
An independent insurance agent can recommend any additional coverages your home may need.
Why Should I Buy Mobile Home Insurance?
Pretty much any time you take out a loan for a piece of property, your lender will require insurance. It covers you, and it covers them. But then there are those elements that are out of your control, such as unexpected weather. If a windstorm came through your property and destroyed your home, without coverage, you'd be left with nothing to help you start rebuilding. But even if you live somewhere that isn't prone to natural disasters, you could still face a fire.
Another thing to think about is liability. Anytime someone is on your property, you're liable for what happens to them. If someone gets injured and decides to sue you for the medical bills, that money has to come out of your pocket if you don't have the right coverage. Liability coverage will help protect you in situations like these.
How Much Does Mobile, Manufactured, or Modular Home Insurance Cost?
Many factors influence the cost of a homeowners insurance policy, including the size and location of your home, the value of the structure and the contents inside, and any upgrades you've made. As of this year, however, the average cost of home insurance in the US is $1,211. So, you can expect to pay somewhere close to this to insure your modular home.
As far as mobile homes are concerned, it's more difficult to offer a ballpark figure. Since mobile homes tend to be much smaller and simpler than traditional homes, mobile home insurance tends to be much less expensive than standard homeowners insurance. An independent insurance agent can help find multiple quotes for you with more exact figures.
What Factors Influence the Cost of Mobile, Modular, or Manufactured Home Insurance?
Many different factors influence the cost of a mobile, manufactured, or modular home insurance policy. These often include:
Size of the mobile home
Age
Location
Purchase price
Current value
Coverage limits and options you select
Your deductible
If you're looking for discounts or price reductions for mobile home insurance, consult an independent insurance agent. They can recommend simple measures to reduce premiums, such as bundling your policy with an auto policy or installing carbon monoxide alarms. They can also rapidly compare insurers and find the right mobile home insurance in your area.
Does Manufactured Home Depreciation Affect Insurance Premiums?
Manufactured and mobile homes depreciate over time, just like any other property. The real issue to consider is whether you have actual cash value or replacement cost coverage. Depreciation on its own is not likely to reduce premiums over time, but it can impact how much of a payout you'll receive if you file a claim.
Therefore, it's wise to reevaluate your home and assets periodically to ensure that you're getting the most from your manufactured home insurance. This is where an independent insurance agent can assist you, giving you a clear picture of your home's current value and whether you qualify for premium discounts.
Where Can I Find Modular, Manufactured, or Mobile Home Insurance?
Since modular homes are insured by traditional homeowners insurance, you can go through any major homeowners insurance carrier you like to find coverage. However, mobile home insurance is a different beast. Fortunately, there are a handful of popular mobile home insurance providers that can help start your search:
An independent insurance agent can help you find a modular or mobile home insurance policy from a reputable insurance company. All you have to do is call.
Comparing Mobile Home Insurance Quotes
Independent agents can review your needs and help you evaluate which type of mobile or modular home insurance makes the most sense. They'll also compare policies and quotes from multiple insurance carriers to make sure you have the proper protection in place for you and your family.
Questions to Discuss with an Independent Insurance Agent
When contacting an independent insurance agent about mobile home insurance, be sure to ask the following questions to get a clearer picture of which policy is the best fit for your needs:
What types of coverage are available for my mobile home?
How much coverage can I get for each price point?
What is the coverage for my mobile home while it is in transit?
Are there any discounts that I qualify for?
Can I bundle any of my other insurance policies under one insurer?
Which optional coverages will I most likely need?
An independent insurance agent will also be prepared with questions about what you need to get from your policy.
Get Mobile Home Insurance
Our independent agents shop around to find you the best coverage.
The Benefits of an Independent Insurance Agent
Independent insurance agents have access to multiple insurance companies, ultimately finding the best coverage, accessibility, and competitive pricing while working for you. They'll get you set up with the right mobile or modular home insurance policy. Working with an independent insurance agent helps you get matched to a modular home insurance policy that offers the best blend of coverage and cost from a local carrier.
TrustedChoice.com Article | Reviewed by Paul Martin
©2023, Consumer Agent Portal, LLC. All rights reserved.