Mobile Home Insurance Claims
How to File a Mobile Home Insurance Claim
(The easy and affordable way)

Mobile homes (aka manufactured homes) are just as much at risk for damage as traditional homes, if not more. Trees fall, fires burn and wind can really blow sometimes. In the face of a bad situation, the last thing you want to do is panic.
That's why we've put together plenty of info on the steps to take when something bad happens and you need to file a mobile home insurance claim.
Our independent agent matching tool will find you the best insurance solution in your area. Tell us what you're looking for and we'll recommend the best agents for you. Any information you provide will only be sent to the agent you pick.
Steps for Filing a Mobile Home Insurance Claim
Whether your mobile home has had some bad luck or you're just trying to plan ahead, here's what we recommend you do when bad things occur:
Step 1: Assess and document the damage.

Take photos and videos of the damage and write down what's been destroyed or taken. NOTE: If the damage is structural, use caution when shuffling through your mobile home.

Step 2: Report crimes to the police.

If you've been burglarized, let the police know when it happened and what was stolen.

Step 3: Contact your insurance agent.

Get in touch with your insurance agent and ask what you should do next.

Step 4: Fill out the claim forms.

If you decide to file a claim, you'll need to provide a list of everything lost or damaged to your insurance company.

Step 5: Prepare for an adjuster to come.

Don't move or touch anything until an adjuster can come assess the damage.
When to File a Claim
Mobile home insurance policies offer three kinds of coverage: physical damage, personal liability and contents. So here are some of the situations when you'd want to file a claim:
If your mobile home has been damaged by weather, fire, burglary or vandalism.
If the physical damage to your mobile home will cost significantly more than your insurance deductible.
If someone is severely injured on your property and it will result in high medical bills.
If someone files a lawsuit against you for injuries sustained on your property.
If you've been displaced from your home because of a flood or other damage.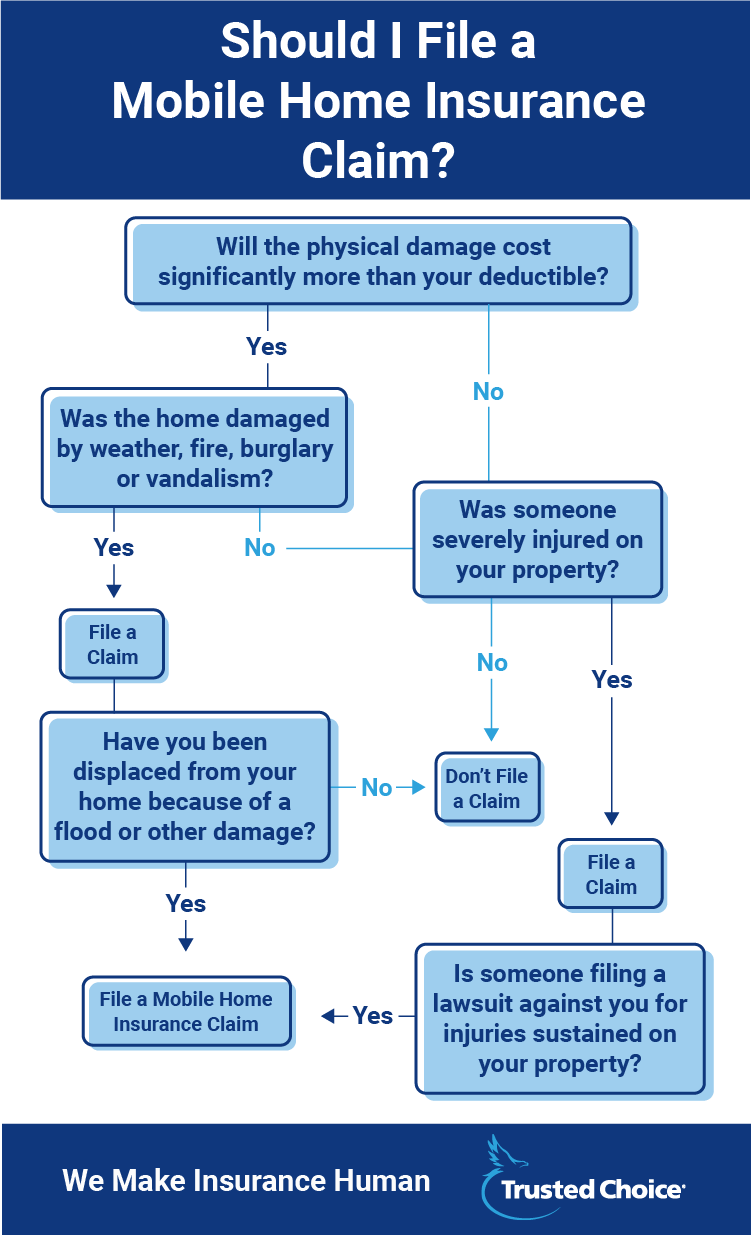 How Do Mobile Home Claims Work?
If you decide to file a claim, the process will go something like this:
Step 1: You'll be assigned a claims adjuster.

The insurance company will assign a specialist in mobile home damage.

Step 2: You and the adjuster will schedule an appointment.

You'll set up a time for them to come assess the damage.

Step 3: They'll review your policy.

After looking at the damage, the adjuster will review your policy to determine if the damage is covered.

Step 4: You'll hear from the adjuster.

The adjuster will contact you with the claim settlement and issue payment for losses.
What You Can Do to Prepare for a Claim
Your home is often your most valuable asset. So whether it's a mobile home, a modular home or a traditional home, we recommend a few precautionary steps you can take to make the claim process a little smoother:
Frequently check the foundation that your mobile home sits on and make sure it's structurally stable.
Make a video of your mobile home that shows your belongings. Narrate the video and say how long you've had items and where you bought them.
Write down replacement cost of items, not just purchase price.
Keep receipts from any furniture and home décor purchases.
Know the specific model of appliances and electronics.
Keep records and receipts from any home upgrades.
Have a list of all possessions and know how much they're worth.
Understand your insurance policy and what's covered and not covered.
Information to collect for an insurance claim:
Your name, address and contact details
Your mobile home insurance policy number
Date and description of the loss
Extent of the damage and items lost
Any injuries sustained
A police report, if one exists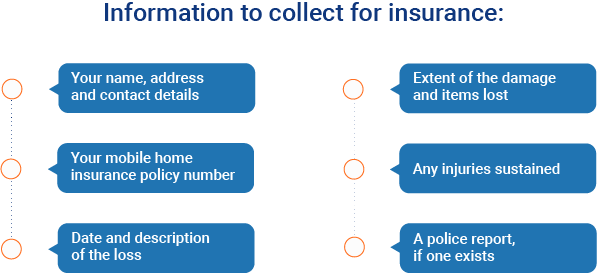 Questions to Ask about Mobile Home Insurance
The easiest way to make the claims process less daunting is by understanding your insurance policy. Mobile home insurance differs from traditional home policies in that there are two types of policies for mobile homes, actual cash value (ACV) and replacement cost.
ACV policies take into account the depreciation value of your home and belongings.
Replacement cost policies are designed to provide the amount needed to repair damage in today's market, minus your deductible.
ACV policies take into account the depreciation value of your home and belongings.
Replacement cost policies are designed to provide the amount needed to repair damage in today's market, minus your deductible.
In addition, you'll want to be able to answer the following questions regarding your mobile home insurance.
Do I have flood insurance in place?
Do I have hurricane and windstorm coverage?
How much coverage do I have in the event of a fire?
Do I have sufficient contents insurance?
If you don't know the answer to these questions or aren't sure what the best answer is, give your insurance agent a shout and they'll help you out.
We hope nothing serious ever happens to your mobile home, but if it does, we hope you're much better prepared with the help of the info you just read.
TrustedChoice.com Article | Reviewed by Neel Lane
©2021, Consumer Agent Portal, LLC. All rights reserved.