Nonprofit Insurance
Because organizations of all kinds need protection

Though nonprofit organizations have some key distinctions from other businesses, they still face many of the same common hazards on a daily basis. Nonprofits aren't immune to risks like theft, cybercrime, or even lawsuits, so it's critical for them to be equipped with the proper coverage. Fortunately, an independent insurance agent can help you find the right nonprofit insurance to protect your organization. But first, here's a deep dive into this important coverage.
What Is Nonprofit Insurance?
Essentially a special form of business insurance, nonprofit insurance is an agreement between the nonprofit organization and an insurance company in which the insurer agrees to cover financial losses relating to damages and liabilities that befall the organization. Only the specific perils stated in the policy will be covered by the insurance company, however, ranging from work vehicle accidents to worker injuries. Nonprofit insurance is designed to help nonprofit organizations stay afloat should disaster strike.
Who Needs Nonprofit Insurance?
Nonprofit organizations are mostly like any other organizations, with one major difference: They don't turn a profit. This type of organization has been granted tax-exempt status by the IRS, which requires them to have a unique form of coverage. The following are common examples of nonprofit organizations that require special coverage:
Federal credit unions
Charitable organizations
Scientific organizations
Amateur sports associations
Public safety testing organizations
Religious organizations (e.g., churches)
Social welfare groups
Politically motivated groups
Rotary clubs
Volunteer fire stations
Labor unions
Agricultural unions
Social and recreational clubs (e.g., country clubs)
This is not an exhaustive list of nonprofit organizations. Your independent insurance agent can help you determine if your organization needs nonprofit insurance.
Why Do I Need Nonprofit Insurance?
Just like other kinds of organizations, nonprofits face numerous common perils. In order to keep your organization protected, it needs coverage tailored to address the specific possible risks it's up against on a routine basis.
Nonprofit organizations need protection against the following:
Lawsuits and liabilities
Theft
Employee misconduct
Volunteer misconduct
Cybercrime and data breaches
Auto accidents
Property damage
Vandalism
Natural disasters
Event-related mishaps
Professional errors
Worker injuries and illnesses
Once again, this list of common nonprofit organization hazards is not exhaustive. Talk to your independent insurance agent at length about all the responsibilities of your nonprofit organization to ensure the best possible chance at getting set up with all the coverage you need in every area.
Who Sells Nonprofit Insurance?
Nonprofit insurance is available from many different insurance companies, and the best way to find the right carrier for you is through working with an independent insurance agent.
While many insurance companies could create a nonprofit insurance policy for you, finding coverage could also depend on the area you live in. Here are just a few of our top picks:
One nonprofit insurance company outshines its competitors:
Liberty Mutual has been in the insurance industry since 1912, and is rated "A+" by the Better Business Bureau and "A" by AM Best. This Fortune 500 company also offers one of the best nonprofit insurance products available on the market. While many insurance companies only sell separate coverages recommended for nonprofit organizations, Liberty Mutual combines these all into one convenient package for customers in every state except Hawaii and Louisiana.
Liberty Mutual's nonprofit insurance policies include the following coverages:
Auto insurance
Boiler and machinery insurance
Crime insurance
General liability insurance
​Professional liability insurance
Health care liability insurance
Property insurance
Umbrella insurance
Policies also come with the following optional add-ons:
Sexual/physical misconduct coverage
Employee benefit liability insurance
Equipment breakdown insurance
With a high volume of customer satisfaction, Liberty Mutual provides trustworthy, reliable coverage for nonprofit organizations of all kinds in need of critical protection.
What Types of Coverage Do Nonprofit Organizations Need?
Nonprofit insurance is designed to protect organizations against all types of threats. Your policy will include the basics of business insurance coverage, with several coverages tailored specifically to your nonprofit added on. The more risks involved in your unique organization, the more coverage you'll need, but here is a handful of commonly selected coverages in nonprofit insurance packages to start off.
Your nonprofit insurance package can be assembled from a combination of the following coverages: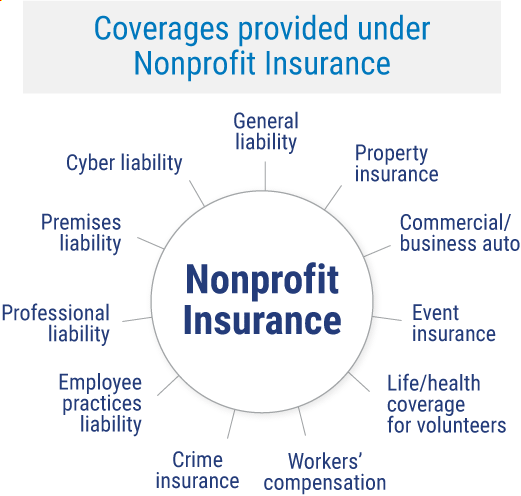 Is a Business Owners Policy Right for You?
A business owners policy, or BOP, is a good option for some nonprofit organizations and can provide much of the coverage you need at an affordable rate. Coverage options include:
General liability: Normally covers up to $1 million of injury to others or damage to their property.
Medical payments: Covers injury to others on your business property.
Property damage: Covers your business property, such as equipment, for loss or damage.
Business income: Covers loss of income for up to 12 months due to business interruption.
Equipment breakdown: Covers mechanical breakdowns and other causes of equipment malfunction.
Rental vehicle coverage: Covers loss or damage to vehicles you borrow or rent.
An independent insurance agent can help you decide if a BOP is right for your nonprofit organization.
What's Not Covered by Nonprofit Insurance?

While nonprofit insurance provides coverage for many potential sources of harm for these organizations, it doesn't cover everything. While exclusions may vary by policy and the type of coverage required by your specific organization, there is a handful of commonly non-covered perils under nonprofit insurance, including:
Intentional harm
Regulatory/statutory penalties
Employee dishonesty
General wear and tear of equipment, etc.
Routine maintenance fees
Earthquake damage
Nuclear reaction and war
Pollution
Temperature/humidity changes
Inexplicably lost inventory
Flood damage*
*If your nonprofit organization is located in an area prone to flooding, such as along the coast, you'll most likely want to purchase additional flood coverage for your premises, or you may even be required to have it by your mortgage lender. Your independent insurance agent can give you more information about finding coverage.
Save on Business Insurance
Our independent agents shop around to find you the best coverage.
Benefits of Nonprofit Insurance:
Protection against legal trouble
Protection against professional errors/negligence
Protection against bankruptcy
Protection against a damaged reputation
How Much Does Nonprofit Insurance Cost?
Really, it depends on a number of factors. Nonprofit organizations might pay just a few hundred bucks per year or they might pay well into the thousands, depending on the size and scope of operations and services offered. Unfortunately, it's hard to offer an average figure, since each nonprofit is unique. But really, it all depends on a number of factors, like:
The type of nonprofit: This includes whether your organization is a church, country club, etc. Additionally, the specific services offered by your nonprofit will affect its risk level to insure. Obviously, more danger means more money for insurance.
The location of the nonprofit: Larger cities tend to have higher costs for insurance, but it goes beyond that. Depending on your nonprofit's specific location, it may be more prone to various weather-related risks. Nonprofits located along the coast may have premiums up to 20% higher due to the increased risk of hurricane damage.
The number of employees/volunteers: The more you've got, the more worker's comp. and alternative coverage you'll need. Simple as that.
The size of the nonprofit: The larger the reach of a nonprofit, the greater its exposure, and the more coverage it requires.
| | | |
| --- | --- | --- |
| Policy | Median Monthly Cost | Median Annual Cost |
| General liability insurance | $45/month | $500/year |
| Workers' compensation | $80/month | $980/year |
| BOP insurance | less than $70/month | $810/year |
| Professional liability insurance | less than $50/month | $575/year |
Your independent insurance agent can work with you to find a policy that fits within your nonprofit's budget. Have your financial restrictions in mind before you start shopping for coverage to help speed the process along.
Finding Discounts and Savings on Nonprofit Insurance
Though nonprofit insurance costs can vary widely, many insurance companies offer competitive discounts and other ways to save money on their coverage. Furthermore, independent insurance agents are especially skilled in finding money-saving hacks for nonprofit insurance customers.
Available discounts will vary depending on which insurance company you choose, but here are some common discounts offered on nonprofit insurance policies:
Safe business vehicle storage discount:
You may qualify for a discount on the commercial auto section of your nonprofit insurance if you store your organization's vehicles in a garage or other enclosed area while not in use.
Annual premium discount:
You may qualify for a discount on nonprofit insurance if you choose to pay premiums annually vs. in monthly installments.
Insurance package discount:
You may qualify for a discount on nonprofit insurance if you shop for a special packaged product of all the protections you need, vs. purchasing each required type of coverage separately.
Firewall discount:
You may qualify for a discount on the cyber liability coverage section of your insurance if your organization takes extra measures to keep its digital information safe from cyber breaches, such as installing firewalls and requiring additional passwords.
Safe premises discount:
You may qualify for a discount on your nonprofit coverage if you can prove to the insurance company that your nonprofit's environment is safe for your workers and the organization makes an effort to reduce injuries, illness, etc.
Bundling discount:
You may also qualify for discounts on nonprofit insurance if you purchase additional policies through the same insurance company.
An independent insurance agent can not only help you find all the coverage your nonprofit business needs to continue smooth operations, but also find the most affordable rates by browsing a number of different insurance companies' nonprofit insurance products.
Comparing Nonprofit Insurance Plans
Though a handful of general coverages is offered by many insurance companies under the name of nonprofit insurance, these options and available selections can also vary depending on your location and several other factors. In order to get set up with all the crucial protection your nonprofit organization deserves, the best course of action is to enlist the help of an independent insurance agent. Not only do independent insurance agents know which coverages nonprofit organizations need, but they also know which insurance companies offer these policies at the most affordable rates.
Mishaps and Scenarios to Think about for Nonprofits
When getting set up with nonprofit insurance, it's a good idea to think about some common mishaps that could affect your organization, and prepare for these in advance. Here are just a few common mishaps and scenarios to consider when looking into nonprofit insurance:
One of your clients slips and falls on your premises: Client injuries are among the most common incidents nonprofits face. If someone trips and falls while on your premises and hurts themselves, you could end up with a lawsuit. That's why liability coverage is so important.
Your nonprofit's headquarters are damaged or destroyed by a natural disaster: If a destructive natural disaster rolls through your town and hits your nonprofit, you'll need to make sure your property insurance is up to par. While property insurance covers many natural disasters, it typically doesn't cover flood damage or earthquakes. You'd need a separate policy to prepare for either of those disasters, and an independent insurance agent can help you find the right coverage.
One of your workers gets into an accident with a company vehicle: If your nonprofit uses company vehicles, it's important to get commercial auto insurance to protect them while they're out on the road, or parked in the lot. A regular auto insurance policy will not cover vehicles used for business purposes.
One of your workers hurts themselves while helping out: Worker injuries are some of the most common incidents for nonprofits, and they can be costly to treat. That's why it's so important to make sure you have enough protection for your workers under a worker's compensation policy.
An independent insurance agent can detail several other examples of common mishaps and scenarios to consider while browsing through available nonprofit insurance options. They'll help your organization anticipate and prepare for the worst by selecting the best available coverage for your needs.
Frequently Asked Questions about Nonprofit Insurance
Regardless of whether a nonprofit is legally required to have coverage, there are a couple of insurance types that an organization must carry at all times to keep itself safe. Worker's compensation is critical to protect any workers from injuries, illness, or death while on the job, and general and professional liability insurance are really nonnegotiable to protect your organization from various lawsuits. In fact, certain clients won't work with your organization at all if you lack insurance.
It's easy to get these classifications confused. Here's a simple breakdown: A nonprofit is a specific kind of entity, often a corporation, that's established for a nonprofit purpose. A 501(c)(3), often mistakenly referred to as a 503c, is a type of nonprofit organization that's been given tax-exempt status by the IRS. Tax-exempt status stems from the nature of the organization's offerings, often charitable programs.
The purpose of nonprofit insurance is to provide crucial protection in a number of ways. Beyond the nonprofit's physical office building, many components of your organization stand to be destroyed or otherwise harmed by common threats.
To determine how much nonprofit insurance you need, you'll want to enlist the help of a trusted independent insurance agent. Together, the two of you will assess your specific organization's risk areas and get all the coverage you need to adequately protect each of them. You'll consider how much protection you need for things like your team, your organization's vehicles, your organization's building, and your clients.
The Benefits of an Independent Insurance Agent
Independent insurance agents are kind of like the Google of insurance quotes. You tell them what you're looking for, and they bring in the results. And since they aren't tied down to one carrier, they're free to shop around and bring multiple policy options to the table.
And it gets better. You don't have to review the policy options alone. They'll walk you through everything you need to know about finding the right coverage, and price, for you.
But it doesn't end with your signature. Along the way, if something bad ever happens, they'll handle the entire claim process for you and deal with the carrier, so you can focus on your nonprofit's mission.
TrustedChoice.com Article | Reviewed by Paul Martin
©2023, Consumer Agent Portal, LLC. All rights reserved.