Business Insurance Quotes
(How you can easily get started today)

You've decided it's high time to find some legit coverage to protect your business. Well, kudos to you. No, seriously, we know finding insurance quotes can be intimidating and overwhelming at times.
There's lots to keep in mind, it's time consuming, all the insurance jargon is confusing, and you may not know the right boxes to check.
Lucky for you, an independent agent can help you tackle that beast by walking you (safely) through the entire process. They don't stop until they've found the right coverage for you at the best possible price. And they'll make sure you understand exactly what you're getting.
How Business Insurance Quotes Are Born
Before you dive into getting coverage, you should know how insurance companies come up with quotes.
They start by evaluating a series of risk factors that have number values (costs) associated with them, in a rating manual.
Risk factors may be things like age, gender, location, etc.—things that could increase the chances of you filing a claim.
The cost of the risk factors is determined either through studies of historical trends, or via analytical models (basically, super-sciency/mathy stuff).
They'll check off those attributes that apply to you.
A quote comes from the sum total of everything checked off on the list—plus a bit extra factored in for the insurance company's profit margin. However, due to competition from other companies, they might lower the price a bit.
NOTE: Quotes are subject to change. The insurance company may gradually increase your premium over time to keep up with the financial demands of offering the coverage.
Save on Business Insurance
Our independent agents shop around to find you the best coverage.
How to Get the Business Insurance Quotes You Want
Step 1: Understand Business Insurance and Why You Need It
Now that you understand how business insurance quotes are born, it's important for you to understand what business insurance is, and why you'd need/want it:
The what: Business insurance is a contract between a business and an insurance company. The contract states that you will pay them a premium and they will help cover your stuff by financially compensating you for costs to replace/repair/recover business-related items or property that is/are lost/stolen/damaged.
The why: Your business insurance coverage is important in protecting your business from bad stuff like:

Theft and damage: In the event someone steals inventory or breaks equipment.
Legal liability: In the event harm is caused to a third party by your products/services.
Errors and omissions liability: In the event of a professional "oops" that causes financial loss to a third party.
Step 2: Gather All Your Info
Business insurance quotes are only as good as the info you provide. So make sure you supply the following details with complete accuracy:
What kind of operation are you running? This includes providing the official classification (i.e., sole proprietorship, corporation, etc.)
What do you do or sell?
How many people work for you?
How much do you pay your employees and what do they do?
What daily risks are involved when you do business (e.g., if your employees face inclement weather or have to outrun hungry jungle cats when they make deliveries)?
What do you need covered as far as buildings, vehicles, equipment and supplies go?
How much does your company make when it comes to gross sales, revenue and so on?
What's the value of the things you need covered?
Where's your business located?
Step 3: Connect with an Independent Agent
Comparing quotes by yourself can be complicated. You've gotta think ahead about a company's claims process, their customer service and their reputation.
This is where an agent comes in to save the day for you—they've been through it all and they know all the important ins and outs to consider with each company.
An independent agent can make your life a lot easier. Since they're not tied down to one insurance company, they're free to shop, compare and assemble all the pieces of the coverage puzzle for you—even if they end up coming from multiple carriers.
Step 4: Work with Your Agent
Your agent is really like your own personal assistant. You tell them what you want and they make it happen. So the better you communicate with them, the better the job they can do for you. Here' are a few conversation starters for you:
Start out by listing everything you need the policy to protect—including property, liability, commercial vehicles and your employees.
Ask about bundling policies like property insurance and commercial auto insurance (you might find a little discount waiting for you).
Determine the type of coverage needed based on just how risky your business is.
Point out anything that may increase the amount of liability coverage you need (like a certain delivery driver with a known lead foot).
Ask for and discuss any deals or incentive payment plans (i.e., discounts for paying annually vs. monthly).
Pick the best combination of coverage for your unique business (it's meant to be specially designed this way, after all).
Step 5: Tell Them Everything
And we mean everything. Tell them all the nitty gritty details you might prefer to gloss over. Because, guess what? Inevitably they, or the carrier, will eventually find out. And if they think you purposely omitted certain risks in order to get yourself a lower premium, it'll probably come back to bite you in the assets. So keep these pointers in mind:
If they ask, you tell. Honest communication will lead to a harmonious premium-to-risk match in terms of your policy's price with zero to no biting in the end.
If they don't ask something you think they should've, then you're better off asking them! Don't ignore anything you think is relevant just because it didn't come up. The longer your Q&A/confessional segment with your agent, the better your business insurance quote will ultimately be.
Save on Business Insurance
Our independent agents shop around to find you the best coverage.
The Lowdown on Online Quotes
Look, we know what you want—quick 'n easy business insurance quotes in under a minute. We get it. But choosing supersonic speed could mean sacrificing accuracy...which could end up costing you.
We all love quick quotes—but online companies might leave out options that could save your business some serious green. All while conveniently leaving in factors that assume higher risk and end in a pricier policy.
But wait, there's more. Our competitors might sell your precious info to other companies, leading to a bunch of unrecognized phone calls and a flooded voicemail. We flipped the script by giving YOU the info and options to connect with an independent agent when the time is right.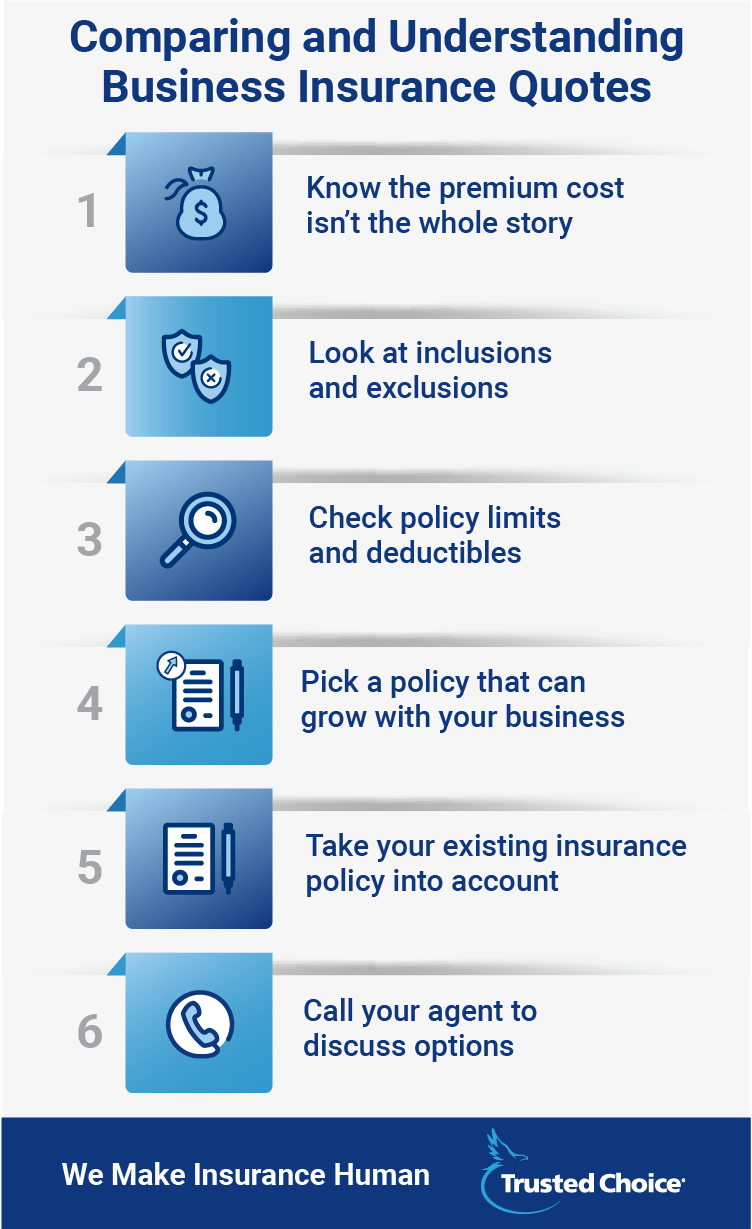 TrustedChoice.com Article | Reviewed by Paul Martin
©2023, Consumer Agent Portal, LLC. All rights reserved.