Landlord Insurance
Finding the Best Landlord Insurance for You
(It's not just about protecting your tenants, it's also about protecting you.)

Landlord insurance is kinda like a twofer. It combines both business and homeowners insurance all in one comprehensive little package, giving landlords the coverage they need to protect their property and their tenants.
Whether you're just renting out a spare room for cash or you're the proud owner of a large portfolio of properties, landlord insurance is a must. And when it comes to finding the right blend of protection at the perfect price, an independent insurance agent is a must.
Independent insurance agents are absolute pros when it comes to landlord insurance. They'll shop options from some of the best companies, bring multiple quotes to the table, and help you compare each and every one.
And in the end, you'll get the protection you need at a price you can feel good about—and how do you beat that? But first, it's time to cover the basics of landlord insurance.
What Is Landlord Insurance?
Simply put, landlord insurance is a type of business insurance. It's a large package of different coverage options to protect landlords from the unique risks they face, like:
Commercial property insurance: Covers damage to your rental properties due to fire, natural disaster, theft, vandalism, and similar causes.
Liability insurance: Covers the cost of legal representation and any damages if you're sued by your tenants (or anyone else).
Loss of income: Covers income from your rental properties if they become uninhabitable or you stop receiving rent payments for any other covered reason. This is an important protection, since without rent, your business doesn't bring in any income.
Workers' compensation: If you have employees, like maintenance workers and property managers, workers' comp covers their medical costs if they're injured on the job. Without it, you could be facing some serious medical and legal costs out of pocket.
Many insurance companies sell landlord insurance packages that combine all this coverage for you. Typically, landlords start with a basic cookie-cutter package while their business is small and expand into custom coverage as their business grows.
With an independent insurance agent in your corner, you have a trusted advisor who can help you adjust your coverage up or down as your business needs change. Easy as that.
What Does Landlord Insurance Cover?
All landlord insurance policies contain different coverages. There's a beginner's basic policy that includes the minimums, but when you work with an independent insurance agent, you'll get coverage tailored specifically to your needs. But at a bare minimum, your landlord insurance should cover:
Property damage from most natural and human causes (except flood protection, which is insured separately)
Legal representation and damages if you are sued
Umbrella coverage (an extra policy that kicks in and pays for things if you go over the limit of any of your other policies)
But if you continue to grow your properties, you should consider additional landlord coverage options, like:
Income protection
Appliance coverage (for boilers and other expensive equipment)
Workers' compensation
Inland marine coverage (covers expensive equipment that moves around from property to property, such as lawn mowers or snowplows)
If you're not seeing the coverage you want, don't worry, landlord insurance is easily customizable with tons of other protection options available to you.
An independent insurance agents are experts in it all who can help you mix and match the right business insurance coverage to balance the protection you need with a price you can afford.
What about Flood Insurance?
Flood insurance is an important type of property insurance coverage that works a little differently than normal commercial property insurance. It's federally regulated and based on FEMA flood maps.
If you own a rental property in a flood zone, you're likely to be required to purchase flood insurance, which may be sold separately from the rest of your landlord insurance.
Even if you're not in a designated flood zone, buying flood insurance is a good idea. Floods are extremely destructive and expensive. An independent insurance agent can help you add flood protection to your landlord insurance if it's not already included.
How Much Does Landlord Insurance Cost?
Landlord insurance typically costs 15%-20% more per property than comparable homeowners insurance. That's because of the extra coverage landlord insurance includes, like liability coverage, since you're more likely to get sued as a landlord than as an ordinary homeowner.
Insuring large apartment buildings is significantly more expensive, with costs varying widely depending on the building's size, location, age, special features and any extra risks of natural disaster or crime.
Landlords with this type of property in their portfolio should work closely with an experienced agent to ensure the fullest possible coverage.
Landlord Insurance Discounts
Insurance discounts work a little differently from the discounts you get at the grocery store. Instead of taking a flat 10% off the top, insurance discounts are typically based on the unique risks and safety features of your business (or home, or car, or anything else you insure).
Landlords pay more for their insurance than regular homeowners, but they may also have access to better discounts. The two most common types of landlord insurance discounts are: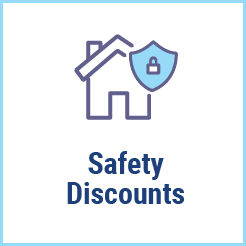 Adding safety features like security cameras and burglar alarms to your properties makes them safer, which makes your insurance cheaper. Even something as simple as keeping grass neatly trimmed can lower your landlord insurance costs, since it demonstrates your commitment to the property. Not to mention, your tenants will appreciate it, too.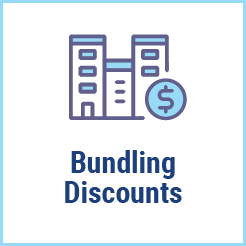 Buying landlord insurance for multiple properties can also lower your costs if you insure everything through the same company. Insurance companies want your business, so they'll cut you a discount if you buy more coverage from them.
If you're a veteran or active service member, you may qualify for military discounts, too. Independent insurance agents will take the time to get to know you and help you zero in on the discounts you deserve.
Is Landlord Insurance Required?
Landlord insurance isn't required by the government, but it's almost always required by lenders and investors. They want to make sure their money is protected if a disaster strikes your business, so in most cases, they won't lend you money unless you have proof of insurance.
If you're planning to take out loans to buy your rental properties, you probably won't be able to do that without landlord insurance.
If you own all your properties outright and don't have financing, then you could technically get away without landlord insurance, but not having it is a terrible idea. It's there to protect you from bankruptcy, which in turn protects your income stream, your reputation, your tenants, and your employees.
In short, landlord insurance isn't technically required, but for any business it's a must.
Renting Space in Your Home? Do You Still Need Landlord Insurance?
If you're renting out part of your own home (like a "mother-in-law apartment" or a spare bedroom), then you may not need landlord insurance. You may be able to add on a special rider to your homeowners insurance instead.
Your best option is to talk to an independent insurance agent to see if the extra coverage you need can be added.
Whatever you do, don't just assume you're covered. It's common for a standard homeowners insurance policy not to include this type of scenario, so you'll want to double-check that your insurance is in place before tenants move in.
Why Independent Insurance Agents?
Insurance is sold in three ways: online, through captive agents, or through independent insurance agents. Online is a great way to find cheap insurance, but it leaves out a ton of coverages you probably need.
Captive agents are bound to one company, with one set of policy options and only one price. Independent agents can shop multiple companies at the same time, so they can find the best coverage and price for you. That's a win any way you cut it.
Plus, independent insurance agents do all the legwork for you, making your life as a small business owner just a little easier. You know the rental market; they know the insurance market. Together, finding the right coverage for your properties is easy.
TrustedChoice.com Article | Reviewed by Paul Martin
©2021, Consumer Agent Portal, LLC. All rights reserved.