Compare Landlord Insurance
(It may be time to brush up on your tree identification skills.)

The leap from homeowner to landlord is a big one. Pesky tenants, finicky water heaters and liability flubs all stand between you and a pretty profitable little side hustle. But one thing is a must to protect your investment, and that's landlord insurance.
However, if shopping for insurance gives you the cold sweats, this 8-point crash course will help put you at ease and set you on the right path. Take a good, solid look through this guide. Then read it again. And when you're ready, our independent insurance agents are here to help you the rest of the way. So let's get this ball rollin'.
How Insurance Carriers Work
Insurance carriers are the ones with all the goods. They create insurance products and plans designed to help you when you need it most. When it comes to buying those goods, you can either go through the carrier's agent or an independent insurance agent.
In the case of independent insurance agents, they are not tied to any one carrier, so they can search and sift through tons of options. Not only that, they also follow along and keep track of info like carrier stability and reputation, so they can help you feel good about the choice you make.
So let's talk about the things an independent insurance agent wants you to keep in mind while searching for the policy that's perfect for you.
Price
When your agent shares your options with you, it's tempting to jump at the cheapest one. But beware, the lowest price may not be your best answer. Insurance pricing can be a really thick and complicated math-chowder and the mid-priced option may actually be giving you more discounts AND better coverage than the cheap-o. So make sure to look through ALL of the details.
What to look for: If price is your #1 concern, then by all means go for the cheapest insurance. Just know that if something big, bad and hairy comes your way, your side gig could get hit hard. And that could even seep over into your personal life and finances. Yikes.
Pro-level landlords should always consider more comprehensive coverage, even if it's more expensive. But many companies offer all sorts of discounts to help drop the cost, so be sure to ask!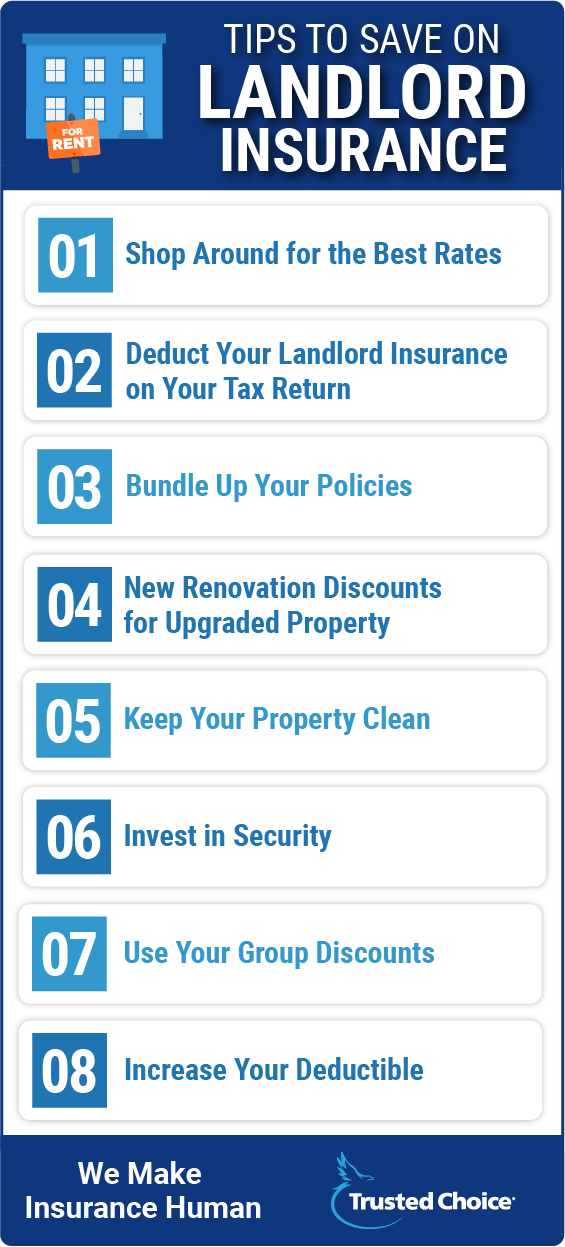 Customer Service
24/7 claims reporting is a basic service you should expect with any landlord insurance. After all, disasters happen at all hours and your insurance carrier should be ready to help. Customer service options, accessibility and quality all vary between carriers, but an independent insurance agent can help you navigate the playing field.
What to look for: First, check for a 24/7 claims reporting line. Beyond that, ask if your insurance carrier offers safety seminars and other safety support. If you're a new landlord, these resources are great for learning the ropes. Even if you're an old dog, you can certainly still pick up a few new tricks (and potentially even another discount or two).
Save on Landlord Insurance
Our independent agents shop around to find you the best coverage.
Speed of Service
It's like that used car salesman once told you, "You get what you pay for." Same goes here. If your premiums are pricey, chances are it's because the carrier wants you to have easy access to support—and support staff need to be paid.
What to look for: This one's a toughie to judge from the outside. Ask agents or other landlords about their experiences with their carriers. A good reputation and fast service typically go hand in hand, but like we said, that speed often has a cost.
Company Size
Do you prefer the friendly feel of a mom-and-pop shop or the always-on efficiency of a mega-corp? Both have their benefits, and some mid-size companies have a sweet little blend of both. There's no right or wrong answer to this one—it's all personal.
What to look for: If you'd prefer to know your insurance company by face and name instead of as a corporate logo, pick a smaller company. If your landlord business is very large, bigger companies might be a better bet, because they can typically offer faster service and more financial stability.
Company Stability
You pay premiums for a reason. If disaster strikes, your insurance company should leap into action to make things right, but they can't do that if they're broke. Luckily, insurance companies are heavily regulated and rarely go under. And there are clear warning signs for the bad eggs, too, and having an insurance agent that can help you identify the good from the bad is key.
What to look for: A.M. Best provides industry-standard ratings for financial stability and allows you to see their findings for yourself online. Many insurance carriers also prominently display their ratings on their own websites. Anything A- and up is a go. Lower than that, buyer beware.
Save on Landlord Insurance
Our independent agents shop around to find you the best coverage.
Company Age and History
Unlike bridges, with insurance, older usually equals stronger and more reliable. That's why older companies are usually more trustworthy than the new kids on the block. That said, upstart companies tend to offer higher-tech solutions, intriguing discounts and exciting customer service to gain your business and then one day become the old reliable choice. It all depends on what's important to you.
What to look for: Older companies will usually state their age clearly on their website—they know it's a big selling point. Younger ones might try to hide it behind a sleek logo and visually-appealing color pallet. If a snazzy new start-up—let's say, one from 2010 or later—catches your eye, be sure to triple-check their stability before signing on.
Connections to Your Community
Insurance companies usually have niches. That niche could be that they only serve Topeka, Kansas, or that they're really into insuring family farms. A niche company supports a community you love, and the community holds the insurance company accountable. Win-win.
What to look for: If a community-based company is important to you, ask around. Search "landlord insurance" + "your hometown" online. If you're a veteran, many insurance companies cater just to you and may offer discounts.
The Awesome Benefits of an Independent Insurance Agent
Look, your time is valuable, so why do all the hard work yourself? Our independent insurance agents stay on top of trends in the industry so you don't have to. That means they'll help you find the right coverage for you at the right price.
They're not just there at the beginning, either. If you ever get in a jam and need to make a claim, they'll help you meet deadlines, get all the benefits you're entitled to, and get you back to cashin' those rent checks. Cha-ching!
TrustedChoice.com Article | Reviewed by Paul Martin
©2023, Consumer Agent Portal, LLC. All rights reserved.