Cyber Liability Insurance
Businesses across the country need special coverage to protect their networks against data breaches and other virtual threats.

Businesses across the US average only 42.53% in preparedness to protect themselves against data breaches and other cyber threats. Since cyber threats are always evolving, it's important to ensure that your business gets equipped with the right coverage to protect its operations, revenue, and more.
The best way to achieve this is to work with an experienced independent insurance agent. They'll be with you every step of the way while selecting the right policy for your business, and get you set up with cyber liability coverage that considers all your business's specific risk areas.
The Best Cyber Liability Insurance Companies
Cyber liability insurance is available from many different insurance companies, and the best way to find the right carrier for you is through working with an independent insurance agent.
While many insurance companies could create a cyber liability insurance policy for you, finding coverage could also depend on the area you live in.
The best insurance companies for cyber liability insurance
Hiscox is a highly rated insurance company with tons of experience writing cyber liability insurance. For more than 20 years, Hiscox's coverage has been protecting businesses from data breaches and more, and the carrier handles at least 1,000 claims each year. The carrier's primary cyber liability insurance policy is designed for small businesses that generate $1 billion or less in annual revenue. Coverage is available in limits of up to $10 million. The carrier offers both first-party and third-party coverage.
AIG recently won the 2018 award for Cyber Risk Innovation of the Year. The carrier is also highly rated and owns 22% of the cyber liability market — overall the highest share of any insurance company. AIG provides highly customizable coverage that comes with limits of up to $100 million. The carrier provides not only stand-alone policies, but also the option to pair cyber liability protection with an existing general liability insurance policy. The carrier also offers both first-party and third-party coverage.
Liberty Mutual is an excellent carrier for adapting cyber liability coverage to small business's needs. Cyber liability coverage comes as part of a general liability policy or a business owners policy. Data security endorsements are also available to boost your coverage. Coverage limits of up to $1 million are available. Deductibles range from $2,500 to $10,000 per incident.
One cyber liability insurance company outshines its competitors
Travelers insurance is rated "A++" by A.M. Best and has been in the insurance industry for nearly 170 years.
With a high volume of customer satisfaction, Travelers provides trustworthy, reliable coverage for businesses of all kinds that are in need of critical cyber liability protection.
What Is Cyber Liability Insurance?
No matter where you're based, cyber liability insurance is essentially a contract between a business or individual and an insurance company in which the insurer agrees to cover losses from liabilities and other costs relating to various cyberattacks. Cyber liability insurance has begun to be offered with standard business insurance policies, due to the growing importance and relevance of this coverage.
Though you may not think your business is extremely technical, with just an internet connection you're vulnerable to attacks by cybercriminals. Many business owners have unfortunately had to learn the hard way how crucial having coverage really is. It's best to just be proactive about protecting your business, which means getting set up with a cyber liability policy ASAP.
What Does Cyber Liability Insurance Cover?
Cyber liability insurance protects your business against paying out of pocket for costs related to data breaches or other cyberattacks. Costs can stem from the following:
Lost income
Notifying affected parties of the data breach
Recovering compromised data
Repairing computer systems
Bank fees for having to cancel stolen credit cards
Cyber liability coverage varies greatly depending on which insurer you get coverage from, since these policies aren't standard across the board. This type of coverage is relatively new, and insurers have started offering cyber liability insurance just within the last couple of decades.
Cyber liability insurance protects businesses that store sensitive information or data electronically, carry out any kind of transactions through the use of the internet, and in many other scenarios involving computers. Though your policy may vary slightly, a handful of core coverages is offered by many cyber liability insurance policies. There is also a variety of coverage limits and deductible amounts, as well.
Who Needs Cyber Liability Insurance?
Cyber liability insurance is an interesting new insurance coverage that has only been around for a few years. These policies are designed to protect your business from cybercrimes, including breaches of confidentiality with customer information, loss of data, electronic theft, loss of income due to temporary suspension of business operations, and other related losses.
Whether your business needs this type of coverage depends on what your business does, and what types of data you store electronically. Do you keep medical records, personal information, credit card numbers, or any other data that could damage your customers personally or financially if it got into the wrong hands? If so, you need cyber liability coverage.
Cyber liability insurance may provide several different types of coverage, such as the following.
Loss of income because of suspended or limited operations
Loss of income because of a damaged reputation
Reparations to customers or third-party vendors who suffered a financial loss due to a breach at your company
Reparations to customers who suffered emotional distress due to a breach at your company
The cost of expert programmers hired to find and fix the problem by patching up security holes
The cost of credit monitoring programs for customers who had personal and financial data stolen
One important thing to keep in mind is that, because it is so new, cyber liability insurance currently has no coverage standards, so not everything listed above will be included with all policies. There are vast differences between cyber liability insurance policies offered by various companies.
What's Not Covered by Cyber Liability Insurance?
It's important to carefully review your cyber liability insurance policy, preferably with an independent insurance agent, to see which exclusions apply to you. Since cyber liability insurance is so customizable, two policies may not have exactly the same list of exclusions. That being said, many cyber liability policies around today don't cover the following.
Bodily injury or property damage claims: Cyber liability insurance won't protect against claims of bodily injury or property damage. That's where a general liability policy comes in.
Loss of property: Losing a piece of property, like a phone or computer, is generally covered by commercial property insurance, not a cyber liability policy.
Criminal activity: Typically, a cyber liability policy won't insure against fraud, robbery, employee theft, or other crimes. Commercial crime insurance offers this coverage separately.
Social engineering: One way cybercriminals target their victims is through social engineering, or tricking people into transferring company funds to their account. Not all cyber liability policies cover social engineering. This additional coverage may come with a smaller coverage limit, or it might be an optional add-on.
Often when you purchase a cyber liability policy, you agree to maintain appropriate security measures in order to prevent a cyber incident from happening in the first place. If you fail to maintain these security measures, any future claims might get denied.
If an employee accidentally clicks on a phony link that causes malware to corrupt the company's computer systems, the insurance carrier could deny coverage for failure to use preventive measures if the company didn't have anti-malware software.
How Much Does Cyber Liability Insurance Cost?
Just like any other type of insurance, the cost of your policy will depend on a number of different factors, including the size of your business and its annual gross revenue. However, the smaller and less risky your business is to insure, the lower the cost of your premium will be. This basic formula is pretty standard across all types of insurance coverages out there.
Smaller companies with relatively basic computer operations might pay less than $1,000 annually, while large tech giants with all kinds of security needs might pay closer to $10,000 per year or even more. Your independent insurance agent will be able to give you more specific pricing information for cyber liability policies that work for you.
Finding Discounts and Savings on Cyber Liability Insurance
Though the cost of cyber liability insurance can vary greatly and certain policies will be more expensive than others, many insurance companies offer a handful of competitive discounts and other ways to save money on coverage. An independent insurance agent is experienced in finding money-saving hacks for cyber liability insurance customers.
Here are a few examples of common discounts offered on cyber liability insurance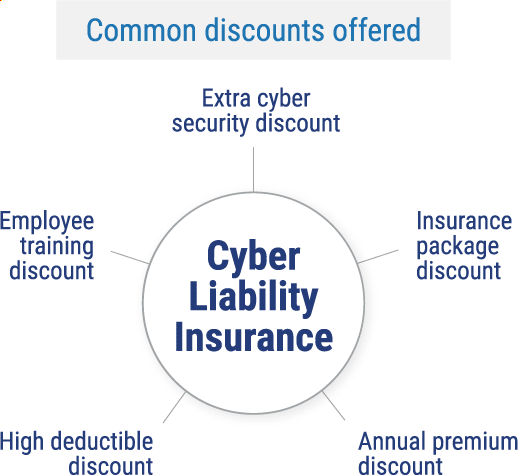 How Much Cyber Liability Coverage Do I Need?
To answer this question, you'll have to analyze your unique business and its operations and risk levels. An independent insurance agent can help you evaluate the amount of risk your company faces for incidents like data breaches. From there, the two of you can work together to figure out an appropriate amount of coverage for your business's needs.
Cyber Liability Stats
When considering cyber liability insurance for your business, it can be helpful to know just how big a threat data breaches and other cyberattacks are in general. Check out a couple of recent cyber liability stats below.
Number of data breaches in the United States from 2013 to 2019, by industry
| Industry | 2013 | 2014 | 2015 | 2016 | 2017 | 2018 | 2019 |
| --- | --- | --- | --- | --- | --- | --- | --- |
| Business | 194 | 263 | 312 | 497 | 907 | 575 | 644 |
| Medical/Healthcare | 271 | 332 | 275 | 373 | 384 | 369 | 525 |
| Educational | 54 | 57 | 58 | 97 | 128 | 78 | 113 |
| Banking/Credit/Financial | 35 | 38 | 71 | 51 | 134 | 135 | 108 |
| Government/Military | 60 | 91 | 63 | 72 | 79 | 100 | 83 |
United States; Identity Theft Resource Center; 2013-2019
Since 2013, the number of data breaches in every industry studied has increased. In 2018 alone, there were 575 data breaches in the general business industry, up from 194 just five years earlier. Medical/healthcare businesses reported 369 data breaches, and government agencies reported 100.
Primary attack points for data breaches in the United States as of 2018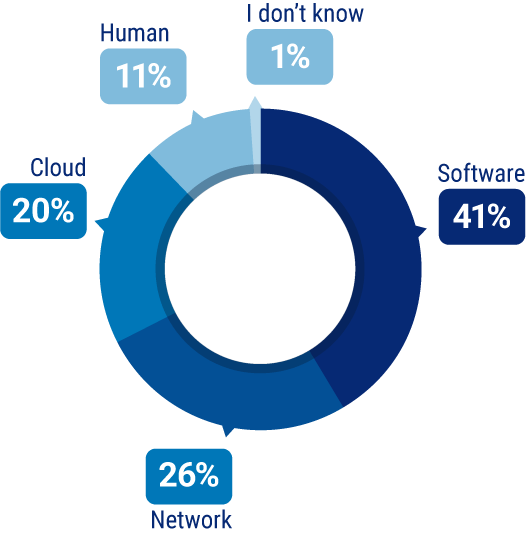 In 2018, 41% of surveyed organizations reported that software was believed to be the attack point of data breaches for the year. Another 26% reported it was their network, 20% reported cloud storage, and 11% reported the target was human. Only 1% of respondents didn't know what the attack points of the data breaches were.
Knowing these disturbing stats about cyberattacks and data breaches further demonstrates the extreme importance of having the right cyber liability coverage for your business, especially if you rely heavily on the use of computers and the internet for your daily operations.
Data Breach Misconceptions and When Cyber Liability Insurance Can Be Used
Some business owners don't grasp the importance of cyber liability insurance because they have certain common misconceptions about data breaches and don't see the need for coverage. Knowing a few mainstream misconceptions about data breaches, and just how and when cyber liability insurance can be used, is critical for all business owners with computers.
Some of the most common misconceptions about data breaches are as follows.
Hackers go straight for their main targets: Hackers actually like to go through smaller, less suspicious networks to get to their main targets. The infamous Target data breach of 2013, which ultimately cost the retail giant $18.5 million, began by hackers infiltrating the corporation's air conditioning contractor's network. From there, the cybercriminals worked their way through Target's firewall.
Hackers are the same as identity thieves: Actually, hackers act more like salespersons for identity theft. After hackers steal private data, they charge identity thieves for the information on hidden underground websites.
Data breaches are obvious immediately: Actually, it can take weeks for a business to know it's been hit by a data breach. It's often not until a business's bank reports fraudulent activity that they're flagged to check their network for holes.
Data breaches mostly happen to big businesses: Sadly, small businesses are targeted almost two-thirds of the time by cybercriminals. Since small businesses don't spend the kind of money, time, and attention to detail that larger corporations do on cyber security measures, it makes them an easier target for attacks.
Cyber liability insurance can play a crucial role in protecting your business from data breaches and other cyberattacks, especially if you're not especially familiar with how these breaches and other incidents happen. Coverage can be used to protect your business's revenue from hits following a disaster like a data breach, or to improve your security protocols to prevent potentially expensive incidents from happening in the first place.
Frequently Asked Questions about Cyber Liability Insurance
While technology errors & omissions insurance (E&O) also protects your business against cyber risks, it operates a bit differently than cyber liability coverage. Technology E&O coverage is a special form of professional liability coverage that includes protection for tech-related liability issues. Coverage can protect your business from mistakes like advising clients to purchase the wrong type of software or other technology that later harms them in some way.
Frivolous lawsuits supply only weak evidence against your business. These cases are also referred to as "meritless lawsuits" and are often an attempt to get the business owner to hand over a quick settlement payment in a panic. Fortunately, cyber liability insurance covers even legal costs stemming from frivolous lawsuits.
Any business that uses computer systems or networks and the internet for any type of operations needs cyber liability insurance. This ranges from online-based businesses to longstanding small companies that only use the internet to check email. If any private or sensitive data or information can be accessed on a company computer, it's important to have this coverage.
If a breach occurs and your business is lacking the right cyber liability coverage, you will have to pay for the resulting losses out of pocket. In 2019, the average cost of a data breach for a company in the US was $8.19 million. Of course, this cost could be a lot less for a smaller company that doesn't generate much business, but it's really not worth taking the risk. Any business with important data to protect needs cyber liability insurance.
Actually, standard business liability insurance and property liability insurance coverage are specifically designed to exclude cyber risks. That's why cyber liability insurance has become a stand-alone product and is so prevalent and frequently recommended by independent insurance agents today.
Since cyber liability policies aren't standard, you'll want the help of an independent insurance agent. Together, the two of you will assemble a package of coverages to protect yourself and your business against cyber risks that are unique to you. Cyber liability insurance is designed to keep your business afloat following a huge disaster like a data breach or other cyberattack.
It's a good idea to be familiar with exactly what your cyber liability insurance policy covers before any incidents ever occur. When a data breach or other event happens that you might have coverage for under your cyber liability policy, you can get in touch with your independent insurance agent or your insurance company directly to file a claim. If the incident is covered, you'll receive reimbursement according to the terms and limitations in your policy
The Benefits of an Independent Insurance Agent
Independent insurance agents are kind of like the Google of insurance quotes. You tell them what you're looking for, and they bring in the results. And since they aren't tied down to one carrier, they're free to shop around and bring multiple policy options to the table.
TrustedChoice.com Article | Reviewed by Paul Martin
©2023, Consumer Agent Portal, LLC. All rights reserved.
https://www.statista.com/statistics/273572/number-of-data-breaches-in-the-united-states-by-business/
iii.org