AIG Insurance Company Review
AIG Insurance Company At a Glance:
Founded in 1919
Offers coverage for individuals and businesses
"A-" (good) rating by Better Business Bureau (BBB)
"A" (excellent) rating by AM Best
Offers multiple types of insurances
Large network of independent insurance agents
Strong financial stability
One of the largest insurance carriers worldwide
AIG Pros: Long-standing company with more than a century's worth of experience in the insurance industry. Provides a full range of term, whole, and universal life insurance, as well as other coverage types. Offers great rates on term life insurance. Offers policyholders numerous options for accessing their life insurance funds while they're still alive. Offers fast application processes for prospective customers.
AIG Cons: Concerning volume of customer service complaints by policyholders across multiple review websites. Carrier has a rating of 2 out of 5 stars with J.D. Power (a company that conducts insurance carrier studies and rates based on pricing, products offered, customer interaction, and more). No longer offers some of the coverages it did just a few years ago. Not BBB accredited. More than 200 customer complaints filed against the carrier through the BBB over the past three years.
What Type of Insurance Does AIG Offer?
AIG caters to both individuals and businesses and offers several types of coverage, including:
Life insurance (whole, universal, and term)
Quality of life insurance
Personal accident insurance
Personal accident and sickness insurance
Travel insurance
For both businesses and individuals, AIG offers a range of coverage options. Whether you're in the market for life insurance, health insurance, travel insurance, or a combination, AIG may just be the right choice for you.
Using our insurance company directory can help you find the best insurance companies that specialize in your specific coverage needs. The company directory can also help you get connected to an agent near you.
What to Know about AIG
AIG was founded in 1919, making it a well-established insurance carrier with more than a century's worth of experience in offering quality insurance policies and service to businesses and individuals alike. Today, AIG is one of the largest insurance carriers in the world.
AIG's long-standing history and massive size has helped it to earn a reputation as a notably stable company. The carrier currently supplies coverage to more than 90 million customers across 80 different countries. Additionally, AM Best reports that the carrier belongs to the $2 billion or greater financial size category.
AIG's long-standing status and amount of in-force insurance aids the carrier's reputation as a financially stable insurance provider with a strong outlook for the future. AM Best, the leading global credit rating agency monitoring the insurance industry, gives AIG an "A" rating, indicating the carrier is a respectable choice for insurance customers. The "A" rating assures prospective customers that AIG is capable of offering guaranteed, secure coverage from a trustworthy and reputable carrier.
Established in 1899, AM Best is one of the oldest rating companies in the world. Reviews from AM Best indicate an insurance company's financial strength and creditworthiness, and are based on comprehensive evaluations of the company's operating performance, business profile, and balance sheet. For customers who aren't as familiar with insurance companies' respective reputations, AM Best's ratings system allows them to make an informed decision about who they can trust to meet their needs in the short term and who will remain a strong, financially sound company in the long term.
What Discounts Does AIG Offer?
AIG offers a handful of competitive discount programs for their customers, most notably for life insurance. These discounts include: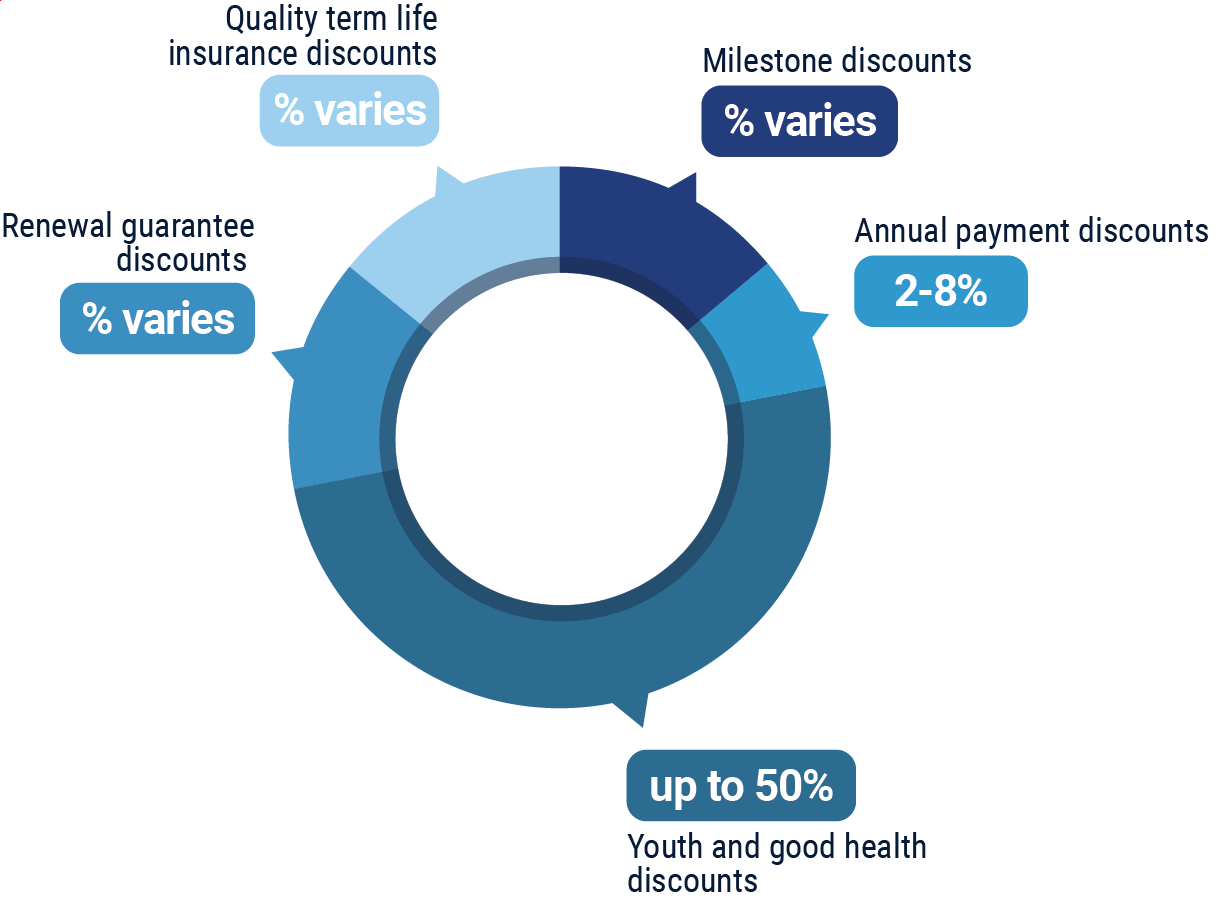 Milestone discounts: Offered to customers who purchase higher increments of life insurance coverage, such as opting for $500,000 instead of $450,000.
Annual payment discounts: Offered to customers who opt to pay their life insurance premiums annually instead of monthly.
Youth and good health discounts: Offered to customers who purchase life insurance while they are younger and/or are in good health.
Renewal guarantee discounts: Available to customers who qualify to renew their term life policies without retaking the medical exam.
Quality term life insurance discounts: Available to customers who lead a life of high-risk hobbies or occupations, such as pilots or sky divers. Coverage is designed specifically for customers who partake in these risky activities or jobs, and can therefore be offered at a lower rate.
An independent insurance agent can help you find even more discounts available through AIG, helping you get the most bang for your buck out of your coverage.
AIG Customer Service
AIG allows customers to handle claims over the phone or through their website via the self-service tool, 24/7. Many customer service options are available through the official website as well, including payment options and policy information.
AIG states that they can also be reached via mail or fax.
AIG's Contact Center for customer service has the following hours restrictions:
| | | | |
| --- | --- | --- | --- |
| | | Hours (CT) | |
| | | Monday-Friday | 7 am - 7 pm |
AIG sells insurance through a vast network of brokers, including independent insurance agents. Independent insurance agents are also available to handle claims and insurance concerns for you, making customer service even easier.
Find The Right Company Today.
Shopping for a company? We have the right one for you.
AIG FAQ
What is AIG's average claim response time frame?
AIG's claims reporting hotline is available for customers in need via a toll-free phone number. Customers can also submit claims and file appropriate reports online through the website, or via mail or fax. Though the carrier does not make an official claims response time frame promise on their website, customers have stated that they were quoted a processing time of 10 to 15 business days.
What is AIG's customer service availability?
AIG offers a toll-free phone line for prospective and current customers to get in touch with them at slightly restricted hours, Monday through Friday. However, the carrier's claims reporting department can be reached 24/7.
What is AIG's claims process?
Though customers can report claims via phone, AIG encourages claims reporting through their website. The following information is available through the official website on claims processing:
"AIG provides claim reporting services to centralize the reporting of all workers' compensation, general liability, auto, and property claims. Regardless of where an accident or injury occurs, AIG offers fast, easy and accurate online and telephonic services to report your claims. By reducing the time it takes to report an injury or accident, our claim specialists can promptly begin working on your case and immediately start to control claim costs.
All of the information necessary to file a claim will be obtained and processed for file creation and assignment to the appropriate claim representative. When reporting a claim to AIG online or telephonically, you are required to answer a series of questions which are specific to state laws regarding accident or injury claim reporting. The account profile is also confirmed and information is verified relating to your location.
1. Workers' compensation claims – verify the state in which the injury occurred and obtain relevant claim information as required by the state-specific Workers' Compensation Bureau.
2. Auto, general liability, and property claims – verify the type of claim and obtain information necessary to complete a Loss Notice form.
To report your claim:
Register for Internet claim reporting at www.aig.com/reportaclaim by clicking on the "Register Now" link. Please have your policy information available to register. If you do not have Internet access, you can report all workers' compensation, auto, general liability, and property claims via the toll free reporting number: 800-910-2667."
Additional information about what documentation is needed for each specific type of insurance is listed on the carrier's website. AIG customers can also check the status of their existing claims online, at any time.
Does AIG create a user-friendly experience for customers?
Customers can file claims, check their claim's status, pay their bill, update policy preferences such as changing beneficiaries, and learn what types of coverage are available through the official website. However, the carrier's website is not the most intuitive to browse. The search option is often required for information that should be more readily available via dropdown menus, and even then, certain important information, such as claims processing time frames, appears to be missing. As far as social media is concerned, the carrier does have a presence on both Facebook and Twitter to make itself more accessible to customers.
AIG Customer Reviews
Yelp

"Very good travel insurance, AIG processes claims and makes decisions quickly. AIG doesn't keep asking for more unnecessary … documents for [them] not to process [my] claim."
Consumer Affairs

"AIG is a good company that knows how to treat its customers like family and makes life a little easier for me. Their prices are decently done so that it's easy for me to figure out what I need to do to make sure everything's set if anything happens to me. The company is pretty awesome at making me understand what they are actually doing with the money I send every month. But there should be some cheaper options with amazing coverage so that people aren't screwed if they can't afford the cheapest option. They also need more representatives in Ohio."
Better Business Bureau

"I purchased travel insurance through AIG for travel to Europe which was cancelled due to COVID-19, and filed a claim with them over a month ago and was notified that my claim would be processed in 10-15 business days. Haven't heard anything from them since. Was on the phone for hours trying to get through to an actual customer service person, and there was no answer. I've tried contacting by email and have gotten no response. As far as I can tell, this company doesn't actually provide any sort of actual insurance services. I can understand a delay at the present, but I would at least expect to see some sort of email explaining there is a delay. This is very unprofessional."
Better Business Bureau

"I have a Life insurance policy with AIG. I cannot get through by phone to discuss the letter they sent me. There is no email available online or in letter. Number on letter is disconnected. 5 other phone numbers online have failed as well. I have made payments to them for 15 years and I cannot get through to them. The website number is only a sales agency not affiliated with AIG American. I am at a loss for words. I received a number to try from the sales agent. I have been on hold for 25 minutes and still no one has answered."
Consumer Affairs

"I choose AIG Life Insurance for many reasons. I like their insurance policies that provide the best for people, the flexible payment options that allow you to pay when you are in a bind and the overall attention to how it affects the people under it. I also like the various plans they offer and the quality of service is great. Many times before I failed to find the right insurance for me but this one provides all the coverage I am looking for. I like their wide insurance coverage as it allows for me to know that I have all the precautions for daily life. But I don't like that the support is a bit non-fluid at times."
TrustedChoice.com's Final Review

We award AIG a final rating of 3 out of 5 stars. The carrier's long-standing status, as well as being one of the largest insurance carriers in the world, clearly demonstrates AIG's reputability and staying power. AIG has impressively strong financial stability and offers reputable coverage to customers across the globe. However, a concerning volume of customer complaints about the carrier's claim responses and the less than ideal website proves that AIG still has plenty of room to grow. The number of complaints filed against the carrier through the Better Business Bureau within recent years also prevents them from being one of our top picks. That being said, it's obvious that millions of customers currently trust AIG to take care of their coverage needs, and that's certainly worth taking into consideration.
©2023, Consumer Agent Portal, LLC. All rights reserved.
aig.com
ambest.com
https://www.yelp.com/biz/aig-new-york-2
https://www.consumeraffairs.com/insurance/aig_life.html?#sort=recent&filter=3
https://www.bbb.org/us/ny/new-york/profile/insurance-companies/american-international-group-inc-aig-0121-1515/customer-reviews