Farm Insurance
Farms and agribusinesses require a specialized and highly customizable insurance plan.

Farm insurance is a unique type of insurance, much different from homeowners or commercial insurance. It's also a broad category, as it can include small family farms, hobby farms, large agribusinesses, and ranches. In addition to being able to cover any type of farming equipment, it can also cover your house, and provides liability protection against lawsuits that could arise from your farming operations.
Since it's fairly complex and requires a thorough understanding of both your farming activities and the insurance options that can cover it, it's best to speak with a trusted independent insurance agent who can guide you through the process and make sure you are properly covered.
Save On Farm Insurance
Our independent agents shop around to find you the best coverage.
The Best Farm Insurance Companies
There are many insurance companies that sell farm insurance, and most of them are excellent. Most states have small, regional insurance companies that specialize in farm insurance. There may also be local mutual insurance companies that can offer farm insurance.
The list of farm insurance companies could be nearly endless and is likely to depend on which part of the country you're located in. However, there is one farm insurance company that stands out for its ability to insure any size of farm in any part of the country.
Best overall farm insurance company: Nationwide
Nationwide Insurance offers farm and ranch insurance in all 50 states. In addition to offering farm insurance, Nationwide also offers home and auto, commercial, and life insurance. And since it operates in both the personal and commercial insurance spheres, its farm insurance products can cover any size of farming operation. Nationwide offers three types of farm policies that are specifically designed for small hobby farms, traditional farms and ranches, and agribusinesses.
What Does Farm Insurance Cover?
Farm insurance is often a hybrid of personal insurance and commercial insurance. Sometimes it looks a lot like homeowners insurance, while at other times it very closely resembles commercial insurance.
Farm insurance is very flexible in what it can cover, and is able to be tailored to the exact needs of each farm. Most farm insurance policies contain at least the following things.
| Farm Insurance Coverage Levels | Basic | Extra Options |
| --- | --- | --- |
| Dwelling | | |
| Farm Liability | | |
| Barn/Outbuilding Coverage | | |
| Crop Coverage | | |
| Livestock Coverage | | |
| Farm Equipment Coverage | | |
| Multi-Peril Crop Coverage (MPCI) | | |
| Crop-Hail Coverage | | |
| Specialized Peril | | |
| Grain Fire Policy | | |
| Rainfall Policy | | |
| Citrus Freeze Policy | | |
| Citrus Business Interruption Policy | | |
Basics
Farm insurance is essentially an a la carte insurance program where you can pick and choose what you want to cover. However, most farm insurance policies have at least a house and liability on them.
Dwelling: Most farm insurance policies cover the farmer's house, though technically this isn't required. When the house is on the policy, it's usually covered at replacement cost or actual cash value, just like a homeowners insurance policy. You can still have farm insurance even if you don't have a house on the policy.
Farm liability: Farm liability is fairly broad and flexible. It provides liability coverage in case you or your farm is responsible for somebody else's injuries or property damage. And it can be structured to cover more than one location, such as farms with many acres that are spread out over multiple farms.
Extra options
The nature of your farm will determine what type of extra coverage options you'll want to put on your farm insurance policy. There are rarely any automatic coverages that come with a basic farm insurance policy, so you'll want to make sure everything is specifically listed on your policy that you want coverage for.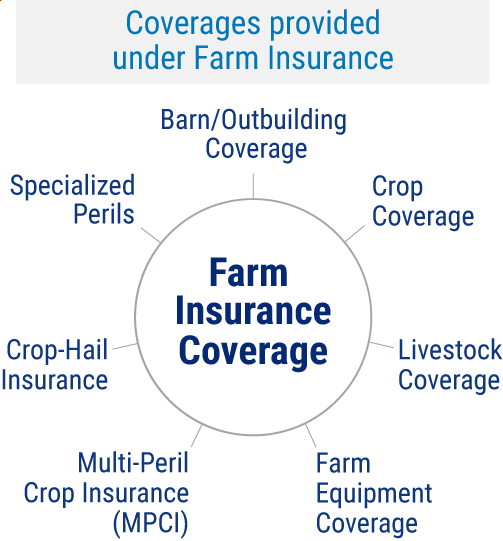 Barn/outbuilding coverage: If you insure your house on your farm policy, you'll receive an automatic 10% of your home's coverage that applies to any outbuildings. However, those outbuildings can't be used for any type of farming activity, and this really only applies to things like detached garages and sheds. Barns and any other outbuildings that are used for farming must be specifically listed on your policy. You can typically choose the amount of coverage you want on it, but typically only new barns in excellent condition will be eligible for replacement cost coverage.
Crop coverage: Traditional crop insurance is not an option to add to your farm insurance policy, so you'll need to buy crop insurance separately if you want to insure it. But you can typically add peak season storage of your crops to your farm insurance policy. Crop insurance may be limited in how long it covers your crops for, so you may want to add crop storage in addition to having crop insurance.
Livestock coverage: You can choose to insure your livestock on either a blanket or a scheduled basis. Blanket coverage means that all of your livestock are covered under one limit, while scheduling lets you pick and choose which livestock you'd like to insure. Be sure to discuss the value of the livestock with your independent insurance agent, because livestock values can fluctuate considerably from year to year, which increases the risk that you're not adequately insured.
Farm equipment coverage: Similar to livestock coverage, your farming equipment is not automatically included when you buy a farm insurance policy, so you'll need to add it. Your farm equipment could include anything from tractors and harvesters, to farm tools and drones. You can also choose whether you want to have blanket coverage or scheduled coverage. Blanket insurance is more expensive but lets you have more wiggle room in the value of each covered item. Whichever method you choose, you'll need to provide an equipment list that shows each item you have and what its value is. Some items won't need to be listed out, like low value miscellaneous tools that are worth a total of a few thousand dollars.
Multi-peril crop insurance (MPCI): This program developed by the Federal Crop Insurance Corporation offers coverage for inescapable crop loss and covers nearly all available crops. The MPCI consists of various policies and coverage options that insure farmers and agriculture producers against a decrease in crop yield or a loss of crops due to natural disasters, weather events, and disease. It also protects you from revenue loss as a result of price changes in the commodity markets. You can choose products customized to your individual operations and needs or general policies that use county yields and prices.
Crop-hail insurance: While many crop-hail policies cover much more than hail, insurance professionals have kept the traditional name. Usually these policies also cover loss due to fire, during transit to storage, while in storage, and more. You can also add options for loss due to windstorms, freezing conditions, and other weather-related events.
Specialized peril: Many crop insurance companies also offer coverage for specifically defined perils excluded from an MPCI or crop-hail policy. These would include, but is not limited to, the following specialized policies.

Grain fire policy: Covers most crops against natural, manmade or lightning fire loss
Rainfall policy: Covers loss of crops, such as tomatoes and raisins, due to rainfall issues
Citrus freeze policy: Protects citrus growers against loss due to early freezes
Citrus business interruption policy: Covers citrus packers if their business is interrupted as a result of a freeze
Hay fire policy: Covers fire damage while hay is in stacks
Other specialized policies: Ask your insurance agent for coverages available in your state or region
Business
Many larger farms are called agribusinesses and operate similar to fully fledged businesses, and require similar insurance. Large commercial farms or agribusinesses may need at least some of the following insurance coverages.
Business income: Business income or interruption insurance can be added to commercial agribusiness insurance policies to keep the money coming in if your farm has to temporarily shut down due to a covered loss. If you have a fire and have to halt your farming operations, business income will still give you money to pay the bills, pay employees, and continue operating while your building is repaired.
Workers' compensation: Unlike most state regulations that require standard businesses to carry workers' compensation insurance, there aren't many states that require farms or agribusinesses to have workers' compensation. This leaves it up to the farmer to decide whether to have it, but it can provide valuable insurance coverage if a farm employee gets hurt on the job in a profession that does carry quite a bit of risk.
Commercial auto: Any standard vehicles, such as a car or truck, will need to be insured on an auto insurance policy. If you're hauling your grain or livestock, you're likely to need a commercial auto insurance policy to adequately cover these activities. Even if you just use your pickup truck occasionally on the farm, your insurance company may be able to rate it as a farm-use only vehicle, which typically has better rates.
How Much Does Farm Insurance Cost?
If you have an agribusiness, you may already know that the cost of insurance can be pricey. So how do you find the right cost without sacrificing your coverage? Consider the following factors when determining farm insurance cost.
Number of acres: How much land you have will affect your cost. The more you have to insure, the more premium you will pay.
Barns and other structures: The number of barns and other structures you have, and their size and quality, will factor into your cost.
Production: What you grow, harvest, produce, and sell will also impact premiums.
Farmhouse: Size, quality, and features of your home on your agribusiness will also impact your pricing.
Equipment and machinery: Both motorized and unmotorized property like tractors, threshers, and other equipment will need insuring, and the replacement cost on some of those pieces could be high, which will impact rates.
Workers: The farmhands and workers of any kind that you hire to run your farm will impact rates because you'll not only have more liability employing people, but you'll also need to add a workers' compensation policy.
Average farm insurance costs
Farm equipment can be insured for roughly $15 per $1,000 of value, depending on your deductible.
| | | |
| --- | --- | --- |
| Example: | Tractor valued at $200,000 | $3,000 per year |
Finding Discounts and Savings on Farm Insurance
Fortunately for farmers, discounts on farm insurance typically resemble a mix of personal and commercial insurance. This means that there are many ways to save money on your farm or ranch insurance policies.
Like personal insurance, such as homeowners insurance, farm insurance policies typically allow for certain discounts, such as having an alarm system or good credit. And similar to commercial insurance, farm insurance also allows for the insurance company to give a certain amount of credit on qualifying policies, which could result in anywhere from a 5% to a 50% discount on your premiums.
Each insurance company will have its own list of discounts and credits available, but generally you'll find the following discounts available on farm insurance policies.
Good credit discount
Depending on the state you live in, your insurance company may run your credit as part of your application. People with good credit generally receive a discount on their premiums.
Multi-policy discount
Most insurance companies allow for a multi-policy discount on farm policies, which means you could save money by having both your farm and your personal auto with the same insurer. You may even be able to save more by having a business policy with the company as well. Some insurance companies may only give this discount on the auto portion of your premiums.
Alarm system discount
Similar to homeowners insurance, this reduces your premium if you have a central station alarm system connected to your house.
Roof or structural discount
This discount may be more of a rating adjustment than a technical discount, but if you have a new roof, particularly if it's metal, or if your home is built of a strong material such as brick, you may get lower rates.
Water damage prevention discounts
These discounts generally involve having a sump pump along with having a battery backup or water detection sensors that warn you of an overflow.
Paperless discount
You may be able to save extra money just by enrolling in paperless documents, forgoing all traditional mail.
Payment discounts
Many insurance companies offer payment discounts, particularly if you pay for the entire year up front. Other insurers only offer this on auto insurance, with no payment discount coming on your farm policy.
Farm credit discount
This potentially is the largest discount that you could receive on your farm policy, though it's entirely up to the company whether to offer it or not. Farm insurance companies have the ability to put credit on a policy, which reduces the premiums that you pay. Insurance companies generally can't do this on homeowners policies, but they frequently do this on commercial policies. Whether or not your farm qualifies for credit will depend on many factors, such as your loss history, your credit, the overall condition of your property, and the insurer's appetite for taking on new business. Be sure to speak with an independent insurance agent about this to see if your farm qualifies for at least a little bit of credit.
Save On Farm Insurance
Our independent agents shop around to find you the best coverage.
Frequently Asked Questions about Farm Insurance
Farm and ranch insurance is a type of insurance that covers various farming activities. Due to the unique nature of farming, it requires a separate type of insurance that's different from homeowners or business insurance, and often resembles both. Farm insurance is fairly flexible and can handle many types of farming and ranching activities, and can be customized to the exact needs of the farmer or rancher.
A farm insurance policy is flexible and can be customized to cover many things. It can cover a house, outbuildings and barns, farm equipment, livestock, and liability related to agricultural and farming activities. It can even cover crops, though only after they've been harvested and are being stored. Crops in the field are covered by crop insurance. All types of farming equipment can be covered either specifically or together with blanket coverage. For larger agribusinesses, farm insurance will be combined with commercial insurance that may include commercial auto coverage for trucks and commercial general liability.
Every type of insurance has certain exclusions, or things that aren't covered. Some of these are extremely unlikely, such as nuclear war, while other exclusions such as water damage can be added onto your policy for an extra charge. If you have an agribusiness with commercial risk exposures, you'll probably also need some commercial insurance, because business activities aren't covered under farm insurance.
If you do any type of farming activity, even if it's just for fun or on the side, then you should probably buy farm or ranch insurance. If you do any type of farming activity for money, then you'll definitely want farm or ranch insurance to cover you for liability. Standard homeowners insurance or commercial insurance doesn't cover farming activities or equipment, so you'll need to buy farm insurance if you own farm equipment, own acreage, or engage in farming activities.
You'll simply want a standard workers' compensation policy, but with a company that's okay with agricultural activities. Some insurance companies won't offer workers' comp to farmers due to the increased likelihood of employee injuries. Be sure to speak with an independent insurance agent who will work with you to find a company that's okay with agricultural and farming workers' compensation.
The two may overlap sometimes because all agribusinesses could be called farms, but not all farms are agribusinesses. Agribusinesses are generally large farming operations that may resemble a manufacturing plant, complete with employees and trucks, and they conduct large-scale farming operations. The word farm includes these large agribusinesses, but could also mean small family-run farms or hobby farms, where farming is simply a side activity.
Crop insurance is a very specific type of insurance that's backed by the federal government. It's essentially a subsidy that you have to buy that will ensure that you receive a certain amount of income from your crops, even if they fail due to a natural cause, such as flooding or fire. You can't buy this as part of your farm insurance program. It's always a separate type of insurance, but it's available to any farmer.
TrustedChoice.com Article | Reviewed by Tracy Cotton
©2023, Consumer Agent Portal, LLC. All rights reserved.