Farm & Ranch Insurance
(Getting the right coverage has never been easier)

Whether you run a small hobby farm or a commercial farm, it needs to be protected. While many with smaller operations believe that homeowners coverage is enough to meet their needs, the truth is that farms and ranches have their own designations by underwriters, very often exceeding what's included in basic policies. But don't worry, an independent insurance agent can walk you through it all.
With the right independent insurance agent in your corner, you'll get all the farm and ranch insurance expertise you need to protect not only your home, but your livelihood too. But first, here's a bit more background on the subject to give you a little more detail.
What Is Farm and Ranch Insurance?
Simply put, it's a blend of both homeowners and business insurance designed specifically for farm and ranch owners. It covers things like your property and liability risks, while also protecting your commercial interests. And because your business and home are so closely connected in a farming operation, it's important that you have the coverages necessary to protect each, so that an unexpected disaster doesn't cross into the other.
Tracy Cotton, our friend and farm/ranch insurance expert for over 22 years, said, "What we see is that they obviously need coverage for a residence or residences because, in a lot of times, they have a whole family that lives on the same acreage. They may have multiple residences and multiple other buildings. They may have barns and they may have much more sophisticated chicken houses or other types of confinement type of buildings where they actually have horses, or other things they're keeping on the farm."
"And that's the other thing. A regular homeowner's policy, the way that their guidelines work, they're not going to be able to handle the exposures, such as livestock. Their policy is pretty much only limited to a dog that happens to get out of the lot. They're not going to be able to handle the liability issues that come up with a farm that wouldn't necessarily be for somebody who just has a regular house."
Is There a Difference Between Farm Insurance and Ranch Insurance?
There really aren't any differences between farm insurance and ranch insurance, it's just what it's called by underwriters. Your insurance policy is basically a combination of different coverages that are unique to your situation, and typically farms and ranches have similar coverage needs. Even two farms side by side may have slightly different coverages — it all comes down to the unique needs of you, your land, and your business.
What Does Farm/Ranch Insurance Cover?
"Farm insurance is like a package type of policy like we see with commercial insurance, in that it includes not only property," Tracy says. [Policyholders] can include really whatever they want. Typically, they are going to include a residence or two, but they also could or may not choose to keep all those little buildings. Because they may have a well house, they may have a gardening shed, they may have all these things they call 'run-ins'. That's where livestock go in to get out of the cold and eat a bite."
"They may not cover those because of the values and they can choose which they do and don't cover because it is also different than a regular homeowner's policy that includes automatic coverage for outbuildings. You don't see that on a farm policy. You really have to name those things if you want them covered. If you want coverage for a barn, you have to actually say how much coverage you want for the barn."
Incidents the standard farm and ranch insurance policy covers:
Accidents: This can be anything from coverage for fire, smoke, loading and unloading farm items and more.
Natural disasters: Volcanic eruption and sinkholes. Typically floods and earthquakes are covered under a separate policy.
Weather events: Damage from lightning, wind, hail, tornados, and more can be covered. This is where a multiple peril crop insurance can cover your goods as well as crop-hail insurance so you can make sure your prized patch can weather the storms.
Crimes and civil unrest: This is for theft and vandalism of your pumpkin patch. When you have the public involved it can happen, so you want to be sure your policy has this on there.
Collision or other death while transporting: You'll want to be sure your pumpkin patch policy has coverage for hayrides, tractor rides, or whatever moving motored vehicle, machinery, or equipment you may be hauling humans on.
Incidents the standard farm and ranch insurance policy DOES NOT cover:
Natural wear and tear of your farm's equipment, buildings or public used facilities.
Unworking items or equipment due to wear and tear or general public use.
Sexual misconduct usually is not an included coverage, but one you may want to have your agent add or take out a separate policy for. Whenever you have children involved, you always want to be sure there is a policy in place for child abuse or any abuse that could occur on your farm's property.
Save On Farm Insurance
Our independent agents shop around to find you the best coverage.
What Are Some Important Additional Coverages for Farms and Ranches?
Tracy emphasized that farm and ranch insurance is less about getting a basic policy and more about finding an insurer who's able to work directly with you to cover your specific needs. "[There are] so many different kinds of endorsements that can be added to be really very specific because nobody is just doing the same thing."
"For example, there's no such thing as just a tomato farm...they might also have some cows, some other things - you can't just say there's one-size-fits-all when it comes to something like this. They might want to protect the farm income like on a commercial policy. You can get coverage for this, having your business gone because the place burned down, you can actually get what's called business income."
When you work with an independent insurance agent, you'll start with the basic policies, like property and liability for both your home and farm, before talking about additional important coverages that may or may not benefit you, like: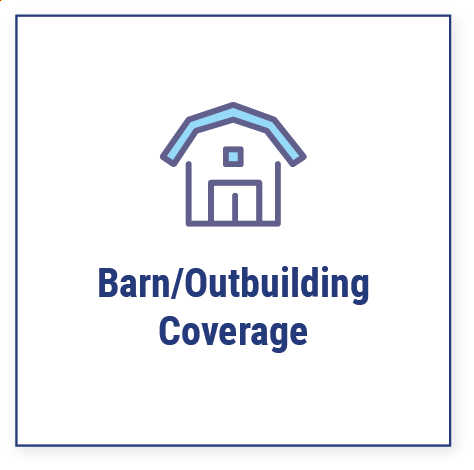 This protects the buildings on your property that serve a purpose for your home or business. It includes everything from barns to outhouses and beyond.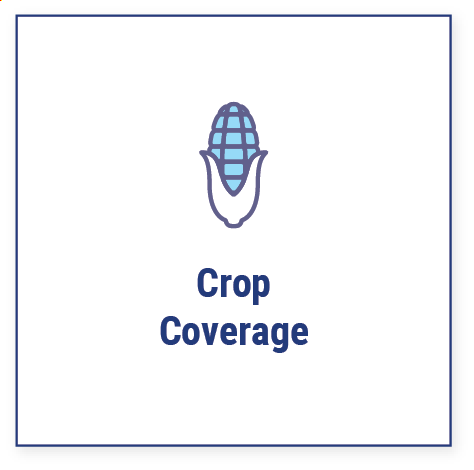 This protects perhaps the most valuable asset on your farm, besides your family — your crops. So if severe weather ruins your entire season's work, you'll be protected.
Save On Farm Insurance
Our independent agents shop around to find you the best coverage.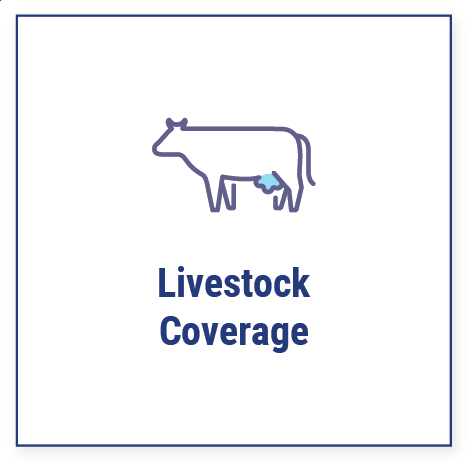 Protects your livestock in the event of catastrophic death caused by things like tornadoes and wildfires. All animals can be protected under a blanket policy for one value or scheduled individually, or as a combo of the two. Example: Your prized state fair hog can be scheduled separately from all the other so-so swine under your blanket coverage.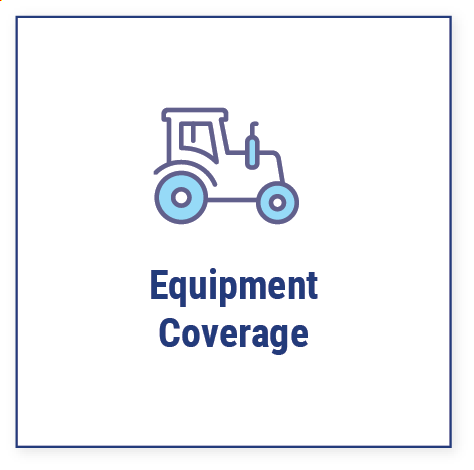 Equipment coverage: Protects all your tractors, harvesters, refrigeration units, and such to help minimize the burden of being without them. After all, crops are money.
Then there's the business side. Unless your farm produces just enough for your family to eat, you're probably selling for a profit. And as a business owner, you should consider coverages like:
Loss of business income coverage: Protects you if there's some sort of business interruption, replacing lost income and providing operating expenses to keep you grinding away.
Workers' compensation coverage: Protects your workers and employees from sickness, injury, or worse as the result of a job-related accident. WARNING: Every state has different guidelines and requirements, so talk to your agent about the requirements in your state.
Commercial vehicle coverage: Protects the big rigs, transport trucks, and trailers that you have to run your business.
Save On Farm Insurance
Our independent agents shop around to find you the best coverage.
What If My Farm Insurance Needs To Change?
Farms have a tendency to change their operations on an annual basis, so Tracy advises policyholders to consult their independent insurance agent whenever they make a change or at least every year. Your agent can work with you to understand your business as it's changed and assess your goals for the future to add, or even decrease, your existing coverages.
Tracy says, "What we see is that [farm and ranch needs] can change from year to year. When they first shop for [insurance], that's important, but it also needs to be a conversation that...happen[s]every year."
Making changes to your policy isn't as hard as it sounds. And with the right independent insurance agent in you corner, the conversation is simple and they can handle all the dirty work for you.
How Independent Insurance Agents Can Help You Find the Right Coverage
Independent insurance agents are small business owners just like you. They're industry experts who handle the red tape for you, so you can focus on running your farm and living your life. They'll help you through every step of your insurance application shopping multiple insurance carriers to find the perfect coverage at the absolute best price for you. And after you sign on the dotted line, they can even help you file claims if disaster strikes, making a tough time for your farm, and your livelihood, a little smoother.
TrustedChoice.com Article | Reviewed by Tracy Cotton
©2023, Consumer Agent Portal, LLC. All rights reserved.