Ranch Insurance
Finding the right coverage has never been easier

There are more than 770,000 cattle ranches in the US that occupy 27% of the nation's land. Running a ranch means protecting your land, equipment, animals, and agriculture from potential risks.
Ranch insurance varies significantly by state and ranch needs, which is why working with an independent insurance agent who has experience in insuring ranches and farms can help. They know exactly what to look for to cover every aspect of your ranch.
What Is Ranch Insurance?
Ranch insurance is a type of farm insurance that protects your property, livestock, equipment, employees, and you from any unexpected damage or loss. Fires, equipment breakdowns, and liabilities can be costly setbacks for your ranch that the proper insurance coverage can assist with.
Save On Farm Insurance
Our independent agents shop around to find you the best coverage.
What Does Ranch Insurance Cover?
Most ranches include both your home and your business, so ranch insurance tends to be a combination of homeowners insurance and business insurance. Ranch insurance policies typically begin with the following:
Dwelling coverage: Protects your home in the event of catastrophic weather-related damage from tornadoes and wildfires, as well as vandalism and theft.
Liability coverage: Protects you and your ranch from third-party bodily injury, damage to another's property, medical expenses, and legal defense bills.
Depending on your unique situation and your goals for the ranch, a few additional coverages worth considering are:
Barn/Outbuilding coverage: Protects the buildings on your property that serve a purpose for your home or business. This includes structures like warehouses and hen houses
Livestock coverage: Protects your livestock in the event of injury or death from tornadoes and wildfires. You can add animal mortality insurance to protect yourself from animal death due to accident, injury or disease.
Equipment coverage: Protects your tractors, ventilation units, and more.
DID YOU KNOW?
In one recent year, farms made $166.5 billion from livestock sales.
What Does Ranch Business Insurance Cover?
While you'll get a variety of coverages for your ranch from your homeowners insurance, to cover the business side of ranching, you may want to consider:
Loss of business income coverage: Protects you if there's a business interruption, replacing lost income and providing operating expenses.
Workers' compensation coverage: Protects your workers and employees from illness, injury or worse as the result of a job-related accident. Workers' compensation is required in most states.
Commercial vehicle coverage: Protects big rigs, transport trucks and trailers that you have to run your business.
Professional liability coverage: Protects you if you make any sort of operational mistakes that cause financial loss to others.
Why Should I Buy Ranch Insurance?
You're a rancher because you love it. While the rewards can be great, the risks are even greater. When your ranch is your home, your business, and your family's income, there's a lot at stake.
Ranch insurance is the only way to protect all of your assets in one place. Accidents and unexpected weather patterns can kill your livestock, ruin equipment, or burn your home and land. Without coverage, you'll have to cover any costs out of pocket.
Main causes of deaths in agriculture and forestry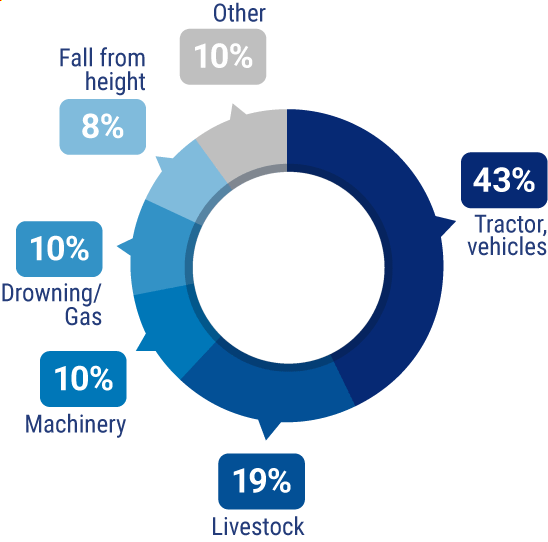 How Much Does Ranch Insurance Cost?
Your policy premiums depend entirely on the size of the ranch, what kind of home you need insured, barns, your inventory of livestock, and a lot more.
An insurance agent can create an estimate of what your costs may be based on your ranch insurance needs. To get a quote, you'll need info like:
The size use, and location of your property
Current revenue
Equipment Inventory
Animal inventory
Home size, location and info on the structure
Proximity to a fire hydrant
Your agent may require more information based on your coverage needs, but it's definitely a good starting point to help you show up prepared.
Comparing Ranch Insurance Policies
Ranch insurance policies will look different for every farmer. Comparing policies can help you save money and make sure you're working with a carrier that suits your needs.
An insurance agent will review your needs and help you evaluate which type of ranch insurance makes the most sense for you. They'll also compare policies and quotes from multiple insurance carriers to make sure you have the right protection in place.
Save On Farm Insurance
Our independent agents shop around to find you the best coverage.
Benefits of an Independent Insurance Agent
Insurance policies can be complex, and searching through options can be confusing, time-consuming and frustrating. An independent agent's role is to simplify the process.
They'll talk with you, free of charge, and make sure you get the right coverage that meets your unique needs. They've got your back before, during, and after your policy is purchased. They will even help you file and claim if needed.
TrustedChoice.com Article | Reviewed by Tracy Cotton
©2023, Consumer Agent Portal, LLC. All rights reserved.
https://www.hsa.ie/eng/Your_Industry/Agriculture_Forestry/Further_Information/Fatal_Accidents/
https://crsreports.congress.gov/product/pdf/IF/IF11770