Tractor Insurance
How farmers can protect their biggest farm investment

Whether you have invested in a commercial farm or you're more of a hobby farmer, a tractor will go a long way toward making your daily routine easier. When you're plowing your garden, spreading compost, or clearing a pasture, your tractor will be the tool you turn to again and again.
Tractors are a major investment, so make sure yours is covered with the best tractor insurance policy in case of damage or theft. An independent agent will learn about you and your equipment and find you the best coverage available.
Know the Risks of Owning a Tractor
Tractors can be extremely dangerous, causing hundreds of fatalities and thousands of injuries every year.
Even if you take major precautions by using all available safety features and giving careful attention to your surroundings, an accident can happen in the blink of an eye, causing injuries, property damage, or even death.
According to the U.S. Department of Labor: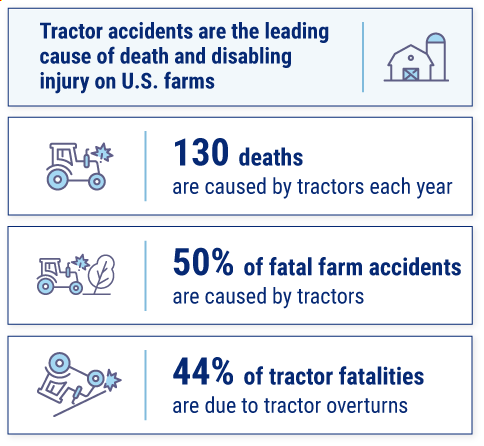 What Is Tractor Insurance?
Tractor insurance is coverage that helps pay to repair or replace your tractor if it is damaged or causes damage to another person or their property.
Insuring farm equipment is a unique type of coverage, so it's best to work with an insurance agent who has experience in the different types of farm coverage, including tractors.
Save On Farm Insurance
Our independent agents shop around to find you the best coverage.
What Does Tractor Insurance Cover?
Under your tractor insurance policy, you'll receive coverage against a variety of potential liabilities and weather-related events that could cause damage to your equipment.
Tractor insurance typically covers against:
Fire
Lightning
Wind and hail
Smoke
Theft and vandalism
Bodily injury
Property damage
Collision
If any of the above events occur, your policy will help pay to repair or replace your tractor. In the event of a liability claim, insurance will pay for things like medical bills, and legal and court fees if you get sued.
What Type of Tractor Insurance Do You Need?
The best tractor insurance for you will depend on how you use your tractor.
Hobby farmers: If you're using your tractor exclusively in your own back yard, you can add it to your homeowners insurance policy, just as you would a lawnmower.
Private farm owners: Farmers with large amounts of land and multiple tractors can insure their equipment as an add-on to their farm insurance policy, typically under a farm equipment plan.
Commercial farmers: If you own a business that uses tractors for landscaping or construction, your tractor insurance will be part of your inland marine insurance, a mobile equipment policy that includes all heavy equipment you operate on behalf of your business.
DID YOU KNOW?
U.S. farmers spend 13.7 billion dollars a year on tractors and self-propelled farm machinery.
Don't Forget Potential Tractor Liability Risks
Due to the high accident rate for tractors, it's important to consider your liability risks. If your tractor causes harm to another person or their property, you could be liable for the damage.
Tractor liability will be covered under your farm insurance policy or under your business general liability policy, depending on how and where the tractor is being used.
Tractor Insurance for Damage and Theft
Number of U.S. tractor thefts reported annually: 1,475
Only 16% of stolen tractors are recovered each year
Tractors are among the most expensive pieces of equipment used on farms. So what would happen if your tractor was damaged or stolen?
DID YOU KNOW?
Nearly 1,500 tractors are reported missing each year.
Only a small number are ever found by the police, so farmers and business owners have to rely on their tractor insurance policies to pay for replacements. If your tractor isn't insured, you'll be stuck buying the new equipment out of pocket.
Temporary Tractor Insurance
Tractors can cost anywhere from $9,000 to several hundred thousand dollars. For some farmers, it doesn't make sense to purchase a tractor, but rather to rent one when it's needed.
If you're renting a tractor, you can ask your existing farm insurance carrier for temporary coverage. Most carriers will offer coverage for a specific number of days or on-demand as needed.
Save On Farm Insurance
Our independent agents shop around to find you the best coverage.
Where to Find Tractor Insurance
Farm and tractor insurance is a unique type of insurance that not all carriers offer. An agent can help you find companies that offer tractor insurance, but the following are some top-rated companies across the area.
There are numerous additional insurance carriers that offer excellent farm and tractor insurance. In farming states, many local and regional companies offer coverage, which is why it's important to find an agent that is familiar with purchasing farm insurance in your state.
Compare Quotes to Find the Best Rates on Tractor Insurance
Whether you're a full-time farmer, hobbyist, or business owner, your independent insurance agent can help you find the right tractor insurance. They will save you time by providing personalized quotes from multiple insurers. These agents work with you, free of charge, and can help you navigate the maze of coverage options to find the policy that will best protect you against theft, property damage, and liability.
©2023, Consumer Agent Portal, LLC. All rights reserved.