Business Umbrella Insurance
Discover the reasons your business might need to be guarded with business umbrella insurance.

Your business insurance provides critical legal protection, but in certain cases, it might not be enough. If a particularly costly lawsuit gets filed against your company, you could easily be in need of extra coverage. Fortunately business umbrella insurance is designed to provide this important protection.
Even better, an independent insurance agent can help you get set up with all the umbrella coverage you need. They'll help you anticipate your legal risks ahead of time and get you equipped with the right protection to leave you feeling secure. But first, here's a closer look at this important coverage.
What Is Business Umbrella Insurance?
Business umbrella insurance is an extension of the general liability coverage provided by a business insurance or businessowners insurance (BOP) policy. Umbrella policies often start with coverage limits of $1 million. You can even stack more business umbrella insurance on top of that, if necessary.
Basically, business umbrella insurance complements your existing liability coverage. If your company gets slapped with a hefty lawsuit and you exhaust your general liability coverage limit, your umbrella insurance would kick in to help cover the remaining costs, up to the policy's limit.
Save on Business Insurance
Our independent agents shop around to find you the best coverage.
Which Businesses Buy Umbrella Insurance?
Though business umbrella insurance provides crucial excess liability coverage, it's not really necessary for every business. There are a few parameters to consider about your business before looking into coverage.
Businesses that buy umbrella insurance typically:
Need to extend their liability coverage with an additional policy, or more
Already have insurance in place but need to bridge the gap on $2 million or higher coverage requirements
Are at an increased liability risk, such as businesses that get a lot of traffic or have risky operations
An independent insurance agent can help you determine if your business would benefit from a business umbrella policy.
Is Business Umbrella Insurance Necessary?
For some companies, business umbrella insurance is mandatory. The Federal government requires businesses such as oil companies to have umbrella policies. For a general business owner, business umbrella insurance may not be required unless a contract, client, or landlord requests it.
However, even if business umbrella insurance isn't mandatory, it's really a necessary coverage if your company has potentially huge liability exposures. Without coverage, your business could end up bankrupt. An independent insurance agent can help you determine if you need business umbrella insurance.
What Does Business Umbrella Insurance Cover?
A business umbrella policy will provide additional liability insurance above and beyond your underlying liability insurance policies. Coverage will start once your underlying coverage limits have been met.
If your company has delivery trucks, for example, you'll have a commercial auto policy with a limit of around $1 million or so. Your umbrella policy would provide an additional $1 million that would start once the auto policy's limits were exhausted.
Business umbrella insurance covers the following:
Excess liability: Business umbrella insurance extends the liability coverage limits of underlying policies like business insurance or commercial auto insurance. Umbrella insurance kicks in only once the underlying policy has been exhausted.
Coverage gaps: Umbrella policies can also be used to cover additional liabilities not covered by regular business insurance or other policy. Libel and slander are common examples.
Additional limits: Umbrella insurance's limits are based on the limits of the underlying policies. Your business umbrella insurance can include coverage up to its full limit, exclude coverage for sublimited events, or double the sublimit.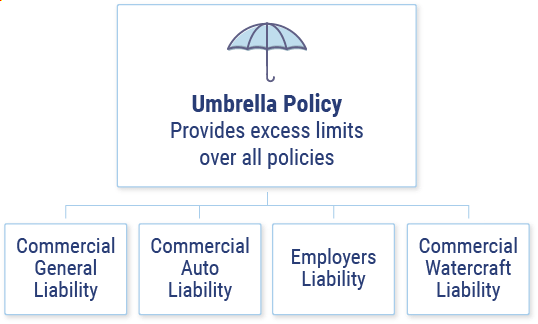 Who Sells Employment Business Umbrella Insurance?
Business umbrella insurance is available from many different insurance companies, and the best way to find the right carrier for you is through working with an independent insurance agent. Independent insurance agents know which carriers to recommend to meet your needs, and can provide informed suggestions based on company reliability, rates, and more.
While many insurance companies could provide business umbrella insurance for you, finding coverage could also depend on the area you live in. Here are a few of our top picks for employment practices liability insurance.
One business umbrella insurance company outshines its competitors.
Business umbrella insurance from Farmers can be used for the following:
"Exceeding limits of other policies
Risk: An elderly customer is injured when she trips on frayed carpeting while visiting your business. Her medical costs are substantial — and exceed the limits of your liability policy.
Coverage: An umbrella policy can help when the costs of a claim surpass the limit of your underlying liability policy.
Exceeding limits of commercial auto policy
Risk: Your employee causes a multi-vehicle accident while driving a company car to a business appointment. The combined medical and repair costs are higher than the limits of your commercial auto policy.
Coverage: An umbrella policy can help with liabilities that exceed the limits of your underlying commercial auto policy."
An independent insurance agent can help you decide if Farmers Insurance's business umbrella policy is right for you.
What Doesn't Business Umbrella Insurance Cover?
It's important to be familiar with what's excluded under business umbrella policies as well. Here's a simple breakdown of what's covered and what's not under business umbrella insurance.
| Doesn't cover: | Does cover: |
| --- | --- |
| Punitive damages: Or fines against your business by a court if your business is accused of injuring another entity. | Excess business liability: Such as extending your business's general liability insurance or commercial auto insurance's liability. |
| Personal liability claims: Or lawsuits that apply to you personally, but not your business. | Gaps in underlying business policies: Or additional liabilities not covered by regular business insurance, businessowners insurance, etc. |
An independent insurance agent can further explain the difference of what a business umbrella insurance policy does and does not cover.
Commercial Liability Insurance Options
Your business may need other liability coverage beyond its commercial general liability included in your business insurance or BOP insurance. Some common liability requirements for many businesses are:
An independent insurance agent can help you find any additional liability coverage your business may require.
How Much Does Business Umbrella Insurance Cost?
The cost of business umbrella insurance depends on the type of business and a variety of other factors like size, materials used, and the risk level of your operations. For a less risky, smaller business, business umbrella premiums can be as low as $500 annually.
If your business is larger and has more exposures and inherent risk, you'll likely need more business umbrella coverage, with premiums in the thousands annually. Most businesses pay between $500 to $1,000 each year for their coverage.
How Much Business Umbrella Insurance Do I Need?
Business umbrella policies are often purchased in increments of $1 million. The amount you need depends on several factors, including your business's specific liability exposures and your risk level of getting sued in the first place. An independent insurance agent can help you determine exactly how much coverage is necessary to fully protect your business.
Business Umbrella Insurance FAQ
Business umbrella coverage kicks in once the underlying policy's liability coverage limit gets exhausted. If your business got sued and burned through its entire general liability coverage limit, the business umbrella policy would then kick in to help cover the rest.
Umbrella insurance is also called "excess liability" coverage. Umbrella insurance is purchased when a person or business needs liability coverage that goes beyond, or exceeds, their regular policy's limits (such as a homeowners or business insurance policy).
$1 million in umbrella insurance can cost an average of $150 to $300 annually, but prices may vary by insurance company.
No, the terms "commercial umbrella insurance" and "business umbrella insurance" are often used interchangeably.
Depending on the nature of your home-based business, you still may want to consider umbrella insurance. If your business has particularly risky operations, or you take customers/clients into your home or otherwise work with them in person, you may want this coverage. An independent insurance agent can help you decide if you need umbrella insurance.
The Benefits of an Independent Insurance Agent
When it comes to helping insurance customers find the absolute best business umbrella coverage, no one's better equipped to help than an independent insurance agent. Independent insurance agents search through multiple carriers to find providers who sell business umbrella insurance, deliver quotes from a number of different sources and help you walk through them all to find the best blend of coverage and cost.
TrustedChoice.com Article | Reviewed by Jeffrey Green
©2023, Consumer Agent Portal, LLC. All rights reserved.
https://www.irmi.com/term/insurance-definitions/sublimit#:~:text=Sublimit%20%E2%80%94%20a%20limitation%20in%20an,a%20specific%20type%20of%20loss.&text=In%20professional%20liability%20insurance%2C%20sublimits,of%20coverage%20under%20a%20policy.
https://www.iii.org/article/should-i-purchase-umbrella-liability-policy-0#:~:text=For%20about%20%24150%20to%20%24300,for%20every%20million%20after%20that.