Workers' Compensation Insurance
The Complete Workers' Comp Insurance Guide
(Everything you need to know - and more)

It's safe to say that if you have employees or are one, then you need workers' compensation insurance. The fact is, it may even be mandated depending on which state you reside in. Learning everything you need to know as an employer and your rights as an employee is no easy task.
That's why a local independent insurance agent is your ultimate resource when it comes to workers' compensation insurance. They know and have worked with multiple insurance companies.
They are also on the up-and-up when it comes to state laws concerning workers' compensation insurance. They can get you where you need to go.
What Is Workers' Compensation Insurance?

Workers' compensation insurance protects both the employer and employee. It is an insurance policy that is owned by the employer or subcontractor and protects them or their business from having to pay out of pocket should they or an employee get injured while on the job.
A workers' compensation policy protects the employee when they get injured while performing a work duty by paying for medical expenses and their rate of pay while they are recovering. It really is a win-win for all parties.
Who Needs Workers' Compensation Insurance?
Each state has its own laws and regulations when it comes to workers' compensation insurance. Some states require an employer to provide coverage when they have five or more employees and some when they have any number of employees. There are other states that do not put a requirement on the business owner at all.
The fact of the matter is if you have any employees, regardless of the count, you should have a workers' compensation policy in place. It's not if an employee gets injured, it's when, and you don't want to be footing the bill when that day comes.
If you are a subcontractor performing work for an employer, then you will likely be required to carry your own workers' compensation policy on yourself.
This protects the employer from any subcontractor filing a claim on their workers' compensation policy. It also protects the subcontractor if the employer does not have a workers' compensation policy to make a claim against.
How Does Workers' Compensation Insurance Work?
Got a week? Thankfully you won't need to know everything when it comes to workers' compensation insurance. That is what your independent insurance agent is for. You will, however, need to know the basics so you can make sure you are covered properly.
Since insurance companies rely on individual history and the risk level of a particular job to assign premiums, they are not too keen on the risk associated with having to cover an unknown person like a subcontractor.
What you need to know is when it comes to worker's compensation insurance, the insurance company will perform an annual audit. This is how they grade your riskiness as a company and determine if you have the proper safety practices in place.
The auditor will sit down with you or your person assigned and go through all of your W-2s and will need certificates of insurance on any subcontractors used.
If you can't supply all of these items in the audit, the insurance carrier will retroactively charge and even penalize you for each person who had involvement in your company and didn't have proper insurance coverage in place to cover the risk.
This can result in thousands of dollars and even into the hundreds of thousands depending on your operations and employee/subcontractor count. Next, you will need to know some terms so you can better understand workers' compensation insurance and how it may apply to you.
Workers' Compensation Terms
Some of the main terms can be like a foreign language to a growing employer, subcontractor, or employee. So, laying them out below is the easiest way to get a better grasp of your worker's compensation policy.
Applicable workers' compensation terms and definitions:
W-2 employee:
This is an employee that is paid by the company and is filed on taxes as a W-2 employee. The employer pays a portion of the W-2 employee's taxes. This employee is required to work certain days and hours by the employer and for an ongoing job or position.
1099 or subcontractor worker:
This is a self-employed individual who an employer hires for a specific task or job related to their business. The subcontractor makes their own hours, pays their own taxes, and once the contracted task is up, they no longer work at the company. This "employee" type is not expected or required to do anything by the employer other than the task at hand. This relationship should also not be ongoing and should end once the work is completed by the subcontractor.
Certificate of insurance
:
A certificate of insurance is proof of insurance that is provided by a licensed insurance agent or insurance company on behalf of the covered insured under the policy. An auditor will ask for proof of insurance in the form of a certificate of insurance for any subcontractors you hired throughout the year. This certificate of insurance will have to have limits equal to or greater than the employers and may need to have proof of other items according to the requirements of your worker's compensation policy.
Waiver of subrogation:
A waiver of subrogation is something that a workers' compensation policy may require you to get from your subcontractors. It is an endorsement on the subcontractor's workers' compensation policy that states they can not come after or subrogate against your workers' compensation policy if they get injured as a result of doing work for you.
Workers' compensation audit:
This is similar to your tax audit but for your workers' compensation insurance. An auditor assigned by the insurance company will have a meeting with the employer or person assigned to go over your W-2 employee's tax documentation for the past year, and proof of certificates of insurance for subcontractors hired throughout the year.
Experience modification rate:
It is a number used by your workers' compensation insurance company to gauge both past cost of injuries and future chances of risk. The lower the experience modification rate for your business, the lower your worker compensation insurance premiums will be. It is also important to note that not all businesses have an experience modification rate. You have to have a minimum premium of $5,000 or more for at least two to three years in order to obtain one.
Mental health coverage:
There can be mental health coverage or psychiatric coverage under a workers' compensation policy for an employee if there is adequate proof that a mental health or psychiatric problem was caused as a result of abnormal work conditions.
Classification code:
A classification code is what the insurance company uses to classify an employer's employees. Each classification code is determined by the risk associated with the operation or job duty that each employee performs. For example, the classification code for clerical work is 8810 and considered the least risky class code on a workers' compensation policy. For a classification code like this, the premiums will be very low.
How to Avoid a Workers' Compensation Disaster

Workers' compensation insurance is something that can save your business or yourself from hefty expenses, literally. Remember story time in school? Well, it's one of the best ways to get your point across, so get ready for a story.
Business owner B was running a successful construction company. This construction company had a handful of W-2 employees, and the majority of its workers were 1099 subcontractors.
Business owner B was told by their independent insurance agent prior to the start of their workers' compensation policy that they would need to collect certificates of insurance on each 1099 subcontractor hired. These workers' compensation and general liability coverage limits were to be equal to or greater than theirs.
Business owner B's agent also stated that the insurance company was requiring waivers of subrogation to be endorsed on each subcontractor's policy.
Business owner B filed this away under things to consider and haphazardly collected certificates with waivers of subrogation as was remembered. A year passed and now it was time for business owner B's worker's compensation audit.
After a great year in the construction industry, business owner B made a pile of cash and had hired numerous subcontractors for help. Some proper insurance certificates and waiver subrogations were collected, and for others, they were forgotten.
When the auditor showed up for business owner B's audit, they found that there were a lot of missing required documents like certificates of insurance and waivers of subrogation.
Since business owner B did not take collecting these items seriously, the insurance company would now charge the company for every subcontractor without proper documentation retroactively and incur penalties for not abiding by the requirements.
Business owner B was hit with a heavy blow of back-charged premiums in the amount of $90,000.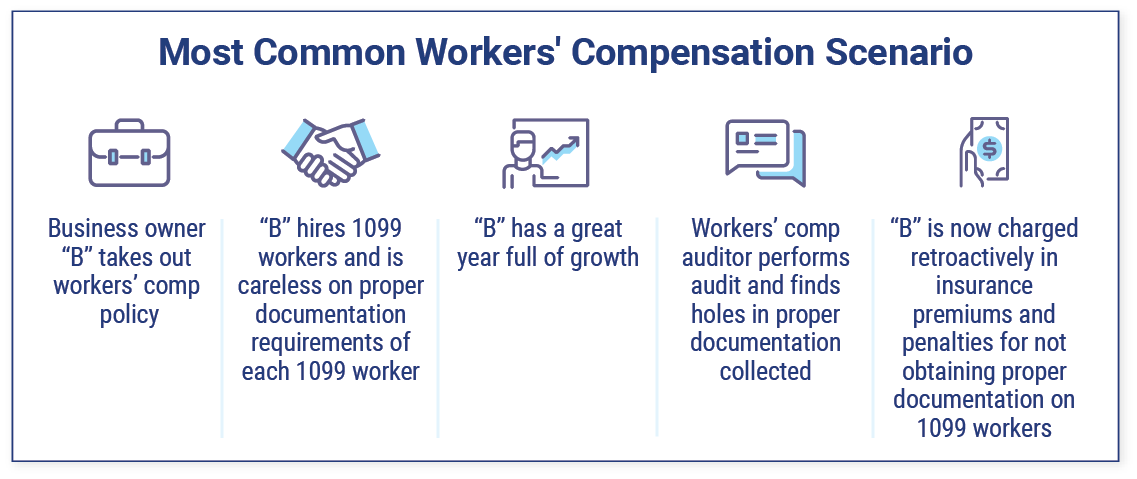 This is a very realistic scenario of what can happen and has happened for business owners who are not careful in collecting the right information when it comes to their employees.
Since the insurance companies cannot assume the safety practices of each individual employee and employer, they have to charge for what they do not know. And they will.
The Three Most Common Industries for Workers' Comp Claims
Hotels: The most common workers' compensation claim is injury from manual labor, such as the jobs of maids or laundry washers. If your hotel has a full-service restaurant, then kitchen injuries are added to that list.
Restaurants: A.K.A the "slip and falls" industry. An employee slipping and falling in your establishment is one of the most common claims that restaurant owners report, along with kitchen injuries like burns or cuts.
Construction: There is a reason why it's one of the highest rated workers' compensation policies on the market. The construction industry is a hotbed for injury. With nails, boards, and heavy machinery involved, there's likely to be a slipup or two. The most common workers' compensation claims are roofers. When your contractors or employees have to climb heights, you are getting into some risky business.

The Benefits of an Independent Insurance Agent
The key here is to have the right independent insurance agent on your side, one who is knowledgeable in commercial insurance and specifically workers' compensation insurance.
You now are aware of the basics and what could go wrong as it applies to a workers' compensation policy, so making the right decision is now up to you. An agent will not only find you the best rates and coverage but make sure you know the requirements beforehand.