Workers' Compensation Claims
Find out how the process works, how long it takes, and more.

Your workers' comp insurance is only as strong as it proves itself to be when you file a claim. As a policyholder, filing a claim is when you're most vulnerable, and it's also when your insurance company should come through for you. In the case of workers' compensation claims, it's important to know how the process works.
Having an independent insurance agent on your side is crucial to making sure your workers' compensation claims run efficiently. They can not only help you find the right workers' comp coverage for your business, but also walk you through the claims process. But first, here's a closer look at workers' comp claims in general.
What Is Workers' Compensation Insurance?
Workers' compensation or workers' comp provides coverage for employees' medical expenses arising from work-related injury, mental disability, illness, or death. It also covers the employee's wages up to two-thirds of their regular compensation while they're recovering.
Workers' compensation is also important to protect the employer. When employees are covered by workers' comp, the employer is exempt from employee lawsuits that arise from injury, illness, or death due to their job or work environment. So, workers' comp is crucial for protecting workers and employers alike.
What Are Workers' Comp Claims Used For?
Employee injuries, illnesses, and death can be filed through workers' compensation as long as they meet a couple of criteria. The incidents must have either happened due to work duties while on the job, or otherwise as a result of work activities or the workplace's environment. Employee injuries, illnesses, and deaths are not covered if they're not caused by their job in some way.
How to Get the Workers' Comp Claims Process Started
Immediately upon learning of an employee's injury or illness, it's important to not only file a workers' comp claim, but also make sure your employee seeks medical attention. Follow these important steps after a report of employee injury or illness.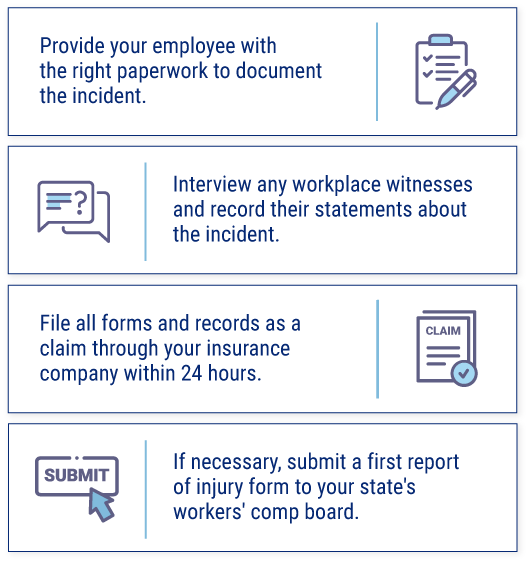 Though this is the general process for workers' comp claims, laws do vary by state. With the help of your independent insurance agent, be sure to review your state's laws about workers' comp claims so that your business can comply as much as possible.
What's the Process for a Workers' Compensation Claim?
Filing claims for workers' comp can be simple, especially with the help of an independent insurance agent. Here's an example of just how smoothly a good workers' comp claims process can run.
A "good" workers' compensation claims process:
Step One: Employee A accidentally tripped and fell down a set of stairs while on the job.
Step Two: Employee A needs immediate medical attention and goes to the doctor to find out they have a broken leg and a twisted wrist.
Step Three: You, the employer, immediately file a workers' compensation claim within the first 24 hours through your independent insurance agent.
Step Four: You and Employee A receive a call from an insurance adjuster to get the claim information within the first 24 to 48 hours. After the adjuster has spoken with all applicable parties, they submit their findings to the insurance company.
Step Five: Your independent insurance agent communicates with you, your employee, and the insurance carrier every step of the way to make sure all parties are making strides in proper coverage for the claim.
Step Six: The insurance company makes their assessment of the claim information, and the deciding factor on if it's covered. Since this claim happened on work property while on the job, it appears it would be covered under the workers' compensation policy.
Step Seven: Employee A recovers after a few weeks and is able to come back to work handling some light-duty tasks until full restoration.
Step Eight: You and your independent insurance agent congratulate each other on a smooth process and a job well done. The work environment resumes as it was before Employee A's incident.
Now that you have an idea of just how smoothly the workers' comp claims process can go, it's time to compare it to a bad claims process.
A "bad" workers' compensation claims process:
Step One: Employee B performs a lift incorrectly and throws out their back while on the job.
Step Two: Employee B goes to the doctor to find out that they have a slipped disc and will need back surgery to repair the damage.
Step Three: You, the employer, immediately call your cheap, but not accredited insurance company to file a claim within 24 hours of the incident.
Step Four: After waiting on hold for two hours you get connected to a stranger halfway around the world who asks for your information and promises an adjuster will call you back soon.
Step Five: After three days go by, you call that claims hotline again, wait on hold again, and finally get connected to a live person only to find that your claim got lost in translation. Now you need to file it all over again.
Step Six: Employee B complains that they've received a bill for their medical expenses after surgery and is threatening to sue you if you don't cover their costs.
Step Seven: You finally get a call from the adjuster and they are less than helpful. Your claim has been pushed around for so many days that you worry it will never be resolved.
Step Eight: After fronting a good chunk of the money to cover your employee's medical expenses and wages, the insurance company gets back about the claim and says you didn't have good coverage to begin with. Due to your large deductible, you have to pay out of pocket for the first $10,000 in expenses before the insurance company covers the rest.
Step Nine: You take their botched reimbursement and make a call to a highly recommended independent insurance agent in your area to get better coverage moving forward.
Step Ten: Thanks to your wise decision in shopping for proper coverage through an independent insurance agent instead of finding the cheapest insurance company, now you can look forward to a smooth claims process in your future.
Get a Workers' Comp Quote in Minutes
Let our independent agents do all the heavy lifting while you save.
When to File a Workers' Compensation Claim
It's crucial to file workers' comp claims immediately. Never let more than 24 hours pass without filing a claim when an owner, member, executive, or employee gets injured or ill due to work duties or the work environment. Waiting too long to file can result in your claim being denied or complicated.
Pretty much any workplace incident can and should be documented and filed through workers' comp. Even if your employee gets a minor paper cut and needs a bandage. It's always better to be safe and file a claim than risk complications down the road for not filing.
Why Are Independent Insurance Agents Awesome?
It's simple. Independent insurance agents simplify the process by shopping and comparing insurance quotes for you. Not only that, but they'll also cut the jargon and clarify the fine print, so you know exactly what you're getting.
Independent insurance agents also have access to multiple insurance companies, ultimately finding you the best workers' compensation coverage, accessibility, and competitive pricing while working for you.
TrustedChoice.com Article | Reviewed by Jeffrey Green
©2023, Consumer Agent Portal, LLC. All rights reserved.
https://www.iii.org/publications/insuring-your-business-small-business-owners-guide-to-insurance/specific-coverages/workers-compensation-insurance