Flood Insurance
Because your home needs protection a homeowners policy can't provide.

Regardless of where you live, there's at least some risk of flooding. And one of your main priorities as a homeowner is to keep your home and other property safe from numerous disasters, including those stemming from nature. Unfortunately, your homeowners insurance will not cover the cost of flood damage.
That's why having the right flood insurance is crucial for maintaining your sense of security within your own home. But flood insurance is also important for businesses, because business insurance does not cover flood damage, either. Independent insurance agents are here to eliminate the hassle of searching on your own by walking you through a handpicked selection of top policies for you. But first, here's a deep dive into this crucial coverage.
What Is Flood Insurance?
Summed up, flood insurance will cover your property/structure and most of your belongings if they're inundated by natural water (i.e., rain, waves, etc.). Many policies dictate that the water must cover at least two acres of normally dry land in order to qualify for reimbursement. Flood insurance can be purchased by homeowners or business owners, or even renters.
Save on Flood Insurance
Our independent agents shop around to find you the best coverage.
Is Flood Insurance Mandatory?
Possibly. Your mortgage lender may require you to have a policy if your property is located in an area deemed to be at high risk of flooding. However, even properties that are not in designated high-risk areas may require coverage.
Check in with your mortgage lender to be sure. Either way, it's a safe bet to have it. Waking up to a basement full of water is already stressful enough, but having coverage could at least cushion the financial blow.
Why Do I Need Flood Insurance?
To protect your property, finances, and peace of mind. Floods cause millions of dollars in damage each year, and are the most common natural disaster in the US. Water damage is also extremely costly.
As little as one inch of water in a home can cost as much as $21,000. Having coverage could mean the difference between financial devastation and being able to rest easy, should a storm hit your area.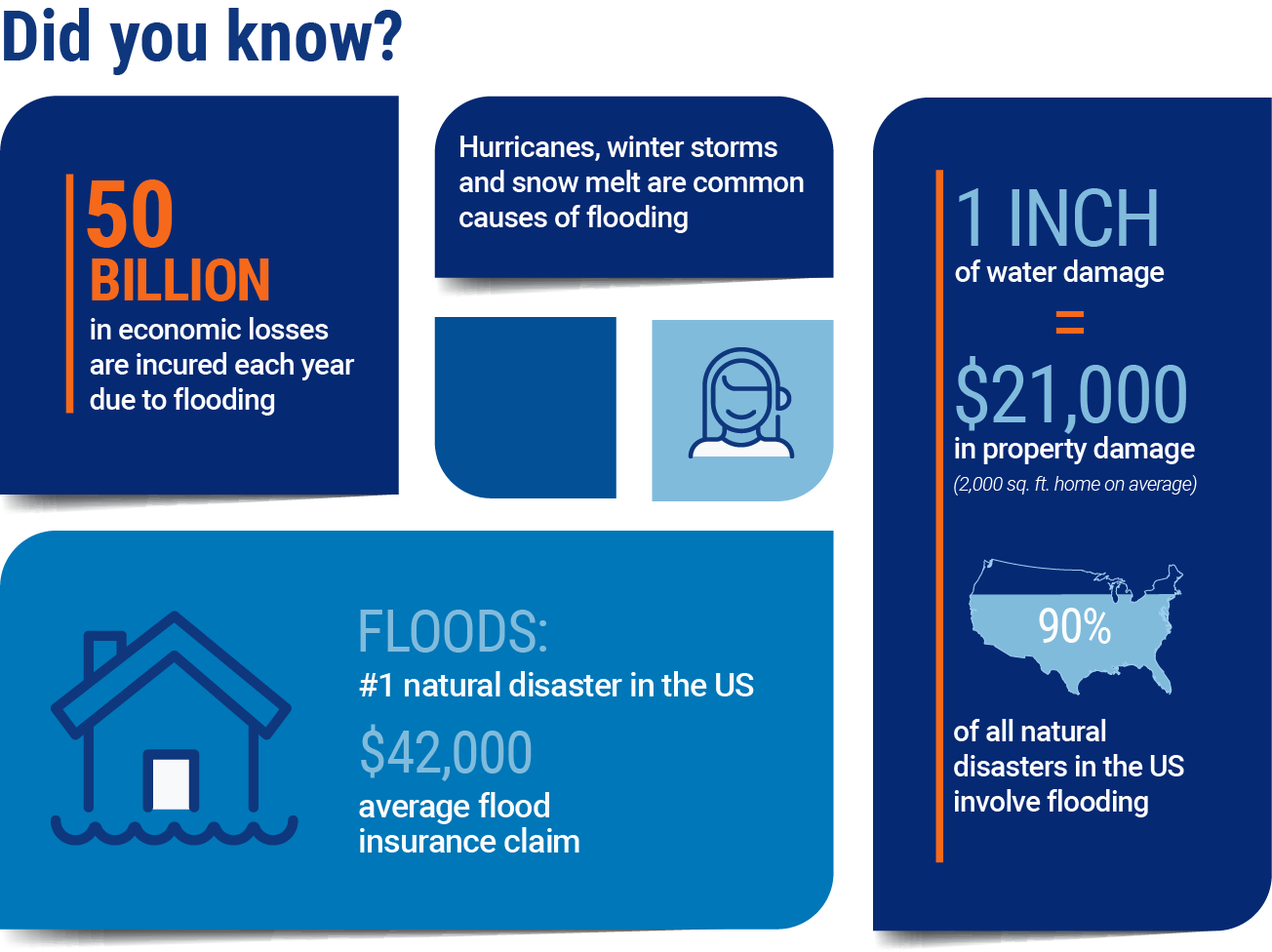 Who Sells Flood Insurance?
Flood insurance is available from many different insurance companies, and the best way to find the right carrier for you is through working with an independent insurance agent. Independent insurance agents have helped all types of insurance customers, including those in search of flood insurance. They know which insurance companies to recommend to meet your needs, and can provide informed suggestions based on company reliability, rates, and more.
While many insurance companies may provide flood insurance, finding coverage could also depend on the area you live in. Here are just a few of our top picks for the best flood insurance carriers on the market today:
| | |
| --- | --- |
| Flood Insurance Companies | Star Rating |
| Millers Mutual | |
| People's Trust Insurance | |
| Privilege Underwriters (PURE) | |
| Shelter Insurance | |
| Southern Oak Insurance | |
| The Hartford | |
| Tuscano Agency | |
| Union Mutual of Vermont | |
| Wright Flood | |
| Amica Mutual | |
| Chubb | |
| MetLife | |
| Travelers | |
| USAA | |
| | |
One flood insurance company outshines its competitors:
Best overall flood insurance company: USAA
USAA has been around in the insurance market for just under a century, and has received the highest rating possible, "A++," from A.M. Best. The carrier has also been rated at 889 by J.D. Power, earning them the highest ranking of the many scored flood insurance providers.
USAA stands apart from other insurance companies by offering flood coverage as a part of their renters insurance policies, as well as in separate coverage for homeowners or businesses. The insurance company offers its flood coverage at premiums below the national average, as well.
What Does Flood Insurance Cover?
Flood insurance policies are similar to homeowners insurance policies in the sense that they exist to protect both your home and your stuff. The difference is that flood insurance is there to cushion the financial blow should your property become flooded by a natural water source (just know that a badly clogged toilet doesn't count).
Flood insurance will specifically cover:
Damage to/loss of your home: Includes the foundation of the structure, electrical systems, indoor plumbing, built-in appliances, and additional installed flooring, such as carpeting. Detached structures like sheds can also be covered, but usually to a lesser limit.
Damage to/loss of your stuff: Including furniture (built-in and freestanding), smaller/not built-in appliances, artwork, some food, valuables, and clothing.
*Any depreciation of your property's value will be factored into what the insurance policy pays towards reimbursement for damage.
Additional flood coverage may include the following:
Debris removal
Loss avoidance measures
Floodproofing costs
An independent insurance agent is your best ally when it comes to selecting a flood insurance policy that best meets your specific needs.
What's Not Covered by Flood Insurance?
Flood insurance is only meant to cover natural flooding events, so coverage comes with certain exclusions. However, other types of flooding events are often covered by homeowners insurance. Flood insurance tends to exclude the following:
Flooding caused by non-natural water events (e.g., backed-up toilets or sewers)
Property outside of the dwelling like patios, fences, pools, septic systems, and plants
Natural flooding events that inundate less than two acres of land
Mold, mildew, or other moisture damage
Earthquake or mudslide damage
Additional living expenses*
*Homeowners insurance does cover additional living expenses if you're forced to live elsewhere while repairs are made to your home after a flood. Your independent insurance agent can help you review other exclusions under flood insurance and help address any concerns you may have.
Will My Homeowners Insurance Policy Cover Flood Damage?
Unfortunately, no. A homeowners policy will never cover the cost of flood damage or a number of other catastrophic accidents. It's too difficult to predict the total cost of flood damage (or damage by other natural disasters) to homes each year. But your homeowners insurance does cover other types of flooding incidents, such as from built-in plumbing and certain kinds of water leaks.
Also, not enough insurance policyholders will pay extra towards their premiums for this protection, in order to cover the amount of money the insurance company would have to pay in damage claims. Therefore, offering flood coverage wouldn't be a profitable option for homeowners insurance companies.
Who Needs Flood Insurance?
Those who live in flood zones especially need flood insurance, but if you live anywhere at risk of natural flooding, it's more than a good idea to pick up coverage. Homeowners insurance across the US does not cover flood damage to homes, and paying for destruction out of pocket can be devastating. An independent insurance agent can talk with you further about whether getting flood insurance is the right choice for you.
The U.S. Flood Risk Map
Which states sustain the most damage from significant flood events?
| | | |
| --- | --- | --- |
| State | Damage Sustained | Damage Cost Equivalent in Houses |
| Kentucky | $1.12 billion | 8,967 |
| Georgia | $352 million | 2,071 |
| Ohio | $305 million | 2,544 |
| Alabama | $284 million | 2,070 |
| Louisiana | $262 million | 1,807 |
| New York | $250 million | 1,000 |
| New Jersey | $247 million | 899 |
| Mississippi | $225 million | 1,875 |
| Florida | $212 million | 968 |
| Wisconsin | $212 million | 1,782 |
Where Is Flood Insurance Available?
Flood insurance is only sold by the National Flood Insurance Program (NFIP), which is part of FEMA. Participating insurance carriers can offer you the right flood coverage for your area. To find coverage, an independent insurance agent can greatly assist you in selecting carriers that not only offer flood insurance, but also those that offer the most comprehensive coverage at the most affordable rates.
Can I Only Get Flood Insurance from the State I Live in?
No. Flood insurance is offered by the NFIP, and it's not necessary to get a state-specific plan. Also, you can only get coverage by purchasing it through an insurance agent, meaning you cannot directly buy it from the NFIP.
Where Do the Costliest Floods Occur?
You may think that coastal states are at the highest risk of costly flooding, but (perhaps shockingly) this seems to be untrue. Check out this graph of major flooding events in the US and see for yourself.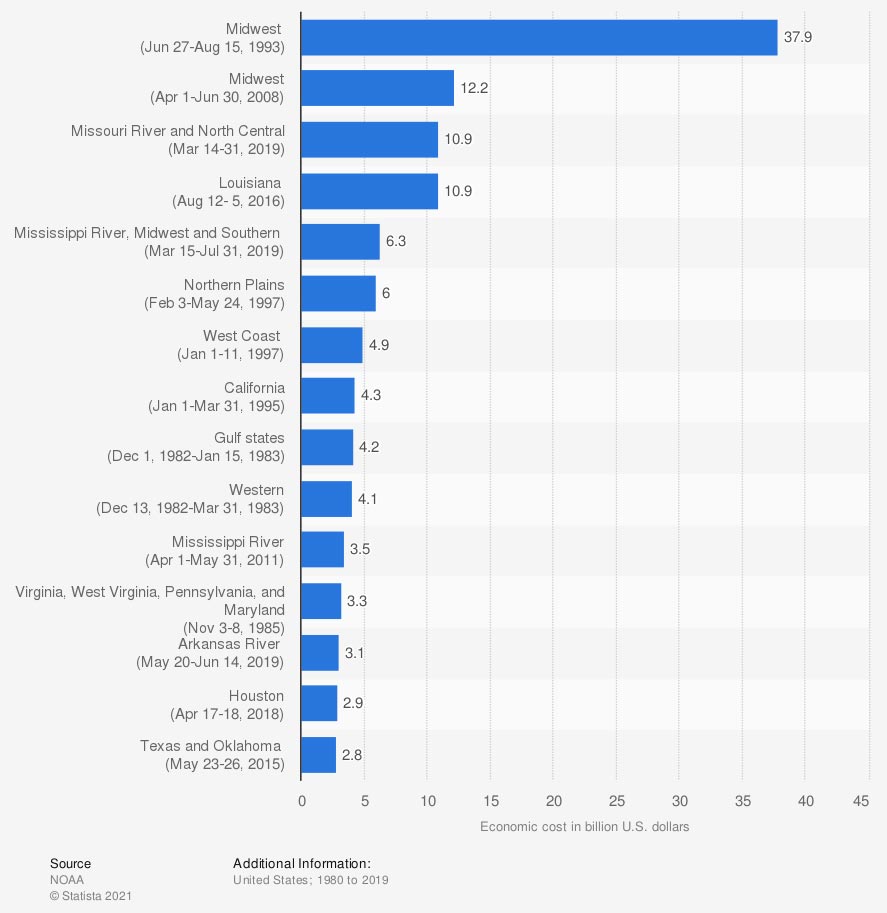 Major flooding events in the United States from 1980 to 2019, by economic cost (in billion US dollars)
The costliest flooding events by far in the observed period occurred in the Midwest region of the country, in 1993 and 2008. Those floods cost the US $37.9 billion and $12.2 billion in damage.
No matter where you live, it's worth having a conversation about the importance of flood insurance with a trusted independent insurance agent.
What Type of Flood Insurance Do I Need?
Homeowners
Owners of stand-alone homes, condos, and townhouses qualify for the NFIP's coverage for structural and contents damage due to natural flooding.
Coverage applies to: Your home's structure/foundation, electrical systems, appliances, plumbing systems, and electronics, as well as furniture and other personal belongings.
Typical coverage limits: The dwelling of your home often comes with a $250,000 limit in flood coverage, and the contents of your home often come with a $100,000 limit. Both aspects of coverage often have separate deductibles.
Renters
Renters of apartments and more qualify for the NFIP's coverage on their personal belongings, often at highly affordable rates. Before purchasing separate coverage, check with your landlord to see if they have coverage for your building's structure. Also, some renters insurance includes flood coverage, so you may not need extra.
Coverage applies to: Your personal belongings stored in the apartment, etc. that you rent, like your clothing, electronics, furniture, and more.
Typical coverage limits: Contents coverage limits are often $100,000.
Business Owners
Business owners qualify for coverage through the NFIP as well. The NFIP's commercial flood insurance provides coverage for your office space and the contents inside.
Coverage applies to: Your business's structure or building and foundation and the contents inside, including furniture, inventory, electrical and plumbing systems, additional flooring, and more.
Typical coverage limits: The business's structure often comes with a coverage limit of $500,000, which is the same as the usual limit for business contents. Both aspects of coverage come with their own deductibles.
How Much Does Flood Insurance Cost?
The cost of flood insurance policies depends on a couple of factors like location, flooding history, and the elevation of your property. Basically, the further away from flood zones you are and the less history of flooding you have, the less you'll pay.
Rough price range for flood insurance:
Low-end: If you live out in the middle of nowhere (like, say, Pennsylvania), you might pay only $300 annually.
High-end: If you live in a high-risk flood area (like, say, Houston) you might pay an eyebrow-raising $3,500 annually.
Save on Flood Insurance
Our independent agents shop around to find you the best coverage.
An independent insurance agent can help provide you with exact figures and quotes for flood insurance in your area.
Things to Keep in Mind When Shopping for Flood Insurance
Before meeting with an independent insurance agent to discuss your flood insurance options, it's helpful to keep these points in mind:
The value of your home/business structure
The value of your personal belongings/business inventory
The value of any upgrades you've made to your home/business
How often your area floods
Any floodproofing measures you've taken with your home or business
Considering these factors beforehand can seriously help streamline the process of shopping for the right flood insurance policy.
Frequently Asked Questions about Flood Insurance
One convenient way to file a claim is by contacting your independent insurance agent. Otherwise, you can contact your insurance company directly. In order to have the best chance at reimbursement for flood damage, document the event's aftermath through photos, videos, or both for your insurance company before filing.
Yes, in order to qualify as a flood claim, the damage will have to have been caused by a natural flooding event, such as a hurricane or a monsoon. Typically, to be qualified as a flood, water must inundate at least two acres of normally dry land.
That depends, because technically some of your physical property, such as your house, can qualify as an asset, and flood coverage does apply to that category. However, flood insurance does not cover currency, precious metals, and other types of assets. To be sure of which types of assets may qualify for coverage, double-check with your independent insurance agent.
The best way to get set up with all the flood insurance you need is by working with an independent insurance agent. The two of you will determine how much coverage you need based on factors like the size and value of your property, the amount and value of your personal belongings or business inventory, and more.
That depends on your insurance company. Many carriers require you to submit a claim within 60 days of a flooding event, but this time frame can vary. As far as the settlement goes, some carriers promise to get claims processed and an approval decision made within a few days to weeks, while others can take as long as several months.
No, unfortunately flood insurance does not cover additional living expenses, such as staying in hotels, after a flooding event damages your home.
The Benefits of an Independent Insurance Agent
Independent insurance agents are kind of like the Google of insurance quotes. You tell them what you're looking for, and they bring in the results. And since they aren't tied down to one carrier, they're free to shop around and bring multiple policy options to the table.
And it gets better. You don't have to review the policy options alone. They'll walk you through everything you need to know about finding the right coverage, and price, for you.
But it doesn't end with your signature. Along the way, if something bad ever happens, they'll handle the entire claim process for you and deal with the carrier, so you can focus on other things.
TrustedChoice.com Article | Reviewed by Paul Martin
©2023, Consumer Agent Portal, LLC. All rights reserved.
https://www.fema.gov/national-flood-insurance-program
ready.gov
floodsmart.gov
weather.gov
https://www.statista.com/statistics/1116782/major-floods-us-economic-cost/
https://venngage.com/gallery/post/the-us-flood-risk-map/