Amica Insurance Company Review
Amica Insurance at a Glance
Older, well-established company
Wide variety of personal and small business insurance products
Rated A+ by A.M. Best
Works with captive insurance agents only—no independent insurance agents
Amica Pros: Amica is an older company with an established track record of financial stability. Their customer service is generally quite good. Their wide variety of products makes it easy to meet all your insurance needs in one place.
Amica Cons: Amica doesn't work with independent insurance agents, meaning they will only show you their own quotes and prices. They will not inform you of options from other insurance carriers, even if they are cheaper or more comprehensive.
What Type of Insurance Does Amica Offer?
Amica offers nearly every kind of personal insurance you can think of. They are especially well-known for their car insurance. They also offer small business insurance.
Auto
Home
Life
Umbrella
Condo
Renters
Marine
Motorcycle
Wedding and Event
Small Business
Retirement
Flood
Pet
If you're looking for a one-stop shop for your family's insurance needs, Amica could be a good choice for you. However, since Amica doesn't use independent insurance agents, choosing them could mean you lose out on better deals elsewhere.
What to Know About Amica
Amica was founded in Rhode Island in 1907. At first, Amica offered only auto, theft and fire insurance. They began offering homeowners insurance in 1956 and life insurance in 1970.
Amica was founded as a mutual insurance company. This means that the company is owned by its customers rather than by stockholders. The money that customers pay in premiums is invested and managed in order to grow the company and increase its stability.
Amica is financially stable. In January 2020, it received an A+ rating from A.M. Best, the top credit agency for insurance companies. A+ is the second-highest possible rating an insurance company can receive.
Amica ranks 823rd in Fortune 500 rankings. It has over 3,700 employees but no insurance agents. Their insurance is sold exclusively through their own customer service representatives.
Using our insurance company directory can help you find the best insurance companies that specialize in your specific coverage needs. The company directory can also help you get connected to an agent near you.
What Discounts Does Amica Offer?
Amica offers many discounts, especially for car insurance, its signature product. Many of its deepest discounts are for bundling insurance, meaning buying multiple kinds of insurance through Amica.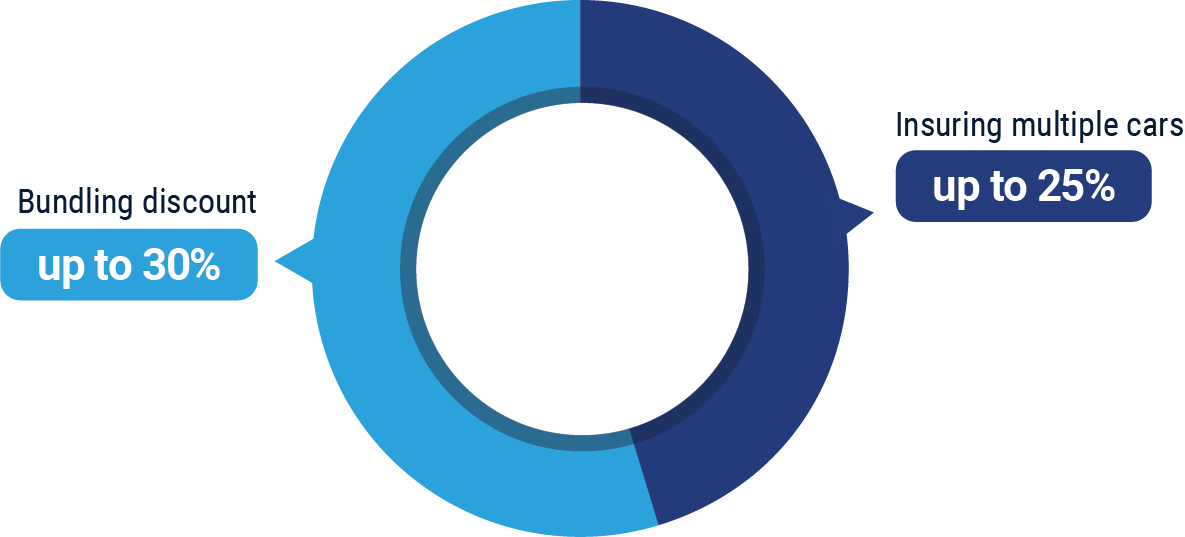 Up to 25% off when insuring multiple cars through Amica
Up to 30% bundling discount for buying multiple kinds of insurance through Amica, e.g., home and life
The caveat to these discounts is that Amica doesn't work with independent insurance agents, meaning you'll have to do the legwork yourself if you want to compare quotes and shop around for the true best deal for you.
Amica Customer Service
Because Amica doesn't partner with independent insurance agents, all customer service must be done through their representatives directly. Amica has a decent reputation for customer service.
Claims may be filed 24/7 online or by phone.
| | | | |
| --- | --- | --- | --- |
| | | Hours (All Time Zones) | |
| | | Monday-Friday | 24 hours |
| | | Saturday | 24 hours |
| | | Sunday | 24 hours |
Independent insurance agents can give you expert, personal service that regular customer service representatives cannot. Amica doesn't work with independent agents, meaning you must work directly with their employees.
Find The Right Company Today.
Shopping for a company? We have the right one for you.
Amica FAQ
What is Amica's average claims response time frame?
Amica responds to claims 24/7. You may be required to do certain things before making a claim, such as filing a police report. These things will be outlined in your policy.
What is Amica's customer service availability?
Amica offers 24/7 customer service by phone and on their website. Their website is mobile-friendly.
What is Amica's claims process?
Amica accepts claims via phone and their online portal. From there, Amica will assign you a claims adjuster to assess the damage.
Does Amica's insurance create a user-friendly experience for customers?
Amica offers many useful services to its customers, including roadside assistance and help finding a repair shop. However, the fact that they sell insurance only through their own representatives is a major drawback. If you're unhappy with Amica's service, you'll need to work it out with them directly or take your business elsewhere.
Amica Customer Reviews
WalletHub

Clearsurance

Consumer Affairs

Better Business Bureau

Trustpilot

TrustedChoice.com's Final Review