Amica Insurance Review 2023
Amica Insurance offers many coverage options and highly accessible customer service.
Trusted Choice's Amica Insurance Score

2.75 Stars
---
Trusted Choice awards Amica an overall rating of 2.75 out of 5 stars. Though the carrier has been in the insurance industry since 1907 and offers an extensive coverage catalog, they don't work with independent insurance agents. Amica insurance reviews by customers are also varied, with many negative accounts reported by policyholders. Reviews of Amica insurance show cause for concern, especially considering the reviews on Amica Insurance shown on the Better Business Bureau's website. With so many complaints filed in recent years, we just can't rate this insurance carrier any higher.
Amica Insurance Company Pros and Cons:
Amica Insurance Pros:
Amica is an older company with an established track record of financial stability.
Their customer service is reportedly excellent.
They have high ratings from both AM Best and the BBB.
Their wide variety of products makes it easy to meet all your insurance needs in one place.
Amica Insurance Cons:
Amica doesn't work with independent insurance agents, meaning they will only show you their own quotes and prices.
They will not inform you of options from other insurance carriers, even if they are cheaper or more comprehensive.
What Type of Insurance Does Amica Offer?
Amica offers nearly every kind of personal insurance you can think of. They are especially well-known for their car insurance, and they also offer small business insurance.
Auto
Home
Life
Umbrella
Condo
Renters
Marine
Motorcycle
Wedding and Event
Small Business
Retirement
Flood
Pet
If you're looking for a one-stop shop for your family's insurance needs, Amica could be a good choice for you. However, since Amica doesn't use independent insurance agents, choosing them could mean you lose out on better deals elsewhere.
What to Know about Amica
Amica was founded in Rhode Island in 1907. At first, Amica offered only auto, theft, and fire insurance. They began offering homeowners insurance in 1956 and life insurance in 1970. Amica was founded as a mutual insurance company, meaning the company is owned by its customers rather than by stockholders. The money that customers pay in premiums is invested and managed in order to grow the company and increase its stability.
Amica is financially stable. The carrier currently holds an "A+" rating from AM Best, the top credit agency for insurance companies. "A+" is the second-highest possible rating an insurance company can receive.
Amica ranks 823rd in Fortune 500 rankings. It has over 3,700 employees but no insurance agents. Their insurance is sold exclusively through their own customer service representatives.
Amica Auto Insurance Details
Amica offers the standard coverages you can expect in a car insurance policy. However, depending on your needs, you may wish to add extra coverages to your policy. Various Amica auto insurance reviews suggest that the following are the carrier's most popular coverage add-ons:
Accident forgiveness: Amica offers protection against premium increases if you get into an accident, but it's based on a points system. Customers can accumulate points for driving well, referring new customers to the carrier, adding more coverages, and more.
Disappearing deductible: Customers also have the option to apply these points toward their deductible, to decrease or potentially eliminate it.
Identify fraud monitoring: Amica offers a service to monitor customers' credit and other personal info. The carrier even offers a professional fraud service in case of identity theft.
Full glass coverage: Amica offers glass repair or replacement to customers' vehicles without factoring in the deductible.
Prestige rental coverage: Amica also allows customers to claim up to $5,000 toward a rental car, if it's a compatible model to their own vehicle, after an accident.
Amica auto insurance discounts
Amica offers many discounts, especially for car insurance, its signature product. Many of its deepest discounts are for bundling insurance, meaning buying multiple kinds of insurance through Amica.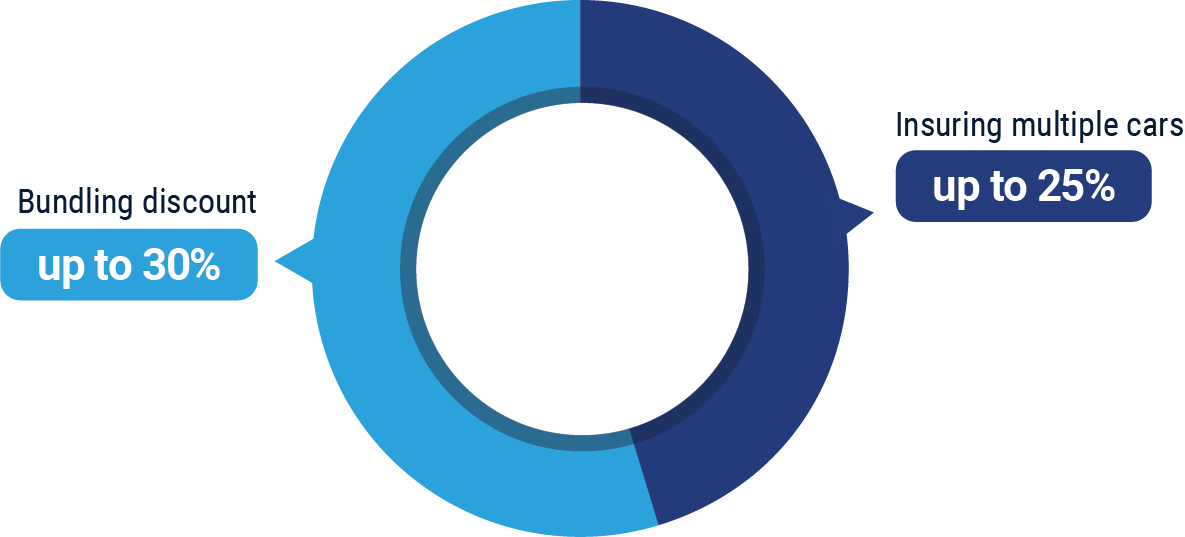 Up to 25% off when insuring multiple cars through Amica
Up to 30% bundling discount for buying multiple kinds of insurance through Amica, e.g., home and life
Varying discounts for using autopay for auto insurance premiums
Varying discounts for paying your auto insurance premiums in full
The caveat to these discounts is that Amica doesn't work with independent insurance agents, meaning you'll have to do the legwork yourself if you want to compare quotes and shop around for the true best deal for you.
Amica Home Insurance Details
Amica offers the standard coverages you can expect to find in a home insurance policy. But the carrier offers many optional add-ons as well. Amica home insurance reviews detail some popular coverage add-ons. Customers mention these additional coverages in their Amica homeowners insurance reviews:
Dwelling replacement: Covers up to 30% more than a policyholder's dwelling coverage limit to repair or rebuild their home's structure.
Personal property replacement: Covers costs of repair or replacement to policyholders' personal belongings.
Water backup/sump overflow: Covers home damage resulting from sump pump overflow or breakage, or from sewage backup.
Valuable items extended coverage: Extends coverage limits for high-value items like jewelry, antiques, art, etc., and is available under Amica's Platinum Choice home insurance package.
Loss assessment plan: Covers customers who live in gated communities or condos and suffer from theft or other loss in a common area like a lobby.
Liability and medical payments coverage: Extends a homeowner's liability coverage limits up to $500,000 and guest medical payments coverage up to $5,000.
Special computer coverage: Extends coverage for the insured's electronics, including TVs, laptops, smartphones, tablets, etc., if they get damaged by power surges, heat, fire, or water.
Credit card coverage: Covers up to $5,000 of fraud charges if the insured's credit card info gets stolen.
Business property coverage: Covers up to $5,000 in damage to business property stored at the insured's home, as well as up to $2,000 for business property stored outside the home.
Amica home insurance discounts
Amica also offers several discounts on their home insurance coverage. Just a few of these include:
Claims-free discount: If a policyholder has not filed a home insurance claim in at least three years, they qualify for this discount.
Loyalty discount: If a policyholder stays with Amica for at least two years, they qualify for this discount.
E-discount: If a policyholder goes paperless, they qualify for this discount.
Autopay discount: If a policyholder signs up for autopay for their premiums, they qualify for this discount.
Other Amica Insurance Details
Amica offers many other insurance coverages beyond just auto and home. Amica renters insurance reviews and Amica umbrella insurance reviews demonstrate that many customers choose this carrier for their property and liability needs. The other products offered by Amica currently are:
Life insurance: Amica offers term life insurance and whole life insurance products.
Umbrella insurance: Umbrella insurance from Amica can extend liability coverage limits under policies like home insurance or auto insurance to $1 million or more.
Condo insurance: Condo insurance from Amica covers your personal property, liability, and more if you live in a condo.
Renters insurance: Renters insurance from Amica covers your personal property, liability, and more if you rent your home, condo, or apartment.
Marine insurance: Marine insurance from Amica covers personal watercraft like boats against physical damage, liability, and more.
Motorcycle insurance: Motorcycle insurance from Amica covers your motorcycle's physical damage from covered perils, liability, and more.
Wedding and event insurance: Wedding and event insurance from Amica provides coverage if an event must be canceled, guests don't show up, and more.
Small business insurance: Small business insurance from Amica covers liability, physical property damage, lost revenue, and more.
Retirement solutions: Amica offers annuities and IRA options for retirement solutions.
Flood insurance: Flood insurance from Amica can reimburse for water damage done to homes, businesses, and more caused by natural water sources like tsunamis and hurricanes.
Pet insurance: Pet insurance from Amica can help cover pets' medical expenses and more.
Amica Customer Service
Because Amica doesn't partner with independent insurance agents, all customer service must be done through their representatives directly. Amica has a decent reputation for customer service.
Claims may be filed online or by phone at the following hours:
| | | | |
| --- | --- | --- | --- |
| | | Hours (All Time Zones) | |
| | | Monday-Friday | 8 am - 9 pm |
| | | Saturday | 10 am - 5:30 pm |
| | | Sunday | CLOSED |
Independent insurance agents can give you expert, personal service that regular customer service representatives cannot. Amica doesn't work with independent agents, meaning you must work directly with their employees.
Find The Right Company Today.
Shopping for a company? We have the right one for you.
Amica Insurance Reviews from Customers
Here are just a handful of recent Amica Insurance reviews from customers across the web.
Consumer Affairs

"I purchased a house last year and decided to go with Amica for both home and auto because of its stellar reviews on various sites, especially those about its customer service. I am extremely frustrated that they have not lived up to these reviews. My family and I were rear-ended in standstill traffic on the Bruckner Expressway by a large rental truck in July. My handler notified me that claims with commercial companies typically take months to settle. [...]
Amica hasn't lived up to their half of our contract and left me worried that I have to pick up portions of an accident that wasn't my fault. Thankfully, none of us were injured, but I feel unprotected and that they are only going to assist me when it's in their best interests. I could only imagine what would have happened if we had to be rushed to the hospital and what bills we would have incurred. I would never go with them again and would recommend everyone else to stay clear of them regardless of what you view online! They haven't lived up to their reputation."
September 20, 2022
Consumer Affairs

"Great customer service. Answer any questions 24/7. My husband has had to report claims. They got right on it and took care of repairs fast and with no problems. We are happy with them and we get a 10% discount after taking the driver's online test."
November 19, 2021
Clearsurance

"Until now I have been a very satisfied customer with this company. our multiple policies are dividend paying, which means we pay a bit more each month, but get a rebate at the end of the policy year. we recently moved, and switched our homeowners to a new dividend policy, still with Amica. because we moved a couple of weeks before the end of the policy year, Amica refuses to pay the dividend, which would be several hundred dollars. I have left messages with the agent who enrolled us in the new policy, as well as the local manager, with no response. I am not a satisfied customer."
September 16, 2022
Clearsurance

"I was with Amica for over 13 years. I had one accident in that time, and, while my coverage was great, customer service was generally unhelpful. I'm trying to resolve an issue (that their poor customer service caused) now that my policy has been canceled, and customer service is even worse. I've been told I'll receive callbacks and haven't received them, and agents are completely unwilling to even try to help. I haven't made many calls to them in the last 13 years, but they always seemed like they couldn't get off the phone fast enough unless they were trying to sell me something."
June 24, 2022
Clearsurance

"We have been a loyal customer of Amica auto insurance for at least 13 yrs. Our First and only claim happened in Dec 2021. The accident happened out of state so we made arrangements to get our personal belongings ($1800+). And some sentimental items out of the vehicle. On at least 3 separate calls the Amica representatives told my wife not to go because of the distance and that they will send a Rep to the vehicle and everything in the trunk and inside the vehicle will be placed in boxes and mailed to us. They assured us that they have done this for customers for years and we had nothing to worry about and we will be getting our belongings. Well, one month later we got an envelope with 5 minor items. We have been lied to over and over and have taken another major loss. We are beyond [disgusted] and hurt."
January 11, 2022
Amica Insurance FAQ
Amica allows claims to be filed at any time online or at specified hours over the phone. You may be required to do certain things before making a claim, such as filing a police report. These things will be outlined in your policy.
Amica accepts claims via phone and their online portal. From there, Amica will assign you a claims adjuster to assess the damage.
Amica offers many useful services to its customers, including roadside assistance and help finding a repair shop. However, the fact that they sell insurance only through their own representatives is a major drawback. If you're unhappy with Amica's service, you'll need to work it out with them directly or take your business elsewhere.
Auto insurance and life insurance are available from Amica in all states except for Hawaii. The carrier sells its homeowners insurance and renters insurance in every state except for Hawaii and Alaska.
No, Amica does not sell landlord insurance.
Certain types of water damage aren't typically covered by home insurance. But Amica offers optional water backup coverage to protect against sewer and sump pump failure or backup. The carrier also offers additional flood insurance to protect homes against hurricane, tsunami, and other natural water damage.
No, termite damage and insect infestation are not covered by home insurance policies by most carriers. Amica's home insurance policies exclude coverage for termites or insect damage. Unfortunately, homeowners should expect this coverage to be excluded by most home insurance policies across the country.
Yes, theft is a standard coverage offered in home insurance. Amica home insurance policies include coverage for theft of your personal belongings, including electronics, furniture, clothing, etc., up to the policy's limits. Coverage limits for valuable items can also be extended optionally.
If a tree falls on a home due to strong winds, the damage is typically covered. Amica's homeowners insurance includes tree damage coverage if the tree fell due to wind. Other incidents of tree damage may not be covered.
©2023, Consumer Agent Portal, LLC. All rights reserved.
https://www.bbb.org/us/ri/lincoln/profile/insurance-companies/amica-mutual-insurance-company-0021-104854
https://ratings.ambest.com/CompanyProfile.aspx?BL=0&ambnum=2162&AltNum=2422162&AltSrc=3
https://clearsurance.com/insurance-reviews/amica-mutual-insurance-company-5835ece073b103329e91ab45
https://www.consumeraffairs.com/insurance/amica_auto.html?#reviews