Professional Liability Insurance
A Deeper Look Inside Professional Liability Insurance
(Even the pros make mistakes)

If you are a professional who advises, treats or diagnoses clients professional liability insurance is the policy that will protect you and your business practices from a lawsuit.
Talking with your local independent insurance agent is the best place to start when considering professional liability insurance. They can guide you on which policy is right for your business or practice and different risk exposures that could befall your business.
What Is Professional Liability Insurance?
That is dependent on what type of profession you have. There are a variety of professional liability policies, each covering a different profession and the risks that they entail.
The policy itself will protect you financially from legal claims and lawsuits up to your selected policy limits in the event you make a mistake and advise or treat someone incorrectly.
What Are the Most Common Professional Liability Insurance Policies?
What Does Professional Liability Insurance Cover?
There are a couple of different coverage types based on what you do and provide to customers or clients.
Malpractice insurance is coverage that's specifically designed for medical professionals such as psychiatrists, podiatrists, and gynecologists. It protects against lawsuits that allege negligence or mistakes. If you work in the healthcare industry, malpractice insurance should be the first policy you obtain.
Errors and omissions liability insurance is also known as E&O insurance is coverage that's designed for those who provide advice or services such as lawyers, consultants, insurance agents, and architects. It protects against lawsuits that claim a financial loss occurred based on bad information or negligent advice.
A lawsuit in the professional industry is not unheard of and in fact very common. Finding the right professional liability coverage can be done through your independent insurance agent.
There are two kinds of professional liability policy coverage types:
A claims-made policy must be in effect both when the lawsuit is filed and when the incident in the suit took place. This type of policy is the most common, and is usually less expensive.
An occurrence policy covers any incident that takes place during the coverage period, even if the actual lawsuit is filed after the policy expiration. This type of policy provides more comprehensive coverage and is higher priced.
An independent insurance agent can answer any questions you have about liability policies and can help steer you toward the right protection for your career and your livelihood.
Why You Should Buy Professional Liability Insurance
In most cases, if you work for a large company or clinic, it will have its own commercial general liability coverage in place. The company may have professional liability coverage as well.
However, most company policies will provide coverage to the company and the owners in the event of a lawsuit. Any additional expenses due to your negligence or misadvise could be your responsibility.
Not having the proper coverage for your business practices can be a costly mistake. Getting professional liability insurance from your trusted insurance advisor is the quickest way to rectify any risk exposures beforehand.
In any lawsuit, no matter whether it ends up in court or settled prior to, it will be expensive to resolve. Professional liability insurance is designed to help protect you from what could be a serious financial burden.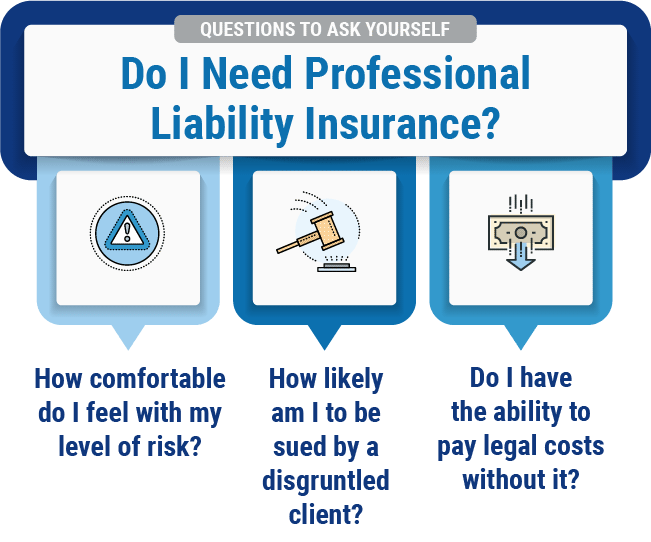 How Much Does Professional Liability Insurance Cost?
Whatever career path you've chosen will come with a certain amount of risk. The more risk involved, the higher the insurance premiums. A policy for a neurosurgeon or anesthesiologist will be more costly than a professional liability policy for an independent insurance agent.
To get exact pricing specific to your profession, speak with an independent insurance agent. They will be able to find you the proper coverage and policy with optional limit levels and premiums.
Comparing Professional Liability Insurance Quotes
Contact your local independent insurance agent to review your needs and help you evaluate which type of professional liability insurance makes the most sense for your profession.
They'll also compare policies and quotes from multiple insurance carriers to make sure you have the right protection in place. Your professional liability policy will have sufficient coverages that protect you and your livelihood.
The Benefits of an Independent Insurance Agent
Insurance policies can be complex, and searching through options can be confusing and time-consuming. An independent insurance agent's role is to simplify the process.
They'll make sure you get the right coverage that meets your unique needs. They'll also break down all the insurance jargon and explain the facts, so you understand exactly what you're getting.
TrustedChoice.com Article | Reviewed by Paul Martin
©2021, Consumer Agent Portal, LLC. All rights reserved.