Fire Insurance
Fire coverage is included in many policies, but can also be purchased separately.

The National Fire Protection Agency (NFPA) reports that, on average, Americans experience a fire in their homes about once every five years. This number includes all accidental house fires, no matter how small. When fires get out of control, the resulting damage can be both devastating and costly.
Fortunately independent insurance agents can help you find the right fire insurance for your needs. They'll help you get equipped with ample protection for all your property, including your home and vehicle. But first, here's a deep dive into fire insurance.
What Is Fire Insurance?
According to insurance expert Paul Martin, fire insurance is available as a separate product, but fire coverage is already included in standard homeowners insurance, business insurance, and car insurance. Stand-alone fire policies guard against fire and lightning damage as a priority. But fire coverage is included in so many policies because it's one of the most common and costly threats to insurance customers of all kinds.
In fact, fire is the original peril that certain types of insurance, including homeowners insurance, were designed to protect against. An independent insurance agent can help you review your existing coverage to make sure you have enough fire protection.
Property Fire Stats
Fires may be more common and costly than you might expect.
Cooking and home heating cause about 72% of all residential fires.
About 481,500 fires occur in structures in the US annually.
There were 339,500 reported home fires in 2019.
Noting just how big of a threat fires are, it's easy to see why it's so important to be prepared with the right coverage. An independent insurance agent can help.
Who Sells Fire Insurance?
Fire insurance is available from many different insurance companies, and the best way to find the right carrier for you is through working with an independent insurance agent.
While many insurance companies offer fire insurance policies, finding coverage could also depend on the area you live in.
The best insurance companies for fire insurance:
| | |
| --- | --- |
| Fire Insurance Companies | Star Rating |
| Amica | |
| USAA | |
| Chubb | |
| Progressive | |
| Allstate | |
One fire insurance company outshines its competitors:
Travelers insurance is rated "A++" by A.M. Best and has been in the insurance industry for nearly 170 years. With a high volume of customer satisfaction, Travelers provides trustworthy, reliable coverage for home, car, and business owners of all kinds in need of critical fire protection.
Who Needs Fire Insurance?
Wildfires by state
| | |
| --- | --- |
| State | Number of fires |
| Alabama | 1,107 |
| Alaska | 720 |
| Arizona | 1,869 |
| Arkansas | 660 |
| California | 8,194 |
| Colorado | 857 |
| Connecticut | 88 |
| Delaware | 0 |
| Florida | 2,121 |
| Georgia | 3,158 |
| Hawaii | 155 |
| Idaho | 960 |
| Illinois | 2 |
| Indiana | 38 |
| Iowa | 153 |
| Kansas | 19 |
| Kentucky | 755 |
| Louisiana | 361 |
| Maine | 355 |
| Maryland | 140 |
| Massachusetts | 289 |
| Michigan | 361 |
| Minnesota | 1,021 |
| Mississippi | 959 |
| Missouri | 67 |
| Montana | 1,474 |
| Nebraska | 15 |
| Nevada | 562 |
| New Hampshire | 16 |
| New Jersey | 727 |
| New Mexico | 859 |
| New York | 79 |
| North Carolina | 3,872 |
| North Dakota | 488 |
| Ohio | 498 |
| Oklahoma | 1,104 |
| Oregon | 2,293 |
| Pennsylvania | 547 |
| Puerto Rico | 97 |
| Rhode Island | 45 |
| South Carolina | 992 |
| South Dakota | 346 |
| Tennessee | 571 |
| Texas | 6,892 |
| Utah | 1,025 |
| Vermont | 19 |
| Virginia | 364 |
| Washington | 1,394 |
| West Virginia | 593 |
| Wisconsin | 710 |
| Wyoming | 486 |
| United States | 50,477 |
Fire damage is included in many standard coverages, like homeowners insurance and business insurance. Fire is one of the first perils listed under these policies. If you want to add additional fire coverage to your policy, you can work with your independent insurance agent to do so.
Fire coverage may be required by your mortgage lender if you don't already have it. Also, in certain areas that are prone to wildfires, such as California, residents may be required to purchase additional fire policies.
How Does Home Insurance Cover Fire?
Martin said that separate policies that cover fire and lightning damage are available. But fire coverage is included as part of your standard homeowners insurance, business insurance, and car insurance already.
The fire portion of a homeowners policy offers this kind of protection:
Coverage for up to 50% of your home's value against fire damage.
Coverage includes the dwelling as well as personal property.
Coverage kicks in after you've met your policy's deductible.
Some policies cover the original replacement value of fire-damaged items, while others factor in depreciation.
Additional replacement value riders can be purchased to protect the original value of any fire-damaged items.
Your homeowners policy also typically pays for debris cleanup after a fire, as well as water damage that occurred from putting the fire out. An independent insurance agent can review your homeowners insurance policy with you to make sure you're satisfied with the level of fire damage coverage it provides.
A Deeper Breakdown of Fire Coverage under Homeowners Insurance
Want a closer look at how your homeowners insurance covers fire in all aspects? Here's a more detailed breakdown.
| | | | |
| --- | --- | --- | --- |
| Coverage Limit | Home and Property Value (Combined) | Deductible | Amount Paid by Insurer |
| $400,000 | $300,000 | $1,000 | $299,000 |
| $300,000 | $300,000 | $1,000 | $299,000 |
| $200,000 | $300,000 | $1,000 | $199,000 |
Dwelling coverage: Fire protection in a home insurance policy protects the structure of the home against damage or destruction by fire. Dwelling coverage also applies to built-in appliances, flooring, and attached garages and decks.
Additional structures coverage: Depending on your policy, you're likely to also have coverage for detached structures like sheds.
Personal property or contents coverage: Your personal property like clothing, furniture, silverware, etc. is also covered by your home insurance against fire damage and destruction. Contents coverage is usually 50% to 75% of your home's total insured value. Some policies will pay for the original replacement cost of items, while others only reimburse for the current value.
Loss of use coverage: Homeowners insurance also provides coverage for temporary housing if you're forced to live elsewhere while awaiting repairs after a fire. Hotel stays, additional gas mileage, meal takeout, and more are often covered. Coverage in this section is often limited to 20% of your dwelling coverage.
An independent insurance agent can further explain all the ways in which your homeowners insurance protects against fire damage losses.
What Kinds of Fires Are Covered under Homeowners Insurance?

Martin said that home and business insurance policies cover fires of a "hostile" nature, or in other words, fires that arise in areas where they're not supposed to be. A few examples of fires covered by fire insurance include:
Grease fires
Electrical fires
Wildfires
Forest fires
Fires caused by war or certain explosions
Fires caused by arson
Certain homeowners insurance policies will cover arson if you can prove that the fire was started by a third party. However, you'll want to review your specific coverage with the help of your independent insurance agent to be sure.
What Doesn't Fire Insurance Cover?
Martin added that "friendly fires," or fires that are maintained where they're supposed to be, are not covered by fire insurance. Fires in your fireplace or your outdoor grill are not covered, since they're not hostile in nature.
Otherwise, fire insurance does not provide coverage for any other type of disaster beyond fire and lightning damage, including:
Flood damage
Hail or wind damage
Theft and vandalism
Mysterious disappearance
Owner negligence
Spoilage
Your independent insurance agent can further explain what's not covered by fire insurance, and make sure you get equipped with any protection you feel you may be missing.
Make Sure Your Fire Insurance Coverage Is Sufficient
Most homeowners insurance policies cover structural damage and loss of personal property, or contents, up to a value of about 50% of the covered value of the home. So if your home policy provides $200,000 in coverage, the personal property portion would provide up to $100,000 in coverage for personal belongings.
The actual compensation you'd receive for a covered loss depends on several factors, including the type of policy you have and its deductibles. While some policies only cover the current depreciated value of your personal belongings, a more expensive replacement value policy will cover the full original value.
Save on Fire Insurance
Our independent agents shop around to find you the best coverage.
Things to Keep in Mind When Shopping for Fire Insurance
It's a good idea to make an inventory of all your belongings and bring it with you when you meet with an independent insurance agent. Most policies have caps on coverage for different kinds of belongings.
If you own expensive items such as jewelry, artwork, or electronics, you may need to purchase a separate rider that lists your valuable items and provides the additional coverage for them.
DID YOU KNOW?
In addition to your home and personal belongings, your fire insurance coverage will typically include additional structures on your property, such as a garage or tool shed.
Many policies will also provide coverage for temporary housing if your house is uninhabitable for a some time due to fire. These are important things to discuss with a knowledgeable agent, who can help make sure you have the right coverage for your needs.
When You Should Add More Fire Coverage
Homeowners insurance does provide generous coverage for fire damage, but there are certain cases in which you might want to consider adding a stand-alone fire policy or increasing your policy's limits. These include:
If you have expensive property: If you have a lot of expensive items like jewelry, collectibles, fancy electronics, furs, etc., you may want to consider adding riders or endorsements to increase your personal property fire coverage limits.
If you have an older home: If your home is older and more susceptible to fire damage, you might want to look into ordinance or law coverage to protect against building code changes over the years.
If your home is customized: If your home has undergone a lot of custom upgrades, you might want to look into adding extended replacement cost coverage to your policy to cover the cost of custom materials and extra labor for repairs.
If you have a large family: If you have a large family, the built-in loss of use coverage included in your home insurance might not be sufficient for your needs. You may want to work with your independent insurance agent to increase these limits.
An independent insurance agent can discuss your needs with you and help you determine if increasing your policy's limits or adding an extra fire insurance policy is the right choice.
More Fire Damage Stats
Fires occur in every type of structure more often than you might suspect. It's important to understand the real threat of fire damage to every type of property owner when looking into getting the proper insurance policy. Here are just a couple of eye-opening fire stats for the US.
Total incurred losses due to fire in the US from 1990 to 2018
(in million US dollars)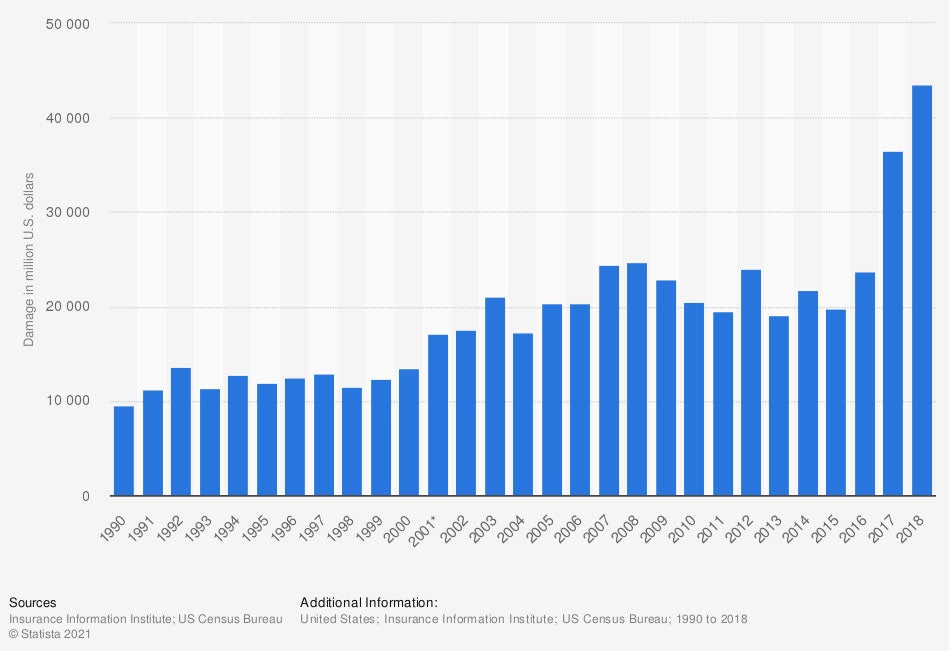 Fire damage losses have greatly increased in recent decades. In 1990, a reported $9.49 million was lost due to fire. By 2018, this number had jumped four and a half times, to $43.58 million.
Total number of reported fires in the United States in 2019, by type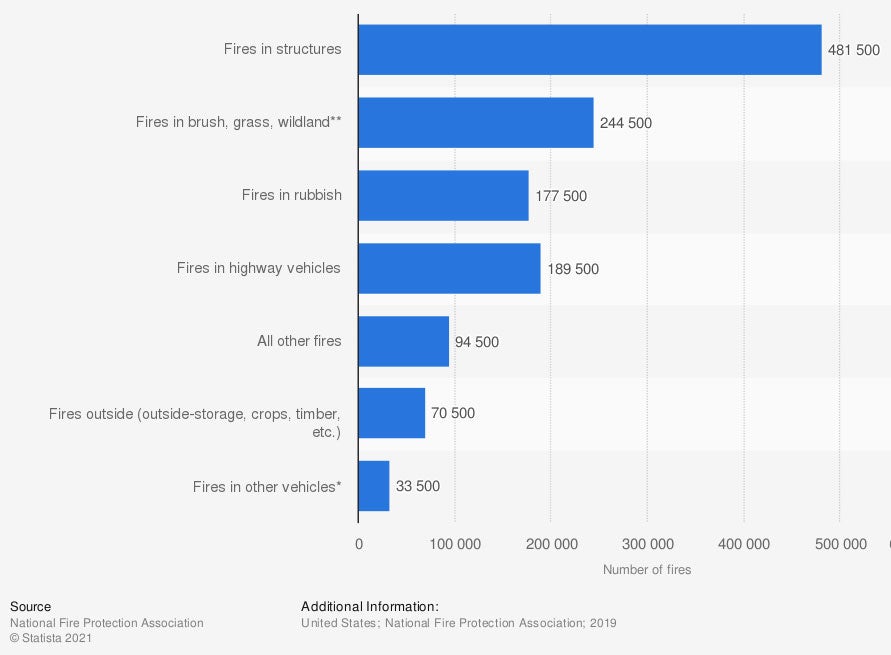 In 2019, 481,500 fires were reported in structures, including homes, businesses, etc. Also in 2019, 189,500 fires were reported in highway vehicles, and another 33,500 fires occurred in other vehicles.
Since fires happen so often, not only in homes, but also in businesses and vehicles, it's important to review the fire coverage portion of your business insurance and car insurance policies with your independent insurance agent.
When Are Fire Claims Denied?
There are a number of reasons why a home fire insurance claim may be denied. Usually any fire that is deemed intentionally set by the homeowner or someone in the household will be rejected.
Additionally, if the insurance company finds that the fire damage was preventable, the company may not pay your claim, whether or not the fire was set intentionally.
The insurance company may deny the claim if:
The property owner refused to call the fire department.
The home was not equipped with smoke alarms, fire extinguishers, or other fire prevention equipment.
The fire was caused due to gross negligence by the homeowner.
Tips for Filing a Fire Insurance Claim
Hopefully, you will never need to file a claim for a devastating fire in your home. However, you may need to file a fire damage claim at some point, and you probably want the best possible return on your insurance investment.
In order to make the most effective claim and get accurate compensation quickly, complete a thorough assessment of the damage and loss. Gather as much information as possible about the fire, including:
The date and time of the fire
The cause of the fire, if known
How much of the house was damaged
A list of your lost or damaged possessions
Any receipts you may have for expensive items that were lost
Documentation of any improvements you made on the house that would affect its value
Save on Fire Insurance
Our independent agents shop around to find you the best coverage.
Your independent insurance agent can provide more tips for filing an insurance claim, or even file a claim for you.
Fire Insurance for Homes That Don't Qualify for Coverage
If you live in a particularly high-risk area for fire, or live too far from a fire department, you might be denied fire coverage by home insurance companies. States that are especially prone to wildfires, like California, often fall into this category.
These homeowners can look at policies through the Fair Access to Insurance Requirements (FAIR) Plan, which offers a government product available in most states. While these policies are often cheaper, they typically offer less sufficient coverage than that provided by home insurance. The positive side of these policies is that they're offered to homeowners who don't qualify for other forms of fire insurance.
Frequently Asked Questions about Fire Insurance
Yes, your personal property is covered against fire damage and destruction under standard renters insurance policies.
Yes, standard home insurance policies include coverage for many kinds of fires, including electrical fires, grease fires, chimney fires, forest fires, and more.
Make sure to document all your damaged property after a fire, with photographs or video. File your insurance claim ASAP after the disaster. Have your home inspected so a professional can review the extent of the damage and provide an estimate for the cost of repair. If you make any repairs yourself, be sure to keep all receipts and other important documents to hand over to your insurance company for potential reimbursement.
Car insurance covers fire damage if you purchase comprehensive coverage, which protects your vehicle against numerous threats, including fire, flood, theft, glass breakage, and more. Standard boat insurance policies also typically provide protection for your watercraft against fire damage, flood, lightning, and theft or vandalism.
It depends on your specific insurance company's claims process. The process usually begins with contacting the carrier via phone, fax, or online.
The Benefits of an Independent Insurance Agent
Independent insurance agents are kind of like the Google of insurance quotes. You tell them what you're looking for, and they bring in the results. And since they aren't tied down to one carrier, they're free to shop around and bring multiple policy options to the table. They'll walk you through everything you need to know about finding the right coverage and price for you.
TrustedChoice.com Article | Reviewed by Paul Martin
©2023, Consumer Agent Portal, LLC. All rights reserved.
stats - https://www.nfpa.org/~/media/fd0144a044c84fc5baf90c05c04890b7.ashx
https://www.nfpa.org/-/media/Files/News-and-Research/Fire-statistics-and-reports/US-Fire-Problem/Fire-causes/2018-Home-Cooking-FIres--Report_FINAL.ashx
https://www.nfpa.org/News-and-Research/Publications-and-media/NFPA-Journal/2021/Spring-2021/News-and-Analysis/Dispatches/Home-Fires#:~:text=Now%20the%20less%2Dthan%2Dgood,plenty%20to%20be%20concerned%20about.&text=Those%20are%20some%20of%20the,734%2C000%20such%20fires%20in%201980.
Statista
iii.org
irmi.com