5 Homeowners Insurance Steps After a Wildfire
(Your complete guide for moving on after a house fire)

Anyone who has watched the news videos of California wildfires knows how destructive and terrifying they can be. Wildfires can destroy entire communities swiftly, often leaving residents little time to flee with no more than what they can pack in a car or even nothing at all.
Over time, wildfires have become more dangerous as housing developments have extended farther beyond the cities and suburbs into forests and brushlands where houses are in close proximity to areas subject to wildfire.
Just how common are wildfires? Between 2000 and 2018, there were more than 60,000 fires in every year except two, and there were over 90,000 in two of those years resulting in an average of about 80,000 wildfires per year. Many of these fires are in remote places with no human development, but it only takes one to damage or destroy your home.
Our independent agent matching tool will find you the best insurance solution in your area. Tell us what you're looking for and we'll recommend the best agents for you. Any information you provide will only be sent to the agent you pick.
Number of wildfires in the United States from 2000 to 2018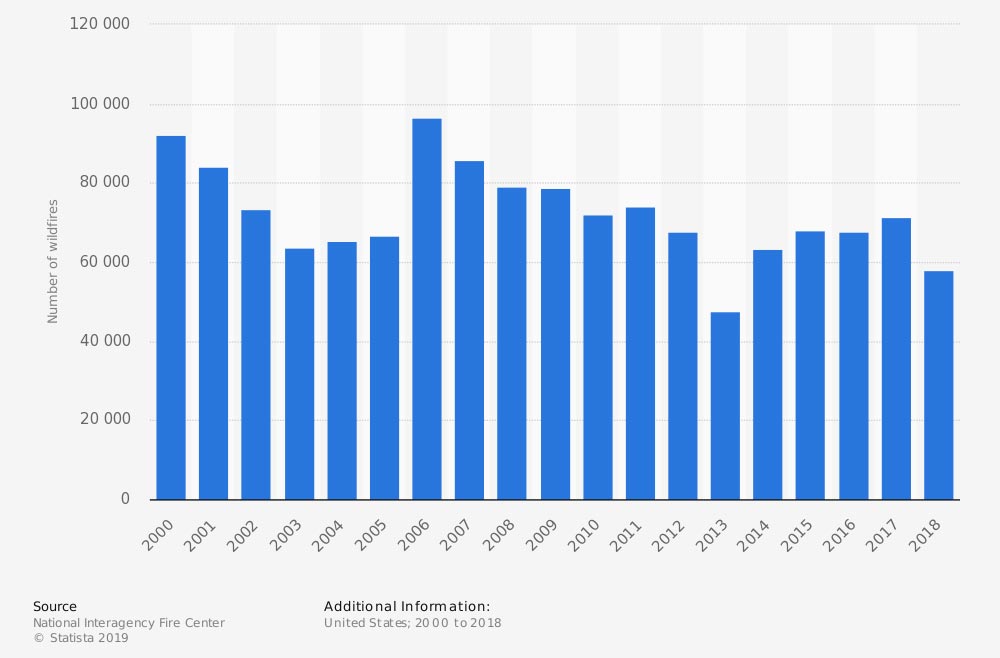 It may be tempting to think this is a danger unique to California and a few other western states, but that's not true. Wildfires happen in all 50 states. Yes, even in Hawaii. Perhaps surprisingly, the state with the most wildfires in 2018 was Texas, followed by California, North Carolina, Georgia, and Florida.
If you were one of the unlucky ones whose home was damaged or destroyed by a wildfire, hopefully you received adequate warning, followed official advice, and evacuated to a safe area before the fire reached you. But now you've returned and found your home damaged or destroyed.
Now what?
Save on Home Insurance
Our independent agents shop around to find you the best coverage.
The Five Things to Do After a Wildfire
1. Protect Life
If you evacuated, do not return to your home until officials have given the all clear.
If there are injuries, call 911 immediately and summon aid. Provide first aid to the best of your abilities until help arrives. Do not move an injured person unless they are in immediate danger.
After a fire there will be a lot of ash. Children, pregnant women, and people with asthma and other lung disorders are especially vulnerable to breathing dust from ash. If possible, those people should not be in the area of the fire until cleanup activities are complete. They should never participate in cleanup work.
Protect yourself from ash by wearing an N95 mask. These are inexpensive and readily available at hardware stores and online. Wash ash from your skin, clothing, and hair as soon as possible. Wet down areas where you'll be working to reduce dust.
Fires can cause power lines to fall. Stay well away from downed lines and anything they're touching. The power being off is no guarantee a line isn't energized.
Be very cautious in and around structures damaged by fire. Roofs and floors can collapse.
2. Protect Property
If the home is uninhabitable, shut off the natural gas or propane at the main valve, and the electricity at your home's main breaker panel. If you don't know how to do these things, now is the time to learn. Call your gas and electricity suppliers for guidance. Do not turn the power back on until an electrician has inspected your home's electrical system and declared it safe.
Hot spots may be smoldering in and around your home. Extinguish these if you can do so safely using a garden hose or buckets of water or sand.
Cover damaged windows and roofs with tarps or plastic sheeting to keep rain and dust out.
3. Document the Damage
As soon as it's safe and practical to do so, take photos of your property, your belongings, and the damage. This will help ensure that you're able to recover the full insurance proceeds available to you, and it will support tax write-offs for any uninsured losses.
4. Communicate
Once the immediate priorities are met, reach out to your friends and family and let them know you're OK. Phones and internet service may be down or overloaded after a major event, so save phone calls for emergencies. Text messages or posting to social media are usually better options. Some social media sites have specific features they activate following disasters to allow you to quickly and easily let all your friends know "I'm OK" with a single message.
5. Initiate the Claims Process
Notify FEMA by calling them at 1-800-621-3362. They may have free help and resources available for you.
Contact your insurance agent as soon as practical because they can help protect your property from further damage, assist with temporary housing and repairs, and document your losses.
Contact your insurance company as soon as possible to begin the claims process. Your agent can assist you with this.
A claims adjuster will need to visit your property and inspect the damage. Work with them and assist them in any way you can to maximize the coverage you receive.
Once you and the adjuster have reached an agreement on the amount of your claim, begin working with contractors to make emergency and permanent repairs. The insurance company may recommend preferred contractors they've worked with who are reliable and offer a fair price.
Record everything throughout this process. Keep copies of bids and estimates, repairs made, notes about discussions with contractors and the insurance company, and photos of damage and repairs in progress.
Save on Home Insurance
Our independent agents shop around to find you the best coverage.
Why Choose an Independent Insurance Agent?
Our vast network of independent insurance agents can provide you with a large selection of homeowner policies that will provide you with the security you need to deal with the damage after a wildfire.
Independent insurance agents simplify the process of shopping for and comparing homeowner insurance. They will explain the complex terms for you, cut through the jargon, and make sure you understand the fine print.
But perhaps most importantly, they work for you — not one insurance company. They can compare policies from many companies and pick the ones that are best for you at the best possible price.
They'll also be there for you in the future if your needs change or questions arise. They work for you, and their only job is keeping you satisfied now and in the future.
©2023, Consumer Agent Portal, LLC. All rights reserved.
https://www.ready.gov/wildfires
https://www.cdc.gov/disasters/wildfires/afterfire.html