Crop Insurance
How to Get the Best Insurance for Your Crops
Whether you grow corn, sugarcane, or soybeans, all crops need protection against disaster.

Whether you own a farm already or are just looking into buying or investing in one, it's crucial to know the kind of protection you need. Crops need coverage against numerous threats, from human hazards to storms. Fortunately crop insurance exists to provide your crops with much-needed protection against these perils and more.
Even better, an independent insurance agent can help you find the right kind of crop insurance for your unique farm. They'll be able to get you equipped with all the coverage you need to guard against risks that apply to your specific property. But before we jump too far ahead, here's a closer look at this important coverage.
Crop Insurance Facts
The Federal Crop Insurance Program covers 380 million acres of farmland
14 private insurance companies have access to this program
These companies issued 1.1 million policies in 2020
What Is Crop Insurance?
Crop insurance is a type of coverage designed to protect farmers and ranchers and their crops from financial losses due to listed perils such as fire, drought, and more. Coverage also includes loss of revenue stemming from changing prices in the agricultural market. There are several different types of coverage available.
Crop insurance is offered by a federal program called the Federal Crop Insurance Program and is administered by private companies, 14 in total as of 2020. Private insurance can enhance coverage from the crop insurance program. Crop insurance is an important component of any successful farm, since it protects against potentially devastating financial losses due to damage or price changes.
Who Sells Crop Insurance?
Crop insurance is available from several insurance companies, and the best way to find the right carrier for you is through working with an independent insurance agent.
While many insurance companies could create a crop insurance policy for you, finding coverage could also depend on the area you live in. Here's a look at a few of the best.
Biggest Crop Insurance Companies by Premiums
(in million US dollars)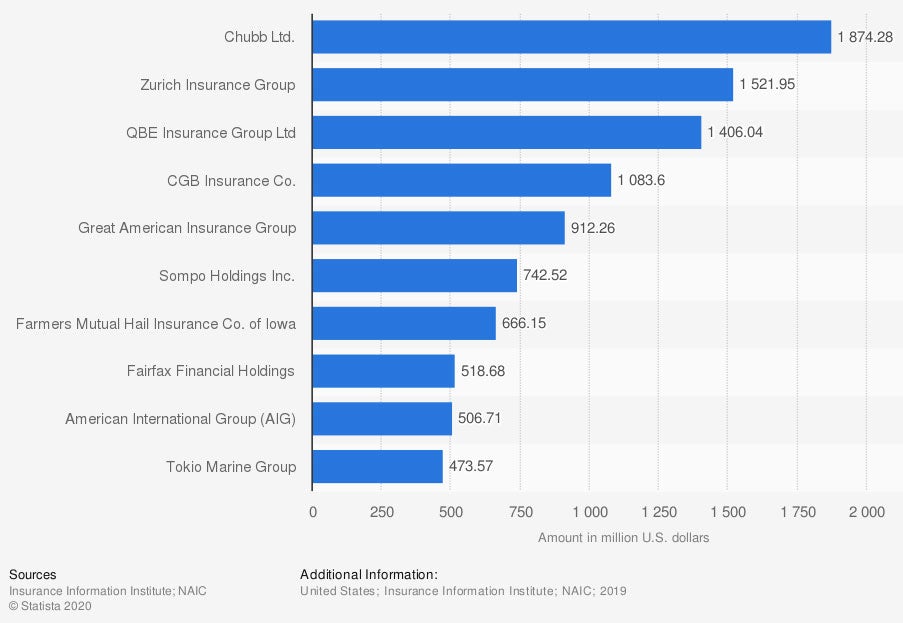 The largest multiple peril crop insurance company as of 2019 is Chubb Ltd., with $1.8 billion in direct premiums written. Coming in second place was Zurich Insurance Group, with $1.5 billion in direct premiums written. QBE Insurance Group was next in line with $1.4 billion in direct premiums written.
Best overall crop insurance company: Chubb
Chubb is one of the leading commercial lines insurers in the US and our top pick for crop insurance. It was founded in 1882 and is ranked "A++" (superior) by A.M. Best and "A+" (excellent) by the Better Business Bureau. We awarded the carrier 5 out of 5 stars overall. The carrier offers a large catalogue of coverage options as well as 24/7 claims reporting and has solid financial strength.
Which Crops Does Crop Insurance Cover?
You can buy crop insurance for just about any crop. However, some are more commonly insured than others.
| | |
| --- | --- |
| Crops frequently insured: | Crops less frequently insured: |
| Corn | Walnuts |
| Wheat | Pumpkins |
| Soybeans | Citrus |
| Cotton | Blueberries |
| | Dry Peas |
For the crops that are less frequently insured, coverage may still be available in key growing areas. An independent insurance agent is your greatest ally when it comes to finding the right type of crop insurance for your farm.
Why Do I Need Crop Insurance?
Crop insurance is needed mainly to protect both your crops and your farm's revenue. Without coverage, just one disaster could lead to the loss of your entire crop, which could set you back both time-wise and financially.
The main benefits of crop insurance are:
Helping farmers through extreme weather and heavy losses
Helping farmers avoid bankruptcy
Helping farmers to market their crops
Helping farmers achieve a sense of financial security throughout the growing season
Helping farmers repay loans used to help grow their business
An independent insurance agent can further explain these benefits as well as several more when it comes to having crop insurance.
How Do I Know Which Kind of Crop Insurance I Need?
Working with an independent insurance agent is the best way to determine which type of crop insurance would work best for you. They might recommend a more comprehensive policy like multi-peril crop insurance, or a more specific, limited policy like crop-hail insurance or specialized peril crop insurance. After discussing your unique farm's setup and operations, they'll get you set up with the right protection.
What Is Multi-Peril Crop Insurance?
The Federal Crop Insurance Program sells multiple peril crop insurance (MCPI). This coverage protects against numerous threats to crops, including:
Drought
Fire damage
Flood damage
Insect damage
Disease outbreaks
Hail damage
High wind damage
Frost damage
Multi-peril crop coverage needs to be purchased before crops are planted in order to be effective, and must be renewed each subsequent growing season after activation. This coverage is by far the most common policy selected by farmers across the country because of all the protections included. An independent insurance agent can help you decide if this is the right choice for you.
What Is Crop-Hail Insurance?

Crop-hail insurance exists mainly to protect crops from natural disasters. Hail coverage is always included, but many policies also provide coverage for fire damage. Crop-hail policies can be expanded to include coverage for the following perils:
Lightning
Wind
Vandalism
Malicious mischief
Theft
Frost
Crop-hail policies are commonly sold by the acre, so farm owners can purchase coverage only for the high-risk areas of their property. Coverage cannot be transferred to another area of the farm at a later date, though, but additional protection can be purchased anytime during the growing season. An independent insurance agent can help ensure that your farm gets set up with the right protections under crop-hail insurance and beyond.
What Is Specialized Peril Crop Insurance?
Many crop insurance companies also offer coverage for specifically defined perils excluded from an MPCI or crop-hail policy. These include the following specialized policies:
Grain fire policy: Covers most crops against natural, manmade or lightning fire loss.
Rainfall policy: Covers loss of crops, such as tomatoes and raisins, due to rainfall issues.
Citrus freeze policy: Protects citrus growers against loss due to early freezes.
Citrus business interruption policy: Covers citrus packers if their business is interrupted as a result of a freeze.
Hay fire policy: Covers fire damage while hay is in stacks.
An independent insurance agent can recommend one of these specialized crop insurance policies, or others not on this list, if they feel that coverage is the right choice for your farm.
What Is Revenue Crop Insurance?
Revenue crop insurance protects farmers who sell their crops before harvest. If the crop is lost due to storm damage, etc., the farmer is still responsible for fulfilling the contract. On the flipside, if the price of the crop has risen, basic farm insurance or crop insurance won't cover the difference in profits. Revenue crop insurance protects the crop for the greater of the contract price or the harvest price.
How Does Crop Insurance Work?
The process of crop insurance is simple. Once you pay your first premium, you now have a policy in place. If a covered peril occurs, such as an extreme storm or fire, you file a claim through your independent insurance agent. The insurance company then reimburses for the loss to help make you whole, and your farm is able to continue on for another year.
Crop Insurance Costs by State
Total value of crop insurance premiums in the United States, by state
(in thousand U.S. dollars)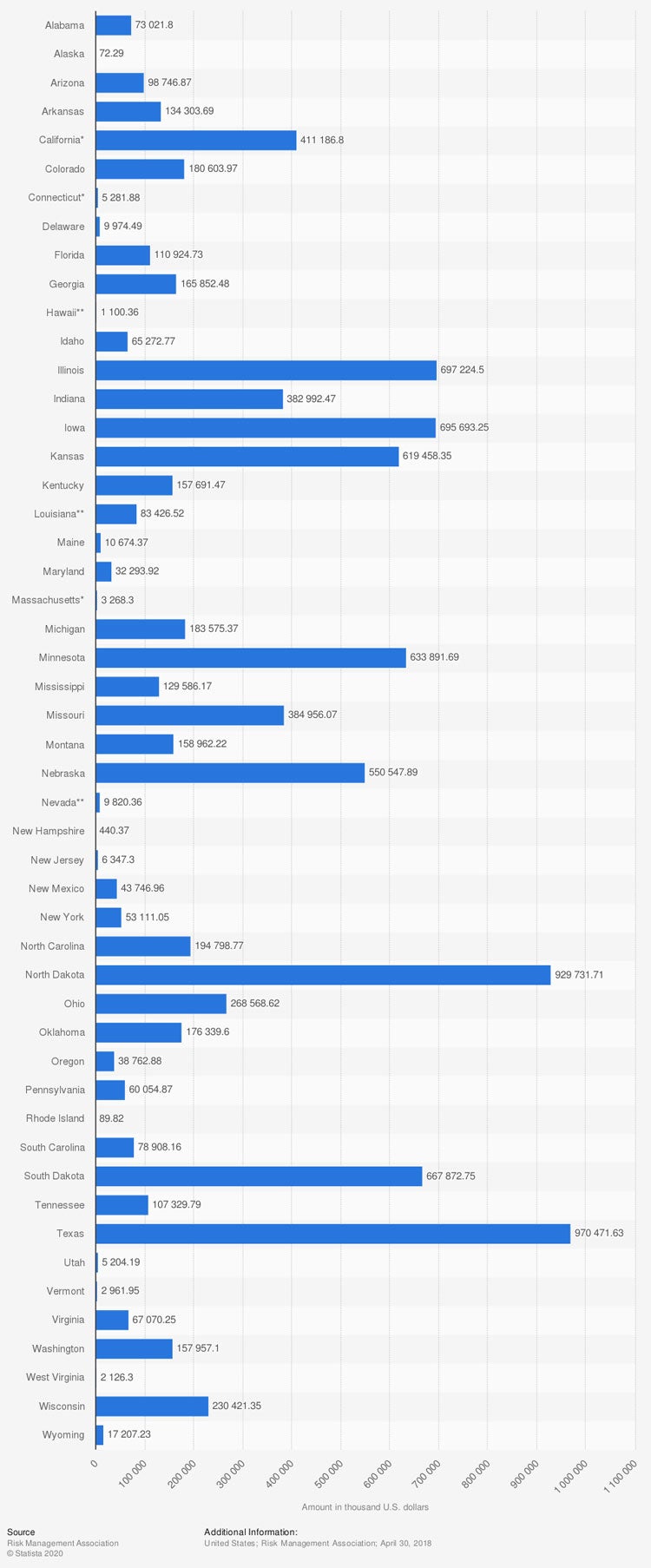 The most recent data for crop insurance costs in the US shows that Texas farmers as a whole pay by far the most for coverage, at $970.47 million in just one year. Next highest was North Dakota, at $929.7 million overall for the state. Illinois was the third-highest, with $697.2 million in written premiums for just one year.
The cost of your unique crop insurance policy will depend on a few factors, like the total size and revenue of your farm. Your independent insurance agent can help find discounts and quotes for your specific town.
Do I Need Farm Insurance?
Crop insurance will cover losses of crops and crop price fluctuations, but it doesn't cover the rest of your farm. You also need to protect your home and its contents, other buildings on your land, equipment, irrigation systems, combines, livestock, and many other things you use to carry out your farming operations.
That's why it is a good idea to use crop insurance as an addition to a general farm policy. In addition to property damage insurance, your farm policy should also contain general liability coverage, which protects you if someone other than an employee suffers personal injury, sickness or death on your farm or as a result of your farm operations.
Liability insurance also covers if you, one of your employees, or an animal you own damages someone else's property. Other protections typically provided by a general liability policy are medical expenses for someone injured on your property and product liability. An independent insurance agent can help you find this crucial coverage.
What about Business Insurance?
Some of your business operations concerns will be addressed by your crop insurance policy, but here are a few key business owner coverages you still need to think about.
Business interruption or loss of income: Covers a loss of income if a listed work stoppage occurs. Coverage provides revenue and operating expenses for up to 12 months or until the situation is resolved.
Workers' compensation: Protects you if someone you employ gets injured, becomes ill, or dies due to working at your farm. Insurance pays for medical expenses and compensates the injured employee for lost wages if they are not able to return to work. Laws requiring this coverage vary from state to state.
Commercial vehicle coverage and cargo: Vehicles used for business purposes need to be insured with a commercial vehicle insurance policy. Cargo can also be covered with additional endorsements. Coverage also contains liability protection in case a covered driver causes damage to the property of others or injures someone.
Your independent insurance agent will help you determine if these coverages or others included in business insurance make sense for your farm.
Frequently Asked Questions about Crop Insurance
Crop insurance helps protect investments by guaranteeing revenue and/or yield. Crop insurance does this by protecting against financial losses due to both disasters and changes in crop values.
A multi-peril crop insurance policy covers farms against drought.
Multi-peril crop insurance covers damage from natural disasters, including fire, flood, hail, high winds, and frost. If one of these covered perils damages your crops, your policy will reimburse you up to its limit.
The Federal Crop Insurance Corporation is a federal program that administers crop insurance. The program includes 14 private insurance companies whose coverage protects 380 million acres of farmland, and they issues over 1.1 million policies in 2020.
Yield protection refers to the amount of grain, or other crops, your farm produces. Coverage levels are selected by reviewing your farm's production history for a crop, and multiplying this amount by the projected price.
Revenue protection guards farmers who sell their crops before harvest. If the crop is lost due to storm damage, etc., the farmer is still responsible for fulfilling the contract. Revenue crop protection covers the crop for the greater of the contract price or the harvest price.
TrustedChoice.com Article | Reviewed by Jeffrey Green
©2021, Consumer Agent Portal, LLC. All rights reserved.
https://cropinsuranceinamerica.org/about-crop-insurance/facts-figures/#:~:text=There%20are%2014%20private%2Dsector,the%20Federal%20Crop%20Insurance%20Program.&text=These%20companies%20issued%20more%20than%201.1%20million%20policies%20in%202020.
Statista
https://www.iii.org/article/background-on-crop-insurance
https://emergence.fbn.com/profitability/choosing-between-yield-protection-or-revenue-protection-with-crop-insurance