Agribusiness Insurance
(Who, what, why, where, and when you need it)

Owning and running a farm is no easy task, but that doesn't mean insuring it has to be hard. But where do you even start? Or how do you know if you have the right kind of protection in place? An independent insurance agent can help.
An independent insurance agent will get to know all about you, your farm, and your goals to help decide on the right kind of coverages for you. And when it's time to secure a policy, they'll shop among the best Agribusiness insurance carriers out there to find the perfect blend of protection and price for you, your farm, and your business. But first, it helps to understand what you're looking for.
What Qualifies as an Agribusiness?
According to tax rules, agribusiness means the keeping or boarding of five (5) or more horses or the production within this state of agricultural products, including but not limited to field or orchard crops, livestock, dairy, poultry or products thereof, where the keeping, boarding or production provides at least ($2,500.00) in annual gross sales to the operator for exemptions issued prior to July 1, 2002.
Simply put, an agribusiness is any farm that makes a profit from the goods it produces, no matter if it's dairy, beef, or hemp. Agribusinesses operate on different scales and have been the backbone of America since day one, which means their value is priceless and should be protected.
Number of farms in the US 2005 to 2018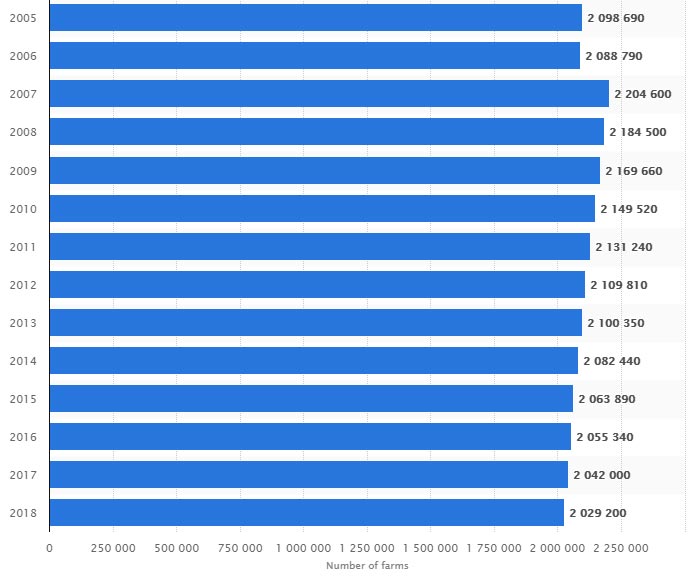 A farm is not only a business, but it's also a home in many cases, which means it requires special protection that combines home and business insurance into one policy with the add-ons like equipment coverage and crop coverage.
What Does Agribusiness Insurance Cover and Not Cover?
Your agribusiness insurance policy is going to start with a broad range of coverages that include common necessities for farm owners. From your pole barns to your crops and livestock to your equipment and tractors, your farm policy has got you covered. There are also additional coverages that can join your policy to cater more specifically to your needs.
Common Included Farm Coverages:
Farmhouse: This covers your home on the property like any homeowners insurance policy would. But with farm insurance, it's grouped into the one policy.
Livestock: This covers the replacement of your livestock due to injury or death, such as if your cattle got attacked by a coyote or caught in a barbed wire fence.
Crops: This covers your crops against bad weather that may destroy your produce. Some policies may even have coverage for pests.
Equipment and machinery: This covers much of your tractors, combines, threshers and so on. Additional coverage may be needed, so make sure you talk to your independent insurance agent about your specific needs.
Barns and other structures: This covers your barns, equipment buildings, pole barns and more.
Extra Farm Coverages Worth Considering:
Fire: It seems like it would be covered automatically, but whether this coverage is included has a lot to do with your carrier, your access to a fire department, and how easily your fire can be put out. If your fire department is only a mile down the road, there should be no problem. But if your pole barn is on fire and is 25 acres down the property with no road or ease of access to put out that fire, that can be a problem. Your independent insurance agent should take a walk on the land prior to writing the policy to make sure you've got your bases covered.
Fencing: Since fencing ranges in price and quality, it's normally an endorsement that gets added onto the policy so you can be sure you have enough and the right amount of coverage for your fenced-in farm.
Windmill coverage: This covers the value of any windmills on your property destroyed or damaged after a covered event.
Silo coverage: This covers your grain and corn storage from damage after a covered event.
Bee coverage: This is not protection from bee stings, it's protection FOR your bees. If you operate a honey-producing, beekeeping farm, protecting the queens and their workers is a must.
And on the business side:
Loss of business income coverage: This protects you if there's some sort of business interruption, replacing lost income and providing operating expenses to keep your farm running.
Workers' compensation coverage: This protects your workers and employees from sickness, injury, or worse as the result of a job-related accident. WARNING: Every state has different guidelines and requirements, so talk to your agent about the requirements in your state.
Commercial vehicle coverage: This protects the big rigs, transport trucks, and trailers that you have to run your business.
Commercial umbrella coverage: This extends the coverage limits of liability claims beyond your standard farm policy's limits. If you have a lot of visitors on your farm or your products end up in a large number of houses and restaurants, it's a good idea to increase your liability coverage with an umbrella policy.
Save On Farm Insurance
Our independent agents shop around to find you the best coverage.
Most Common Farm Insurance Claims
There are many claims that are common on the American farm, and making sure all your exposures are covered is essential. Most farms have heavy machinery and farm equipment and as such have more chance of claims with them.
Heavy machinery claims
Heavy machinery such as tractors, threshers, and the like need some serious property coverage if you ever have to file a claim to replace them. For example, if you were driving your 150 horsepower tractor worth $120,000 and you left it out with the keys in the ignition only to find your very large and very expensive tractor stolen the next day, then you'd want to have a replacement cost property policy. Time is money, and with the proper insurance, you can have that heavy machinery claim filed and paid so you can get back to your farming.
Crop claims
Other frequent claims for farmers are the crops themselves. The fruit of your labor, your labor of love, your livelihood that you need to produce and sell to make a profit. Crops are essential assets that need to have the proper insurance so claims are paid out accordingly. For example, you have a beautiful wheat crop ready to be harvested, and the day before your reaping you have a hail storm that takes out half of the crop, which could be devastating. You'll want a Crop-Hail insurance policy to get you through and pay for your loss.
State claims
Depending on which state you live could mean more farms make insurance claims throughout the season due to things like weather and temperature. The great Midwest is common farming land in the United States, and as such comes with some pretty harsh temperature and weather realities. For example, a state like Iowa that has almost 90% of its land as farmland is likely to have more crop claims because it has more land and therefore more claims. Iowa also has some pretty harsh winters and weather leaving its crops and farmland more exposed which creates more claims.
All in all, farm claims are a reality, but they don't have to be devastating to your way of life. If you have a knowledgable independent insurance agent, you're in the best hands for making sure your farm is covered so that when a claim does arise you'll be prepared.
Is Farm Insurance a Requirement?
Typically not, but depending on what you're producing and selling, you may have different insurance requirements. The distributors and even consumers may require proof of insurance before working with you or purchasing your crop or livestock. This is to protect their interests as well as yours.
If you have any farmhands, aka farm employees, your state will most likely require some form of workers' compensation coverage, so keep that in mind.
How Much Will Agribusiness Insurance Cost?
Agribusiness insurance rates can be costly, but it all depends on your farm's specifics. Having a good idea of the following before your conversation with an independent insurance agent will help get you a fairly accurate estimate.
Items that impact your agribusiness insurance premiums: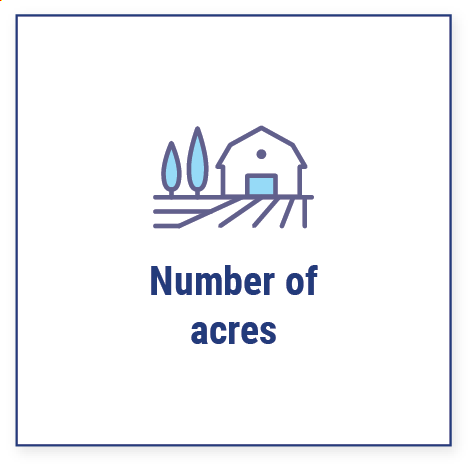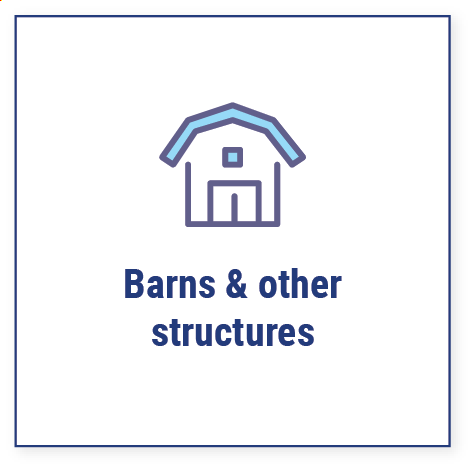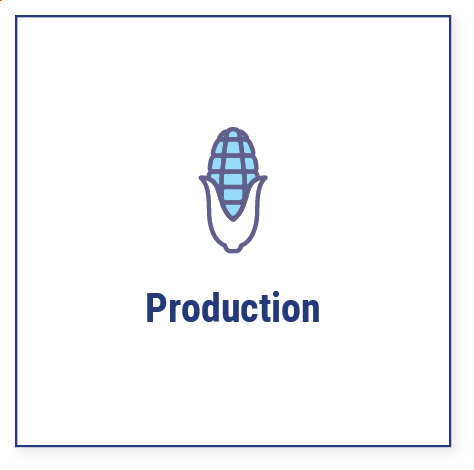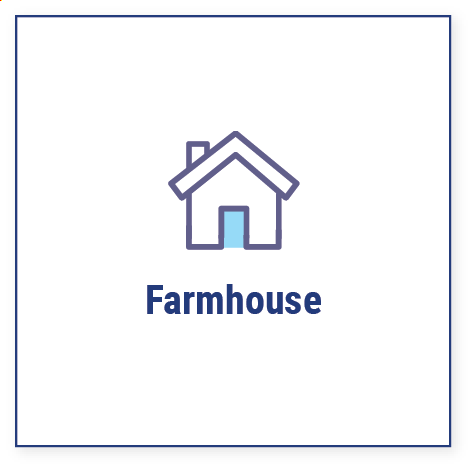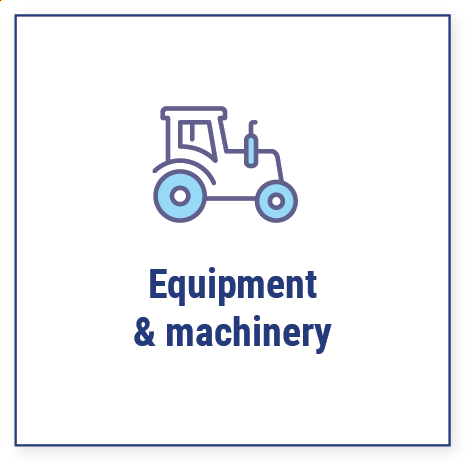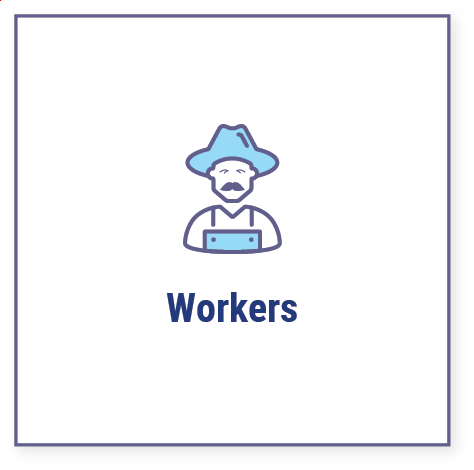 Number of acres: How much land you have will cause pricing to go up or down. The more you have to insure, the more premium you will pay.
Barns & other structures: The number, size, and quality of barns and other structures will factor into your cost.
Production: What you grow, harvest, produce, and sell will also depend on premiums. For example, it costs more to insure a tobacco farm than it would a wheat farm. The type of item and the more inherent risk before, during, and after production of that product will affect pricing.
Farmhouse: Size, quality, and features of your home on your agribusiness will also impact your pricing.
Equipment & machinery: Both motorized and unmotorized property like tractors, threshers, and other equipment will need insuring. The replacement cost on some of those pieces could be high which will impact rates.
Workers: The farmhands and workers of any kind that you hire to run your farm will impact rates because you'll have more liability with employees, and you'll also need to add a workers' compensation policy.
Farm Insurance Can Actually Save Your Business Money Each Year
According to a recent study, the number of claims and payout of those losses could save you a lot of money. What is nice about farm insurance is that although it will cost you a premium up front, it will save you more than you put in when you actually have to use it.
The loss ratio from 2001 to 2017 on US crops is listed in the table below.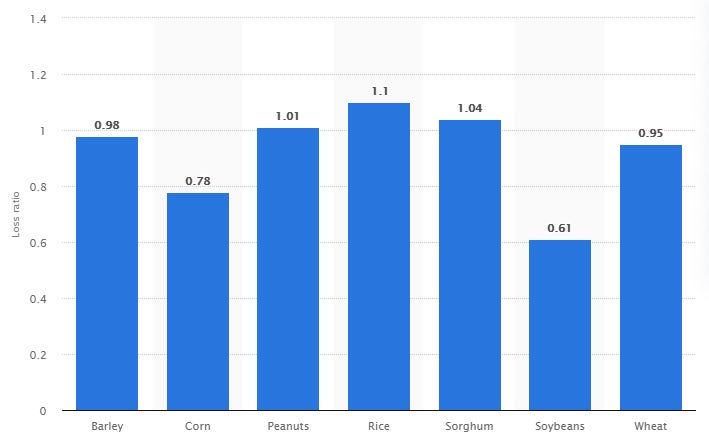 Which Carrier Has the Best Agribusiness Insurance?
It's only natural to want the best, and why shouldn't you have it for your farm? Finding the best agribusiness insurance carrier can be a daunting task if you do it alone because what's best for you may not be best for every commercial farmer across America. Having a knowledgable independent insurance agent in your corner is your best option. They work with insurance companies of all kinds each and every day and know all about the most reputable carriers with the best farm insurance products.
Save On Farm Insurance
Our independent agents shop around to find you the best coverage.
The Benefits of an Independent Insurance Agent
Independent insurance agents have access to multiple insurance companies, ultimately finding you the best coverage, accessibility, and competitive pricing while working entirely for you. And as your farm grows and your needs change, they'll be there to help you adjust your coverage, up or down, to make sure you're properly protected without overpaying. Find an independent insurance agent in your local community here.
TrustedChoice.com Article | Reviewed by Candace Jenkins
©2023, Consumer Agent Portal, LLC. All rights reserved.
https://www.statista.com/statistics/196103/number-of-farms-in-the-us-since-2000/
https://www.statista.com/statistics/649465/total-losses-paid-by-crop-insurers-usa-by-state/
https://www.lawinsider.com/dictionary/commercial-farming
https://www.statista.com/statistics/194940/quantity-of-milk-used-on-farms-where-produced-in-the-us-since-1999/
https://www.statista.com/study/12270/us-agriculture-statista-dossier/