Farm Equipment Insurance
(Everything from the how, to the why, to the how much it's going to cost you when it comes to your farm equipment)

No doubt your farm has its own equipment and machinery that you use to complete your daily operations. And making sure you have the proper insurance to help protect all your tractors, tools, and the like is the key to keeping any successful farm running smoothly. An independent insurance agent can help you find the perfect blend of farm equipment coverage at a cost that fits your budget.
Your independent insurance agent is a knowledgeable resource when it comes to insuring all aspects of your agribusiness and can help navigate you through the entire process. And knowing how your coverage works and where to get it is essential to running a successful farming business.
How to Insure Your Farm's Equipment and Machinery
Insuring your farm is one thing, but your equipment and heavy machinery is a whole different story. Your equipment and machinery insurance policies are typically separate from your overall farm coverage but sometimes can be included, depending on your carrier.
The best place to start is at the beginning. You'll need to have your independent insurance agent look at pricing and coverages for your equipment's specifications. So whether you have a million-dollar tractor or a groundskeeping ditch witch, your coverage needs to apply adequately.
Your independent insurance agent will need to know the following to get started:
Your equipment and machinery's specifics: What are the serial numbers for each piece of equipment, what are they registered as, and what will you be doing with them?
What is your equipment and machinery worth: This isn't the sentimental value, but what the market can bear. This means what the market will pay for your piece of equipment or machine and how much it costs to replace it if the worst should happen.
What preemptive protection do you have in place: Are there proper protocols for any operators of heavy machinery or equipment used, and do you have regular safety meetings around proper care of these tools and machinery?
When to Insure Your Farm Equipment and Machinery
Time is of the essence. If you have equipment already that isn't insured, then you'll want to get coverage in place as fast as you can. If you're looking to add some new pieces of equipment or heavy machinery to help your farm be the best that it can be, then coverage will depend on who still technically owns them. Remember, you can't insure something you don't own. But if the equipment or machine is in transit, then that's another chat altogether. Discussing with the seller whose insurance policy would pick up coverage while the property is in transit and before they are actually passed off to your farm is a key conversation to have.
Cost of Insuring Farm Equipment and Machinery
Take a moment and gather some cold, hard facts on equipment and heavy machinery numbers in the United States. The numbers that US farmers spend on equipment is no joke and it's worth the look. The proof is in the pudding, as you can see in the graph below.
Expenditures on tractors and self-propelled farm machinery by US farms from 2012 to 2016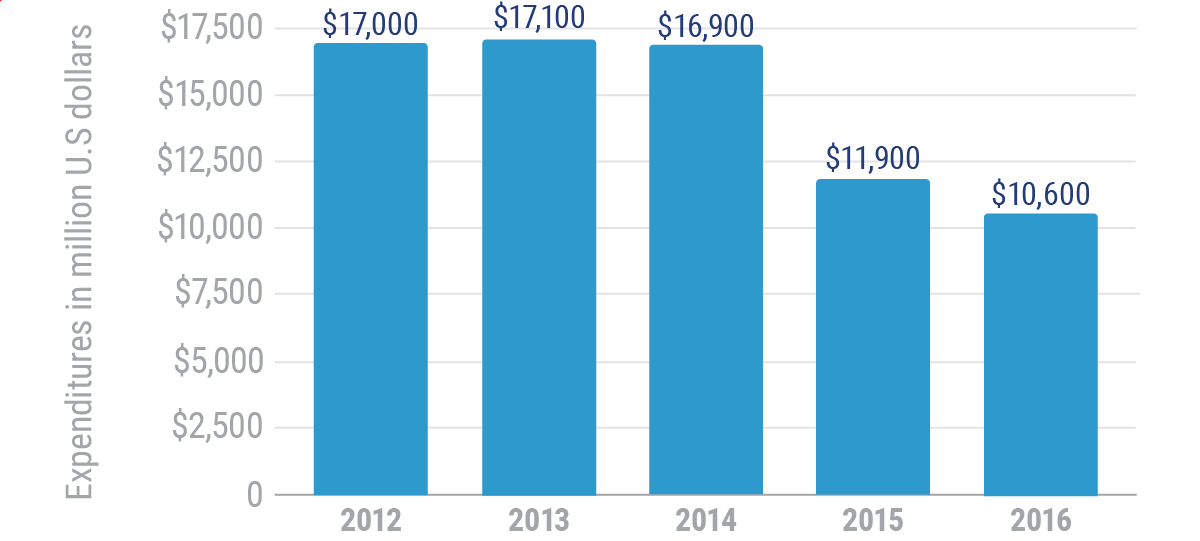 Now, since you know how much one study calculated the cost for one short period of time, you can imagine why insurance is such an important thing to have for your own equipment. The cost of insuring them, however, is dependent on the specifics of your property, what they're worth, and how much coverage you need. Every farmer has different needs, and as such, the pricing is different. Speaking with your independent insurance agent will get you exacts on coverage and pricing.
Save On Farm Insurance
Our independent agents shop around to find you the best coverage.
What Does Equipment Insurance Cover and What Doesn't It Cover?
When it comes to insuring your farm equipment, it's important to know what goes into it. Now you need to know what the policy will actually cover and what it won't.
What your farm equipment insurance generally covers:
Accidents: This can be anything from coverage for fire, smoke, loading, and unloading of equipment.
Natural disasters: Volcanic eruption and sinkholes are covered. Floods and earthquakes are typically covered under a separate policy.
Weather events: Lightning, wind, hail, tornados and more are covered.
Crimes and civil unrest: This coverage is for theft and vandalism of your farm equipment and machinery.
Collision or death while transporting: This is in-transit coverage for your farm equipment.
Replacement of your farm equipment and machinery: This provides coverage for your equipment, so if any of the above claims occur, you will get either full replacement cost, the market value of the item, or the depreciated value of the item. This is all dependent on your policy specifics, so discuss with your agent.
What your farm equipment insurance doesn't cover:
Natural wear and tear of your farm equipment and machinery
Equipment not working due to wear and tear or general use
Farm Equipment and Heavy Machinery Liability Insurance
If you're found to be legally responsible for causing bodily injury or property damage to other people or their property as a result of your equipment, you'll have coverage under the liability portion of your policy. Between that and all the other coverages your farm policy provides, it looks like you'd be in pretty good shape.
Your independent insurance agent can discuss all facets of your farm and equipment policies, making sure you've got the proper coverage in every area.
Why Online Quotes Aren't Always the Best Way to Shop
Getting your insurance quotes online can be tempting. Sure, it's fast and easy, but are the quotes you are getting actually accurate? And are you getting quotes for all the different types of coverage your business needs?
Online quotes cannot give you the whole picture. They often omit important coverage, which may result in you being unable to get compensation if something disastrous happens. And they can leave out cost-saving opportunities such as discounts and bundling opportunities that an independent agent can help you take advantage of.
Instead of getting an online quote, find an independent insurance agent near you, and schedule a one-on-one consultation to discuss your options for the best coverage for your farm equipment.
The Benefits of an Independent Insurance Agent
Independent insurance agents have access to multiple insurance companies, ultimately finding you the best coverage, accessibility, and competitive pricing while working for you. And as your farm grows and your needs change, they'll be there to help you adjust your coverage, up or down, to make sure you're properly protected without overpaying. Find an independent insurance agent in your community here.
TrustedChoice.com Article | Reviewed by Candace Jenkins
©2023, Consumer Agent Portal, LLC. All rights reserved.
https://www.statista.com/statistics/870048/us-farm-expenditures-on-tractors-and-self-propelled-machinery/