Windmill Insurance
(Time to clear the air and understand how to keep your farm property protected)

Your farm has acreage for the taking and you may be thinking of offering up some of that land to a windmill. A windmill on your farm could be profitable, but there are risk factors you need to take into account, and insuring that risk is the key to a successful business. An independent insurance agent can help.
Your independent insurance agent is a knowledgeable resource when it comes to insuring all aspects of your farm's land as well as what you need for coverage when a windmill is involved. Knowing how your coverage works is perhaps the most important first step, so let's start with a little background to get you rolling.
How to Insure a Windmill on Your Property
Insuring your farm is one thing, but a windmill on your property is whole different story. The company that supplied the windmill shoulders a lot of the responsibility, but you still have your share to be concerned about.
First, you'll need to have your independent insurance agent look at pricing and coverages that would apply to your end of the deal. So whether your just getting one windmill or a whole windmill farm, coverage needs to apply adequately.
Your independent insurance agent will need to know the following to get started:
The windmill company's insurance policies: What liability is the other party picking up and responsible for?
How many windmills: How many windmills will be on your land and how much land will they occupy?
What preemptive protection do you have in place: What safety protocols and procedures will you have in place to ensure safety?
When to Insure Your Property for a Windmill
Immediately. Your property should already be insured on your farm, but when you're allowing a third party to occupy, assemble, and generate a windmill on your land, the stakes change. You'll need to talk with your independent insurance agent in the early part of the process to make sure coverage is adequate and that you are adding other coverages. With the proper proactive action, you'll make sure your business is set up correctly.
Cost of Insuring Your Share of the Windmill Liability
Take a moment and gather some cold, hard facts on what one of these windmills cost. The numbers have gone down in the current market, but they're still a high-priced item.
Price index for wind turbines in the US from 2008 to 2019 (in million US dollars per megawatt)*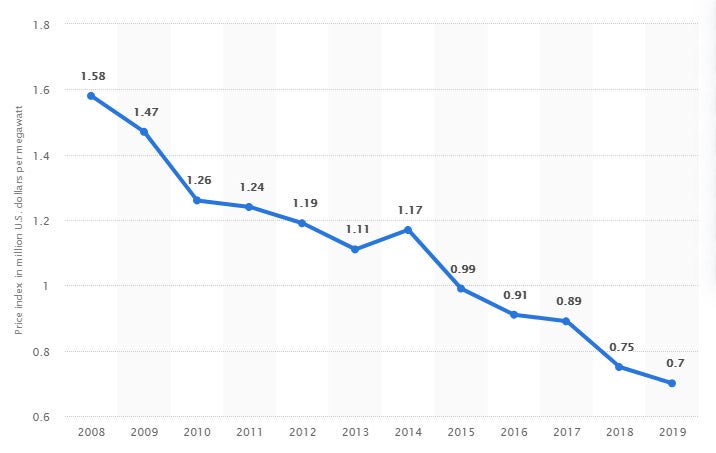 Now you know the prices to replace one of these giant energy sources, you can imagine why insurance is such an important thing to have in case the worst were to happen on your land. The windmill owner picks up the bill on replacing and insuring the actual item, but you'll need insurance of your own for your part of the contract. Speaking with your independent insurance agent will get you the details on coverage and pricing for your liability exposure.
Save On Farm Insurance
Our independent agents shop around to find you the best coverage.
What Does Windmill Insurance Cover and What Doesn't It Cover?
When it comes to insuring a windmill aka wind turbine, it's important to know who's responsible for what. Outlined below is how insurance for the owner of the windmill generally work and for the landowner.
Who picks up the policies below:
Investors, developers, owners and operators of commercial and utility-scale onshore and offshore wind power
Installation, maintenance, and service contractors
Manufacturers and distributors
What your windmill insurance generally covers:
There are a broad range of insurance products to meet the needs of renewable energy customers at all stages of the wind cycle — from research and development to permanent operations. The core insurance products include:
Inland marine policy: This provides property coverage in the form of the following coverages:

Builder's risk: When the windmill is being built and installed, this coverage is all about the build-out phase.
Permanent property and operations: This coverage will insure any permanent property that your windmill business owns as well as its daily operations.
Equipment breakdown: This will provide a degree of coverage if your equipment breaks down. It's key to have and can save your company some money.

General liability: Every business owner, whether you own the windmill company itself or the farm that the windmill is going on, needs liability insurance. This protects against bodily injury and property damage claims.
Where your farmland insurance responsibility comes into play:
As the farm owner, you may be thinking your responsibility is null because it appears the windmill companies are the ones picking up the liability, but think again. As the landowner, you still have to protect yourself from what could go wrong on your land. Below is what you need to be aware of.
Tort liability: Typically, as a landowner, you're required to enter into written contractual agreements before a windmill is constructed on the land. Tort liability may be assessed in cases where harm results as a result of a party's negligence with respect to the construction or maintenance of wind aerogenerators.
Below are some potential tort liability concerns associated with wind energy development. As the landowner you should give thought to addressing each of these issues in the body of a wind energy agreement.
Damages to adjacent property as a result of the windmill changing the flow of surface water
Aesthetic damage
Damages or injury caused by ice throws
Stray voltage from the windmill
Interference with electromagnetic fields
Fire caused by malfunction from a lightning strike
What windmill insurance won't cover:
Why Online Quotes Aren't Always the Best Way to Shop
Getting your insurance quotes online can be tempting. Sure, it's fast and easy, but are the quotes you are getting actually accurate? And are you getting quotes for all the different types of coverage your business needs?
Online quotes cannot give you the whole picture. They often omit important coverage, which may result in you being unable to get compensation if something disastrous happens. And they can leave out cost-saving opportunities such as discounts and bundling opportunities that an independent agent can help you take advantage of.
Instead of getting an online quote, find an independent insurance agent near you, and schedule a one-on-one consultation to discuss your options for the best coverage for your farmland and windmill liability.
The Benefits of an Independent Insurance Agent
Independent insurance agents have access to multiple insurance companies, ultimately finding you the best coverage, accessibility, and competitive pricing while working for you. And as your farm grows and your needs change, they'll be there to help you adjust your coverage, up or down, to make sure you're properly protected without overpaying. Find a local independent insurance agent in your community here.
TrustedChoice.com Article | Reviewed by Candace Jenkins
©2023, Consumer Agent Portal, LLC. All rights reserved.
https://www.statista.com/statistics/499491/us-wind-turbine-price-index/