Best Agribusiness Insurance Companies
(Because with all that you do, you deserve it)

Owning a farm or ranch is a labor of love. And this love comes with enough work as it is without having to worry about what insurance company to go with. Knowing all the different carrier offerings is a second job, and one you likely don't have the time for. Thankfully, there are independent insurance agents to help with that.
Independent insurance agents work with some of the best carriers out there on a daily basis and know exactly who to avoid and who to go with. They'll help you shop from among the best to find you the best agribusiness coverage options for you, your farm/ranch, and your business. But first, here's a bit more background to help you understand what you'll be looking for.
Volume of Insured Farmland
The sheer volume of insured farmland should be enough to tell you that farm and ranch insurance is important to have. When it comes to insuring your livelihood, there's no better way to get the job done than with a trusted advisor who knows the lay of the land, your land to be specific. Look at some data on just how many acres of farmland are insured in the United States.
Volume of insured acres of farmland in the United States from 2016 to 2018 by crop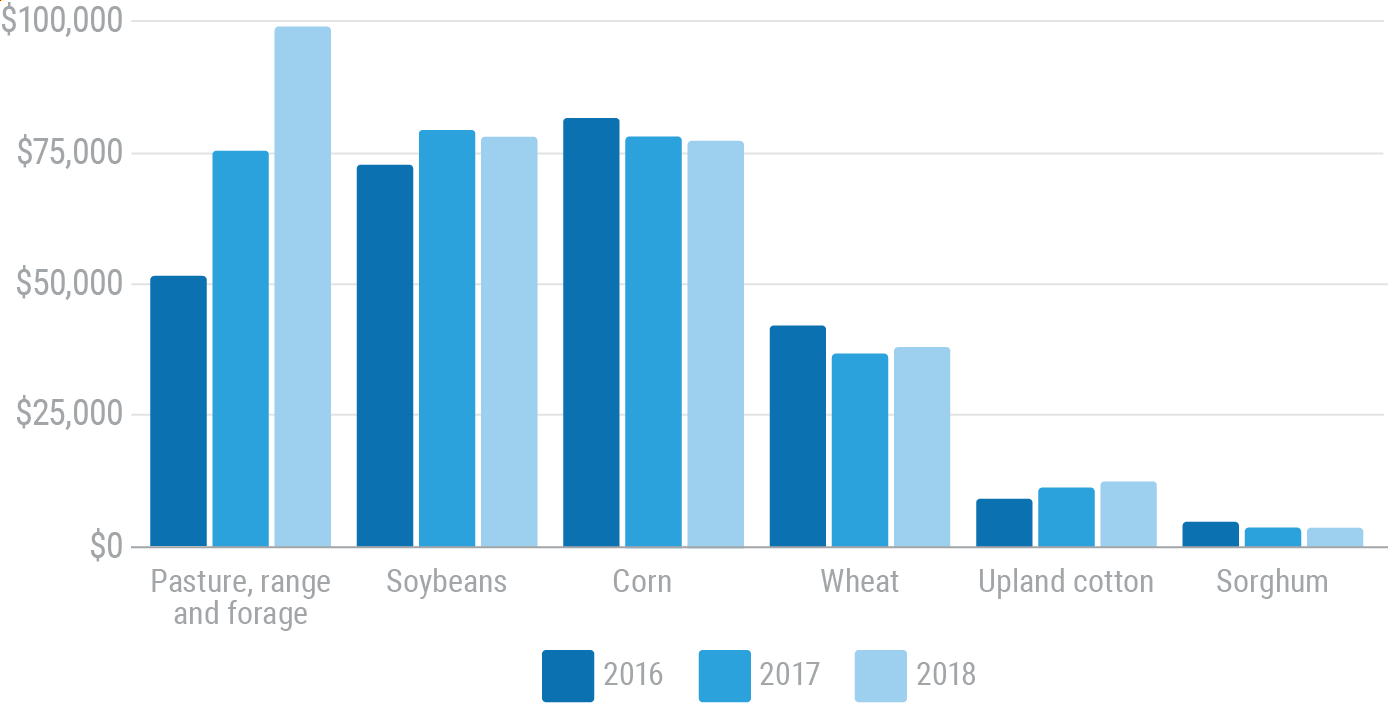 Best Agribusiness Insurance Companies
Some of the best and most popular insurance carriers for your farm or ranch work directly with an independent insurance agent. Since an independent insurance agent has the ability to work with multiple insurance carriers at a time, they also have the most resources, saving you the most time. According to a recent study, some of the heavy hitters in the crop insurance industry are listed below by premiums collected.
Largest multiple peril crop insurance companies in the United States in 2018, by direct premiums written (in million US dollars)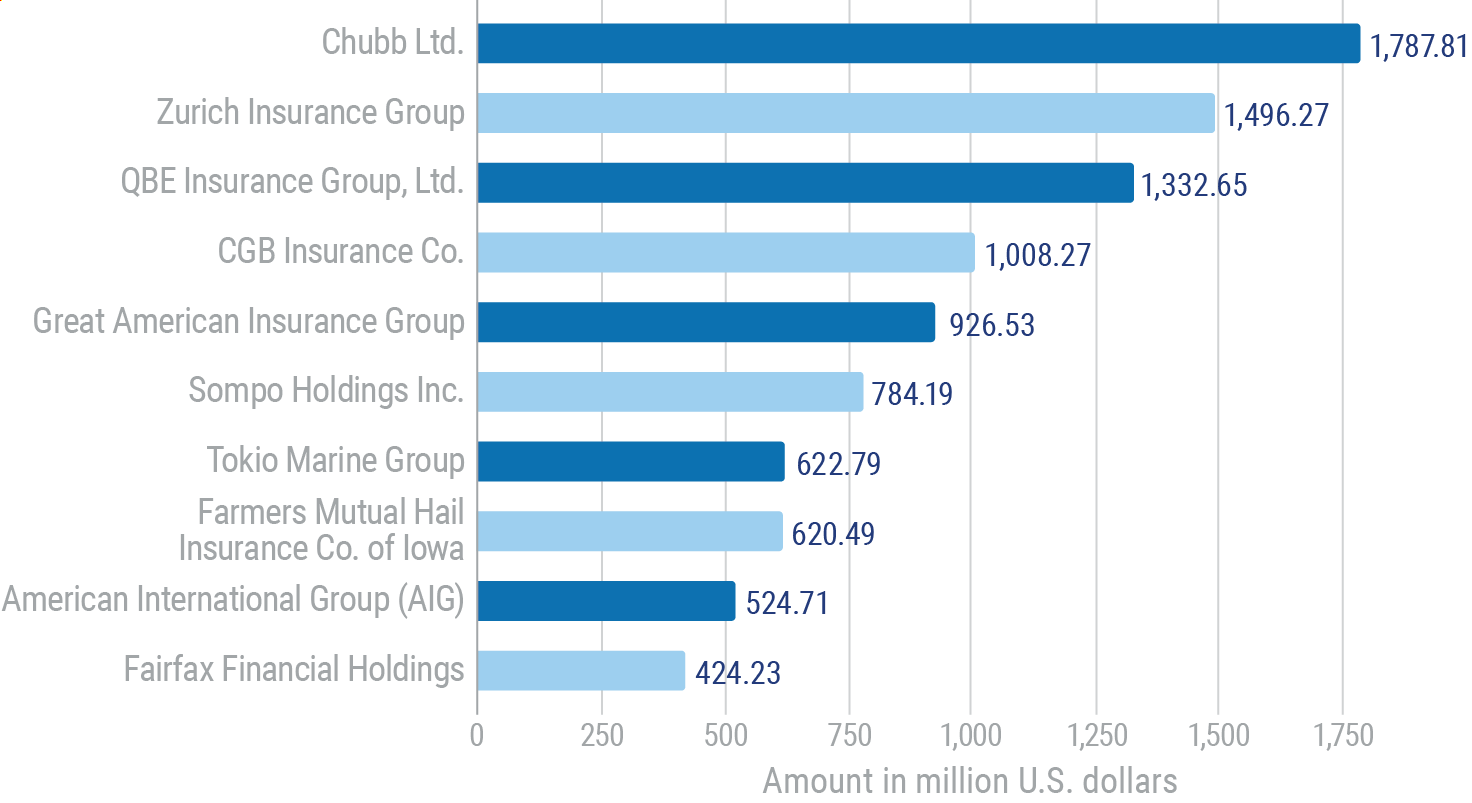 When it comes to your farm insurance, going where the crowd is might be just the ticket. After all, you don't go the restaurant where no one goes, the food's no good. You want a place that has the guests lining up. The carriers that have the most clout coverage-wise and premium-wise are usually the most popular. Because they're the most popular, they cash in the most premiums, and because they have the most premiums, they have more reserves. That helps make them a safer choice.
How to Know an Agribusiness Insurance Carrier Is a Good Choice
Some of the United States' leading insurance companies are in your own backyard. But what makes for a good insurance carrier and how do you know which one is a viable option? Well, there are some items that you should know about when looking for your next farm insurance company.
What makes for a good insurance carrier:
Get yourself an independent insurance agent to help navigate all the insurance company options that are out there.
Look for carriers that have an AM Best rating. What an AM Best rating grades on is the insurance companies' financial strength, meaning how much money they have in reserve in order to pay out claims. You want one in the A's.
Ask your agent who is fast and speedy about claims and if they have adopted a mindset that helps the client vs. one that tries to avoid paying out claims.
Find out how quickly the insurance companies respond to requests to avoid coverage gaps and lag in protection.
Discuss different coverage options of each carrier and what some may be willing to cover and what others aren't.
And of course, premium. How much will this all cost to insure your farm? And how do other companies differ?
Going through your options with an agent will put your mind at ease so you can do what you do best — farming.
Save On Farm Insurance
Our independent agents shop around to find you the best coverage.
How Much Does Agribusiness Insurance Cost?
Coverage is important, but you have to be able to afford it. Each farm has different specifics and different characteristics, making it nearly impossible to give a one-size-fits-all approach. Since there are so many different risk factors that go into insuring your farm, knowing the cost offhand isn't likely. However, your independent insurance agent can go over all the facets of your operation to make sure you're getting the best rates and coverage.
Some premium saving, risk-minimizing things to do on your farm business:
Have a designated safety officer for the farm to keep staff and any visitors out of harm's way.
Hold regular safety meetings for all employees to ensure proper procedures are being adhered to.
Have clearly marked and sectioned-off restricted areas to avoid curiosity seekers.
Have rules posted, marked, and signed by every employee and any guests to avoid confusion and claims.
Make sure all children are accompanied by an adult and post rules about that.
Have all equipment and heavy machinery restricted, disengaged, and put out of harm's way.
The History of Farm Insurance
Insurance started in the United States as early as 1752 and was brought about by Benjamin Franklin. Farm insurance has since evolved over time now adding more maintenance coverages instead of solely catastrophic coverages. Insurance is still meant to be used only when you absolutely need to. But unlike the olden days when insurance was only used for a big event, it is now more commonly used to help manage your business.
As machinery and equipment have changed since then, so have the insurance policies that cover them. The insurance companies have adapted and made more changes offering more robust farm insurance policies to cover your farm operations as a whole. Insurance has come a long way and coverage has filled in those gaps quite nicely over time.
Why Online Quotes Aren't Always the Best Way to Shop
Getting your insurance quotes online can be tempting. Sure, it's fast and easy, but are the quotes you are getting actually accurate? And are you getting quotes for all the different types of coverage your business needs?
Online quotes cannot give you the whole picture. They often omit important coverage, which may result in you being unable to get compensation if something disastrous happens. And they can leave out cost-saving opportunities such as discounts and bundling opportunities that an independent agent can help you take advantage of.
Instead of getting an online quote, find an independent insurance agent near you, and schedule a one-on-one consultation to discuss your options for the best coverage for your farm or ranch.
The Benefits of an Independent Insurance Agent
Independent insurance agents have access to multiple insurance companies, ultimately finding you the best coverage, accessibility and competitive pricing while working for you. And as your farm grows and your needs change, they'll be there to help you adjust your coverage, up or down, to make sure you're properly protected without overpaying. Find a local TrustedChoice.com independent insurance agent in your community here.
TrustedChoice.com Article | Reviewed by Candace Jenkins
©2023, Consumer Agent Portal, LLC. All rights reserved.
https://www.statista.com/statistics/723015/volume-of-insured-acres-of-farmland-usa-by-crop/
https://www.statista.com/statistics/689397/largest-mpci-companies-usa-by-direct-premiums/
https://www.britannica.com/topic/insurance/Historical-development-of-insurance