Workers' Compensation
Finding the Best Workers' Compensation Insurance
(Staying covered has never been easier)

Accidents happen. Even if you have a team of world-class employees, mistakes can and will happen during the times when you least expect it.
That being said, before a mishap leaves you and your business in a financial mess, you should make sure all your employees are protected. Our independent insurance agents will walk you through your options to find the right plan that will help both sides recover from an accident, no matter how costly or severe.
What Is Workers' Compensation Insurance?
Basically, it's a contract between a business and an insurance company, where the insurer will pay for an employee's medical costs, lost wages, permanent disability or death benefits that result from a workplace injury or illness. In most cases, it also protects a business against lawsuits filed by employees.
Is Workers' Comp Mandatory?
Yes. There are some exceptions in a few states, but even if it isn't mandatory, a worker's comp policy is highly recommended. You wouldn't want one little whoopsie to crush your big business dreams, would you?
Why Do I Need Workers' Comp?
If an employee were to injury themselves, workers' comp can save your company from crumbling to the ground in a number of ways, but if you like living on the edge and fail to provide adequate coverage you could face a giant world of hurt.
The Most Common Workplace Injuries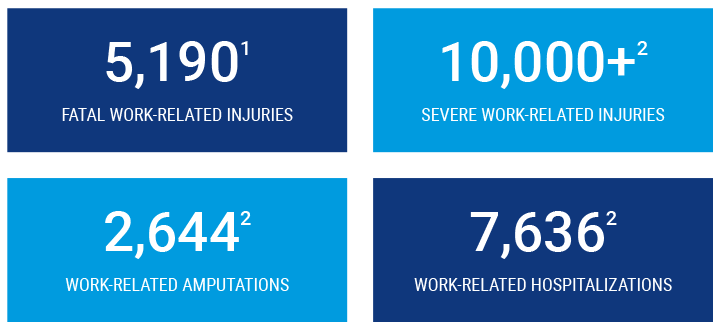 Bad things that can happen if you don't have workers' comp insurance:
Financial ruins: without an insurance policy, out-of-pocket expenses for a severe injury could bankrupt your company
Legal issues: without coverage, you lose certain types of common law defenses, which make it nearly impossible to win your case
Criminal charges and fines: failure to comply with state regulations could lead to hefty fines and even jail time. Jail. JAIL!
What Does Workers' Comp Cover?
A workers' comp insurance policy will cover the majority of injuries that arise from work-related duties, ranging from simple slip-and-fall accidents to repetitive motion injuries and even an illness or disease contracted at work.
Injuries and Illnesses That Caused Days Away From Work: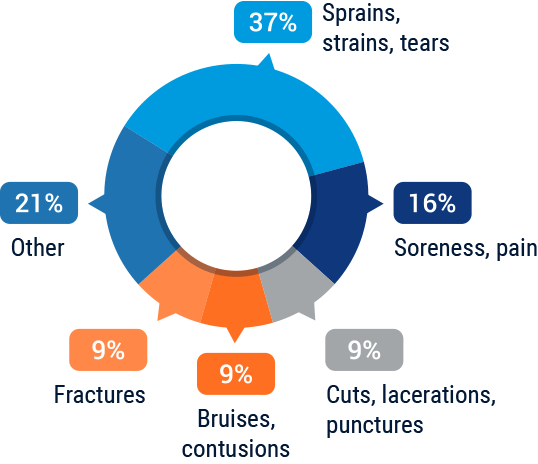 Employee coverage will usually include the following:
Medical bills and rehabilitation costs
Weekly payments in place of missed wages
Compensation for past, present and future economic loss due to disability
If an employee dies (knock on wood), their family will usually receive the following:
Compensation for funeral costs
Legal fees (if the family sues)
Death benefits
Top Causes of Death in the Workplace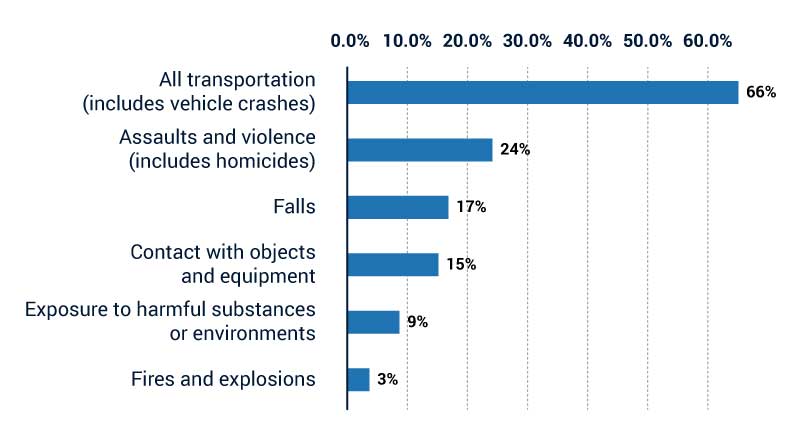 Workers' Comp Insurance for A Small Business
Coverage (if any) will be determined by your state's regulations, but it usually depends on the number of employees, type of business and a few other things. Even if it's not required, it's relatively inexpensive and completely worth it. You can protect yourself by protecting others.
Workers' Compensation Laws by State
Each state, has its own rules, regulations, coverage requirements and everything in between—they pretty much run the show.
What's So Great About an Independent Insurance Agent?
It's simple. Literally. Independent insurance agents simplify the process by shopping and comparing insurance quotes and rates for you. Not only that, they'll cut the jargon and clarify the fine print so you know exactly what you're getting.
Plus, they're the only agents who can work with multiple workers' comp insurance carriers, which gives you more options for finding ideal coverage that complies with state regulations. It's one of the biggest reasons why they dominate the workers' comp coverage market.
Worker's Compensation Distribution Channels

Most importantly, they'll be there to help you when claim time comes. The outcome of insurance claims can be strongly impacted by how the process is approached and handled. They've got your back.
How Much Does Workers' Compensation Cost?
The cost of a workers' compensation policy depends on the coverage and a number of other factors like state regulations and industry.
So, an ergonomically-conscious accounting firm might only pay $1,000 a year, whereas a traveling circus could pay up to $88,000 a year. Basically, the safer and smaller the company, the cheaper it is.
Top 5 Occupations With the Largest Number of Injuries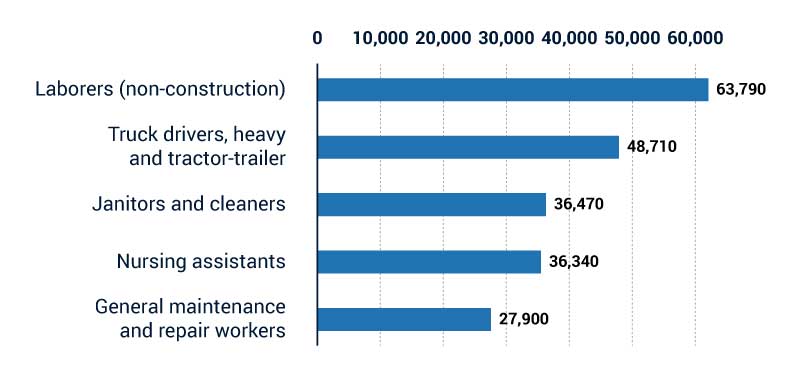 How Can You Get Lower Workers' Comp Insurance Rates?
First, take steps to manage your risks, like clearing the banana peels from all major and minor walkways. This will also help the future you, because the less claims you make the lower/same rate your premium will be.
Comparing Workers' Compensation Insurance Quotes
Our gifted independent insurance agents will review your needs and help you evaluate the coverage that makes the most sense. They'll also compare policies and quotes from multiple insurance companies to make sure you have the right protection in place. So, you'll have that going for you.
TrustedChoice.com Article | Reviewed by Paul Martin
©2020, Consumer Agent Portal, LLC. All rights reserved.