Workers' Compensation
What Is Workers' Compensation Insurance?
Cover your employees for workplace injuries — and protect your business

Many people spend most of their adult lives working, with workplaces as varied as a kitchen table, an office cubicle, a high-rise construction site, or working in a mine. No matter where a business' employees work, injuries happen in every type of job.
Workers' compensation is the insurance that covers these injuries. It helps protect the employee from workplace injuries and it also helps protect the employer from costly lawsuits. Our independent insurance agents can help you find the best workers' compensation option for your business.
What Is Workers' Compensation Insurance?
Workers' compensation is a type of commercial insurance that covers employees' workplace injuries. It also serves one other key function that helps differentiate it from other types of insurance: it prevents employees from suing their employers for workplace injuries.
Workers' comp is fairly comprehensive insurance. In addition to paying an injured employee's medical bills, it can also pay rehabilitation costs, lost wages, disability benefits, funeral expenses, and death benefits. But it will only pay for those extra things if they're directly caused by the workplace injury.
Workers' comp is also no-fault insurance. This means that it will pay a benefit regardless of who is at fault for the accident (as long as it wasn't an intentional injury). The employer could be at fault, the employee, another employee, or somebody from the public who doesn't even work there. Workers' comp will pay the benefit to the injured worker regardless.
Is Workers' Compensation Mandatory?
It's mandatory in most states for certain types and sizes of businesses. Workers' comp, as with other types of insurance, is regulated at the state level. Each state has its own workers' comp department and its own laws that regulate and govern it, so be sure to check your own state's workers' comp laws to see where your business fits in.
Most states don't require sole proprietors or partnerships to have workers' comp if they don't have any employees. Once a business hires employees, typically they'll be required to buy workers' comp.
Each state has slightly different requirements for the number of employees that make workers' compensation required. Typically, the number is between one and five employees.
Independent contractors are typically not considered employees — unless they don't have their own workers' comp insurance. If there is a workplace injury with a contractor or subcontractor who doesn't have their own workers' comp insurance, the client and/or general contractor could be liable for their workplace injuries.
The most common workplace injuries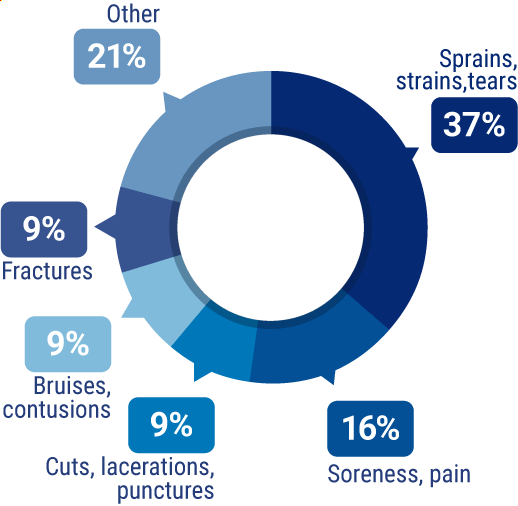 What Does Workers' Comp Cover?
Workers' compensation covers nearly all workplace injuries. The definition is fairly broad, because most workers' comp policies have wording that defines what's covered as "injuries sustained during the course and scope of employment."
There could be some gray areas in what that means exactly. For example, if you slip and fall in the parking lot on your way into work, that could be considered a workers' comp claim, though some states have stricter guidelines than others.
Workers' comp claims must also be accidental. Each insurance company has the right to investigate a workers' comp claim to determine if there was any malintention involved.
Workers' comp benefits
If there is a workers' comp claim, the insurance claim will pay all related medical costs related to the injury, which could include rehabilitation expenses. It will also pay for lost wages while the employee is unable to work, which in cases of serious injuries could mean lost wages are paid out until retirement age.
The exact amount that's paid in lost wages will depend on if the disability is total or partial and permanent or temporary.
In situations where the workplace injury leads to death, workers' comp will pay for funeral and burial expenses, and may also pay a death benefit related to lost wages, making it similar in some ways to an employer-based life insurance policy.
Get a Workers' Comp Quote in Minutes
Let our independent agents do all the heavy lifting while you save.
Why Do I Need Workers' Comp?
For employers, there are two main benefits of workers' comp:
You'll have an insurance policy that pays for the entire cost of any injuries sustained by your employees. Even one serious injury from one employee could cost in the hundreds of thousands of dollars. For businesses with many employees, those injury costs could run in the millions of dollars each year. A workers' comp policy makes these costs predictable because you'll know what your premium is each year.

Having a workers' comp policy in place means that your employees are forfeiting their right to sue you for a workplace injury. Before workers' comp was introduced, employers could be sued by their employees if they got hurt on the job. Those lawsuit expenses typically cost more than simply paying the medical bills.
Basically, a workers' compensation policy guarantees employees that they'll be fairly paid for injuries sustain
| | |
| --- | --- |
| Top Causes of Death in the Workplace | |
| All transportation (includes vehicle crashes) | 66% |
| Assaults and violence (includes homicides) | 24% |
| Falls | 17% |
| Contacts with objects and equipment | 15% |
| Exposure to harmful substances or environments | 9% |
| Fires and explosions | 3% |
It's important to note that employees can still sue their employers for other types of workplace events, such as harassment, bullying, discrimination, etc.
If a business chooses not to carry workers' comp, it could face many consequences:
Criminal charges. If a business is required to carry workers' comp and doesn't, it could be shut down, heavily fined, and possibly faced with jail time for breaking the law.
Legal costs. Without workers' comp coverage, businesses would face the full legal costs of any lawsuits brought against them.
Financial ruin. Without workers' comp coverage, businesses would face the full cost of any workplace injuries, lost wages, and lawsuits, which could easily put a company out of business.
Workers' Comp Insurance for Small Businesses
If your small business has just one or two employees and doesn't require workers' comp, or even if you, as the owner, are the only employee of the business, you should still consider buying workers' comp.
Workplace injuries aren't covered by any other type of insurance, including health insurance. If you don't have workers' comp and get injured while working, you'll have to pay for all your medical expenses out of pocket, plus you likely won't have your normal income to pay for it.
All small businesses can benefit from workers' compensation insurance whether they're required to carry it or not. If you treat it as a necessary business expense, you should be able to make room for a workers' comp policy.
Workers' Compensation Laws by State
Each state has its own laws and regulation for workers' compensation insurance. These laws vary on nearly every aspect of workers' comp, including:
Size and type of businesses that require it
What type of injuries are covered
How long benefits are to be paid
If the state offers workers' comp by itself or allows private insurance companies to offer it
Since workers' comp laws differ in each state, coverage also applies to each state. This means that a multi-state business will likely need to buy a separate workers' compensation policy for each state it operates in.
One solution to this multi-state problem is to buy a workers' comp policy that applies to all states, though these policies aren't available in every industry and can often be much more expensive.
| | |
| --- | --- |
| Top five occupations with the largest number of injuries | |
| Laborers (non-construction) | 63,790 |
| Truck drivers, heavy and tractor-trailer | 48,710 |
| Janitors and cleaners | 36,470 |
| Nursing assistants | 36,340 |
| General maintenance and repair workers | 27,900 |
How Much Does Workers' Compensation Cost?
Workers' comp costs vary wildly, with three main factors affecting your premium:
The state that your business operates in
The size of your business
The industry your business is in
Large roofing contracting companies will pay much, much more for a workers' comp than a large accounting firm. Premiums for a solo hair stylist could be a few hundred dollars a year, while a large manufacturer could pay hundreds of thousands of dollars each year.
Another factor that affects workers' comp premium is your workers' comp claims history, known as an experience modifier, or just mod for short. A business' experience mod is a formula that determines whether a particular business has had above or below average workers' comp claims compared to other businesses in its industry.
The number that's used as the industry average is 1.00, with a number lower than 1.00 meaning fewer claims than average and a lower rate. Numbers higher than 1.00 mean higher than average claims and a higher rate.
How Can You Get Lower Workers' Comp Insurance Rates?
There are three main things you can do to lower your workers' comp rates, though it typically takes at least one year, if not three to five years, to earn a better claims history with a lower rate.
Ensure your workplace is a safe environment. Your goal should be to lower the chances of a workplace injury, so make your workplace as safe as possible. Use signs if there is a wet floor, ensure there are proper railings in place on any steps, and don't leave any dangerous tools or materials in areas that could cause injuries.
Raise your workers' comp deductible. You could raise your workers' comp deductible to a higher number, such as $5,000 or so. While this would mean you would have to pay for injuries under your deductible amount, it would also help reduce the number of claims you have.
Lower your experience mod. Having fewer claims with low dollar amounts will help your claims history, known as your experience modifier. Having a better than average workers' comp mod can give you better rates, but insurers will want to see more than one year of your claims history.
Comparing Workers' Compensation Insurance Quotes
If your business operates in a monopolistic workers' comp state, your only option will be to buy workers' comp through the state. The state will handle your policy and pay out claims.
If you're in a state that allows multiple insurance companies, you'll have choices. Some insurance companies specialize in workers' compensation and will only operate in this line of business.
These states typically have a workers' comp pool as well, which is basically a state-backed program. Typically, these workers' comp pools are only used for small businesses that have low premiums or for businesses with too many losses.
The Benefits of an Independent Insurance Agent
Most workers' comp policies are sold through independent insurance agents. Their access to multiple companies and knowledge of your state's workers' compensation laws is unrivaled. An independent insurance agent will explain what your state requires and how you can comply, and will give you different options that best suit your business.
TrustedChoice.com Article | Reviewed by Andrew Flueckiger
©2022, Consumer Agent Portal, LLC. All rights reserved.
https://www.iii.org/publications/insuring-your-business-small-business-owners-guide-to-insurance/specific-coverages/workers-compensation-insurance

https://www.ncci.com/Articles/Documents/UW_ABC_Exp_Rating.pdf