Central Insurance Company Review
Pros, cons and the info you need to know.
Central Insurance Companies at a Glance
Founded in 1876
Coverage available in 24 states
Offers personal and commercial coverage
Offers many coverage options
"A" (excellent) rating by A.M. Best
"A+" (excellent) rating by Better Business Bureau
Wide network of independent insurance agents
Multiple discounts offered
Strong financial stability
24/7 claims reporting
Good customer feedback
Central Insurance Companies Pros: This is a well-established carrier with more than a century's worth of history in the insurance industry. It provides a wide range of coverage options including homeowners insurance, personal and commercial auto insurance, business insurance, identity fraud insurance, etc. It has high ratings through both A.M. Best and the BBB. Central offers 24/7 claims reporting, is highly accessible to customers, and has good customer feedback. It has affordable rates, several available discounts, and strong financial stability.
Central Insurance Companies Cons: This is not a BBB accredited company and coverage is not available in every state.
To find insurance in your state, use our national insurance company directory to find the best company to meet your needs. You can locate insurance companies that specialize in your specific coverage needs and get connected to an agent near you.
What Type of Insurance Does Central Insurance Companies Offer?
Central Insurance Companies offer a wide selection of coverages to both individuals and businesses. Their products include:
Homeowners insurance
Boat docks insurance
Equipment breakdown insurance
Identity fraud insurance
Personal flood insurance
Personal umbrella insurance
Personal auto insurance
Boatowners insurance
Business insurance
Commercial auto insurance
Commercial property insurance
Crime insurance
Employment practices liability insurance
General liability insurance
This list of insurance products offered by Central Insurance Companies is not exhaustive. An independent insurance agent can help you find even more insurance options offered by Central Insurance Companies.
What to Know about Central Insurance Companies
Central Insurance Companies was founded in 1867 under the name Central Mutual Insurance Company. The carrier has now had well over a century and a quarter's worth of experience within the insurance industry. Today, Central has become known as a reputable property and casualty group.
Central currently offers coverage in 24 states throughout the US. The carrier reportedly has more than $1 billion in total assets across all its companies. Central also reports currently having more than 350,000 insurance policies in force. The carrier's LinkedIn page states that they have between 501 and 1,000 employees total.
Thanks to its impressive, extensive history, amount of in-force insurance, and financial strength, Central has earned a reputation as a stable insurance provider that's projected to be around for many years to come. A.M. Best, the leading global credit rating agency monitoring the insurance industry, gives Central Insurance Companies an "A" rating, indicating the carrier is an excellent choice for insurance customers. A high rating from A.M. Best assures customers that Central Insurance Companies is capable of offering guaranteed, secure coverage from a trustworthy and reputable carrier.
Established in 1899, A.M. Best is one of the oldest rating companies in the world. Reviews from A.M. Best indicate an insurance company's financial strength and creditworthiness, and are based on comprehensive evaluations of the company's operating performance, business profile, and balance sheet. For customers who aren't as familiar with insurance companies' respective reputations, A.M. Best's ratings system allows them to make an informed decision about who they can trust to meet their needs in the short term, and who will remain a strong, financially sound company in the long term.
What Discounts Does Central Insurance Companies Offer?
Central offers a handful of competitive discounts on their products, especially for auto insurance. These discounts include: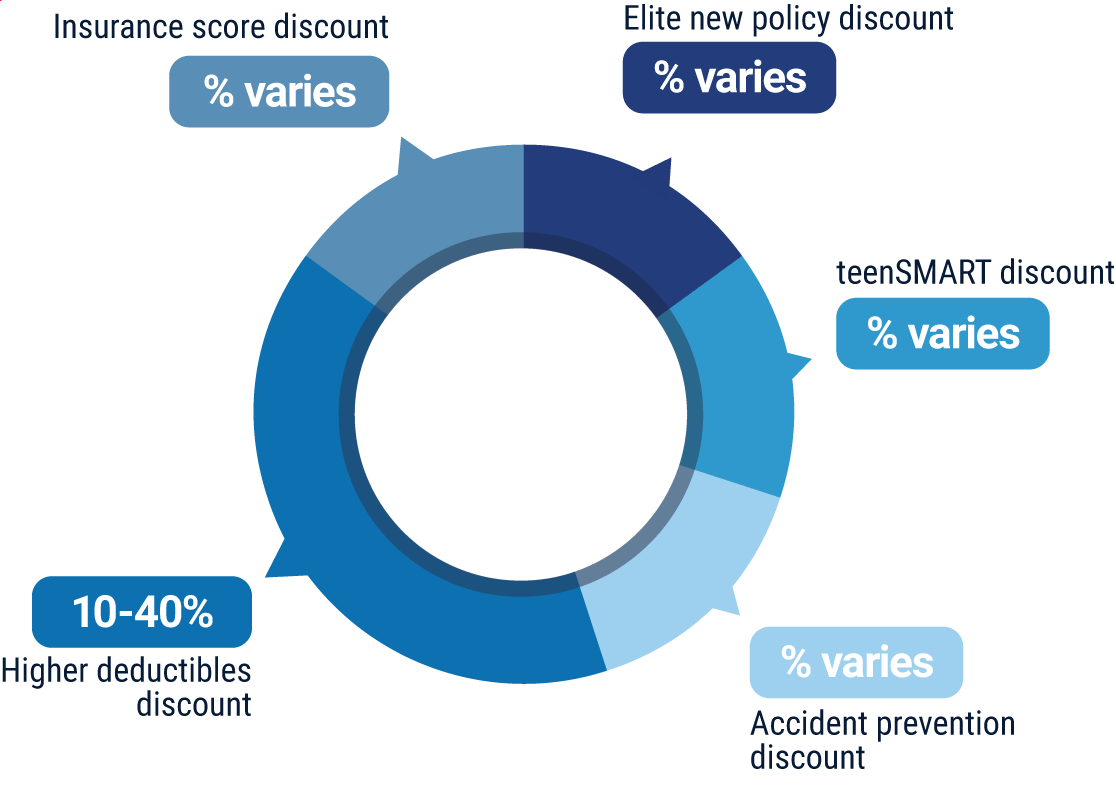 Elite new policy discount: This is offered to auto insurance customers who carry higher liability limits, have accident-free records, high insurance scores, and few traffic violations.
teenSMART discount: This is offered to auto insurance customers who have teenaged drivers that complete the teenSMART Driver Safety Program.
Accident prevention discount: This is offered to auto insurance customers who have completed an approved accident prevention course within the past three years.
Higher deductibles discount: This is offered to customers who select a policy with a higher deductible.
Insurance score discount: This is offered to auto insurance customers who have excellent insurance scores, which are based on consumer credit information.
Your independent insurance agent can help you find more information on even more discounts offered by Central Insurance Companies and other ways to save through the insurance company, helping you to get the most bang for your buck on coverage.
Central Insurance Companies Customer Service
Central Insurance Companies allows customers to file claims over the phone or online, any time of the week. The carrier also provides the following customer service options:
24/7 claims reporting via phone or online
Email contact options available
Main customer service hotline has the following hours restrictions:
| | | | |
| --- | --- | --- | --- |
| | | Hours (EST) | |
| | | Monday-Friday | 8 am - 7:30 pm |
Central Insurance Companies sells insurance through a wide network of agents, including independent insurance agents. Independent insurance agents can help make customer service easier for you by handling claims and other concerns.
Connect with a Central Insurance Agent Today.
Shopping for a insurance? Central Insurance has you covered.
Central Insurance Companies FAQ
What is Central's average claim response time frame?
Central Insurance Companies offers 24/7 claims reporting for their customers, via phone or through the official website. However, they do not have an official claims response time frame promise. Customers have reported consistently prompt assistance.
What is Central's customer service availability?
Central Insurance Companies offers separate phone lines for general customer inquiries and claims filing. Their claims reporting hotline is available for customers 24/7, and the customer service hotline is available at generous hours, Monday-Friday. The carrier also has a social media presence on Facebook, Twitter, and LinkedIn, making them even more accessible to customers.
What is Central's claims process?
Central Insurance Companies provides several options for customers to file their claims. Customers can get in touch with their independent insurance agent, call the 24/7 hotline, or email their claims. Claims can also be reported online right through the official website. The carrier provides all necessary forms for customers to complete their claims reports, and they are separated by claim type. After filing, customers can call the carrier's claims hotline, log onto the website, or contact their agent to check on the claim's status.
Does Central create a user-friendly experience for customers?
While Central's official website isn't the best among modern insurance companies, it still offers pretty much everything a prospective or current customer could need. Information is detailed and easy to find. Customer service options such as getting matched with an agent, online claims filing, and online bill pay are available. The carrier also has an active social media presence and a mobile app for smartphone users. Overall, Central Insurance Companies provides quite a user-friendly experience for customers of all kinds.
Does Central Insurance Companies have good homeowners insurance?
Many prospective insurance customers are on the market for homeowners coverage. Central offers homeowners coverage that protects customers in a comprehensive way. The official website lists that coverage offered under their Signature Homeowners Policy includes:
"Full Replacement Cost Coverage to rebuild your home at the same location after a covered loss, even if the cost to rebuild exceeds your policy's limit.
Replacement Cost Coverage for your personal belongings with no reduction for depreciation.
Replacement Cost Loss Settlement that's paid up front before repairs or replacement are completed.
Cash Out Settlement Option should you choose not to repair or replace your home after a covered total loss.
Waiver of Deductible for a covered loss that exceeds $50,000.
First Claim Forgiveness assures your policy rates won't increase due to filing your first claim. (Not applicable in New York.)
Additional Living Expense provides coverage for the extra expenses you incur to maintain your standard of living while your home is being repaired after a covered loss.
Equipment Breakdown repairs or replaces your home systems and equipment after a mechanical or electrical breakdown.
Tree Removal and Replacement pays to remove tree debris and replace trees fallen on your property due to a covered loss.
Utility Line Protection repairs or replaces covered underground utility lines such as water and sewer, electrical power lines, and natural gas lines.
Water Backup covers damage from water that backs up through sewers or drains or overflows from a sump pump well.
Identity Fraud Protection provides proactive identity management services, identity theft resolution services, and identity theft expense reimbursement.
Loss Prevention Device coverage pays for the cost and installation of devices to help protect against the same type of loss in the future."
Your independent insurance agent can help you find out more about Central's Signature Homeowners Policy, as well as their other homeowners coverage offerings and additional insurance products.
Is Central Insurance Companies a good insurance carrier?
With an impressive amount of history within the insurance industry, high ratings through multiple organizations, solid financial strength, and comprehensive coverage options, Central can certainly be thought of as a good insurance company. Central considers the needs of their hard-working customers by providing 24/7 claims reporting, as well as numerous competitive discounts on their premium rates. The amount of in-force insurance reported by the insurance company demonstrates just how many US residents have entrusted the carrier to meet their coverage needs.
Central Insurance Companies Customer Reviews
Clearsurance

"They are great! My home insurance rates were nearly cut in half when my agent switched me to Central Insurance from the company I have before that. And, when I had a decent sized claim, they came and checked it out and paid out very quickly! Very happy with Central and keep my policies all together with them! Even the ease of paying thru the app is great!"
Clearsurance

"Central insurance gave me the best rates for the coverage. Professional and very helpful with quality customer service."
Yelp

"This is a great organization with great leadership. From my experience, the people at Central truly value their customers and relationships. They certainly aren't perfect, but they are committed to continuously improving."
Clearsurance

"Good company and offered what I needed. I have a homeowners policy and an auto policy with them. They were the cheapest compared to other similar carriers with good coverage."
WalletHub

"My wife and I insure our home with Central Insurance, but I have to disclose that they were not our first choice. We tried Allstate, who was very encrypted about what was wrong with our house that we needed to fix before our policy would be in effect. Therefore, I tried to fix what they said was wrong with it and they canceled our policy without notice. So I asked the previous owners who they used and we were sent to Central.
This is where things got less confusing. As soon as I got on the phone with them I was told exactly what they needed in order to cover our house and a way we could get it to them, every month we get an email from our agent with our information and we are constantly informed of changes or considerations of changes that the company may have. Every time I get confused, which happens more than I like to admit, I call them and they are able to answer me honestly and simply. The rates are almost half of what Allstate wanted to charge us, and we even received a refund check for paying more than we needed and as soon as I was informed of the overpayment, they adjusted the monthly rate for us and our house payments got lowered! I recommend them to everyone!"
TrustedChoice.com's Final Review

We award Central Insurance Companies a final rating of 5 out of 5 stars. For starters, the carrier is extremely well established, with now well over a century and a quarter's worth of history in the insurance industry. They have excellent ratings through both A.M. Best and the BBB, and continue to demonstrate impressive financial strength. While coverage is only available in 24 states presently, Central has a respectable amount of policies in force, and offers a multitude of coverage options for insurance customers of all kinds. The insurance company's official website is thorough and offers many customer service options expected among today's carriers, including 24/7 claims filing across more than one medium, getting matched with an independent insurance agent service, and more. It's easy to find glowing customer feedback across the web, so not only does Central provide a wealth of insurance options, but has also been recognized as delivering dependable coverage. Central also makes themselves more accessible to their customers through an active social media presence across multiple platforms. All in all, if you're located in an area where coverage is offered and in need of one of the many products listed in their catalogue, we say don't hesitate to ask your independent insurance agent about choosing Central Insurance Companies as your trusted carrier.
©2023, Consumer Agent Portal, LLC. All rights reserved.
central-insurance.com
ambest.com
bbb.org
clearsurance.com
yelp.com
wallethub.com