Church Insurance
(Because your sanctuary needs to be guarded against unforeseen hazards.)

Churches host many services aside from Sunday mass. In hosting other services like pre-school or daycare and more, churches face many of the typical risks associated with all businesses, as well as their own unique perils. That's why it's important to equip your business with the right church insurance.
Successful church owners know that having the proper protection is the key to keeping operations running smoothly. Fortunately an independent insurance agent can help you get set up with the right church insurance for your business. But first, here's a closer look at what this important coverage is all about.
What Is Church Insurance?
Church insurance is essentially a special type of business insurance customized to protect owners of churches. The agreement between the insurance company and the church states that the insurer will cover financial losses that befall the church. Of course, only specific perils stated in the policy will be covered by the insurance company. All policies come with a list of excluded perils, as well.
How to Insure a Church
Thing is, one insurance policy won't work for every type of church, or each specific church owner. With the help of your independent insurance agent, you'll assemble a package of different coverage types to protect your church against risks that are unique to you. Church insurance is designed to keep your business afloat following a huge disaster like property destruction or lawsuits.
Your independent insurance agent will identify the right types of coverage for you as they learn more about your specific church and its services offered and operations. Since church insurance is so customizable, you'll be able to work together to build a policy that fits not only your business's needs, but also the needs of your bank account.
The Biggest Risks for Churches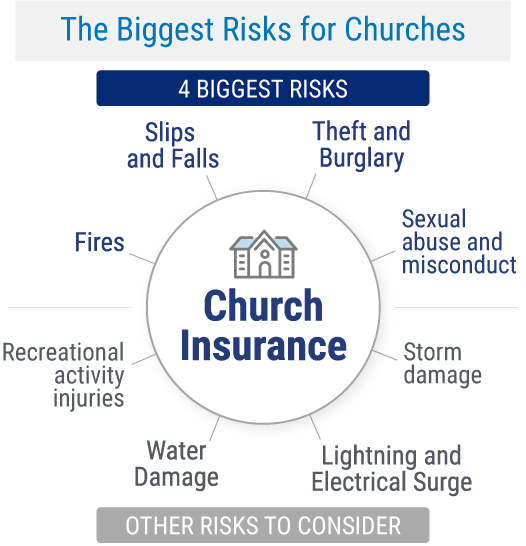 Churches encounter a number of different risks, but thankfully many can be minimized with the right protection. The four biggest risks include:
1. Fires: There are roughly 1,800 fires every year in religious properties that result in over $98 million in damages — not including the indirect costs of fire damage. Church insurance covers both fire damage and any resulting liability or medical issues.
2. Slips and falls: Like pretty much all businesses, one of the most common risks that churches file claims for are slips and falls. Church insurance protects against medical bills and legal fees that come from injuries that occur on church property or at functions.
3. Theft and burglary: Unfortunately, churches are frequent targets of burglary and theft. Both can result in financial loss and damage to valuable church property. Church insurance covers items such as stained glass windows and other religious artifacts, which may not be protected properly on a normal property policy.
4. Sexual abuse and misconduct: Sexual abuse and misconduct can happen in any business, and churches are not exempt. If you or one of your employees is accused of sexual harassment or sexual misconduct, the liability portion of a church insurance policy can protect your church and its members.
Finding the right church insurance can help protect your business and your team from many common disasters, as well as the more obscure ones, too.
Other Risks to Churches
Risks for churches aren't limited to the above list. There are several hazards that could negatively impact your church, including:
1. Storm damage: Damage from hail, floods and lightning can be expensive. The property damage portion of a church policy will help cover those costs.
2. Water damage: Frozen pipes and leaking faucets can cause extensive damage to your church. Flooding and interior wall damage is common and expensive. Repair costs are covered under a church policy.
3. Lightning and electrical surge damage: Computers, sound systems and other electrical equipment can be damaged by a lightning strike or power surge. Insurance for churches will step in and cover the cost of repairs or replacement.
4. Recreational activity injuries: Children can be injured in a daycare center, camp or other recreational activity hosted by your church. A church policy will help cover medical costs and any liability issues.
An independent insurance agent can help you find enough church insurance to guard against the extensive list of disasters that could befall your business.
Save on Business Insurance
Our independent agents shop around to find you the best coverage.
Who Sells Church Insurance?
Church insurance is available from many different insurance companies, and the best way to find the right carrier for you is through working with an independent insurance agent. They know which insurance companies to recommend to meet your needs, and can provide informed suggestions based on company reliability, rates, and more.
While many insurance companies could create a church insurance policy for you, finding coverage could also depend on the area you live in. Here are a few of our top picks for church coverage.
One church insurance company outshines its competitors.
Progressive has been a part of the insurance industry since 1937 and is highly rated by AM Best, the BBB, and customers alike. The insurance company also offers a comprehensive church policy option, including:
General liability coverage
Business owners policy coverage
Commercial auto coverage
Workers' comp. coverage
An independent insurance agent can help you decide if Progressive has the right type of church insurance for your business's needs.
How Church Insurance Helps Protect Against Claims
Houses of worship often have different insurance needs from houses of business. Church insurance accommodates these differences and offers a variety of liability and property coverages you can select to construct the perfect policy for your needs.
While there are a lot of options, it's easy to tailor a policy that only includes the coverages your religious institution needs. Special church coverage options include:
Ministers and pastors liability insurance: This coverage is essential for every religious organization and offers spiritual counseling liability protection. Policy terms vary, but coverage will often extend to clergy, church leadership, and paid or non-paid sanctioned volunteers.
Employee practices liability insurance: This covers both full and part-time paid employees and workers on stipends. If an employee sues your church for sexual harassment, discrimination, or wrongful termination, this will cover damages and legal costs.
Directors, officers, and trustees liability insurance: Your board of directors, trustees, and officers will be protected if members of your church or employees sue them.
Ordinance or law insurance: If your building is over 20 years old, this coverage is important. It will pay for the costs to bring your building up to current building codes if necessary.
Religious freedom insurance: This coverage will protect your church from discrimination suits.
An independent insurance agent can further explain the basic protections needed by churches, and detail their specialty coverage options.
What Else Does Church Insurance Cover?
Churches may need several forms of protection. Not all the coverage required by churches is unique to the industry. Like all other businesses, churches need property protection and legal protection.
These coverages are also often included in church insurance:
General liability insurance: Coverage provides protection for church members, officials, staff, volunteers, and employees. It also offers protection if third parties are injured while performing duties for the church.
Church-sponsored activities liability insurance: This coverage offers protection for off-site activities that your church may sponsor, like picnics and softball games. These are one-off policies and must be purchased separately before each event.
Daycare and preschool liability insurance: Many churches provide daycare or preschool options. This type of church liability coverage will handle any lawsuits brought by unhappy parents.
Property coverage: Property coverage is part of all church policies and will protect church property from damages due to severe weather, fire, falling objects, vandalism, and theft.
Inland marine coverage: This coverage will protect any valuable artifacts owned by the church during transport or shipping if they are being sent to another church or museum.
Computer fraud coverage: If your church is a victim of computer fraud by a non-employee, this insurance will cover your losses.
Employee theft coverage: If an employee steals or embezzles church funds or property, this policy will cover the losses.
In each case listed above, your church liability insurance can pay for damages and related defense costs. An independent insurance agent can help you assemble a church insurance package that protects your church from every possible angle.
How Church Insurance Works
Church insurance covers your business in the event of many incidents. Check out this breakdown of a few common examples and how coverage applies below.
| Incident | Coverage | How it Works |
| --- | --- | --- |
| Student of church services gets hurt | Interscholastic athletic medical | Covers medical payments for injuries resulting from practice, instructing, or participation in service/event |
| Stained glass window gets vandalized | Stained glass coverage | Covers this special type of church property by reimbursing for repair/replacement of stained glass up to policy limit |
| Your church is sued for speaking its beliefs | Religious freedom protection coverage | Covers legal fees related to lawsuits against your church for expressing its religious views |
| A member of your leadership board is sued for misconduct charges | Directors & officers coverage | Covers legal fees related to lawsuits against directors, officers, and board members of your church for various lawsuits |
Additional Liability Protection for Your Church
Churches have a lot of liability exposures. It's common for church insurance policies to have several forms of liability coverage included. Here are some of the top liability coverages used by churches:
Cyber liability: If your church's computer system is compromised, sensitive or personal data may be stolen or sold to third parties. Aside from having to pay to fix your network's security, your church could also face a lawsuit. Coverage protects against financial/legal ramifications after a cyberattack.
Premises liability: This coverage protects against costs associated with third-party injuries and property damage sustained on your business premises, or in other words, within or around your church. Common injuries include slips and falls.
Advertising injury liability: Covers any copyright or trademark infringement by your church's advertisements, as well as legal claims of libel or slander against your business by a third party.
Professional liability: Also known as "errors & omissions insurance," this coverage protects against claims made by customers or clients who suffer financial loss due to the work they've hired you for. This coverage is crucial for churches due to the amount of advice or counsel offered to the public.
You may even need liability coverage extending beyond this list. You can work with an independent insurance agent to get additional legal protection against:
Harmful pastoral counseling services
Church security breaches
Compromised volunteer and youth safety
Infectious disease outbreaks
Working together with an independent insurance agent is the best way to ensure your church gets equipped with all the important liability coverage it needs to maintain smooth operations for years to come.
What Is Mission Insurance?
Another crucial coverage for churches is mission insurance, which provides coverage for these disasters that can occur in a missions:
Kidnapping
Injuries and illnesses
Lawsuits
An independent insurance agent can help you ensure your church policy includes the proper mission insurance if it applies to you.
How Much Does Church Insurance Cost?
For the general liability coverage portion of church insurance, average annual costs can range from $500 to $1,500. This is just one aspect of the entire policy, though.
The cost of your church insurance will be impacted by several factors, including:
The location of your church
The size of your church
Your church's exposures
The age and value of the property
How many employees you have
An independent insurance agent can help you find exact church insurance quotes for your area, as well as scout out any applicable discounts for you.
Frequently Asked Questions about Church Insurance
Regardless of if church insurance is legally required, your church needs to be protected before it ever opens to the public. Your property, workers, and business all need protection against numerous threats, including property damage, theft, lawsuits, and more.
Church insurance can protect you in numerous ways, including paying legal costs in case of a lawsuit, paying for repairs in the event of property damage, paying to fix computer systems in the event of a breach, and much more.
The cost of your church insurance will depend on many factors, including the age and size of your church. Policies can range from a few hundred dollars annually to $2,000 or even more.
Yes, larger churches that offer more services and have more valuable property are more expensive to insure than smaller churches with fewer services, that may also have older or otherwise less valuable property.
When buying church insurance, you'll need to look for coverage for your property, your team, and all your legal exposures. This means several forms of insurance will be necessary. An independent insurance agent will help make sure you get set up with them all.
Your church insurance can protect your employees against injury, illness, and death on the job, as well as against lawsuits for claims of theft against the business or misconduct towards patrons.
Save on Business Insurance
Our independent agents shop around to find you the best coverage.
Why Are Independent Insurance Agents Awesome?
It's simple. Independent insurance agents simplify the process by shopping and comparing insurance quotes for you. Not only that, but they'll also cut the jargon and clarify the fine print, so you know exactly what you're getting.
There's no church too small for our gifted independent insurance agents. They have access to multiple insurance companies, ultimately finding you the best church insurance coverage, accessibility, and competitive pricing while working for you.
TrustedChoice.com Article | Reviewed by Jeffrey Green
©2023, Consumer Agent Portal, LLC. All rights reserved.
statista
https://www.irmi.com/whats-new/product-update/churches-and-religious-institutions-exposures-and-risk-management-discussions-pli