Construction Insurance
You worry about the building, we'll take care of the insurance.

Whether your construction business works on skyscrapers or treehouses, there are plenty of risks involved. And where there's risk, there's a need for protection from it. The right blend of coverage can help limit your financial risks from job site injuries, equipment damage, accidents, and more.
Independent insurance agents are here to help connect you with the proper protection for the right price. But first, let's dive into the risks out there for you and talk more about the coverage you may need.
Who Sells Construction Insurance?
Construction insurance is available from many different insurance companies, though it may not be advertised under that name. While construction insurance packages are often offered, some insurance companies may just know which coverages to recommend for your business, while others already have designed a policy called construction insurance.
While many insurance companies could create a construction insurance policy for you, finding coverage could also depend on the area you live in. That being said, one construction insurance company outshines its competitors:
Best overall construction insurance company: Nationwide
Nationwide offers construction insurance for customers in most states across the US. The insurance company's large catalogue of insurance products includes not only construction insurance, but also auto insurance, homeowners insurance, life insurance, umbrella insurance, and much more. Nationwide combines commercial property insurance, commercial liability insurance, business income coverage, construction equipment coverage, builders risk insurance, and more into one convenient package. Nationwide is also our pick for:
Best construction liability insurance company: Nationwide
Nationwide's construction liability insurance comes with many optional coverage enhancements, including hired and non-hired auto liability, employment practices liability, umbrella coverage, and more. Nationwide is highly experienced in considering the coverage needs of construction workers and contractors from all angles, including their hard-working teams, which also leads to them being our pick for:
Best construction workers' comp insurance company: Nationwide
Nationwide's workers' comp coverage also comes with numerous endorsement and enhancement options. In 2019, Nationwide was ranked #1 in the J.D. Power U.S. Small Commercial Insurance Study. The insurance company was awarded the highest possible rating of 5 out of 5 in the following categories: claims, billing and payment, and overall satisfaction.
When it comes to builders risk insurance specifically, another carrier outshines the rest:
The Hartford offers competitive rates on its builders risk coverage for customers. The carrier has an extensive history of working with construction businesses and contractors, and knows how to tailor coverage to meet their needs. The Hartford offers flexible coverage options for construction businesses of all sizes.
Four Types of Risks Construction Companies Face
When shopping for construction insurance, it's helpful to know some of the most common risks construction businesses face. The top four types of risks construction companies face on a daily basis are:
Property damage: Including damage to company property or equipment.
Employee injuries: Including job-related injuries, illnesses, and deaths.
Liability risks: Including injuries or property damage caused to others not associated with your company.
Income loss: Including the loss of income due to business interruption from events like fire or severe storm damage.
With these common hazards in mind, it's time to move on to the types of coverage needed to prevent them.
Save on Business Insurance
Our independent agents shop around to find you the best coverage.
What Is Construction Insurance?
Your construction insurance can make the difference between your company turning a nice profit or losing money on a construction project. Which is why it's so important that your business gets set up with adequate, quality coverage.
The specific coverage you choose will depend upon a number of factors, like the size of your company, the number of workers you employ, and the type of work you perform. But in general, there are a handful of coverages that are most important to construction businesses.
Some of the policies you may want to consider for your construction business include:
General liability insurance: This covers your financial risk if you're found responsible for bodily injury or property damage to others. If you work in construction, general liability insurance is required in order to get a contractor's license in most states.
Builders risk insurance: This coverage is basically construction site insurance. Builders risk insurance provides coverage specifically for on-site property damage of a site under construction.
Professional liability insurance: If you provide consultation, design work, or advice as a part of your professional services, this form of liability coverage is critical. Also known as "errors and omissions" insurance, it's designed to cover potential claims due to losses clients may suffer from your services.
Extra expense insurance: Covers the extra cost associated with renting a new location after a covered loss.
Workers' compensation: This coverage is required in most states to cover employees' risk of job-related injury, illness, or death. Workers' comp pays for medical diagnosis and medical treatment of employees injured on the job and covers about 60% of lost pay if a team member misses work due to injuries.
Commercial vehicle insurance: If you use cars, trucks, vans, or any other vehicles for business purposes, commercial auto coverage will provide protection for third-party bodily injuries or property damage you may cause while on the job.
Types of Construction Insurance

Now that you have a brief overview of what construction insurance packages typically include, it's time for a more detailed breakdown of the many types of coverage commonly offered by this product.
Builders risk insurance
Builders risk insurance is a special form of property insurance designed to protect construction projects in progress. Coverage will reimburse to repair, replace or recover the current value of a construction project. This includes coverage for various common disasters such as fires, theft, labor costs and storms.
As a builder or building owner, having the proper builders risk policy in place could save your project (and you) thousands of dollars in expenses. Enlisting the help of an independent insurance agent that is experienced in the different types of builders risk policies is key to a project staying on track.
Builders risk coverage protects construction projects against the following perils:
Theft
Vandalism
Fire
Lightning
Hail
Explosions
Hurricanes
Builders risk insurance allows projects to be completed by their original deadline, and construction workers to have peace of mind in knowing their materials are protected.
Commercial/Contractor general liability insurance
Commercial general liability insurance, or contractor general liability insurance, protects businesses from legal claims filed by third parties for bodily injury or personal property damage. Coverage protects businesses against claims relating to:
Job-related injuries
Faulty craftsmanship
Defamation or other advertising injury
Commercial auto insurance
Commercial auto insurance covers your vehicles and gives your business liability protection if one of your business vehicles causes an accident. The basics of what it can cover are very similar to your personal car insurance, which can include:
Liability: Commercial auto liability covers your business for accidents, injuries, and property damage that you're responsible for. If one of your commercial vehicles causes the accident or is brought into a lawsuit, your business is covered.
Uninsured/Underinsured: If another driver is at fault for an accident that you're involved in but either doesn't have any insurance or doesn't have high enough limits, then this coverage pays the rest of your injury expenses or property damage.
Medical payments: This pays out a dollar amount to anybody occupying your vehicle, regardless of who was at fault for the accident or injury.
Collision: Collision coverage pays for physical damage to your covered vehicles if they get damaged from hitting another car or solid object, such as a tree, telephone pole, or building.
Comprehensive: This covers your vehicles for almost all other types of physical damage that's not a collision. Some of the most common comprehensive claims include fire, theft, hail damage, broken glass, falling objects, and hitting animals on the road.
Rental expenses: You can buy this coverage on specific vehicles, which will pay a certain dollar amount each day for you to rent another vehicle if yours is out of commission due to a covered loss.
While many of the coverage options are the same as with personal car insurance, there are two key differences with commercial auto coverage:
Vehicle symbols: When you first buy commercial auto insurance, the insurance company or agent will give your policy a certain auto symbol. Some symbols are extremely broad, but one symbol is extremely narrow. Symbol 7 means that only specified vehicles are covered under the commercial auto policy.
Hired and non-owned: This is typically found on every commercial auto insurance policy, and for good reason. It basically extends coverage to any vehicle that's used by you or an employee that the business doesn't own, which could include personal vehicles.
Inland marine insurance
Inland marine insurance exists to protect equipment that doesn't fall under standard property insurance because of varying factors. Property that is in transit or shipped are a couple of common examples.
Inland marine insurance will replace or repair your property in the event of a covered loss. Typically these items travel, such as contractors tools or equipment that is shipped. Heavy machinery can fall under this policy as well.
Inland marine insurance can be used for business and personal property. It's used for specific items that are of higher value or in transit. For contractors, this could range from tools to excavators. The following are risks that may be covered by inland marine insurance.
Some miscellaneous coverages that your policy may protect against
Mysterious disappearance: This pays for missing property when the cause of loss can't be discovered.
Accidental damage: This pays for the replacement or repair when an item is dropped. This can be in transit or when loading or unloading.
Items that you may want to insure under an inland marine policy
Contractors tools
Contractors equipment
Computer systems
Sales equipment
Heavy machinery
Workers' compensation insurance
Workers' compensation insurance is a policy taken out by the employer or subcontractor to pay for medical expenses for employees or themselves if they get injured, ill, or die while working or due to business operations. Some states require that all business owners with employees carry a workers' compensation policy, while others do not.
If you have even one employee or are subcontractor doing work for someone else, this policy could save you a lot of headaches and cash. Instead of having to pay out of pocket for your employees or your medical expenses, a workers' compensation policy will foot the bill.
Is a Business Owners Policy Right for You?
A business owners policy, or BOP, is a good option for some small business owners and can provide much of the construction insurance you need at an affordable rate. Your business could qualify for a BOP if you generate less than $5 million in sales and have fewer than 100 employees.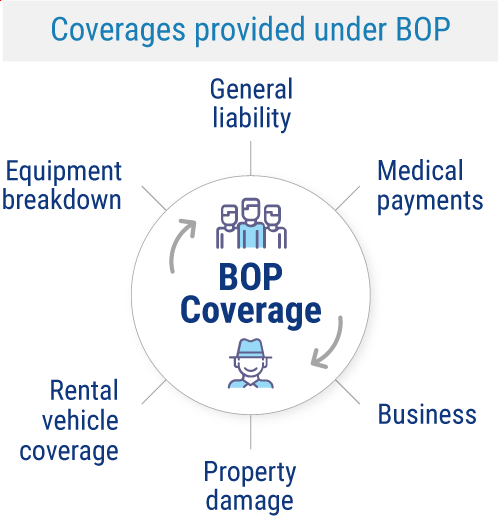 Typically, a BOP combines the following coverages:
General liability: Normally covers up to $1 million of injury to others or damage to their property.
Medical payments: Covers injury to others on your business property.
Property damage: Covers your business property, such as equipment, for loss or damage.
Business income: Covers loss of income for up to 12 months due to business interruption.
Equipment breakdown: Covers mechanical breakdown and other causes of equipment malfunction.
Rental vehicle coverage: Covers loss or damage to vehicles you borrow or rent.
An independent insurance agent can further help you decide if a BOP is right for your construction business.
What Doesn't Construction Business Insurance Cover?
Though construction insurance covers a lot of components for business owners, it doesn't cover just anything. The following are examples of commonly excluded perils under construction insurance policies:
Employee dishonesty
General wear and tear of equipment, etc.
Routine maintenance fees
Earthquake damage
Nuclear reaction and war
Power failure (unless it causes damage to computer systems)
Robbery
Pollution
Temperature/humidity changes
Inexplicably lost inventory
Flood damage
If your construction business is located in an area prone to flooding, you'll most likely want to purchase additional flood coverage. In fact, you may even be required to have it by your mortgage lender. Your independent insurance agent can give you more information about finding coverage.
State Licensing and Liability Coverage
Even if it's not a state requirement, most contractors still get licensed for business and marketing reasons. You're likely to be viewed more favorably by insurance companies and be able to secure better rates and pricing if you are licensed.
Beyond the construction training requirements, you'll have to carry general liability insurance and workers' compensation insurance. Some states also require you to be bonded, which can be provided by some insurance companies.
Finding Discounts and Savings on Construction Insurance
Though construction insurance costs can vary widely, many insurance companies offer competitive discounts and other ways to save money on their coverage. Further, independent insurance agents are especially skilled in finding money-saving hacks for construction insurance customers.
Available discounts will vary depending on which insurance company you choose, but here are some common discounts offered on construction insurance policies:
Annual premium discount: You may qualify for a discount on construction insurance if you choose to pay premiums annually vs. in monthly installments.
Insurance package discount: You may qualify for a discount on construction insurance if you shop for a special packaged product of all the protections you need vs. purchasing each required type of coverage separately.
Safe premises discount: You may qualify for a discount on your workers' comp coverage if you can prove to the insurance company that your work environment is safe for your employees and makes an effort to reduce injuries, illness, etc.
Formal safety plan discount: You may qualify for a discount on workers' comp coverage if you create a formal safety plan for workers to follow while on the job.
Bundling discount: You may also qualify for discounts on construction insurance if you purchase additional policies through the same insurance company.
How Much Construction Insurance Do I Need?
You need enough construction insurance to cover all the main components of your construction company, including:
Your main headquarters building
Your equipment and special tools
Your employees
Your annual revenue
Your legal risks
Your current projects in progress
Comparing Construction Insurance Plans
Though there are a handful of general coverages offered by many insurance companies under the name of construction insurance, these options and available selections can also vary depending on your location and several other factors. In order to get set up with all the crucial protection your construction company desperately needs, the best course of action is to enlist the help of an independent insurance agent.
Who Can Benefit from Construction Insurance?
Well, anyone who builds structures like homes and buildings for others. But specifically:
General contractors: These workers oversee the whole construction project.
Heavy contractors: These workers construct streets, roads, and infrastructure.
Home improvement companies: These range from single-person remodelers to larger renovation companies.
Specialized contractors: These include masons, carpenters, framers, plumbers, and electricians.
Managing Risks with Construction Insurance
Construction businesses are vulnerable to a number of different risks, like property damage, employee injury, and vehicle accidents. With the right business insurance in place, you can minimize the risks and liabilities that can put a big damper on your profits.
It's a good idea to comparison shop before you buy to make sure you're getting the coverage you need at a price that fits your business budget.
Mishaps and Scenarios to Think about for Construction Companies
When browsing available options for the right construction insurance, it's beneficial to consider some common mishaps that could affect your construction business. That way, you're better equipped to prepare for these mishaps in advance. Here are just a few common scenarios to consider when looking into purchasing construction insurance:
Your business operations get temporarily suspended due to a disaster: Whether it's due to a storm, legal issue, or pandemic, if your construction business's operations are suspended, you could stand to lose some substantial income. That's why having business interruption insurance is so important, guard against lost profits.
One of your workers falls off a building under construction: Unfortunately, worker injuries and deaths are quite common in the risky industry of construction. That's why it's so important to make sure you have enough protection for your employees under a workers' compensation policy.
Your business gets sued when someone trips over a piece of equipment: Third-party injuries and property damage can certainly be a risk factor on construction sites. If someone sues your business over one of these mishaps, it's imperative to be covered by adequate commercial liability insurance.
Your construction business gets damaged or destroyed by a natural disaster: If a destructive natural disaster rolls through your town and wipes out your construction business's headquarters, you'll need to make sure you have the right commercial property insurance.
An independent insurance agent can provide even more examples of common mishaps and scenarios to consider while browsing through available construction insurance options. They'll help your business anticipate and prepare for the worst by selecting the best available coverage for your needs.
Save on Business Insurance
Our independent agents shop around to find you the best coverage.
Frequently Asked Questions about Construction Insurance
Yes, legitimate construction companies/contractors are required by law to carry various coverages. Though regulations may vary depending on your area, across the board the most common mandatory coverages include commercial general liability insurance, commercial auto insurance, and workers' comp. An independent insurance agent can make sure your construction business gets set up with all the coverage it's legally required to have and more
The cost of your construction insurance will vary based on the number of employees you have, the kind of construction work you do, and how much business you generate. Companies that develop raw land and construct higher-value projects will typically pay the most. Construction insurance costs can also vary greatly depending on your location. Construction businesses located along a coast or in major cities will often pay more for coverage due to increased risks of certain perils, including vandalism and natural disasters.
The cost of your unique construction business's liability insurance will depend highly on your company's legal risk levels. That said, the national average that construction companies pay per month for professional liability coverage is $85. The annual average is $1,000 for coverage. Of course, insurance company rates will differ, and many offer discounts.
TrustedChoice.com Article | Reviewed by Paul Martin
©2023, Consumer Agent Portal, LLC. All rights reserved.
iii.org
Statista
irmi.com