Comprehensive Insurance
Comprehensive coverage extends way beyond collisions.

When you drive a vehicle you love, you've got to make sure it's protected from all kinds of threats. But before your car ever leaves the driveway, it's still basically a sitting target for disaster. That's why it's so important to make sure you get equipped with the right kind of coverage.
Luckily an independent insurance can get your ride protected by the proper comprehensive car insurance. They'll even get you covered long before you need to file a claim. But first, here's a deep dive into this important coverage.
What Is Comprehensive Coverage?
Also known as "other than collision" coverage, comprehensive car insurance is one form of car insurance that offers a fuller picture of protection for drivers. When selecting your car insurance coverage, you've got several options. Comprehensive policies are designed to protect against numerous threats that aren't related to vehicular collisions.
If you really want to protect your vehicle, your best bet is to add comprehensive car insurance to your greater car insurance policy. An independent insurance agent can help you find the right coverage for your needs.
Is Comprehensive Coverage Mandatory?
While it may not be required by law, comprehensive car insurance is always an important option to consider. Check out some average claim amounts for comprehensive car insurance in the US to better understand why.
Average value of private passenger auto comprehensive insurance claims for physical damage in the United States over last 10 years: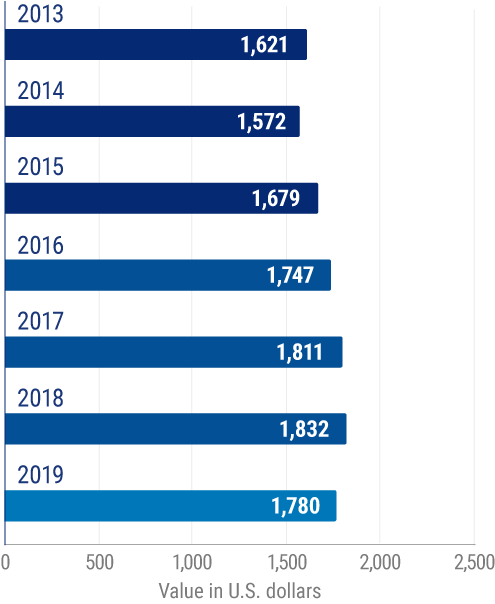 In nearly every year of the observed period, the average physical damage comprehensive auto claim amounted to more than $1,500. In 2019, the average claim was $1,780.
Without comprehensive car insurance, that's a lot of money to have to pay out of pocket after an incident. An independent insurance agent can further explain the importance of considering comprehensive car insurance.
How Does Comprehensive Car Insurance Work?
If you're the victim of any covered peril under your comprehensive car insurance, you'll file a claim through your insurance company after the incident. After paying your deductible, the insurance company will reimburse you up to your policy's limit.
Say a tree limb falls on your car. If you have $5,000 worth of damage and a $1,000 deductible under your comprehensive insurance, you'll pay out the deductible amount first, and then your insurance company will pay the remaining $4,000.
Save on Car Insurance
Our independent agents shop around to find you the best coverage.
How Do I Know If I Need Comprehensive Coverage?
It depends on how much you love and need your car and whether you can afford to eat the cost if you need to suddenly replace it. Comprehensive will add to your premiums, but it offers extra protection to match, keeping disruptions to your routine (and bank account) to a minimum.
Yes, no, and maybe scenarios
Probably not: If you drive a rusted-out beater you bought for $500 cash, comprehensive coverage probably doesn't make sense, since you'll pay more in premiums than it would cost you to replace the car.
Probably yes: If you drive a slick limited-edition sports car, comprehensive coverage shields you from gnarly repair or replacement costs if it's stolen, scuffed, or launched through a plate glass window.
Maybe: Do you drive a mid-range car and need access to it no matter what because of work, kids, or other commitments? Then comprehensive coverage is your best friend because it ensures you'll be able to afford fast repair or replacement, no matter what.
An independent insurance agent can help you determine if comprehensive car insurance is right for you.
Who Sells Comprehensive Car Insurance?
Comprehensive car insurance is available from many different insurance companies, and the best way to find the right carrier for you is through working with an independent insurance agent. Independent insurance agents know which insurance companies to recommend to meet your needs, and can provide informed suggestions based on company reliability, rates, and more.
While many insurance companies could sell you comprehensive car insurance, finding coverage could also depend on the area you live in. Here are a few of our top picks for full coverage car insurance.
One comprehensive coverage car insurance company outshines its competitors.
Best overall comprehensive insurance company Progressive
Progressive offers comprehensive car insurance to protect your vehicle against the following, as stated by their website.
Theft
Vandalism, fire, riots, and explosions
Windshield and glass damage (if your crack or chip is smaller than a dollar bill, Progressive will repair your glass at no cost to you)
Falling trees/limbs and other objects
Rocks/objects kicked up by or falling off cars
Storms, hail, wind, floods, lightning, and earthquakes
Accidents with animals (hitting a deer)
An independent insurance agent can help you decide if Progressive's comprehensive car insurance is a good match for you.
What Does Comprehensive Coverage Cover?
Basically, it covers everything except collisions with objects or other vehicles—that's what collision coverage is for. A typical comprehensive policy will include these types of coverages.
Theft: Covers replacement if your car gets stolen.
Vandalism: Covers repairs if your car is the target of graffiti, keying, etc.
Flood: Covers repair and replacement if your car gets damaged by a flood.
Fire: Covers repair and replacement if your car burns up on its own or if gets damaged by wildfires, house fires, etc.
Severe weather: In case of hail, tornadoes, hurricanes, and other natural disasters.
Animal accidents: Covers repair and replacement if you hit a large animal like a deer.
Riot: Covers damages to your vehicle caused by riots.
Glass breakage: Covers repairs to your windshield and windows in case of damage.
An independent insurance agent can further explain the many protections offered by comprehensive car insurance.
Comprehensive Insurance Deductibles
DID YOU KNOW?
A deductible is the amount you agree to pay up front when you make an insurance claim.
When shopping for comprehensive insurance with your independent insurance agent, you'll decide if you want your coverage to have a deductible, and what that amount will be. A higher deductible can lead to a lower monthly premium rate for your coverage, but you'll also have to pay more out of pocket after an incident.
What Isn't Covered by Comprehensive Car Insurance?
Comprehensive car insurance is just one aspect of a complete car insurance package. Because of this, comprehensive car insurance doesn't cover the following.
Business use of your car: You'd need a commercial auto policy to cover this.
Liability: You'd need to purchase bodily injury liability and property damage liability to protect yourself against lawsuits. Coverage is likely mandatory in your area, anyway.
Collisions with other vehicles: You'd go through collision coverage for claims relating to collisions with other cars.
An independent insurance agent can help you assemble a complete auto insurance package.
Why Choose Comprehensive Insurance?
When considering comprehensive car insurance, you'll want to ask yourself a few questions. The first thing to consider is your location. If you live in an area more prone to weather risks, like along a coast, in a hurricane/flood zone, or in Tornado Alley, you'll be more inclined to want the extra protection for your car.
Other questions to consider when thinking about purchasing comprehensive insurance.
Does my car have a high value?
Does my city have a high theft rate?
How much can I afford to pay out of my own pocket towards a deductible?
An independent insurance agent can help discuss these questions with you and determine whether comprehensive coverage is a good option.
How Much Does Comprehensive Coverage Cost?
The cost of your comprehensive car insurance policy will vary depending on several factors, such as the kind of vehicle you have, its age, and its value.
Here are several factors that impact the cost of your comprehensive car insurance.
Your age
Your driving record
Your credit history
Your car's make and model
Your car's age and value
An experienced driver with a perfect safety record and a low to mid-range vehicle could pay as little as $600 a year for comprehensive coverage. New drivers with bad records, especially those with expensive cars, could pay upwards of $5,000 per year.
Comprehensive Insurance vs. Car Insurance
What's covered?
Comprehensive insurance
Natural disasters
Vandalism
Theft
Falling objects
Civil disturbance
Hitting an animal
Glass damage
Fire
Collision insurance
An accident with another car
Single-car collisions like a rollover
Someone crashing into your parked car
An accident in a car you've rented
A collision with another object like a mailbox
What's not covered?
Damage from a collision
Medical expenses
Legal fees
Property stolen from your car
Lost income to you or your passengers after an accident
Injuries to other drivers in an accident
Vandalism or theft
Accidents with animals
Losses other than auto damage from a collision
Comprehensive car insurance refers to one specific type of coverage under a larger car insurance policy. Car insurance policies typically come with several components, such as collision, liability, comprehensive, uninsured motorists, etc. However, some drivers opt to cover their vehicles with their state's minimum insurance requirements, while others go for a more complete coverage blanket.
It's highly recommended to get as much car insurance coverage as you can afford. Without the right type of coverage, you could be stuck paying out of your own pocket for a hefty claim, and possibly even lose your vehicle. Comprehensive car insurance provides a wide net of protection that's not offered in other policies such as collision. A safe bet is to just get set up with this coverage early on.
Save on Car Insurance
Our independent agents shop around to find you the best coverage.
Frequently Asked Questions about Comprehensive Insurance
Drivers who want more protection for their vehicles than just against collisions with other cars or objects. If your car is highly valuable or prone to weather-related risks or crime threats, it's important to consider comprehensive insurance.
Working together with an independent insurance agent is the best way to determine the coverage levels that work best for you. You'll consider factors like your car's age and value, as well as how much money you'd be willing to pay out of pocket towards a deductible.
Work together with your independent insurance agent to determine how much you'd be willing/able to pay out of your own pocket after an incident. Higher deductibles can offer you a nice price break on monthly premiums.
If comprehensive coverage no longer makes sense for you. Perhaps your car is old or not valuable, or not particularly at risk of anything other than a collision with another driver. Maybe you don't even take your car out on the road. An independent insurance agent can help you decide when it's the right time to drop comprehensive insurance.
Why Are Independent Insurance Agents Awesome?
It's simple. Independent insurance agents simplify the process by shopping and comparing insurance quotes for you. Not only that, but they'll also cut the jargon and clarify the fine print, so you know exactly what you're getting.
There's no business too small for our gifted independent insurance agents. They have access to multiple insurance companies, ultimately finding you the best comprehensive car insurance, accessibility, and competitive pricing while working for you.
©2023, Consumer Agent Portal, LLC. All rights reserved.
graph - https://www.statista.com/statistics/830189/comprehensive-claim-size-for-physical-damage-usa/
https://www.iii.org/article/what-is-covered-by-collision-and-comprehensive-auto-insurance