Liability Car Insurance
All drivers need to have liability coverage before hitting the road.

Whether you commute to work daily or only ever drive to run errands, your vehicle needs to be covered either way. Beyond just the physical protection aspect, all drivers need liability coverage in case of an accident. That's why having liability car insurance is critical before you ever hit the road.
Your vehicle can be a liability risk even if it's parked in the garage. Fortunately an independent insurance agent can help you find the right car liability insurance to protect you. But first, here's a deep dive into this coverage.
What Is Liability Car Insurance?
Liability car insurance is one part of a complete car insurance policy that covers the legal costs associated with third-party claims for bodily injury or property damage. If you cause an accident and injure someone else or damage their property, whether that's a vehicle, fence, or something else, you could be sued.
That's where car liability insurance comes in. Most states actually require liability car insurance before you're legally allowed to drive your vehicle out on the road. An independent insurance agent can help you determine your state's minimum car liability insurance requirements.
Why Do I Need Liability Car Insurance?
Because you're most likely legally required to have it by your state. In fact, all states except Florida and New Hampshire require bodily injury liability coverage, and only New Hampshire doesn't require property damage liability coverage. Drivers in these states should still strongly consider getting car liability insurance however, to help cover costs in case of an accident and resulting lawsuit.
Who Sells Liability Car Insurance?
Liability car insurance is available from many different insurance companies, and the best way to find the right carrier for you is through working with an independent insurance agent. Independent insurance agents know which insurance companies to recommend to meet your needs, and can provide informed suggestions based on company reliability, rates, and more.
While many insurance companies could provide liability car insurance for you, finding coverage could also depend on the area you live in. Here are a few of our top picks for liability car coverage.
One liability car insurance company outshines its competitors:
Travelers insurance is rated "A++" by AM Best and has been in the insurance industry for nearly 170 years. Travelers offers bodily injury liability, property damage liability, and much more in the way of car insurance. Their website states that their liability car insurance covers the following:
Hospital and medical bills
Lost wages
Pain and suffering
Rehabilitation services
In-home healthcare services
Travelers also offers the following car insurance options for its customers:
| Other Standard Liability Coverages: | Optional Liability Car Coverages: |
| --- | --- |
| Comprehensive Coverage | Loan/Lease Gap Insurance |
| Collision Coverage | Rental |
| Personal Injury Protection (or No-fault Insurance) | Roadside Assistance |
| Uninsured/Underinsured Motorist Coverage | New Car Replacement |
| Medical Payments Coverage | Accident Forgiveness |
With a high volume of customer satisfaction, Travelers provides trustworthy, reliable coverage for drivers of all kinds in need of critical car liability coverage. An independent insurance agent can help you find the right liability car insurance through Travelers.
What Does Liability Car Insurance Cover?
If you cause an accident or cause injury to another person or their property with your vehicle, your liability insurance will help to cover your legal obligation, up to the limits of your policy. Liability insurance pays for legal costs like attorney, court, and settlement fees if you get sued for causing an accident.
There are two main types of car liability insurance:
Bodily injury liability: Bodily injury liability covers injuries to the other driver in an accident and their passengers. Medical payments, including doctors and hospital visits, are included in this coverage. Emergency services are often included as well.
Property damage liability: Reimburses drivers for damage to their vehicles following an accident, as well as repairs to another driver's vehicle, if applicable. Damage to property like fences and buildings is also covered.
Liability insurance also helps to cover the costs of lawsuits arising from an accident. If an injured driver or passenger files a lawsuit against you, your liability insurance will help to pay for your legal defense. You will probably need legal defense in court, whether or not you are found at fault for the damage.
Distracted Driving Stats
Of course, one of the leading causes of accidents is distracted driving. Accidents caused by distracted drivers absolutely need car liability insurance to cover the legal costs. Disturbingly, the vast majority of accidents are caused by distracted drivers.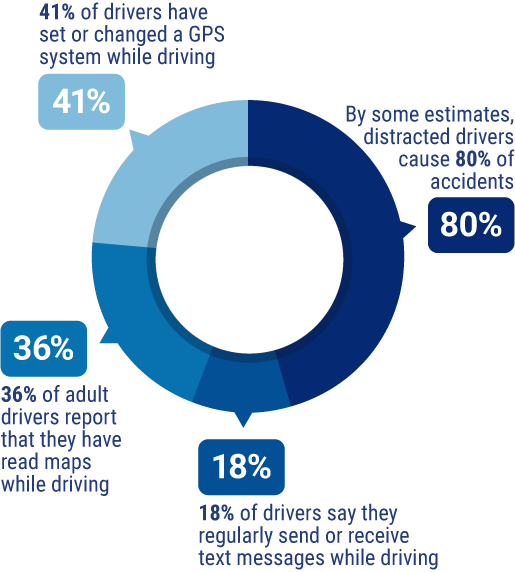 By some estimates, distracted drivers cause 80% of accidents
18% of drivers say they regularly send or receive text messages while driving
36% of adult drivers report that they have read maps while driving
41% of drivers have set or changed a GPS system while driving
No matter how comprehensive your car insurance coverage, it's imperative to always practice safe driving habits when behind the wheel to minimize disaster, injury, and even death.
How Much Does Liability Car Insurance Cost?
You'll want to purchase at least the legal minimum limits for your state, but should also consider purchasing beyond those amounts for a better picture of protection. The cost of your car insurance liability coverage will depend on a number of factors, including:
Your state: Each state has a different requirement for minimum liability insurance.
Your home and work: Where you live, drive and work makes a difference. Shorter commutes mean less risk of accidents. Also, living or working in a high-crime neighborhood can make you statistically more likely to be the victim of theft or vandalism.
Your driving history: Your age and driving history are also taken into consideration with liability insurance. Motorists with a history of collisions and traffic violations are often thought of as the biggest threats to the insurance company, along with newer, younger drivers.
As far as the average cost of liability car insurance, it depends on the level of coverage selected. Check out the chart below for more details.
Liability Car Insurance Costs by Coverage Level
| | |
| --- | --- |
| Liability Coverage Limits | Average Monthly Cost |
| 25k / 50k / 10k | $56.25 |
| 50k / 100k / 25k | $60.25 |
| 100k / 300k / 500k | $64.50 |
An independent insurance agent can help you find the more affordable liability car insurance in your area, and also scout out any discounts you may qualify for.
Liability Car Insurance Limits
Your auto liability insurance coverage will have three limits: bodily injury for each person, bodily injury for all persons involved, and property damage. So if you get a 30/60/15 policy, your insurance company will pay up to $30,000 for one person's bodily injury costs, up to $60,000 for all bodily injuries in the accident, and up to $15,000 for property damage.
Note that some insurance companies issue "single limit" liability policies, instead of split limit policies. A single limit policy would cover the costs of injuries and property damage together, up to the total limit. For example, a 300 policy would cover $300,000 of bodily injury and property damage liability combined after an accident.
How Does Liability Car Insurance Work?
Average cost per car accident death: $1,130,000
Average cost per nonfatal disabling injury: $61,600
Average cost per property damage and non-disabling injuries crash: $7,500
If you're responsible for a crash that causes injuries and damage to the other vehicle, here's how your insurance would pay the costs on a 30/60/15 split limit policy:
Your liability car insurance would pay up to $30,000 for one injured person, including hospitalization, treatment, and lost wages.
Your insurance would pay up to $60,000 for all injury costs if multiple people got injured.
Your insurance would pay up to $15,000 for all property damage you cause.
Unfortunately, many people purchase only the minimum liability coverage required by their state, leaving them exposed to enormous expenses if they cause an accident. Be sure to talk with your independent insurance agent about the appropriate amount of liability car coverage for your financial protection.
Do I Need Umbrella Insurance?
You may also want to consider an umbrella policy which provides excess liability coverage that can protect you if your legal expenses exceed your auto liability coverage limits. Umbrella policies are often sold in increments of $1 million in liability coverage. So, if your liability car insurance provided $300,000 worth of coverage and you added a $1 million umbrella policy, you'd have increased your liability cover to $1.3 million.
DID YOU KNOW?
6 out of 10 non-buyers mistakenly think they are protected under other policies.
If you caused an accident and owed $480,000 in damages and only had auto liability coverage of $300,000, instead of owing $180,000, you'd use your umbrella coverage to pay that amount. Then you'd only be responsible for covering your policy's deductible out of pocket. With increasing healthcare costs and lawsuit fees, umbrella policies are becoming more important as time goes on.
What Does Liability Car Insurance Not Cover?
Liability car insurance doesn't pay for damage to your own property, such as your vehicle, or your own medical bills. Collision coverage would be necessary to repair the damages to your car, and personal injury protection coverage would be used to cover the costs of your own injuries and medical treatment. Make sure to talk to your independent insurance agent about all the necessary types of car insurance you need to be fully protected.
Save on Car Insurance
Our independent agents shop around to find you the best coverage.
Things to Consider When Shopping for Liability Car Insurance
Before getting in touch with your independent insurance agent to shop for the right liability car insurance policy for you, it's handy to keep a few factors in mind, like:
Your driving and accident history: If you're more prone to accidents than the average driver for any reason, you should definitely consider getting higher liability car insurance limits.
Your assets: If you have a lot of assets, it's also worth considering buying more liability car coverage to protect your finances in case of a lawsuit. If your liability car insurance isn't sufficient in the event of a costly accident and lawsuit, you could stand to lose your home or other assets.
State programs for high-risk drivers: Drivers considered high-risk by insurance companies may need to seek their coverage from state programs due to an extensive accident record. These programs should be thought of as a last resort and used only if you cannot obtain coverage through traditional carriers.
Your independent insurance agent can discuss these factors with you and also point out other tips to consider when hunting for your coverage.
Frequently Asked Questions about Liability Car Insurance
Car liability insurance is just one aspect of a car insurance policy and provides coverage for legal costs in the event of an accident.
Coverage only applies to bodily injury liability and property damage liability, so if you get into an accident, your coverage would only pay for legal fees relating to injury or property damage to a third party who sues you.
You're most likely required to have coverage by law in your state.
This coverage kicks in when an employee drives their personal vehicle for business purposes. Coverage can apply to bodily injury and property damage to a third party in case the employee causes an accident.
It depends on your specific needs, but it's always a good idea to be prepared by purchasing as much liability car insurance as you can afford.
Companies like Uber sometimes provide their own supplemental insurance for their drivers, but you'll likely also want to have your own. Ask an independent insurance agent about getting set up with a special form of coverage called rideshare insurance.
No, if you use your vehicle for business purposes, you'll need a commercial auto insurance policy.
There are many car insurance discounts out there, and they vary by insurance company. Many companies offer discounts for bundling your coverage with another policy like your home insurance, as well as discounts for safe driving records, or completing a state-approved defensive driving course.
Only if that's the absolute maximum amount of coverage you can afford when signing up for your insurance. Otherwise, it's typically advised to increase these limits ASAP to better protect yourself, and others on the road.
The Benefits of an Independent Insurance Agent
When it comes to protecting drivers against unexpected lawsuits and all other disasters, no one's better equipped to help than an independent insurance agent. Independent insurance agents search through multiple carriers to find providers who specialize in liability auto insurance, deliver quotes from a number of different sources and help you walk through them all to find the best blend of coverage and cost.
TrustedChoice.com Article | Reviewed by Jeffrey Green
©2023, Consumer Agent Portal, LLC. All rights reserved.
https://orlandoautobody.com/car-accidents/statistics-and-costs-of-a-car-accident/#:~:text=%E2%80%9CMotor%20vehicle%20accidents%20average%20costs,non%2Ddisabling%20injuries)%3A%20%247%2C500