Uninsured Motorist Coverage
In case you find yourself in an accident with someone without insurance
The average American drives more than 13,000 miles a year. Whenever you get behind the wheel, there's the chance of an accident or unexpected event disrupting your drive. Fortunately, car insurance covers these risks, but not everyone has coverage for one reason or another. If you end up in a crash with an uninsured driver, who is going to end up paying the bills?
An independent insurance agent's role is to educate and protect. They'll make sure you have the proper uninsured motorist coverage should you find yourself in an accident with a driver without coverage.
Uninsured drivers in the US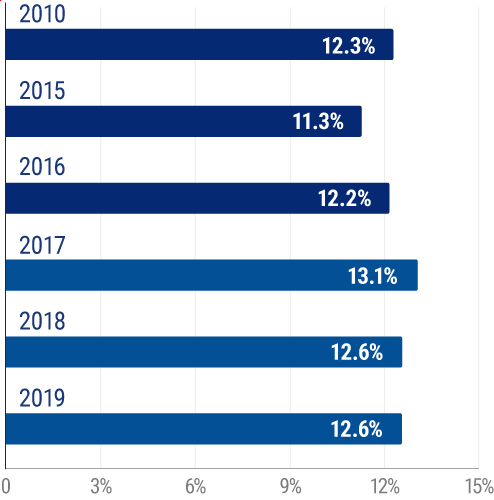 In recent years, nearly 13% of drivers in the United States did not have insurance.
What Is Uninsured Motorist (Bodily Injury) Coverage?
Uninsured motorist bodily injury coverage protects you and your passengers financially in the event of an accident with someone who doesn't have car insurance or is delinquent in making their car payment.
Uninsured motorist bodily injury insurance covers you and any passengers in your car for
Medical bills
Lost wages
Bills related to any pain and suffering
What's the Difference between Uninsured and Underinsured Motorist Coverage?
Uninsured motorist coverage vs. underinsured motorist coverage is exactly how it sounds. But to spell it out, here is how they're different:
Uninsured motorist coverage: When the other driver doesn't have any coverage at the time of an accident.
Underinsured motorist coverage: When the other driver has insurance but doesn't have enough coverage to pay for all expenses of the accident.
Is Uninsured Motorist Coverage Mandatory?
Technically, no. However, some states require this type of coverage in standard auto policies: Connecticut, District of Columbia, Illinois, Kansas, Maine, Maryland, Massachusetts, Minnesota, Missouri, Nebraska, New Hampshire, New Jersey, New York, North Carolina, North Dakota, Oregon, South Carolina, South Dakota, Vermont, Virginia , West Virginia, and Wisconsin.
States where uninsured motorist coverage is required with standard auto policies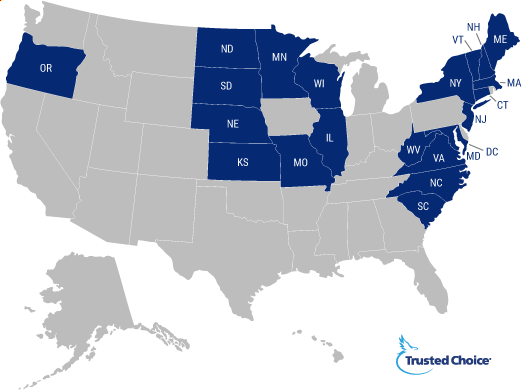 If you live in a state that doesn't require uninsured motorist coverage, you can still choose to add it to your auto policy.
Why Do I Need Uninsured Motorist Coverage?
Not only does uninsured motorist coverage protect you if you happen to get hit by an uninsured driver, it will also help to pay for medical costs, pain and suffering, and lost wages associated with the accident.
In addition, when it comes to uninsured drivers, not every state is created equal. Some states have more uninsured drivers than others, and knowing who you're sharing the road with could sway your decision about adding the coverage or not.
States with the highest percentage of uninsured drivers
| Rank | State | Percent uninsured |
| --- | --- | --- |
| 1 | Mississippi | 29.4% |
| 2 | Michigan | 25.5% |
| 3 | Tennessee | 23.7% |
| 4 | New Mexico | 21.8% |
| 5 | Washington | 21.7% |
| 6 | Florida | 20.4% |
| 7 | Alabama | 19.5% |
| 8 | Arkansas | 19.3% |
| 9 | District of Columbia | 19.1% |
| 10 | California | 16.6% |
More than 23% of drivers in Tennessee, Michigan, and Mississippi are without insurance.
How Much Uninsured Motorist Coverage Do I Need?
If you live in a mandatory insurance state, your insurer may automatically add the minimum amount to your auto policy. If it's not required or you want to add to the minimum, it's recommended to have at least $100,000 per person and $300,000 per accident.
What Does Uninsured Motorist Coverage Cover?
Whether you get in an accident with an uninsured or an underinsured driver, uninsured motorist coverage will help pay for a number of expenses to get you back on the road.
Property damage to repair your own vehicle (up to $3,500)
Other property damage besides your vehicle
Medical expenses of your family members if they are harmed by an uninsured motorist
Lost wages, and/or lost earning ability
Nonfinancial costs such as pain and suffering
In most cases, uninsured motorist coverage should cover a hit and run, but it's a case-by-case basis. You'll want to work with your insurance agent in the case of a hit and run.
Save on Car Insurance
Our independent agents shop around to find you the best coverage.
How Much Does Uninsured Motorist Coverage Cost?
The cost of an uninsured motorist policy depends on a number of factors, including location, age, and the amount of coverage you choose. But on average it will be around $50 a year. An important thing to remember about cost and coverage is that it cannot exceed your auto liability policy.
Example: If you purchased $100,000 bodily injury, $300,000 per accident and $50,000 property damage coverage, uninsured motorist and underinsured motorist (combined coverage) cannot exceed $100,000/$300,000 for bodily injury.
Do I Need Uninsured Motorist Coverage If I Have Health Insurance?
Yes. Uninsured motorist bodily injury coverage can pay you for loss of time at work, and medical payment to assist with the deductible. It can also cover services like acupuncture and chiropractor visits that may not be covered under your health insurance plan.
The Awesome Benefits of an Independent Agent
An independent agent can help you determine the right amount of uninsured motorist coverage and will walk you through a handpicked selection of sweet policy options. Not only that, they'll cut the jargon and clarify the fine print so you know exactly what you're getting.
Most importantly, they'll be there to help you file a claim. The outcome of insurance claims can be strongly impacted by how the process is approached and handled.
Finding and Comparing Uninsured Motorist Coverage Quotes
An independent insurance agent will review your needs and help you evaluate the best uninsured motorist coverage for you. They'll also compare policies and quotes from multiple insurance companies to make sure you have the proper protection to keep you safe.
TrustedChoice.com Article | Reviewed by Paul Martin
©2023, Consumer Agent Portal, LLC. All rights reserved.
https://www.iii.org/fact-statistic/facts-statistics-uninsured-motorists