Car Insurance Discounts
(Save your cash for gas)

Your car gets you and your family from place to place, which is why you want car insurance that protects you from any of the potential risks you may run into on or off the road. However, you don't want that insurance to break the bank.
Fortunately, everything from your job to your teen's grades can qualify you for big savings on your premiums. An independent insurance agent can help you find car insurance discounts that you may not know exist.
What Are Car Insurance Discounts?
Car insurance discounts are opportunities offered by insurance carriers to help you save money on your monthly premiums.
The national average cost for car insurance is $1,311 a year. This rate varies depending on multiple factors and can get more expensive for young drivers, drivers with a history of incidents, and drivers of luxury cars.
Since some form of car insurance is required in most states, insurance carriers will reward individuals who have safe vehicles, good drivers, and other positive factors in order to lower the costs of car insurance premiums.
Some of the factors that can impact car insurance discounts include:
Age and gender
Location
Occupation
State car insurance requirements
Deductible
Driving record
Military or veteran status
DID YOU KNOW?
It's important to remember that not all discounts will be spelled out in your policy, even if they're still saving you money.
What Car Insurance Discounts Are Available?
There are a variety of car insurance discounts available depending on where you live and which insurance carrier you purchase insurance from.
4 Major Types of Discounts
Car insurance discounts can be divided into four main types; safety, bundling, group, and loyalty.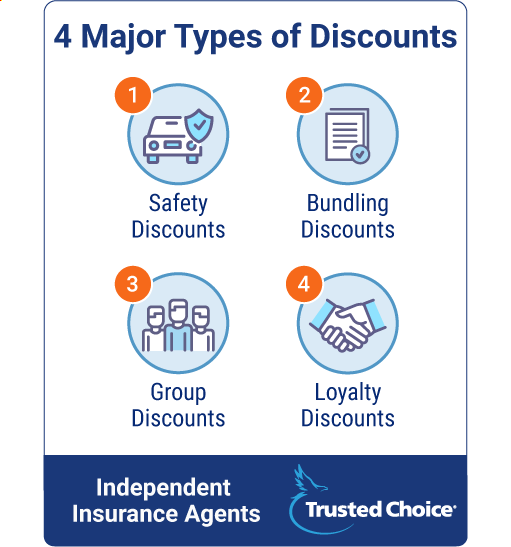 Safety discounts: Discounts that are provided for safe driving habits and drivers less likely to get in an accident.
Bundling discounts: Discounts that are a result of combining multiple types of insurance through the same carrier, such as home and car coverage, or insuring multiple vehicles.
Group discounts: Discounts you can get if you belong to a certain association or profession, such as military, teachers, or government employees.
Loyalty discounts: Discounts that reward customers who stay with the same insurance company for a long time.
Within these four types of car insurance discounts, your premiums can be lowered as a result of:
Having a good driving record
Installing a GPS device
Taking safety classes
Drive a vehicle with good safety features
Getting good grades as a teen driver
Having good credit
Being married
Being a female driver
Where you live and drive
Your age
Referring other drivers to your insurance carrier
How Hard Is It to Get Car Insurance Discounts?
The short answer, not very. You do not need a perfect driving record to qualify for discounts.
Some proactive things you can do to qualify for car insurance discounts include:
Buy a safe vehicle
Maintain a clean driving record
Take driving safety courses
Shop multiple carriers
In addition to what you can do, an insurance agent can learn about you and your driving habits and help you find even more savings.
Save on Car Insurance
Our independent agents shop around to find you the best coverage.
How Do I Get Car Insurance Discounts?
Some discounts, like those based on gender, marital status, location, and age will be included in your premiums without having to do anything. In order to get additional not-so-obvious discounts, it's best to work with an independent insurance agent.
An agent will know the right questions to ask and will be able to shop discounts from multiple carriers. Since agents aren't bound to one company, they can comparison shop between carriers and help you find the best deal.
Does My Car Affect My Car Insurance Discounts?
In short, yes. If you're shopping for a car, you can start working with an independent agent to compare insurance costs before you even sign the papers. Here's what goes into calculating insurance for a new (or new-to-you) car:
Value: The cheaper the car, the cheaper the premiums.
Safety: New features like rear cameras, pedestrian detection, and emergency braking can lower premiums.
Cost of repairs: If a car costs a lot to repair, it'll up your premiums (because your carrier wants to break even).
Attractiveness to thieves: If your car's at risk of being stolen, it'll also up your premiums (same deal as above: your carrier needs to cover their costs).
Engine size/power: The more powerful your car, the worse an accident might be, so a large engine ups your premiums.
Getting discounts on your car insurance doesn't have to stop when you pick a plan. Keeping your agent updated on major life events — like marriage or a job change — can help you qualify for discounts you missed the first time around.
Save on Car Insurance
Our independent agents shop around to find you the best coverage.
The Benefits of an Independent Insurance Agent
Now that you know how car insurance discounts work, there's no need to do the hard work yourself. Our independent insurance agents stay on top of the industry and all the latest discounts so you don't have to. They'll chat with you, free of charge, to help find the right coverage at the right price for you.
TrustedChoice.com Article | Reviewed by Paul Martin
©2023, Consumer Agent Portal, LLC. All rights reserved.