Car Insurance Claims
(When bad things happen to good cars)

Car insurance claims can be tricky, and knowing the how, what, when, where, who and why can sometimes be more overwhelming than the accident or theft itself.
That's why we've put together a simple list of what to do before, during and after the incident occurs so you can get back on the road again.
Our independent agent matching tool will find you the best insurance solution in your area. Tell us what you're looking for and we'll recommend the best agents for you. Any information you provide will only be sent to the agent you pick.
Steps for Filing a Car Insurance Claim
Whether you were just in an accident, had your car stolen, or you just want to be prepared in case one of these super-awful things happens, we've got you. Here are 6 steps to help you handle the first few minutes and days after an incident occurs.
P.S. Printing this out is always a good idea, it fits in all glove compartments and filing cabinets.
Step 1: Check on the health of everyone involved.

See if there were any injuries, whether it was an accident or a carjacking.

Step 2: Call for help.

Make sure you're somewhere safe. In any accident more serious than a small fender bender, call 911.

Step 3: Look at the damage.

Inspect your vehicle and the other vehicles involved.

Step 4: Document the details.

Get as much detail as you can about the other driver and any witnesses, including their insurance information. Also make sure to take pics and videos of the crash scene and damage.

Step 5: Get your car off the road.

Even if it's completely wrecked, get your car out of the way of moving traffic. If it's not obstructing traffic, leave it where it is.

Step 6: Contact your insurance agent.

Let your agent know that you've been in an accident and they'll help guide you through the next steps.
Save on Car Insurance
Our independent agents shop around to find you the best coverage.
When to File a Claim
Statistically speaking, car insurance claims have been increasing every year. From 2014 to 2016, collision claim frequency increased 2.6 % and severity rose 8.2%.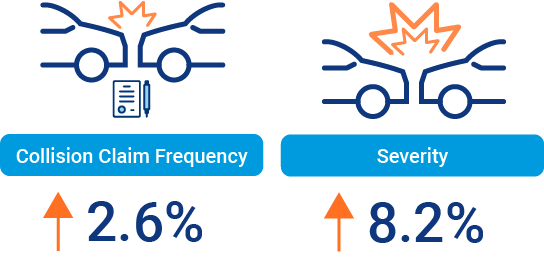 HOWEVER, filing a claim is not always the smartest decision. Unofficially, there's an "ideal claim zone" where the benefits will outweigh the costs of filing a claim. The goal is to find this zone. The easiest way to do that is to calculate potential expenses and decide if it's worth filing a claim.
Example: Say you're in an accident and the cost of repairing the damage is $505. If your deductible is $500, filing a claim would definitely not be worth the risk of your premium going up for a difference of $5.
But here are a few scenarios where you would most likely want to file a claim:
If you're in an accident where you can be held responsible.
If the damage done to your car is significantly more than your deductible.
If you're hit by an uninsured or underinsured motorist and you don't have uninsured motorist coverage.
If you or anyone else involved has serious injuries.
If you decide you are going to file a claim, you will want to do it as soon as possible after the accident. Waiting can cause the insurance company to deny your claim.
How to Get Through Filing a Claim
Filing a claim can be the most dreaded part of your accident, but here are a few pro tips to help take the edge off.
Stay calm.

Easier said than done, but keep in mind that the damage has been done. Talking to a claims adjuster may feel like entering into an uncomfortable business transaction, but remember, they're there to help you.

Tell the truth. Always.

Never lie about what happened during the accident or try to game the insurance system. You won't win.

Remember: It's not personal.

Insurance adjusters don't make commissions off of the number of accidents they assess. Help them do their job by cooperating in a peaceful manner.

Never admit fault.

Relay the accident and what happened in a factual manner, but avoid admitting fault. Admitting fault can open you up for vulnerability should your claim go to court.
What If an Uninsured or Underinsured Motorist Hits Me?
Uninsured motorist coverage varies from state to state. If you don't have uninsured/underinsured coverage and you're hit by someone whose policy limits won't cover all of your expenses, you'll want to assess the situation to determine if it's worth filing a claim for the remaining balance.
If you have uninsured/underinsured coverage and are hit by someone who doesn't have adequate coverage or has no insurance at all, you'll definitely want to file a claim with your insurance.
Will My Premium Go Up after a Claim?
A variety of factors go into whether your premium will be raised after a claim. Some insurance companies offer good driver discounts and other forgiveness packages. Your potential premium increase will depend on the severity of your accident, your insurance policy, and your driving record.
Save on Car Insurance
Our independent agents shop around to find you the best coverage.
What Happens after I File a Claim?
Most of your time after a claim will be spent waiting to hear from your insurer while they take care of things on their end. After you report your accident, your insurer will follow these steps:
Step 1: They'll take down the information of anyone involved in the accident.
Step 2: Someone will call you to get your side of the story.
Step 3: They'll send out a claims adjuster or send you to a shop to assess the damage.
Step 4: They'll work up a report.
Step 5: There will be an adjustment period for repairs.
Step 6: They'll deal with any medical bills.
Step 7: They'll direct you on where to get your car fixed and what will happen with your insurance.
In the long run, filing a claim could cause your insurance premium to increase. Depending on the damage, your insurance could decide to total your car or pay for the damage.
While filing a claim is never fun, your insurance agent can help guide you through the process and get you back on the road as soon as possible.
TrustedChoice.com Article | Reviewed by Paul Martin
©2023, Consumer Agent Portal, LLC. All rights reserved.