Car Insurance Bundles
(Discover how to easily pair your auto policies)

Macaroni and cheese. Batman and Robin. Peanut butter and jelly. Some things just go perfectly together. And your car insurance is no different. Bundles combine different kinds of insurance, like car and home, within one company—giving you a sweet little discount.
Our independent insurance agents are real know-it-alls when it comes to protection and saving a buck. They can help you qualify for the right bundle AND stretch your hard-earned money even further.
But let's talk a bit more about bundles first, like what they are and how to qualify for 'em.
What Are Car Insurance Bundles?
Just like bundling up in the frigid winter months, bundling multiple insurance policies will give you more protection. But even better than that is the money you save.
See, insurance companies want your business, so they'll typically cut you a pretty sweet deal if you get multiple types of insurance with their company. Combine your car insurance with another policy (or two, or three) and you could save big.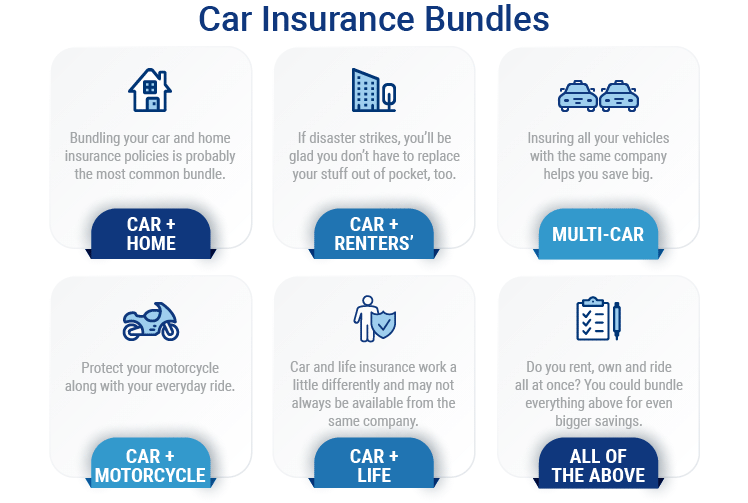 Save on Car Insurance
Our independent agents shop around to find you the best coverage.
What Car Insurance Bundles Are Available?
You can combine car insurance with a number of other types of insurance to create a bundle. Among the most common pairings are:
Car and home: "New car" and "fresh paint" are great smells, and they go even better together. Bundling your car and home insurance policies is probably the most common. And that's because it's ridiculously easy. Have a car and house? You need to insure both. Might as well save while you're at it.
Car and renters: Renters insurance: Everyone knows they should have it, but few take the plunge. If you've been teetering on the edge, perhaps the prospect of big car insurance savings can convince you. If disaster strikes, you'll be glad you don't have to replace your stuff out of pocket, too.
Multi-car: This discount is technically a bundle. Are you a two, three (or more) car family? Insuring all your vehicles with the same company helps you save big.
Car and motorcycle: Do you live a more daring life on the side? Protect your baby (aka, motorcycle) along with your everyday ride. Use the savings to splurge on hot gear. It's a win-win.
Car and life: This pairing is a little rarer than the others, since car insurance and life insurance work a little differently and may not always be available from the same company. It can be done, though.
All of the above: Do you rent, own and ride all at once? You could theoretically bundle everything above for even bigger savings.
How Do I Get Car Insurance Bundles?
Glad you asked 'cuz it's super-easy. Bundling discounts are a piece of cake to get and offer great savings. Here's how:
Take stock (and notes): Do you already have a car insurance policy? What other policies would you like to bundle? (Home and car insurance are a natural pairing, but you can bundle just about anything.) Do your homework ahead of time to make Step 2 even easier.
Get personal with your agent: Agents are experts who are there to do the hard work for you. Not sure if you want to stick with your current insurance company or switch? Not sure what coverage you need after all? Your agent will ask you some questions and figure it out for you.
Compare wisely: Your agent will likely provide you with multiple insurance quotes. It's tempting, but don't go with the cheapest one automatically. Ask for details on the discount your bundling gave you. You could actually be getting more discounts and better coverage with a mid-range option.
Celebrate: As long as you signed the papers, you probably just got a bundling discount! It's that simple. If not, we hope you found other discounts that made for an even better deal. Go, you.
Save on Car Insurance
Our independent agents shop around to find you the best coverage.
The Benefits of an Independent Insurance Agent
Look, your time is valuable. So why do the hard work yourself? Our independent insurance agents stay on top of the industry and all the latest discounts so you don't have to. That means they'll help you find the right discounts, the right coverage and the right price for you.
They're not just there at the beginning, either. If you get in a jam and need to make a claim, they'll help you meet deadlines and ensure you're getting all the benefits you're entitled to.