Towing and Roadside Assistance
(Because you should always have an emergency backup plan you can count on.)

Whether the transmission dropped out of your car, you're out of gas, or you've been in an accident, your first priority (besides your safety) is getting your car off the road.
But what if it's late at night, or you're nowhere near anyone you'd normally call for help? That's when having the right roadside assistance coverage is a total lifesaver.
And speaking of lifesavers, if you're looking for the right roadside protection at a great price, an independent Insurance agent is your answer.
Independent agents are absolute pros in the world of insurance and protection who can answer all your questions, help you find the right add-on coverage to your auto policy, and help get you back on the road. Or at least to a repair shop.
What Is Towing and Roadside Assistance Insurance?
It's pretty simple, really. Towing and roadside assistance is an opt-in endorsement that you can add to your existing auto policy to help rescue you if your car breaks down, for a number of reasons, and you need a little help.
In the unfortunate event your car does break down, a professional will come to wherever you are and help fix the problem or tow your vehicle to the nearest repair shop.
Save on Car Insurance
Our independent agents shop around to find you the best coverage.
What Does Towing and Roadside Assistance Cover?
Each carrier will have different services in their roadside package, but for the most part, your coverage will include help like:
Towing
Tire changes
Locksmith/key replacement
Jump starts
Fuel delivery
Pulling your car out of mud and snow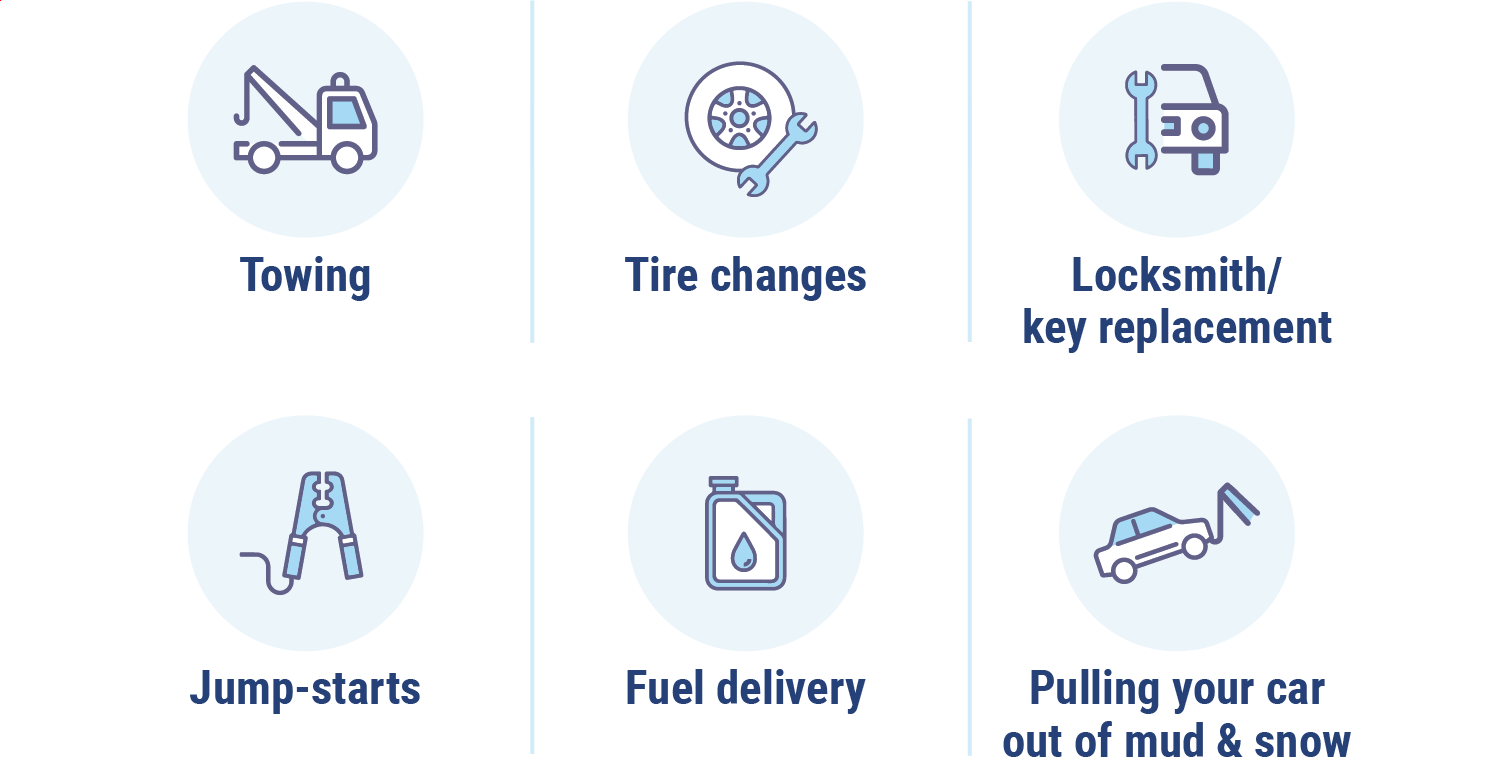 In addition to the situations where coverage can be of use, you'll definitely want a policy that offers 24/7 assistance. Seriously, it will be well worth it if your car breaks down in the middle of nowhere or the middle of the night.
Most common car breakdowns:
Low or dead battery
Engine problems
Transmission issues
Brake issues
Flat tires
Running out of gas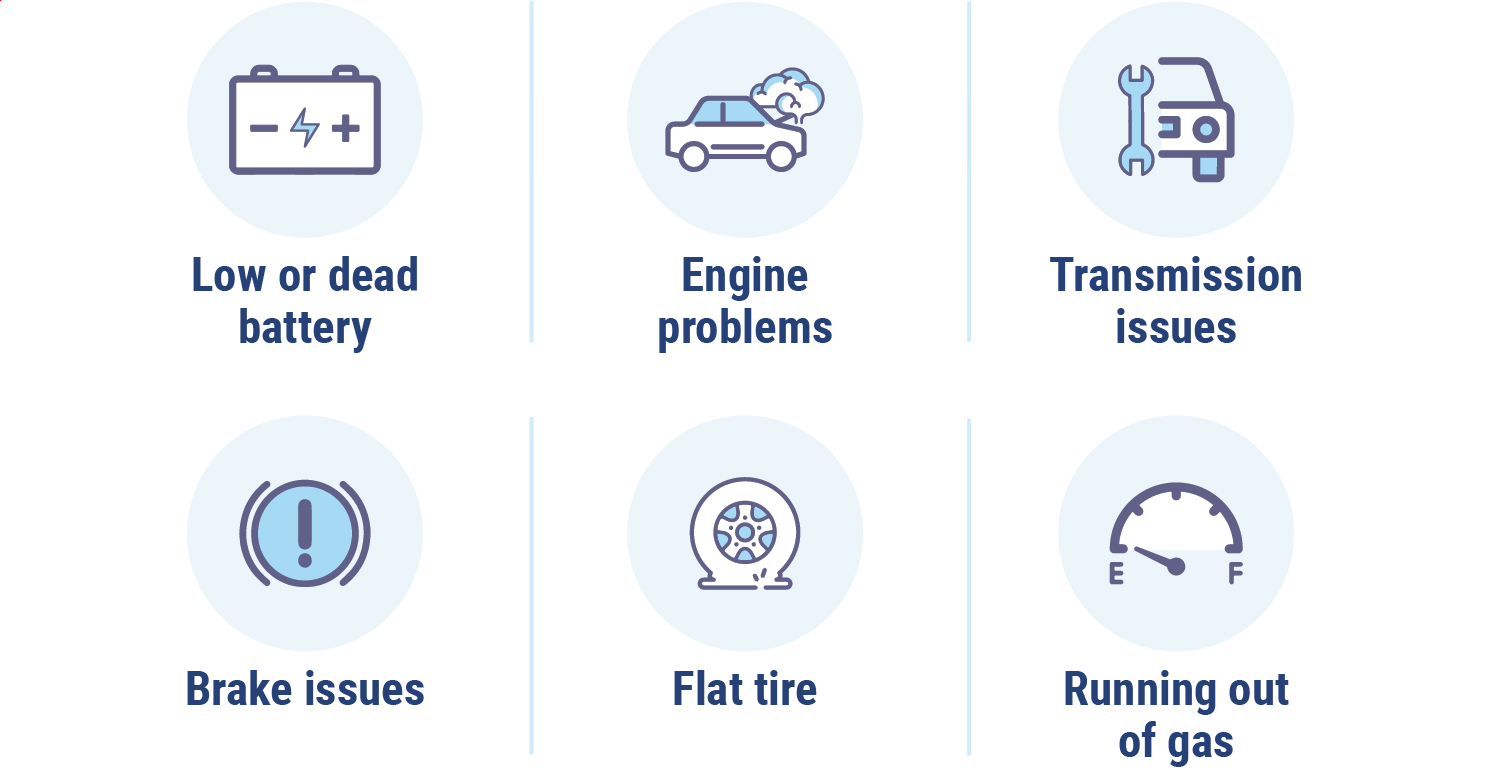 How Much Does Roadside Assistance Insurance Cost?
Depending on the terms and coverage of the roadside assistance you choose, you can expect to pay around $2 to $5 a month for towing and roadside assistance coverage. Auto clubs like AAA can cost upwards of $150 a year.
Sure, you'll get some extra bells and whistles. But the most common roadside assistance calls are for flat tires, towing, and lockouts. All of which can be purchased with an endorsement at a much friendlier price.
Sometimes, though, roadside assistance is already included in your car insurance policy. So if you're buying a new policy, talk to your agent about it. If you're not looking for a new auto policy, take a look through your existing paperwork and see if it's already part of your coverage.
It's even common for a lot of car dealerships to include some form of roadside assistance with the sale of your vehicle for a certain number of years.
Save on Car Insurance
Our independent agents shop around to find you the best coverage.
Does Your Car Warranty Include Roadside Assistance?
Good question. These days, it's becoming more and more common for car manufacturers to offer limited roadside assistance as part of their warranty. But beware, most programs expire after 3 to 5 years, and some will only allow you to be towed to a specific dealership.
While the extra assistance is nice, it's not the only coverage you'll want to have. Especially if you find yourself in a breakdown that's outside the warranty's terms and conditions.
Do I Need Towing and Roadside Assistance Insurance?
No matter how reliable you think that car of yours is, every car is at risk of breaking down. Even a newer car can encounter a faulty electrical issue and leave you sitting in a parking lot with no way to get home.
In fact, the American Automobile Association reports that breakdowns are on the rise as a result of updated technology in vehicles. This means anyone with a vehicle should consider adding towing and roadside assistance to their policy.
The good news is that some policies will include towing and roadside assistance, so it doesn't have to be an additional charge in some cases. But if you skip the roadside coverage and find yourself stranded, you could be stuck with a hefty bill that includes charges like:
Towing: Ranging from $2.50 to $7.00 per mile.
Locked keys in car: Up to $250.
Jump start car battery: Up to $100.

How Does Roadside Assistance Insurance Differ for My Older Car?
Even with the rise in breakdowns from all the new car technology, you can still expect an older car to break down more often than a new car, or at least be at a higher risk. Overheating, bad brakes, and corroded car parts make an older vehicle the perfect candidate for this type of coverage.
The age and condition of your car will determine the best policy for you. But ultimately older cars get all the same benefits as newer cars. They'll just need them more often.
Questions to Ask When Buying Roadside Assistance Coverage
Just like any other purchasing decision, you shouldn't go into this blind. An independent insurance agent will help you get answers to your roadside questions like:
Is the car or the driver covered?
Am I covered driving other vehicles?
What is the coverage area?
Is there a sign-up fee?
How many tows per year?
What is the towing mileage?
What is the average response time?
Is assistance available 24/7?
Will the policy reimburse me if I hire other services myself?
Once you've talked to an independent agent about these topics and any other questions you may have, you'll have a much better idea of the coverages in front of you. And that will help make your decision even easier.
Save on Car Insurance
Our independent agents shop around to find you the best coverage.
How to Find Roadside Assistance Insurance Quotes
It's entirely possible you already have roadside assistance in your car warranty or existing auto policy. An independent insurance agent can review your current coverage to make sure you have the right protection in place.
If you don't have coverage, or enough of it, an agent can help find and compare quotes for a number of different options that will fit your needs.
The Benefits of an Independent Insurance Agent
Finding or knowing if you have the right towing and roadside assistance coverage/endorsement can be tricky. The role of an independent insurance agent is to make this as quick and painless as possible. And to make sure you end up with the coverage you want and need.
Not only that, they'll break down all the jargon and explain the details, so you understand exactly what you're getting.
©2023, Consumer Agent Portal, LLC. All rights reserved.
https://fortune.com/2016/07/20/aaa-breakdown-new-tech-study/