American Family Insurance Company Review
American Family Insurance Company at a Glance
Founded in 1927
Offers a variety of coverages
Offers both personal and business policies
Coverage offered in 19 states
"A" (excellent) rating by A.M. Best
"A" (excellent) rating by Better Business Bureau
Excellent customer service availability
Multiple discounts available
Strong financial stability
24/7 claims reporting
American Family Pros: Nearly a century of experience in the insurance industry. Provides multiple types of coverage including auto, home, umbrella, landlord, and more. Offers coverage to individuals and businesses. Offers 24/7 customer service and claims reporting options. Strong financial stability. Good customer feedback.
American Family Cons: Not a BBB accredited company. Coverage is not available nationwide.
What Type of Insurance Does American Family Offer?
American Family offers a wide range of insurance options to both individuals and businesses. Their products include:
Car insurance
Boat insurance
Motorcycle insurance
Home insurance
Renters insurance
Condo insurance
Farm and ranch insurance
Business insurance
Landlord insurance
Life insurance
Umbrella insurance
Health insurance
Travel insurance
This list of insurance products offered by American Family is not exhaustive. The carrier offers a wide variety of coverages for both businesses and individuals alike.
What to Know about American Family Insurance
American Family Insurance was founded in 1927, meaning the carrier is fast approaching a century of experience in the insurance industry. The carrier has a respectable history of offering quality insurance coverage and products to individuals and businesses. American Family is the country's 13th-largest property and casualty insurance provider.
While American Family does offer a wide variety of coverages, their products are not available nationwide. Currently the carrier offers coverage in 19 states. Their official website states that throughout their 14 companies, they have about 12,000 employees. About 2,400 independent insurance agents are employed by American Family Insurance today.
Thanks to its extensive history, wide reach, and large financial size category, American Family is known as a financially stable insurance provider with a strong outlook for the future. A.M. Best, the leading global credit rating agency monitoring the insurance industry, gives American Family Insurance an "A" rating, indicating the carrier is an excellent choice for insurance customers. A high rating from A.M. Best assures customers that American Family is capable of offering guaranteed, secure coverage from a trustworthy and reputable carrier.
Established in 1899, A.M. Best is one of the oldest rating companies in the world. Reviews from A.M. Best indicate an insurance company's financial strength and creditworthiness, and are based on comprehensive evaluations of the company's operating performance, business profile, and balance sheet. For customers who aren't as familiar with insurance companies' reputations, A.M. Best's rating system allows them to make an informed decision about who they can trust to meet their needs in the short term, and also to remain a strong, financially sound company in the long term.
Using our insurance company directory can help you find the best insurance companies that specialize in your specific coverage needs. The company directory can also help you get connected to an agent near you.
What Discounts Does American Family Offer?
American Family provides several competitive discounts on their coverage offerings, especially on car insurance. Their discounts include: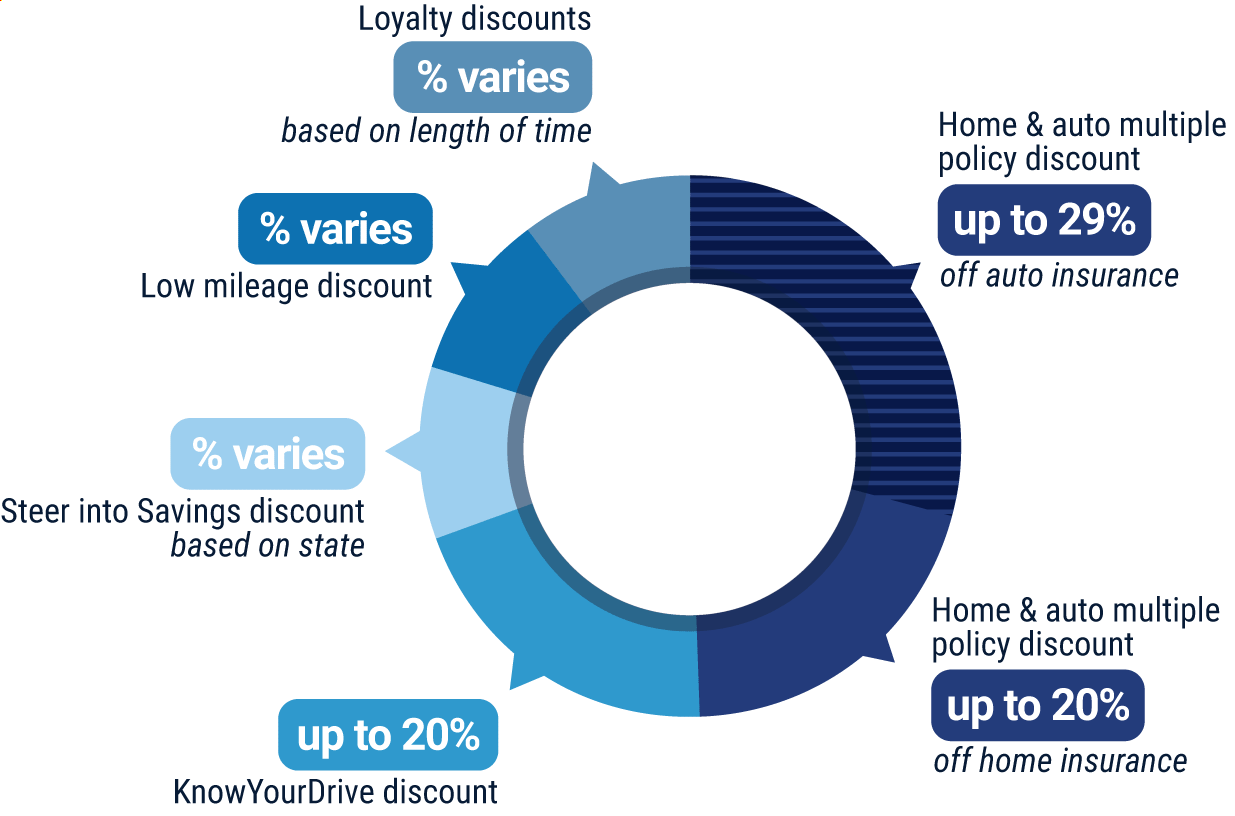 Multi-policy and multi-car discounts: Offered to customers who purchase more than one type of insurance through American Family, such as home and auto.
KnowYourDrive discount: Offered to customers who install the KnowYourDrive app on their smartphone. The app monitors driving habits to help the owner become a safer driver.
Steer into Savings discount: Offered to customers who switch their auto coverage to American Family from a competitor.
Low mileage discounts: Offered to customers who drive less than 7,500 miles per year.
Loyalty discounts: Offered to customers who remain with American Family for several years.
American Family works with independent insurance agents, who can further help you get the most bang for your buck out of your coverage in addition to these great discounts.
American Family Insurance Customer Service
American Family allows customers to file claims and solve other issues over the phone or online, any day of the week. The carrier also provides the following customer service options:
Live chat option available with customer service representatives Monday-Friday, 8 am–8 pm
Email contact options available.
Snail mail contact options available.
24/7 claims reporting and customer service hotline available.
American Family sells insurance through a wide network of agents, including independent insurance agents. These agents can help make customer service easier for you by handling claims and other concerns.
Find The Right Company Today.
Shopping for a company? We have the right one for you.
American Family Insurance FAQ
What is American Family's average claims response time frame?
American Family's official website states that after filing a claim, customers can expect a response from a claims representative within 1-2 business days.
What is American Family's customer service availability?
American Family offers two separate phone lines for general customer inquiries and claims filing. Their hotlines are available for customers 24/7. They have a live chat option available to customers on weekdays, 12 hours of the day. The carrier also has a social media presence on both Facebook and Twitter, making them even more accessible to customers.
What is American Family's claims process?
American Family allows customers to file claims online or over the phone. They break the claims filing process down into just a few simple steps. The carrier's official claims process is outlined on their website as follows:
"Report your claim. Open up the MyAmFam app or log in to My Account to start the claims process. Don't have MyAmFam on your phone or tablet? You can download the app and file your American Family Insurance claim straight from your mobile device, 24/7, wherever you are. Then, check the status of your claim at any time from the app. You can also report a claim by calling 1-800-692-6326 or by contacting your American Family Insurance agent.
Keep your phone handy. Once your claim is filed, an American Family Insurance claims representative will contact you to go over your claim and what you can expect for next steps.
We'll review your claim. Your personal claim representative will work with you to accurately evaluate your claim and help you navigate the next steps.
We'll complete your claim as quickly as possible. After a prompt and fair assessment, your claim will be completed by our claims representative. We'll contact you as necessary. And you're always encouraged to call us at 1-800-692-6326 with questions or concerns."
American Family allows customers to track their claim's progress via phone or through the official website at any time, as well.
Does American Family Insurance create a user-friendly experience for customers?
American Family's website is highly intuitive and easy to use for both current and prospective customers alike. Customers can get matched with an insurance agent, request a quote, file claims, check their claim's status, and more right through the website. The carrier has an active presence across multiple social media platforms as well. They also have a mobile app available for smartphone users. Overall, American Family provides a very user-friendly experience for customers.
American Family Insurance Customer Reviews
Consumer Affairs

"I have had Am-Fam coverage on 3 different homes over a space of 28 years. I have had 4 claims on my homes, mostly from weather-related events. Claims dept. sent adjusters out quickly and they had their approved contractors on the job in a timely fashion. Cost of damage repair was never a problem. My agents over the years was always helpful."
Consumer Affairs

"So glad it's now a mutual organization. Just reviewed and updated my homeowner's and agent helped me save $800 a year. Very prompt service. Been with company 30 years and it's getting better."
Yelp

"Excellent insurance company. I've used them to insure my motorcycle for the last 2 years and they have been courteous, efficient, quick to answer the phone in person (no endless mazes of automated menus) and flexible. Claims went through fast and without challenges.
I even changed my policy a couple of times, adding and subtracting options, and they've been extremely accommodating. Couldn't be happier with them."
Yelp

"Great company, great customer service, they are caring and empathetic. The rates are good and competitive and they do more for their customer than most other insurance companies I've been with. Friendly staff and quick response to get you back on your way. Give them a try, the company is always looking for new ways to improve themselves with the market and today's technology."
Better Business Bureau

"I have been with American Family Insurance from the beginning, starting with my first car to where I am now roughly 38 years later with my home and vehicles. They have been a very reliable company and I trust in their knowledge for the best coverage and affordability. I will never have a need to seek and search for a different company."
TrustedChoice.com's Final Review

We award American Family a final rating of 4.5 out of 5 stars. The carrier's extensive history and high ratings through both A.M. Best and the BBB helps them to earn their status as a worthy contender in the insurance industry. Though the carrier offers a wide variety of coverage options for many different types of insurance customers, they lose a few points for not offering their products nationwide. However, American Family's excellent customer service availability, straightforward claims process, user-friendly website, and glowing customer feedback certainly causes us to list them as a top recommendation for anyone looking for reputable insurance in a state where coverage is available. If you're in need of any of their products, don't hesitate to ask your independent insurance agent about American Family Insurance to meet your coverage needs.
©2023, Consumer Agent Portal, LLC. All rights reserved.
ambest.com
bbb.org
amfam.com
yelp.com
consumeraffairs.com