Get Mobile Home Insurance Quotes
(Get the coverage that works for you)

It looks like you've decided it's time to find some legit coverage for your mobile home. A wise choice. But finding insurance quotes on your own can be tricky, confusing and emotionally exhausting.
Our independent agents will work with you one-on-one to evaluate your risks and help you decide which mobile home coverage is right for you.
Based on your unique needs, they'll shop and compare policies from multiple insurance carriers and send you home with the right protection at the right price.
Here's a little background on mobile home insurance quotes, how they come to be and how you can get the best options.
Get Mobile Home Insurance
Our independent agents shop around to find you the best coverage.
How Mobile Home Insurance Quotes Are Born
Before you dive into getting coverage, you should know how insurance companies come up with quotes.
They start by evaluating a series of risk factors that have number values (costs) associated with them, in a rating manual.
Risk factors may be things like age, gender, location, etc.—things that could increase the chances of you filing a claim.
The cost of the risk factors is determined either through studies of historical trends, or via analytical models (basically, super sciency/mathy stuff).
They'll check off those attributes that apply to you.
A quote comes from the sum total of everything checked off on the list—plus a bit extra factored in for the insurance company's profit margin. However, due to competition from other companies, they might lower the price a bit.
NOTE: Quotes are subject to change—the insurance company may gradually increase your premium over time to keep up with the financial demands of offering the coverage.
How to Get the Mobile Home Insurance Quotes You Want
Step 1: Understanding Mobile Home Insurance and Why You Need It
Now that you understand how mobile home insurance quotes are born, it's important for you to understand what mobile home insurance is, and why you'd need/want it:
The what: Mobile home insurance is a special type of homeowners insurance that covers risks unique to mobile homes.
The why: If you have a loan out on your mobile home, you are probably required by the bank to have insurance coverage to protect their investment, so check on that ASAP. Mobile homes are also built and secured to the ground differently, and that comes with a higher level of risk that you should definitely consider. The proper insurance coverage will help protect you from things like personal liability, property damage and theft/destruction of your personal property. So even if you thrive living on the edge, all it takes is one accident on your property or a big gust of wind to leave you in a world of hurt.
Step 2: Gather All Your Info
No matter the company, a mobile home insurance quote can only ever be as good as the info you provide. So make sure you supply the following details with military-grade accuracy:
The purchase price of your home
Any upgrades made to your home
A recent evaluation of your home's value
Current insurance info for your home (if any)
Your address (as found on the home title, or the nearest magazine)
The square footage of your home (don't guess though, this isn't a jar of M&Ms)
Existing claims on your homeowners policy (if any)
If you own just the home itself, or the lot it's on, too
Step 3: Connect with an Independent Agent
If getting insurance quotes were easy and relaxing, people would brag about the wonderful weekend they spent doing it. But that doesn't happen. Comparing quotes all by yourself is a lot to handle—it can be super-complicated and really do a number on your blood pressure.
But that's what our agents are for. These warriors have been through it all—with the battle scars to prove it—and they know all the important stuff to consider when comparing quotes.
Our independent agents can help make this whole process a breeze. Since they're not tied down to one insurance company, they're free to shop around and compare multiple offers in order to get you the coverage you need, and want.
Step 4: Work with Your Agent
Now we talk. About all sorts of stuff. But it's important to be open and honest throughout this process so that we can get you the perfect coverage for you. We'll start with a few questions and go from there, so be prepared with info like:
The amount of coverage you'll want in each aspect of your policy (i.e., liability, property, etc.)
Anything that could up the risk factor of the liability portion of your coverage (like a missing bottom stair or a bite-happy dog).
External risks such as severe weather (i.e., tornadoes, hurricanes or wildfires). And ask if you should purchase flood insurance, which would be separate from this policy.
An inventory of your personal belongings, especially those you consider valuable (like your prized antique spoon collection) and that would need more coverage.
A list of any valuables, such as boats, ATVs, motorcycles, fully-restored vintage VW Bugs, etc., that you'd like to add.
Whether you want coverage for the actual cash value or the replacement value of your home and your stuff.
Discuss any potential deals or incentive payment plans (i.e., discounts for paying annually vs. monthly).
Pick the coverage that's right for you.
Step 5: Tell Them Everything
Here is where you'll tell them everything, from start to finish. And we mean everything, because if you intentionally leave something out that the insurance provider finds out about, and they will, it's gonna come back to bite you. So keep these pointers in mind:
If they do ask, you tell. This honest communication will lead to a premium/risk match in terms of your policy's price and no biting of any kind in the long run.
If they don't ask, you tell. Don't ignore the relevant stuff just because it "didn't come up." The more detailed and in-depth the Q&A/confessional segment with your agent, the better your mobile home insurance quote will ultimately be.
Get Mobile Home Insurance
Our independent agents shop around to find you the best coverage.
The Lowdown on Online Quotes
Look, we all love quick quotes—but online companies might leave out options that'll save you some serious green, while leaving in factors that assume higher risk and sticking you with a pricier policy.
Plus, our competitors might sell your precious info to multiple companies, which could lead to a bunch of unrecognized phone calls and a flooded voicemail box. We flipped the script by giving YOU all the info you need with the option to connect with an independent agent when YOU are ready.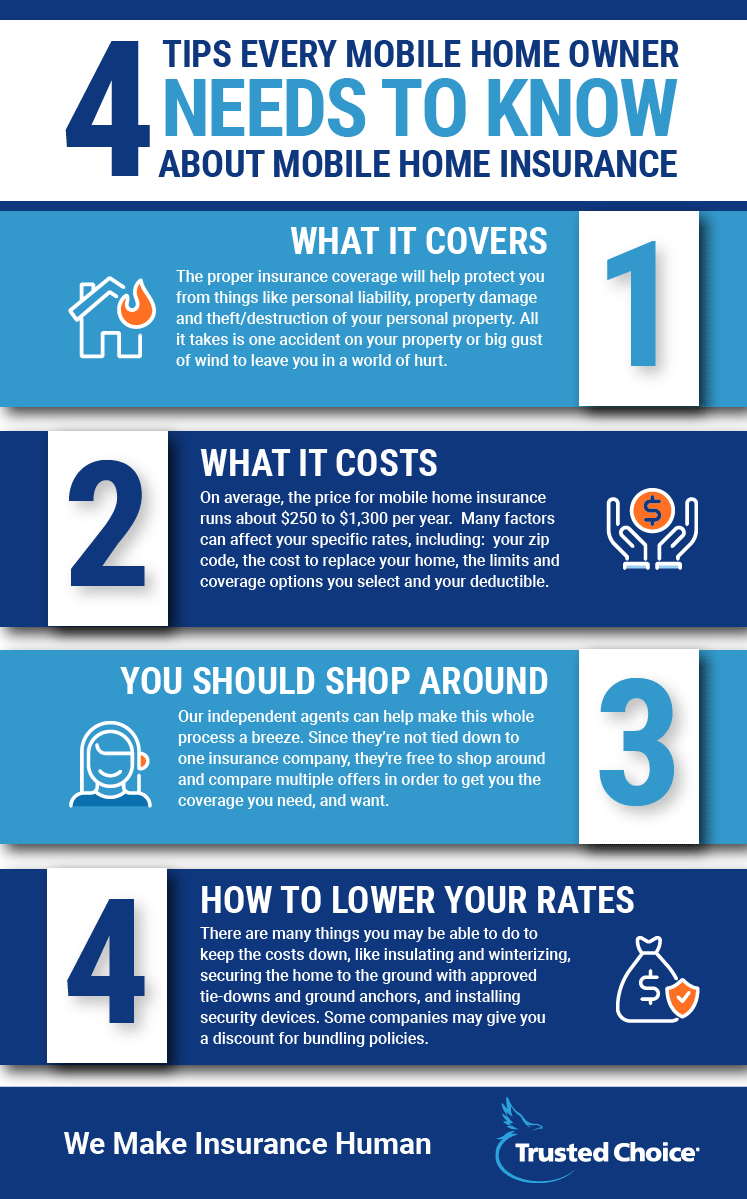 TrustedChoice.com Article | Reviewed by Paul Martin
©2023, Consumer Agent Portal, LLC. All rights reserved.