Assurant Insurance Company Review
Assurant Insurance Company at a Glance
Founded in 1892
Coverage available nationwide
Offers a variety of coverages
"A-" (excellent) rating by AM Best
"A+" (excellent) rating by Better Business Bureau (BBB)
Large network of agents
A Fortune 500 Company
A top property & casualty company
Strong financial stability
24/7 claims reporting
Assurant Pros: This company has more than a century's worth of experience in the insurance industry. It provides a range of coverages including renters insurance, mobile device insurance, flood protection insurance, and more. It has a high rating through AM Best and is a Fortune 500 company. Assurant has strong financial stability and offers 24/7 claims reporting.
Assurant Cons: It has a concerning volume of customer complaints filed through the BBB. There is no official claims response time frame promise. The official website leaves much to be desired and it has mixed customer feedback. There are reports of high prices compared to other carriers.
What Type of Insurance Does Assurant Offer?
Assurant offers several insurance solutions for individuals, including specialty coverages. Their products include:
Mobile device insurance
Renters insurance
Flood protection insurance
Shipping insurance
Appliance & tools insurance
Supplemental homeowners insurance
If you're in need of coverage for any of the above categories, Assurant may be just the right match for you.
What to Know about Assurant
Assurant was founded in 1892, giving the carrier well over a century's worth of experience in the insurance industry. The carrier has been one of the named Ward's Top 50 Property & Casualty Companies for 11 years in a row. Assurant is also a Fortune 500 company.
Assurant's coverage is available nationwide, which makes them highly accessible to insurance customers across the map. The carrier currently has 16,000 employees. Assurant reportedly earns $10 billion in annual revenue.
Thanks to its well-established, rich history, impressive financial size category, and wide reach, Assurant is known as a reputable and stable insurance provider with a strong outlook for the future. AM Best, the leading global credit rating agency monitoring the insurance industry, gives Assurant an "A-" rating, indicating the carrier is an excellent choice for insurance customers. A high rating from AM Best assures customers that Assurant is capable of offering guaranteed, secure coverage from a trustworthy and reputable carrier.
Established in 1899, AM Best is one of the oldest rating companies in the world. Reviews from AM Best indicate an insurance company's financial strength and creditworthiness, and are based on comprehensive evaluations of the company's operating performance, business profile, and balance sheet. For customers who aren't as familiar with insurance companies' respective reputations, AM Best's ratings system allows them to make an informed decision about who they can trust to meet their needs in the short term, and who will remain a strong, financially sound company in the long term.
What Discounts Does Assurant Offer?
While Assurant does not make information about their specific discounts readily available, many modern insurance carriers offer common discounts on comparable coverages. These discounts may include: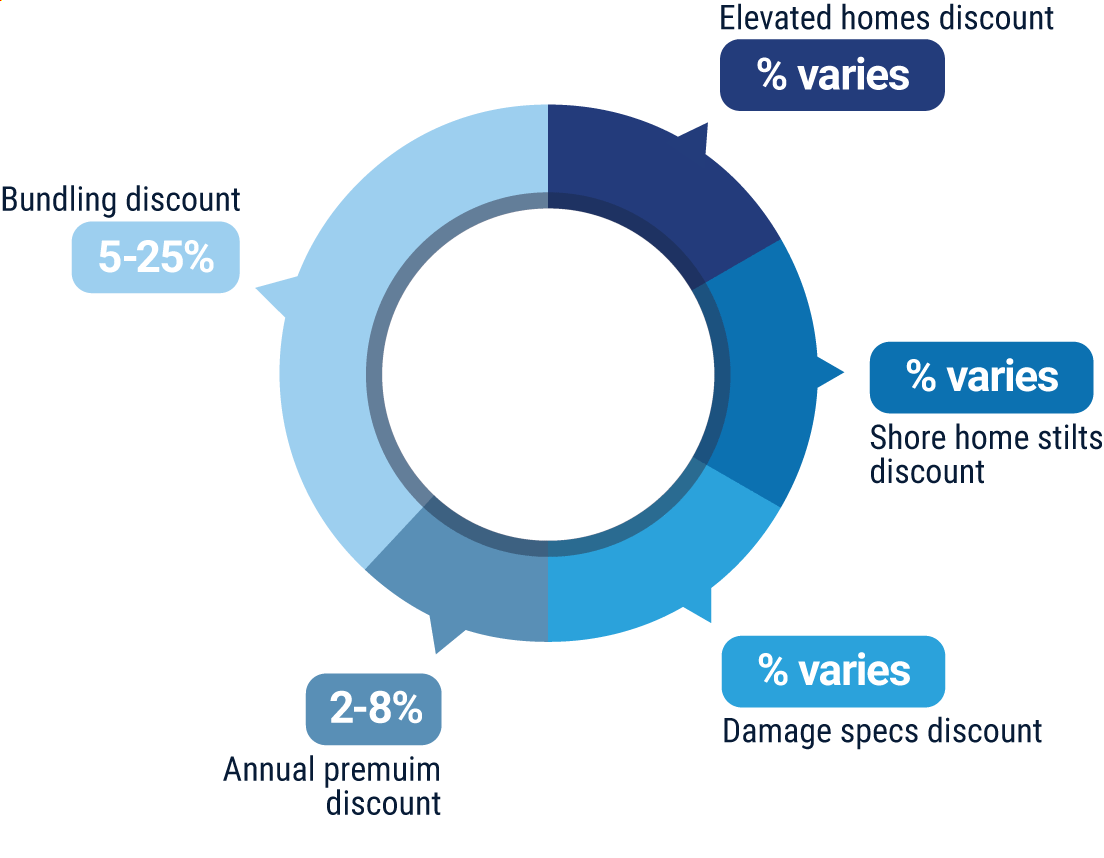 Elevated homes discount: This is available to flood insurance customers who elevate their structure on concrete pillars if they're located in a flood zone.
Shore home stilts discount: This is available to flood insurance customers who live along the shore that elevate their property on stilts.
Damage specs discount: This is available to flood insurance customers who purchase homes built specifically to withstand wind and wave damage.
Annual premium discount: This is offered to many types of insurance customers who opt to pay their premiums in full annually, rather than monthly.
Bundling discount: This is offered to insurance customers who purchase more than one type of coverage through a single carrier.
Your independent insurance agent can help you find more information on exact discounts offered by Assurant.
Assurant Customer Service
Assurant allows customers to file claims over the phone or online, any time of the week. The carrier also provides the following customer service options:
24/7 claims reporting via phone or online
Expansive phone directory by department
Main customer service hotlines have the following hours restrictions:
| | | | |
| --- | --- | --- | --- |
| | | Hours (ET) | |
| | | Monday-Friday | 8:00 am - 8:00 pm |
Another way to get your needs met as an insurance customer is to work with an independent insurance agent. Independent insurance agents can help make customer service easier for you by handling claims and other concerns.
Find The Right Company Today.
Shopping for a company? We have the right one for you.
Assurant FAQ
What is Assurant's average claim response time frame?
Assurant offers 24/7 claims reporting for their customers via phone or online. However, they do not have an official claims response time frame promise listed on their website. That being said, many glowing customer reviews have reported extremely fast claims turnaround times, with original responses occurring within 24 to 48 hours of filing.
What is Assurant's customer service availability?
Assurant offers separate phone lines for general customer inquiries and claims filing. Their claims reporting hotline is available for customers 24/7, and their customer service hotlines have generous hours Monday through Friday. Assurant also has a social media presence on Facebook, Twitter, and LinkedIn, making them even more accessible to customers.
What is Assurant's claims process?
Assurant allows customers to file claims either through the official website or over the phone. The carrier's website does not provide much information about how to file claims. Assurant's website redirects customers to the appropriate department to file a claim based on what type of insurance they have. There is no FAQ about the claims process or any further details about what customers should expect after filing readily available.
Does Assurant create a user-friendly experience for customers?
Assurant's official website feels a bit lacking and leaves much to be desired, especially when compared to many other modern insurance carriers. The information provided feels like the bare minimum, and there are no details about an official claims time frame promise or their claims process. The carrier's "Our Story" (aka their "About Us" page) even feels brief and as though it could stand to be fleshed out further. Prospective and current insurance customers alike may end up frustrated while trying to hunt for the information they need through the website. Overall, Assurant has a ways to go before it's up to par with other carriers on the user-friendliness scale.
Assurant Customer Reviews
Better Business Bureau

"All this company does is deny, deny, deny. They will not actually work with you. I've had two claims, both denied. The second they would not even allow the mechanic to explain or send pictures (a mechanic they told me to use, by the way...) and just denied it with a reason that isn't even true. The adjuster made something up and just said denied. It sure sounded like he was reading scripts and trained to deny before even receiving the proper information."
WalletHub

"My husband and I have used Assurant for the past five years and absolutely love it. They are very cost-effective and their website makes it easy to update our address when we move. No complaints!"
Consumer Affairs

"When we were hit by hurricane Florence, Assurant worked quick and fast to help us replace our damaged items. We had damages to a lot of our outdoor items and to some of our indoor rugs and they had our claim closed and paid within 2 weeks of filing it. So very thankful for them. The process was super easy too."
Trustpilot

"Assurant is really quick and helpful. I do not like how high the deductible is on some phones. Still worth using."
Clearsurance

"I had to file a claim after my apartment was broken into and I received my payment quickly and with no pushback from Assurant. Their web portal can be confusing to navigate as there seems to be two of them but only one has the full claims section. They also didn't email or call me at all, so initially I was worried the claim hadn't gone through but everything showed up in the mail."
TrustedChoice.com's Final Review
We award Assurant Insurance Group a final rating of 3.5 out of 5 stars. The carrier's experience within the insurance industry surpasses a century and a quarter at this point, which is certainly noteworthy and respectable, as are their high ratings through AM Best and the BBB. However, there have been more than 1,200 customer complaints filed against the carrier through the BBB. Assurant also loses some points for having a less than stellar official website that doesn't provide certain basic information insurance customers have come to expect, such as a claims response time frame promise, or a more detailed listing of their claims process. Customer feedback is also extremely mixed across the board, with a seemingly equal number of glowing and dismal reviews. That being said, the carrier's financial strength is a huge pro, as is their 24/7 claims reporting availability.
Bottom Line: While we're not quite ready to name them as one of our top picks, we can't recommend overlooking Assurant either. If you're in need of any of their coverage offerings, they're worth a mention to your independent insurance agent. You just may want to survey options for your insurance needs as well.

©2023, Consumer Agent Portal, LLC. All rights reserved.
assurant.com
bbb.org
ambest.com
owler.com
cleasurance.com
wallethub.com
trustpilot.com
consumeraffairs.com