Individual Disability Insurance
A Simplified Guide to Individual Disability Insurance
(Everything you need to know made easy)

What would happen if you became unable to work? Government benefits aren't a guarantee and take a long time to kick in. Disability insurance can bridge the gap and provide a more reliable income for you and your family than SSI or SSDI can.
Individual disability insurance provides lots of unique benefits that group disability insurance through your employer cannot. Once you're ready to shop, expert independent insurance agents are here to answer your questions and find you the coverage you need at the right price.
What Is Individual Disability Insurance?
Disability insurance covers all or some of your income if you ever become disabled and can't work. Group disability insurance is purchased through your workplace. Individual disability insurance is coverage you buy yourself.
An individual disability insurance policy can follow you throughout your career and has numerous advantages over group disability insurance. Your disability doesn't need to have been caused by your job for it to be covered by individual or group disability insurance.
There are two kinds of individual disability insurance: long-term and short-term. They cover two different disability scenarios. You may be able to convert your short-term coverage into long-term coverage if your disability is more serious than you and your doctors initially realized.
Short-Term Disability Insurance
Individual short-term disability covers disability that lasts for weeks or months. Examples include severe injuries, like traumatic brain injuries, or serious illnesses like meningitis. It can also cover a flare-up of a preexisting disability if it becomes temporarily more difficult to live with and treat.
Short-term disability insurance typically has a short waiting period before it kicks in, as little as 1-2 weeks. This helps you stay on top of your budget while you recover.
Long-Term Disability Insurance
Individual long-term disability insurance covers disabilities that last for years or become permanent. Sometimes these long-term disabilities mean you'll never work again. Other times they mean you'll need to switch to a lower-paying career. Long-term disability insurance can cover both situations.
Annual median earnings for people with and without disabilities in the US from 2008 to 2017 (in US dollars)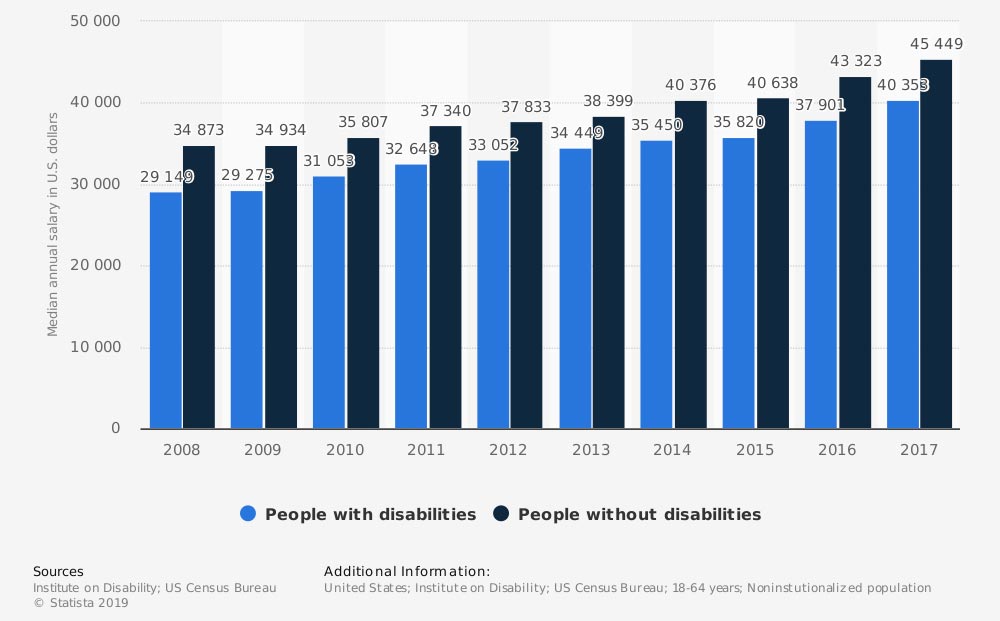 The annual median income of people with disabilities is $5,000 lower on average than the median income of people without disabilities. Long-term disability may cover part or all of this income gap.
Long-term disability insurance has a longer waiting period than short-term disability insurance, usually 1-6 months. This gives you and your doctors time to thoroughly evaluate your disability and ability to work.
Why Is Individual Disability Insurance Important?
For two major reasons: Your chance of disability rises sharply with age, and disability can happen to anyone.
According to the Center on Budget and Policy Priorities, 17.3% of the American workforce had become disabled by age 60-66 as of June 2019. That statistic only included long-term disabilities that qualified for government benefits, not short-term disabilities that can still wreak havoc on your budget and savings.
Percentage of adults in the US with a disability who were employed in 2016, by disability type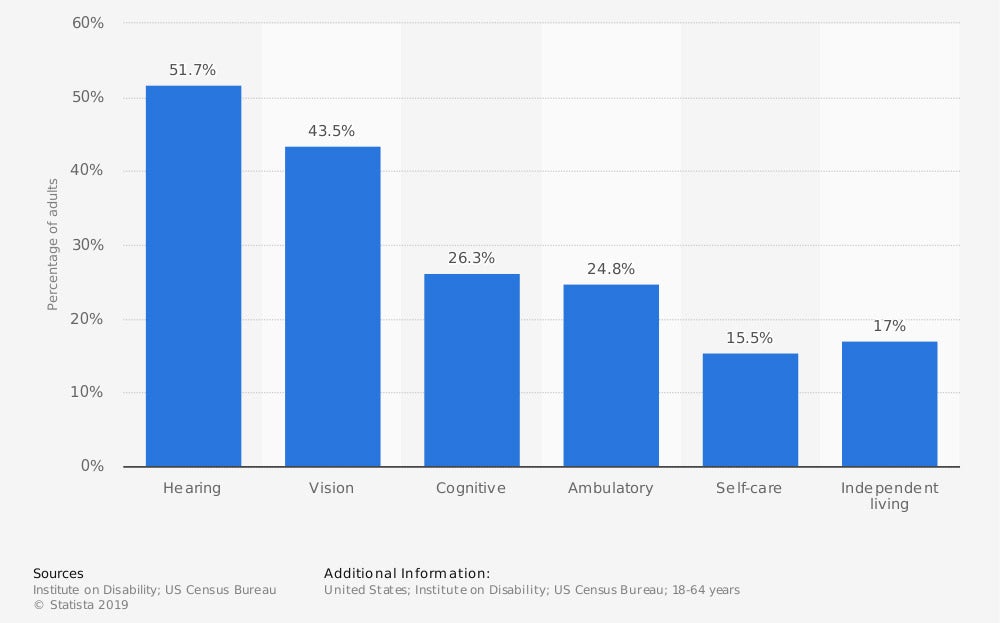 The majority of disabled people were unemployed as of 2016. Disability insurance helps ease the stress of not being able to return to work.
What Can Individual Disability Insurance Pay For?
Individual disability insurance can pay your mortgage or rent. It can cover the cost of food, medicine, toiletries and other necessities. It keeps you from defaulting on debt or running up high-interest credit card debts while you scramble for income.
In short, it makes a hard time easier. Becoming disabled can be an emotional and frustrating process. Money troubles compound that stress for you and your family. Luckily, disability insurance is there to help.
What about Government Benefits?
If you think government disability benefits are enough to live on comfortably, then think again.
There are two main government disability benefit programs: Supplemental Security Income (SSI) and Social Security Disability Insurance (SSDI). In 2016:
SSI
SSI capped payments to qualifying individuals at $733 per month and to qualifying couples at $1100. SSI is also subject to strict income and asset limits that can prevent you from saving money or ever going back to work, even if you feel up to it.
SSDI
SSDI paid disabled workers supporting a spouse and one or more children an average of $1983 per month. That number was slightly higher for a retired disabled couple ($2,212) and much lower for a single disabled worker ($1,166).
Accessing government disability benefits means undergoing an expensive, invasive and often years-long legal process. To access the more desirable SSDI income, you must also have a strong track record of work, which can be prohibitive for workers who become disabled young.
Individual disability insurance can provide you with significantly more monthly benefit than government options. It also starts paying you that benefit much faster and doesn't subject you to restrictive income and asset caps.
The Advantages of Individual Disability Insurance
Many employers offer optional disability insurance as part of your benefits package. This coverage can be useful, especially for chronically ill workers who might benefit from pooling premiums with their less risky coworkers.
But there are also significant advantages to striking out on your own and buying individual disability insurance:
Locking in lower premiums while you're young without fear of losing that coverage if you switch jobs
More control over which insurance company you choose and what type of policy you buy
Ability to seek out individual discounts based on your health and lifestyle that your employer and coworkers may not qualify for
Option to bundle disability insurance with other coverage for discounts
It's possible to get the best of both worlds by purchasing some disability coverage through work and some on your own. That way you're not risking your disability coverage every time you change jobs.
By automatically signing up for a group disability insurance policy through work, you could be leaving money on the table. It pays to evaluate your options and shop around for an individual disability insurance policy, even if you don't ultimately buy one.
How an Independent Insurance Agent Can Level Up Your Disability Insurance
Shopping for disability insurance yourself can be a downer. It's hard to know where to look or how to find a good deal. Luckily, independent insurance agents are here to handle the hard parts for you.
Independent insurance agents are industry experts who aren't bound to any one company. They can compare quotes from multiple insurers to find you the coverage you want at the right price. Shopping for disability insurance with an independent insurance agent is shopping smart.
TrustedChoice.com Article | Reviewed by Paul Martin
©2021, Consumer Agent Portal, LLC. All rights reserved.
National Bureau of Economic Research (NBER) - nber.org
Center on Budget and Policy Priorities (CBPP) - cbpp.org
SSA.gov
"Nolo's Guide to Social Security Disability: Getting & Keeping Your Benefits" (8th edition) by David A. Morton III, M.D.
"How to Insure Your Life: A Step by Step Guide to Buying the Coverage You Need at Prices You Can Afford" by Reg Wilson and the Merritt Publishing Editors