How to Successfully Start a Brewery
(Just when you thought your dream job didn't exist.)

These days, it seems everybody and their frat brother is starting up their own brewery. And why wouldn't you: high demand, relatively low start-up costs, and the chance to drink beer all day long. Yep, the entrepreneurial draw of independent breweries is obvious, especially for people who already brew their own beer casually in their basement.
To help get your dreams brewing, we brought in experts Nicole Carrier and Annette Lee, founders of Throwback Brewery in North Hampton, NH. Together, they grew a tiny warehouse operation into a brewpub on a 12-acre farm serving "delicious, farm-fresh beers and food from local ingredients." They'll help us answer your questions about start-up costs, what to expect, and how to distribute the beer properly into people's mouths. Let's get started.
Brewery Growth Rate in the US

In 2017, there were a record 6,372 breweries in the United States, according to the Brewers Association, and about 98% of them were brewing craft beer. The niche exploded around 2013 and appears to be growing still: The industry reports that in 2017, with overall beer sales down 1%, craft beer sales were up 5%.
Not all start-up breweries are craft breweries, though. Technically, "craft" refers to the use of specific, traditional brewing methods, independent ownership, and limited production. But the term is often used as a catch-all for any small, independent beer producer.
Know What to Expect When You Want to Start Brewing
It takes a lot more than small-batch home brewing to get there. Brewing beer on a commercial scale is not just a bigger version of brewing at home, explains Carrier, who has an MBA and serves as president of the New Hampshire Brewers Association.
Some people don't expect that, Carrier writes in an email, noting she's seen "a bunch of home brewers starting breweries, and really underestimating the learning curve in going from home brewing to professional brewing."
The laid-back feel of the craft beer industry can give a rookie a false sense of security when getting a brewery business off the ground. Carrier says she and Lee expected the "hard work and countless hours," but they struggled to find the human and financial resources to get it all done.
"[S]ince we bootstrapped the business ourselves, we had to do everything ourselves -- paint the walls of the warehouse, put together our brew house, get the website up, order ingredients, select and order glassware and merchandise, get licensing done…"
It's always a good idea to find a mentor in the field as you get started. The right help can shed some light on failures and successes and help you think of things you might never have imagined on your own. Plus, you'll have a new friend with the same interests as you—it's a win-win.
Save on Business Insurance
Our independent agents shop around to find you the best coverage.
How Much Does It Cost to Start a Brewery?
A lot of breweries go the self-funding route. Banks generally aren't throwing money at tiny brewery start-ups. Investor-wise, crowdfunding has worked for enough breweries for there to be a site known as CrowdBrewed, for brewery-specific fundraising.
It's hard to estimate start-up costs for a brewery, since expenses depend on a number of variable factors like real estate costs, construction needs, brewery size, production volume, and whether you serve beer (and/or food) on-site. But as a small businesses, your costs will definitely include:
Leasing or buying a space
Business and tax registrations
Accounting systems
Complying with local health, safety, and zoning regulations
Licenses and permits, including alcohol license, health department permits, agriculture department license, business license
Insurance, including liquor liability
Technology and social media
Marketing, PR, branding
Beer-making equipment
Save on Business Insurance
Our independent agents shop around to find you the best coverage.
What to Know about Starting a Brewery
Brewery equipment will run you anywhere from the high tens of thousands to the millions. Carrier says the equipment for the initial Throwback Brewery setup came to about $100,000, which covered a 3 BBL system. BBL stands for "beer barrel" and indicates production volume, with one barrel equaling 31 gallons (117 L). A 3 BBL system brews up to 93 gallons at a time, which is tiny, in commercial terms.
Microbrewery systems range from 1 BBL to 15 BBL, with 3 BBL falling in the nanobrewery area.
Breweries are categorized based on beer production. Most craft breweries are "microbreweries," which produce fewer than 15,000 barrels per year [460,000 gallons] and therefore qualify for a tax break. The smallest microbreweries are "nanobreweries." When a microbrewery serves food and sells at least 25% of its beer on-site, it's a "brewpub."
Total Number of Breweries in the US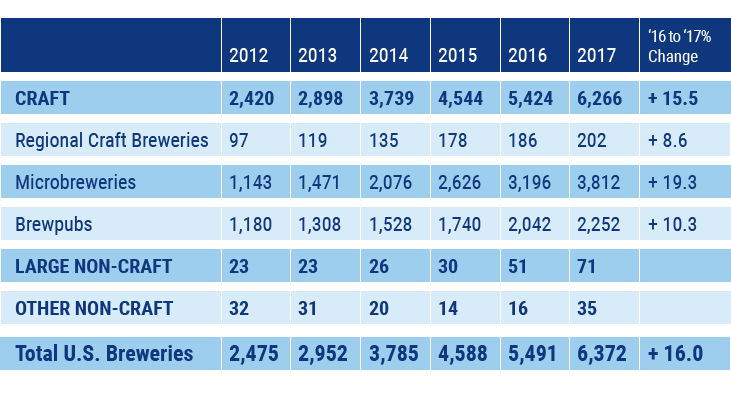 You can buy individual pieces or a turnkey "brewhouse" package, which typically includes some combination of essentials like:
Kettles
Fermentation tanks
Boilers
Cooling system
Waste-treatment system
Cleaning/sanitizing systems
On top of the core components, you'll need storage and refrigeration systems and, depending on the nature of your operation, maybe a conveyor belt setup and bottling/canning machinery.
Save on Business Insurance
Our independent agents shop around to find you the best coverage.
Learn the Craft with a Beer Brewing Checklist
Don't underestimate the technical skill required to run a commercial brewery. According to Carrier, "[i]t's like going from cooking yourself meals at home to running a professional kitchen as a chef."
"Get some professional brewing experience under your belt, even if it is just volunteering one day a week at a brewery where you are watching the brewing process, helping to dig out the mash tun, or bottling."
Among the professional-level knowledge and skills required to start your own brewery, Carrier lists:
Scaling up batches
Water chemistry
Yeast management, propagation, and cell counting
Dealing with dissolved oxygen and automated machinery
Packaging
Safety
Cleaning and maintaining professional equipment
Running and managing a lab and developing and running a quality program
Sourcing ingredients on a larger scale
You'll find classes on all of it, online and locally. Throwback co-owner Annette Lee, who is an environmental engineer, completed a brewing technology course and a brewery internship before they started up.
In addition to developing technical skill, you'll make connections; in an industry driven by local followings and word-of-mouth, they're arguably essential to your success. There's a strong community around craft beer, in which brewery owners can meet their consumers, share knowledge, collaborate, and compete. Throwback won three prestigious beer awards in 2018 alone, which probably hasn't hurt sales.
Brewery Business Plan
How exactly you sell your beer will vary by state, but you basically have three options:
Sell directly to the consumer.
You sell your beer on-site in a taproom or restaurant. You take home the full retail price of the beer but have to pay for the additional staff, equipment, and permits required to serve it.
Sell directly to retail outlets.
You sell your beer to bars and stores. Not all states will let you do it, but if your state does, you'll take home the full wholesale price of the beer. You may pay more for packaging, marketing, and samples, though.
Sell through a distributor.
You sign a deal with a distributor to get your beer into stores and bars. For a start-up brewery, this is likely to mean limited distribution. You take home the wholesale price minus the distributor's cut.
A lot of craft breweries go with some combination of the three. Throwback is in stores throughout eastern New Hampshire, but as a brewpub, sells most of its beer on-site. They had a small warehouse tap room before they expanded.
Grow Your Brewery Slowly
Experts recommend starting small. Incremental growth seems to work well in the craft beer business, in which "local" is often part of the mission statement. It worked for Throwback Brewery, writes Carrier.
"Sure, if we'd known how well our beer was going to sell, we might have just gone for it, but there are no regrets. We tested our recipes. We built a significant customer base. We had years of direct customer feedback and relationship-building in our small tap room. We slowly staffed up. We won several awards along the way … and we built our brand. We met all the key chefs and farmers in our community. We collaborated with other brewers. In summary, we set a very strong foundation for the expansion."
That foundation becomes even more crucial as the craft beer industry grows. While competition is fierce, most craft breweries are microbreweries, and microbrewers often distribute only in their own states. There's still room, experts say, on the local level. You can use that to generate the capital you need for incremental growth.
Living the Brewery Life
For many who start their own breweries, money's not the driving need. In Throwback, writes Carrier, they've worked to create "a space that is warm and welcoming to everyone in our community." Her favorite part of the job is watching entire families gather and connect, and knowing she helped make it happen.
For Throwback's co-founder, it's as much a lifestyle as a business.
"The brewery has given me countless new friends," Carrier writes. "I've never felt so loved and supported."
Big thanks to Nicole Carrier, co-founder of Throwback Brewery in North Hampton, NH, for her generous and thoughtful assistance with this article.
Source: Brewers Association
©2023, Consumer Agent Portal, LLC. All rights reserved.
Nicole Carrier, Co-founder and President, Throwback Brewery
https://money.cnn.com/2015/03/03/smallbusiness/craft-beer-startup-how-to-guide/index.html
https://www.entrepreneur.com/article/246093
https://www.brewersassociation.org/statistics/national-beer-sales-production-data/
https://www.statista.com/topics/1806/craft-beer-in-the-us/
http://frankenmuthbrewery.com/craft-beer-and-microbrews/
http://berghoffbeer.com/blog/what-are-microbreweries-nanobreweries/
https://www.kinnek.com/article/how-to-buy-a-craft-brewhouse/#/
https://www.probrewer.com/library/nano-breweries/finally-time-to-sell-your-beer/
https://www.probrewer.com/library/nano-breweries/nano-brewery-expenses-and-funding/
https://www.jdsupra.com/legalnews/how-to-find-the-right-distributor-for-43348/
https://www.brewersassociation.org/statistics/number-of-breweries/